Two new Munros and my first foray into "CS" since lockdown easing
I'd been eyeing the remote Glen Ey Munros up since I moved to the area five years ago. Beinn Lutharn Mor and Carn Bhac are a 20 mile (32km) day out, starting up the estate track that leads south from the hamlet of Inverey, a few miles of west of Braemar.
Here's my video guide to the hills:
10am (BST) Sunday saw me at the car park. I'd gone for a later start as I wanted to time my first summit to be later than 1200UTC, the end of the big Italian association 24 hour contest - hoping for quiet bands. However, this meant I was to miss the forecasted clear morning and risk afternoon snow showers and cloud over the tops.
The six mile cycle up the estate track was surprisingly simple. An in initial climb led to flat houghs (meadows) on a decent track, that would be suitable for almost any bike with decent tyres. Oh, and it started snowing heavily as soon as I left the car. By the time I was half way up, everything was white and visibility was right down.
I cycled a few hundred metres past the ruin of Altanour Lodge and ditched the bike at the fork which was between my outward and hopefully return loops. At this point, I was heavily pessimistic that I would activate anything, as my radio really doesn't like wet snow and I couldn't even see the first hill.
The left fork led over rough path and boggy ground, gently climbing up to the steep NE ridge of Beinn Lutharn Bheag. Surprisingly the snow stopped and the clouds started to quickly clear.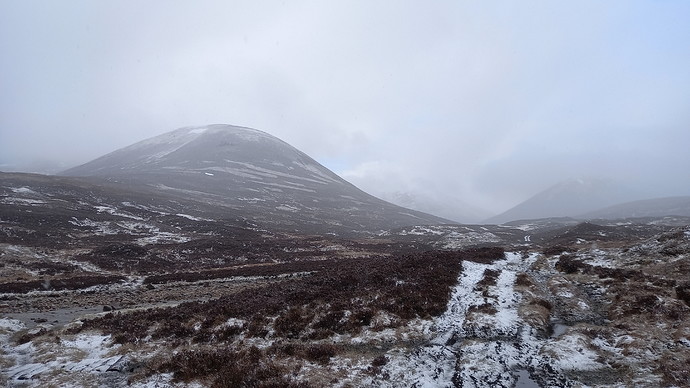 The initial ascent was brutally steep and little or no path, so up the heathery and stony slope I plodded. This eventually eased off and the long gently sloped summit ridge stretched out in front of me. After passing an unmarked top with a cairn (which would mark the divergence on my return from the summit), I could see the impressive snowy summit of Beinn Lutharn Mhor, still over 1km distant.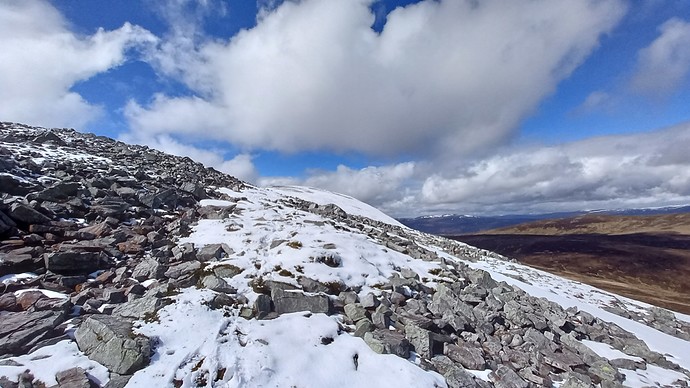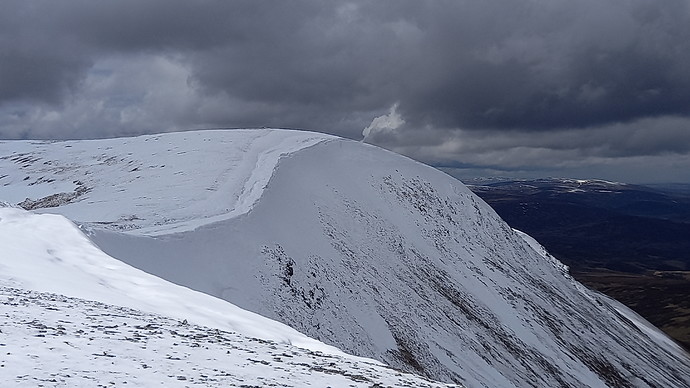 The summit was soon gained. I'd brought a new monoband 20m aerial to try. Imagine the letter L, with the lower leg being the counterpoise, sitting about a metre off the ground. Both legs being the same length - 21' or 6.4m. The end of the counterpoise was held up via a 1m guy line attached between it and a walking pole, with the walking pole guyed down to the ground with two further lines, everything in a bit of tension. It has been erected at home to check the SWR across the band, but was otherwise untested.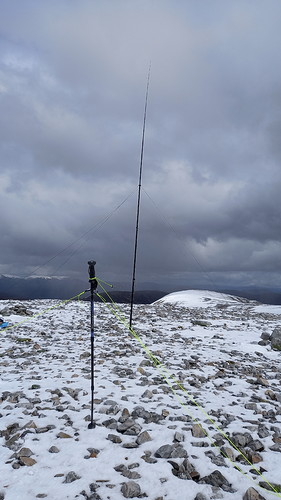 I'd actually arrived at the summit about 30 minutes early, so took time with this first erection of the aerial and grabbed some lunch. By 1145UTC I was bored/getting cold, so tuned up to 14.325Mhz and went to spot myself, except I couldn't. (I read the thread about the DB issues on my return.) Thankfully I was soon noticed and I quickly worked half a dozen stations, with EA1EOK being the best DX, but a bit of a struggle, with S5 QRN at times.
Conscious that I still had a long way to go, with worsening weather forecast, I called it a day at 1200UTC and packed everything up. Just as I was walking away, I heard a CQ SOTA call come over 2m 145.500FM on my Yaesu FT-3d. Five minutes later and I'd worked three stations who had activated The Cheviot G/SB-001 - one of them on a hand held at their end, so 5w HT summit to summit over a distance of about 113 miles, 180km. That brought a large smile to my face, as I never hear anyone on 2m FM up in the hills around these parts. I didn't record anything on paper, but hoped that the radios' audio recording would be good enough for me to decipher on my return.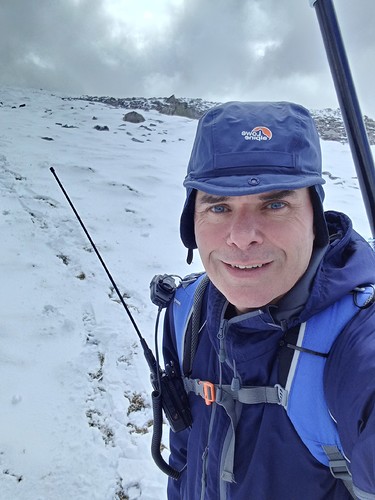 I returned to the aforementioned cairn and swung around north to descent steep slopes, with fresh spring snow over the top of old snow pack. I'd expected this bit to be dodgy and it was.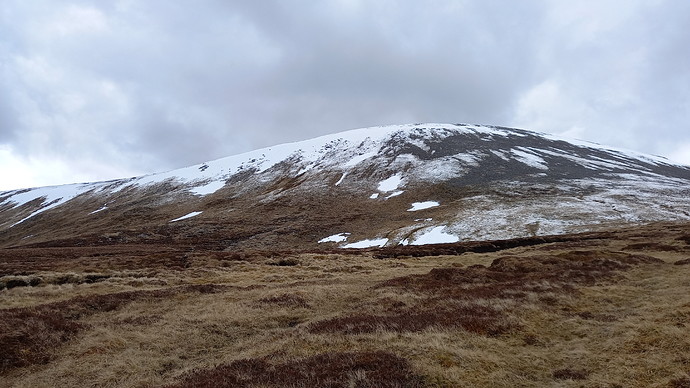 The next 3km was over pathless peat hags, which were thankfully mainly dry, but still took time to work a route through. Eventually this led to a gradual rise up the south flank of the ridge that would lead me up to Carn Bhac. Care needed, as still some peat hags, with man eating holes in places. The increasingly impressive views south west over to the Atholl hills was the only highlight here.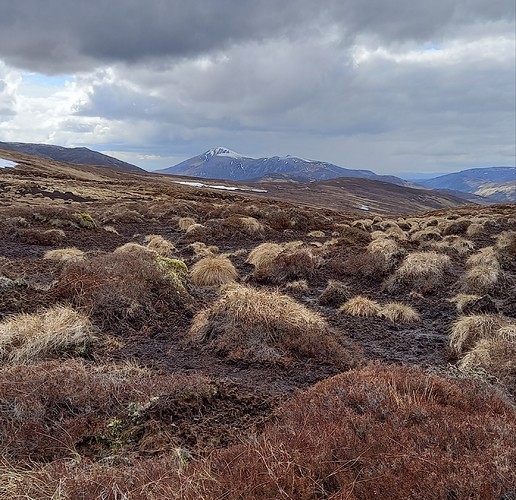 The summit ridge was gained and an easy plod took me over to the flat rocky top of Carn Bhac, with increasing wind and dropping temperatures. I could see snow flurries around some of the higher Cairngorm peaks to the north, but so far, nothing near me.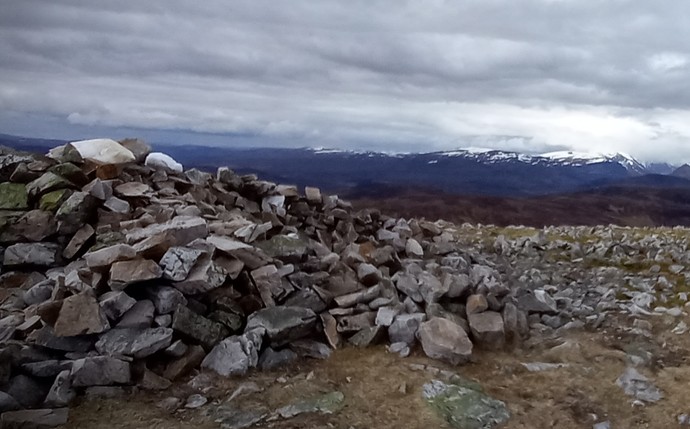 I had packed the 20m/40m linked dipole, and elected to put this up. I wanted a bit of comparison with the vertical on 20m (unscientific) and also I knew I could erect it quicker.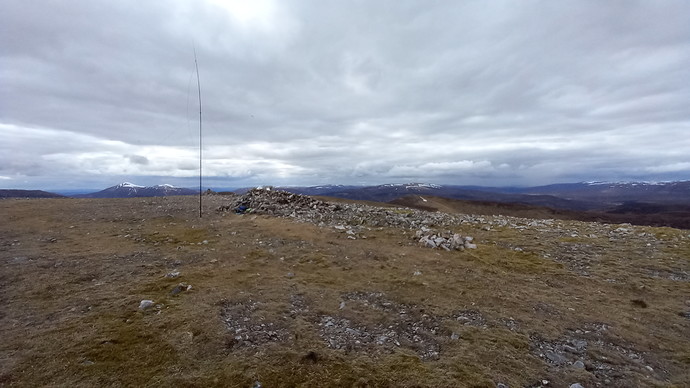 Memory tells me that I managed to spot myself this time (40m first) and I soon had stations lined up. I worked half a dozen stations on 7.1275 on an increasingly busy band, with QRM, QSB everywhere. So much for my strategy of activating after the contest, hoping everyone would be asleep!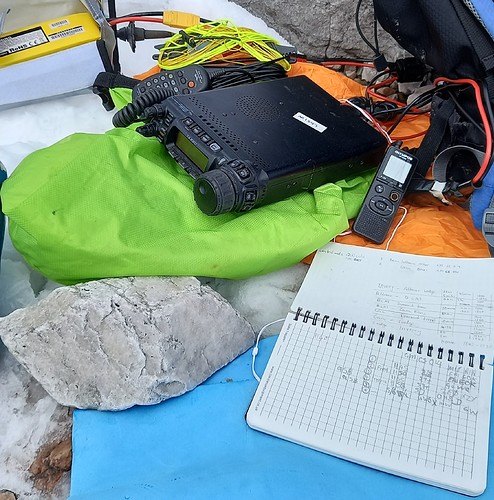 Great to get the usual brilliant chasers in the log - Don G0RQL, who always has a brilliant signal, and Manuel EA2DT, who was a real struggle this time. Henning LA3NGA, answered and it turned out he was on LA/TM-001, so another S2S in the bag.
If you watch the video, you'll note that my operating standards go from mediocre to poor by the end of the seven QSO's! It was getting cooler and my brain/mouth parts were starting to freeze up, so I abandoned plans to switch to 20m and packed it in for the day.
There is a descent path from the summit, but finding the start of it from the stony curved plateau proved impossible. However, easy ground soon led me off the summit and I picked up the path further down.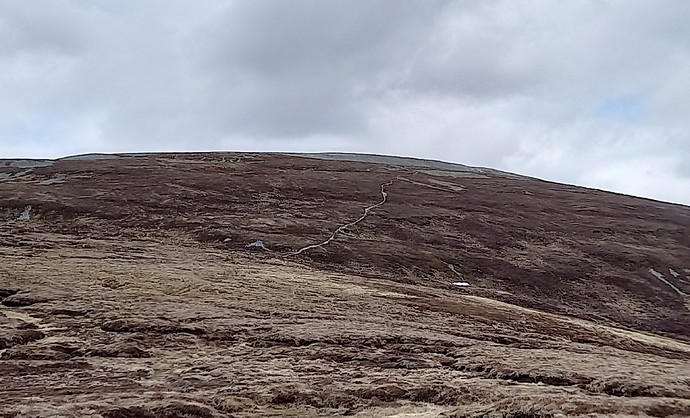 The next few km were gently undulating, boggy in places, but there was a sort of path to follow. This eventually led me back to the bike and you'll notice from the photos that pretty much all of the mornings snow had disappeared as the day went on.
30 minutes later and I was back at my Land Rover, having completed the trip in seven hours, which isn't bad considering there was about 45 minutes of summit time at the first top and 35 minutes at the second top.
Kit carried:
Yaesu FT-857d
Inverted V - 40m & 20m linked di-pole
20m vertical wire aerial
coax with common mode choke for the vertical
LiFePO4 4s battery
7m sections of a 10m fishing pole
guy ring and three guys for the pole
3 guys for the counterpoise of the 20m vertical
waterproof pad and pencil for logging
As for personal gear, I'd correctly assessed the expected ground conditions, knowing that the north face of the first top would be the only issue with snow I'd likely face. It could be detoured if necessary, so I got away with three season boots, walking poles plus full winter clothing and a spare top in the bag, which I didn't need. The ice axe stayed at home. I also carried a first aid kit, portable survival shelter (bothy) as well as the usual map, gps, compass etc.
Fail of the day was only half filling my old Sigg water bottle and then failing to find running water until the hike was nearly over!