My original plan was to attack the seldom activated Beinn Suidhe GM/WS-235. The normal route involves fording the Abhainn Shira and tributaries 3 times to get to this summit. (And 3 times on the way back!) That can be challenging but photos show it is so low that it's only inches deep. Now after the long dry spell would be good… but someone has turned the heat up to "stupid" level… 28C is unusual for Scotland and it's wall to wall blue sky on the West and quite strong Haar mists in the East in the morning. Couple this with lower hill fitness and I decided to give it a miss.
But Andrew G(M)4VFL was going to activate some GM/SS summits which would be nice completes and on 13cms too. No alternative, it has to be Tinto Hill GM/SS-064

I back worked the time from Andrew's alert to when the lastest I could leave the house was. Then I subtracted a bit. Up early, injected and tested, car loaded and I was off. There was hardly any traffic and I opened all the taps on the car and made very good time to the car park. Gosh a quiet road and 300+bhp does bring on a smile. It was overcast at home but very misty at the car park. Great, that will keep the temperature down. I got out of the car and it was already 18C in the mist. Hmmm.
The grass was damp but the ground was parched dry. This Thistle with a wet spider's web caught my eye.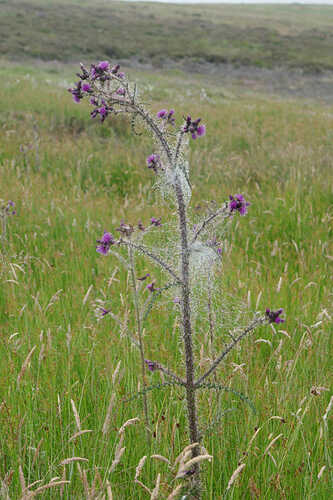 Boots on and a big equipment check, 817, HF antennas (60-40-30 30-20-17), VHF handy, 13cms gear, 13cms antenna, enough batteries to power everything for a long activation, two (yes two fishing rods) water, more water, suncreme etc. and we were off. It was oppressively humid but I tried to make good progress. It was hard work. I met a bloke coming down who told me "you'll be above the mist soon" and he was right. The mist fizzled out around 500m leaving the top 220m in the sun.

It really was hot and there was no wind. The last 200m were a real struggle. But the computer said 1h30 and I did it in 1h15 in the heat which pleased me no end. So I was nice and early on top. Setup was quite massive, HF inverted V on the main pole, 13cms antenna on the main pole too. 13cms transverter has a cable to the antenna, cable to the 817, power cable to the 13.8V buck/boost stabiliser, hard PTT cable to radio. Tiny SMA connectors to make like fun. Finally the 2m J-pole was fixed on to the super lightweight pole I got from China a while back. This is the 6.4M model which is just over 5m long. Bloody Chinese rogues. It's very thin at the top but is perfect for the J-pole when you want to use the main pole for other stuff.
And we're off… I started with good friends Robert GM4GUF and Dave GM6BIG/M on 2m. Dave built just about all of the GB3CSB beacons and I already checked GB3CSB on 13cms and it was really loud here as usual. Next was Andrew GM4VFL/P on Colt Hill GM/SS-116 for a complete (that's why I had the 13cms with me.) This was a banker but it was a LOS path so should work on 13cms. I had a nice wee pileup on 2m and kept checking Andrew on the next channel down. When he vanished I went looking on 13cms.
OK, so Andrew was 59+++ on 13cms FM, so was Jack GM4COX and then BONUS QSO, Derek 2E0MIX. I didn't know Derek was QRV but he was. He was not far from his home QTH down in Whitehaven and using the 4 ele PCB yagi that comes with the SG Lab transverter he was an easy 59 on a 115km path. I'd heard an EI repeater on 2m that was co-channel with a UK repeater and it was quite loud as were many GI stations on 2m calling in for "drive to work" type nets. There was long slow fading on Derek's signal which did come back from the noise. So I think there was some tropo-disturbance as it was still misty in the valleys at this time. Later on the mist had burnt off and 2m was not specifically open.
That was great to work Derek and I swung the antenna round to the North to try with Jim GM3UAG up by Aberdeen. I've worked Jim before from Tinto but nothing doing today. Probably a case of off frequency, squinty antennas etc. It needed some talkback to get everyone's ducks in a row. Never mind but it would have been the 4th QSO and a 13cms qualification.
After that I went to HF which seemed much better than 2 days previously. I was using my real callsign for a test. I've not been spotted by RBNhole for a while and it used to spot me. But I've forgotten how to program my memory keyer and it has my MM0FMF call in it not MS0TA. So I tried using the keyer and I only called CQ twice before RBNhole did its job. This must mean my keying is pants

30m was lively but 40m CW was deathly quiet. 40 SSB was OK. 20m was OK and I managed to pull OE5EEP/P out of the noise on 17m for an S2S. Back to 2m for another burst of stations and then that was that. Pack up, drink water and get back for a shower and to collect the time-share hound for the weekend,
Very posh, a double mast activation! Left mast has 30/20/17 dipole and double double quad for 13cms. Right mast is the misleading labelled 6.4M Chinese mast that is just over 5m long supporting the J-pole.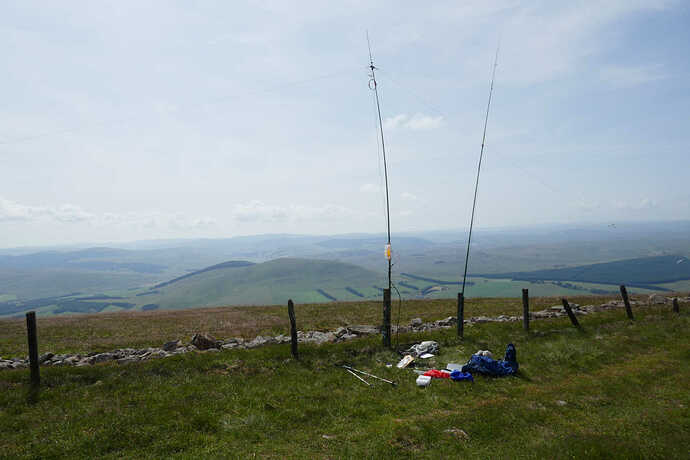 The "new" battery in the VX170 behaved… it has some life in it. But I did notice the PTT on my old VX170 needs a firm square press or the power meter shows a flashing LOW and a few blobs on the graph, squeeze harder and it fixes itself.
The 817 behaved all day. Though I scared the bejesus out of myself. I'd connected the HF antenna and turned the 817 on and it started sending CW, well dashes. Not again… but it was sending dashes not keyed continuously. I looked carefull and I was sat on the Palm Paddle, removing from underneath me restored correct operation.
2m: 14 QSO
13cms: 3 QSO
30m: 12 QSO
40m 6 QSO
20m 9 QSO
17m: 1 QSO
S2S: 7 summits in G, F, HB9 and OE worked.
Time to get the Gin out