My wife and I decided on a day out today 25/09/2023, and I negotiated a visit to a SOTA summit as part of it. Garreg-Hir GW/MW-017 would be a new one for me and looked like a short and pleasant walk, which indeed it turned out to be.
It would also be the first outing for my kit built QRP Labs QMX transceiver.
There was a stiff breeze at the top, and so I set up a few metres below the trig point on the Lee side, finding plenty of room for the 40/30/20 linked dipole.
I built the QMX for 12v, and the recommendation is not to exceed this voltage by very much at all, especially if there is any doubt about the antenna matching. Being nervous for my new toy, that ruled out the LiFePO4 battery which was showing just over 13v, so I assembled a pack of old Eneloop NiMH cells which gave me 10.5 volts. Testing at home before the activation, powering the QMX with this gave about 2.5W out, which would be fine. (On 12v, mine delivers a little over 4W on all bands).
I mentioned in the alert that this would be a short activation as I didn't want to push my luck, and in the end I worked 5 stations on 30m including an S2S with HB9CEV/P, and another 5 on 40m. In each case I worked the callers responding to my RBNHole spot, and then closed down once a few CQ calls went unanswered - so the first apology is for closing so quickly, I usually try to wait at least ten minutes after the first spot, and then a few more minutes after the last caller.
The other apology is to a very strong station who (I assume) was calling me on 40m at around 10:50, but I was unable to copy.
The QMX is still a work in progress, and each firmware release brings improvements. Currently, one of the known issues to be resolved is the lack of AGC.
So, when this very strong signal called, all I could hear was a painfully loud screeching noise. I'm quite sure that this was an issue my end, and not any fault of the transmitting station. eg no AGC, and tinnitus in both ears which doesn't enjoy loud noises at the best of times!
Before I rely on the QMX for a "normal" activation, I want to sort out a suitable small battery, build an SWR bridge (the resistive type which gives some protection in "tune" mode) and await the AGC firmware update.
Good points - small and light, low current draw, very easy to use with nice display and intuitive access to settings.
Otherwise, all went well, and many thanks to those who called me quickly after my spot, much appreciated by me and by XYL Adrienne :o)
We completed the day with a circular drive through the lovely Mid Wales, taking in lunch at Seasons Cafe, Caersws (near the main road railway level-crossing, excellent value, will call again) and afternoon coffee and cake in Machynlleth.
The path up is between the two lakes.

View North East-ish

Adrienne with trig point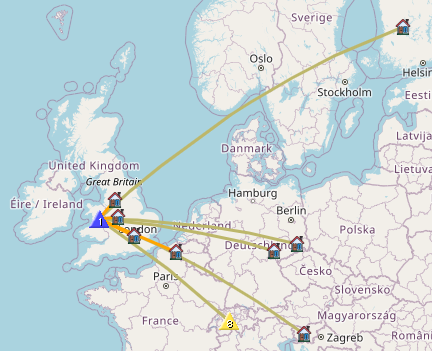 73
Adrian G4AZS