Hi,
Can you share what support system or tripod are you using for your Alexloop antenna?
Ivo
LZ1CLM
Currently I am using a HAMA Star 100 tripod. Before that I used a similar one which was less robust and less expensive but broke after ~150 activations. These tripods are small enough to fit into the bag of the AlexLoop.
I removed the camera head from the center tube and for the mounting of the AlexLoop I extract the the center tube by ~ 13 cm.
If the wind is strong I attach my backpack via a rope to the fixing screw so that its weight holds the tripod down.
See the photos for details. I am using the first version of the AlexLoop but I am sure that a similar solution can be found for the latest version of the AlexLoop (which is bulkier and heavier).

73, Andy DK7MG
I went /p yesterday (not SOTA, just testing my antennas) and I used my SOTA beam 7m pole as a support for the Alexloop. I attached to one of the section and extended it just above my head.
It was very good test, because now I know that I can skip the tripod for the next SOTA.
I will take my EFHW, Alexloop and the pole.
My tripod also fits in the case, but I kept the camera head. Instead, I built-up the diameter of the aiming handle with Velcro strips, aimed it straight up, and slid the loop down onto it. If there is wind, don't spread the legs. Just bungee the assembly to a fence post or suchlike.
Elliott, K6EL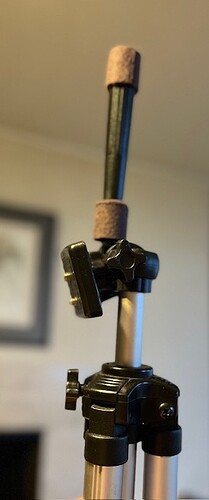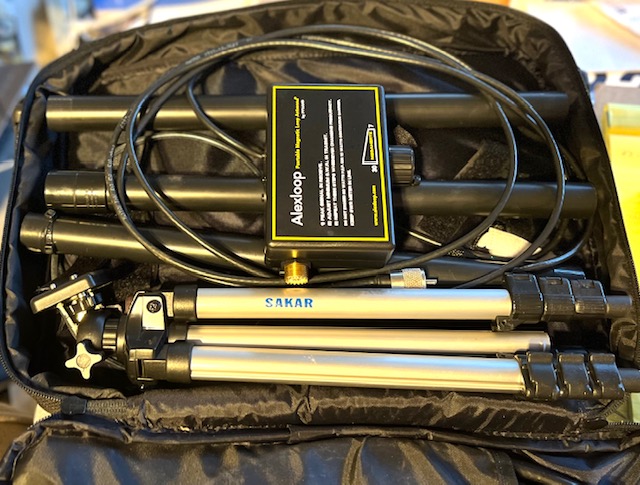 To be frank, I never understood the interest in using a magnetic loop for SOTA; as
it is heavier than most other antenna designs,
will trigger at least the same or even more questions from radiation-scared individuals from the church of irrationality, and
performs rather poorly on 40m (unless > ca. 1.6 m in diameter).
I have built some and think they are very useful for operation at home, mostly because they are narrow-band and filter out quite some QRM, and can be made very stealthy. But on a summit where the level of QRM is typically very low?
The situation might look different now, as 20, 17, and 15m become centers of interest, and a small magnetic loop can be very efficient. But still - what is the key advantage over vertical EFHWs or groundplanes?
73 de Martin, DK3IT
I like my mag loop because:
I am using it very often when portable or from a hotel room, which happens often
I don't need any counterpoise
I can use it without any support, if needed
It is very good isolating near stations
it is much easier to set it up, comparing it to a wire antenna when you don't have the required space
and finally because I have it and I don't have a vertical, not yet
Another advantage may be that a tunable loop antenna does not require an ATU.
My tripod replacement (for the Elecraft whip antennas) consists of the upper part of the Leofoto DC-252C center column, which can be inserted into the 3rd segment of the 6m carbon mast used for the wire antennas (photo).
The feeding point is thus raised in a simple and lightweight way to a maximum height of 1.15m.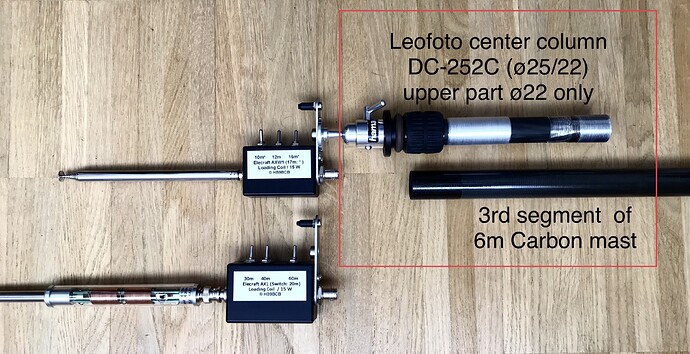 Well, yes, but the variable capacitor inside is larger than a T1 tuner

. And if you detune it even lightly without noticing, you can easily fry your PA.
I've got a W2LI mag loop rather than Alexloop. Mounting would be similar. I am putting a tripod screw into the end cap of a piece of PVC pipe that will be of a large enough diameter to go over the end of my trekking pole. I will hold it vertical with small guy ropes or with large stones around the base.