With a very strong nod to @2E0YYY I work and rose at 4:15 BST to head out to my local SOTA summit Gummer's How at the South end of Lake Windermere, NW England. I'd essentially left my rucksack unpacked from my previous trip up High Street knowing that I had one fresh 5AH LIPO and a part used one.
On the walk up, reaching round to the back of the pack I discovered my head torch wasn't attached, obviously detached before my previous ascent. No matter at 4.40 BST it was getting light anyway and footing wasn't an issue.
In utter astonishment when I reached the summit there was absolutely no wind! The last time I was in similar conditions on a SOTA summit in the Lake District was the evening of 24-MAY-2017 on the Old Man of Coniston.
Visibility was spectacular so I did spend a good amount of time taking pictures and just sitting and grokking the scenery around me.
Band conditions were pretty terrible so radio work was slow.
As the sun rose there was rolling mist running down the lake towards Newby Bridge and beyond. I noted via the binoculars that the trig stone on Coniston Old Man was clearly visible with Dow Crag and Harter Fell (on my list to do) visible behind, the Langdales, Helvellyn and then Red Screes (with the 'scar' of the slate quarry) and the Thornthwaite Beacon. Heysham Power Station was clearly visible as was the Blackpool Tower, The Hoad Monument in Ulverston and the Barrow Submarine Construction sheds in the distance. The offshore wind-farm just seems to be growing and growing.
Sunrise was spectacular and obviously from the East which casts a very unusual light compared to the normal afternoon/evening activations.
There was a lot of static noise being reported on 40m clearly due to Thunderstorms elsewhere, my SOTA calls generally were unanswered for the most part with the exception of a few dedicated chasers (and early risers!)
I had a few nice chats on 2m towards the end but the jewel in the crown was another S2S with Phil @G4OBK on his Czech tour using his OK8CDX/P callsign, just catching him before he went QRT on 40m with a lot of QRM but all details copied correctly.
I had power issues throughout the activations which diagnosis unfortunately ended up with either the MCHF transceiver or the power cabling. I will need to investigate further.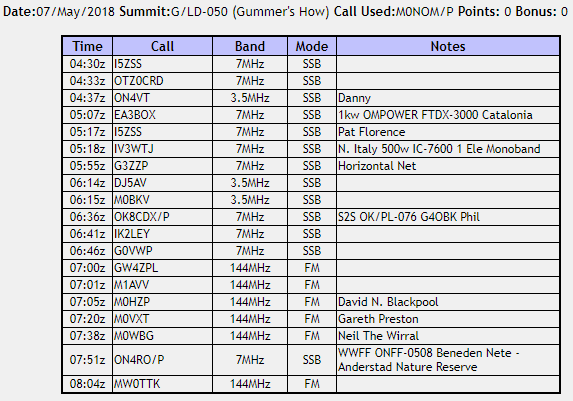 I got back home before 10am and the previous days efforts fixing our little rib meant we were out on the lake at Rawlinson's nab looking back at the summit of Gummer's How (in the picture below it is the far summit on the left)
Kind regards, Mark.