We started out from home at about 8.30am and living very close the English side of the old Severn Bridge we found ourselves in Chepstow buying supplies in no time. From there it was a very pleasant drive up to Abergavenny with the Black Mountains spread out in front of us. There is ample parking along the road at 51.8442567N, 003.0630614W although; being a bank holiday this was pretty much at capacity when we returned to the car at about 1.30pm.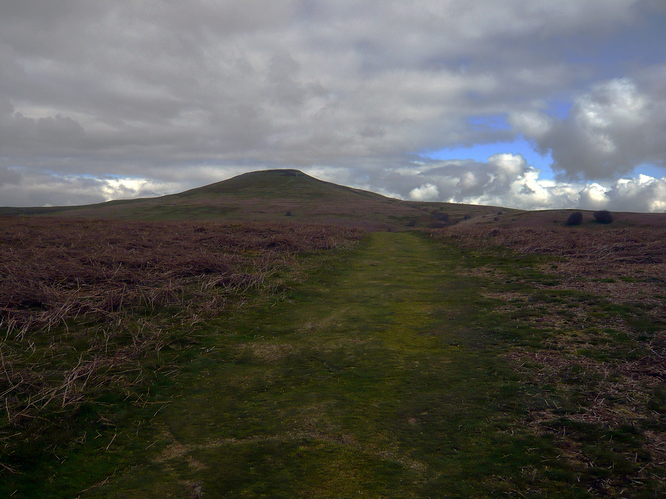 The walk starts with a gradual assent across open grassland and is only rocky towards the summit. In no hurry, it took at about 45 minutes. I had seen that there were a few other activations planned and was hoping for a few summit to summit opportunities (as it turned out, these were to be our only contacts on this occasion). 2m had been quiet throughout most of the walk but the handy burst into life as we reached the summit with the familiar call "CQ SOTA". It was Mal, GW6OVD who was on SW-019, Mynydd Twyn-glas about 13 miles to the South of us. After completing the contact Mal handed us to Ian 2W0IWM who was with him and we had two of our four contacts in the bag. Mal had told us that there were at least two other SOTA activations on 2m but we failed to make contact. Settling on the summit, close to the trig point (TP 6243) we set up the FT-817 and dipole and put out some calls, all to no avail. We then heard Vicki M6BWA calling CQ SOTA and answered her call. In contrast to our bright sunshine she and Rod were in the rain on High Vinnalls (WB-012). With contacts from Vicki and Rod we had our four contacts and continued to call but with no luck at all which was a surprise given our location but perhaps everyone was out doing other things on bank holiday Monday. With no joy on 2m SSB either we decided to head off back to the car. We did hear Vicki calling on 433.475 but unfortunately our signal couldn't quite make it on 70cms.
A very enjoyable day and we hope to be back soon to try and bag a few more of the GW/SW summits.