In view of Joe's recent post on straight keys I thought I'd share my experience converting the Type RM31 to a 3.5mm jack for the KX3 (not as easy as I'd hoped!).
It's a 1950s key made for the Czech armed forces. It has a fabulous action (one of my favourites second only to my Freelance Marconi PS213). Notable features include a cam switch operated arm (allowing the key to be raised in an higher position to disconnect altogether - fun but little use for SOTA)
It comes supplied with a Banana type connector on the end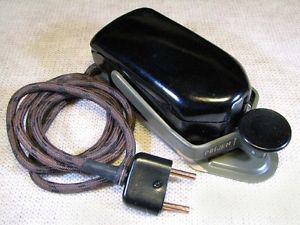 The plan was to simply cut this connector off and replace it with a 3.5mm mono jack. The first issue I encountered was the wires are held in a (presumably fire retardant) web of fibres and woven strands. This is easy enough to hack away at with a knife and reveals two inner strands of cable as one would expect. The biggest issues then was the inability to solder to the inner wire(s). I've no idea what it is made from but no amount of heat or solder (for me) would tin the wires.
(after numerous attempts at soldering it)
I resorted to plan B and removed the cable altogether from the base of the key. This was easily done by removing the bass plate and waterproof rubber plate from the bottom of the unit. The wire unscrewed easily leaving clear connections to replace with new wire. I used some two core speaker cable I had around the house and fed it through the rubber grommet and soldered a 3.5mm jack to the opposite end. I used some duct tape to fatten the wire slightly so it sits snugly through the grommet.
the base of the key (above)
It was by no means a major project and no doubt others will find a better way of doing it but I thought it may save time for any others who are considering doing doing a similar modification to their Czech Morse keys.
Many folk online have chosen to build a connector for the banana type connectors that come with it, but I felt this would shave a little bit of extra weight of the key overall.
Hope this is useful to someone!
73 de Carl
M0SER
Just for interest this is the inside of of the key (looking from above with the lid open: