Hello,
Yesterday I put a spot for EA5HOP on EA5/AT-010. The correct summit was EA7/AT-016.
Apologies.
73 José
Hi José @EA7GV
EA7/AT-016 is not a valid summit !!? but EA5/AT-016 is OK


73 & HNY Éric
Hi Eric,
Sorry, the years do not forgive, EA5/AT-016 is correct.
73 & HNY José
Hello,
after verification of EA5HOP/P activation, I am sorry to report that he was activating a VG (Geodetic Vertex award) in the summit of Mt. Cid (1104 m).
There is a SOTA summit near this one, towards North on the same range, called Silla del Cid (1147 m), which is SOTA ref EA5/AT-016, but he wasn't there.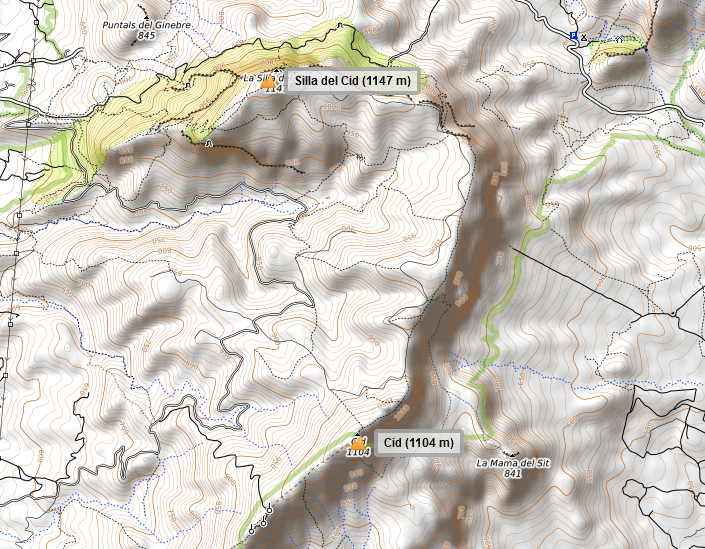 Perhaps the similar name confused the activator and chasers who wrongly spotted him as being in a SOTA.
EA5HOP has been informed and should delete his log from Sotadata.
Please, if you chased EA5HOP on 3 Jan 2022, make sure you delete him from your log as well.
73 de Ignacio
Thanks, Ignacio, for making us aware of the mistake.
I have just deleted my chaser QSO from the SOTAdatabase:


However, I'll keep this non-SOTA QSO in my main logging programbecause it was a valid non-SOTA QSO.


73,
Guru
I must come and do that someday, El Cid (1961, starring Charlton Heston and Sophia Loren) was one of my favourite movies

True Ignacio, all that remains is for ea5hop to delete the log from the database.
73