Being relatively new to the ham radio world , therefore , SOTA , and being based on the Western edge of the Lakeland Fells, my experience of activations so far has been typical of what you would expect in the area as regards summits and making contacts etc… We had to make a trip to the East Riding of Yorkshire last week and the decision to take in two "convenient" summits gave me a different and in some ways surreal experiences to what I'd been used to.
We stopped on the way to do NP-024 Hoove , a relatively short and easy ascent on a bitterly cold grey day it was about 3C with a very light NE breeze. There was no obvious High point at the top and we could see the trig point and what looked bizarrely like a statue about 300yds from it . While I set up, my wife went to see the statue. She came back and just said "It's creepy" , turned out to be a shop window mannequin in a green protective suit strapped to a post. If anyone can tell me exactly why it was there or if they've seen it before I'd be interested, there was another one in the far distance. I'll put a photo below. There were a lot of grouse about I assume it was some kind of scarecrow to ward off predatory birds like buzzards or hen harriers?
I called out for about half an hour and 2m was totally devoid of activity. I've been spoiled so far, there's usually at least four familiar voices waiting for you on my home turf when you put out your call on 2m and I have no HF gear to speak of yet .
It was a pleasant walk though and made more worthwhile when I decided to access the HG repeater on Sutton bank if only to get a contact to justify setting up my antenna , and see if it was all working OK this resulted in a QSO with John from York, who strangely enough I'd spoken to a week earlier from my home through the GD repeater on the Isle of Man when he was on holiday in the Lakes and out walking one of our local fells with his hand held. Despite not activating the summit , it's a small world and this made the day .
I see what was "creepy" about the dummy . Anyone old enough to have watched Dr Who in the 1970s John Pertwee era might remember the "autons" ! Mind you, I believe the dummy had as much success as I did activating NP-024 !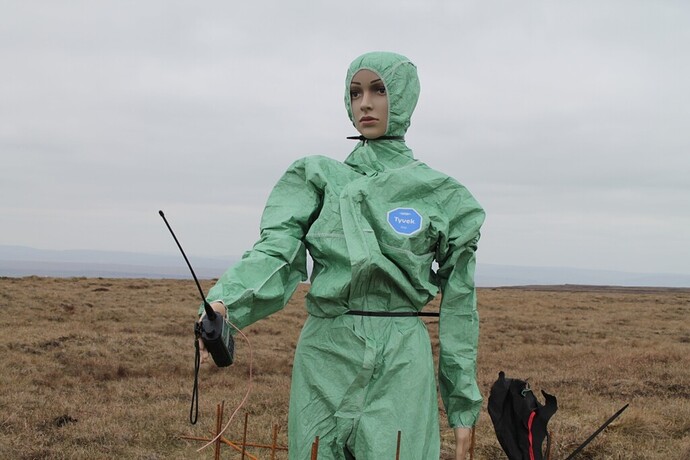 The next experience was Garrowby Hill TW-004 I had much more success on the radio there but I'd always thought in my limited experience that the main hazard when doing a SOTA was a fall down a scree or a twisted ankle miles from anywhere , not , being run over by fast moving traffic! Particularly as it's the main road to Brid' on a sunny Friday afternoon at the start of a Bank Holiday . All good fun !