Welcome to the October 2019 edition of the SOTA Quarterly News.
Some contributions this quarter from some new contributors including a couple from west of the Atlantic, so I hope that this trend continues. My thanks go to Barry GM4TOE (Quarterly Awards Report) Simon G4TJC, Mike AD5A, Luc ON7DQ, Allan GW4VPX, Tom N2YTF, Colwyn MM0YCJ, Guru EA2IF
Guru's monthly report is delayed waiting for some data to become available so he will post that later.
We will start with the Quarterly Awards Report from Barry GM4TOE.
SOTA Awards July - September 2019
This report covers award claims for the period July to September 2019. Recently there have been a lot of claims so my apologies for the long list!
Special note should be made of the considerable distances being worked on 13 cm; G4AZS has managed more than 300 km on this band and there is a lot of activity here in GM so greater distances may be possible. Equipment is lightweight and the antennas small so, given the elevation offered by a summit we may well find this distance exceeded.
OZ4RT has reached the total of 50k chaser points, well done John.
Trophies Issued
Mountain Goat
SY2BIK Triantafylloy Stavros
KB7CWV Lin Pemberton
K1TNT Cesar Barrios
W1ZU Scott Anderson
IW2NHE Alberto Vago
OK2VFS Frantisek Stepan
KN4LRI John Pavone
HB9TVK Peter Kohler
AE7AP Robert Kingery
Shack Sloth
2E0DIJ Duane Yates
JG1BOK Satoru Kawamata
EI6FR Declan Craig
AJ6CY Roberto Sadkowski
N2YTF Thomas Tumino
AE7AP Robert Kingery
N3NNU Joseph Ladd
Certificates Issued
Activator
NY4G Ariel Jacala 1000 points
SY2BIK Triantafylloy Stavros 1000 points
OK2VFS Frantisek Stepan 1000 points
AE7AP Robert Kingery 1000 points
YO9IPF Florin Ioan 1000 points
M0PLA Paul Athersmith 500 points
G4HQB Philip Sandell 500 points
HB9ELZ Markus Frauenknecht 500 points
DH8WN Ludwig Niebel 500 points
KG7VLX Chris Freund 250 points
KE4EA Dave Ivey 100 points
AB4WL Ken Moore 100 points
OK1NYD Pavel Novy 100 points
JI3BAP Akihiro Matsuda 100 points
K6RIN Ronald Nelson 100 points
G1VQN Karl Griffiths 100 points
Chaser
OZ4RT John Arnvig 50000 points
G0FVH David Dolling 10000 points
K4QS Charles Stover 10000 points
AB4WL Ken Moore 5000 points
AD0YM Michael Smith 5000 points
EA3GIN Rafael Angel 1500 points
K6LDQ Jon Kuroyama 1000 points
2E0DIJ Duane Yates 1000 points
K7TP Phillip Cleveland 1000 points
K0WRY Kent Hoskinson 1000 points
JG1BOK Satoru Kawamata 1000 points
SP9NLI Andy Pyka 1000 points
VK1AT Jim Henderson 1000 points
M0NZO Greg Bolshaw 500 points
HB9ELZ Markus Frauenknecht 500 points
AJ6CY Roberto Sadkowski 100 points
G0MHF John Bisson 100 points
AE7EL Gregory Hancock 100 points
N9WKE Bruce Pea 100 points
WU0A John Layman 100 points
K6RIN Ronald Nelson 100 points
N0DNF Bill Skerjanc 100 points
K7CLR Cindy La Russa 100 points
Chaser Unique
G0RQL Don Roomes 10000 summits
EA2CKX Pedro Chinchurreta 9000 summits
OZ4RT John Arnvig 6000 summits
2E0FEH Karl Kruger 4000 summits
G0FVH David Dolling 1500 summits
AE7AP Robert Kingery 500 summits
Activator Unique
DL7RAY Bjorn Kagelmacher 250 summits
Summit to Summit
KR7RK Keith Schlottman Platinum
SV2RUJ Triantafylloy Stavros Platinum
EA2WX Marcial Vecilla Platinum
DL4TO Gerhard Sedlak Gold
EA2BD Ignacio Cascante Diaz Gold
OK2VFS Frantisek Stepan Silver
AE7AP Robert Kingery Silver
HB9CRY Rene Kurt Silver
ZL2ATH Wynne Morgan Bronze
HB9ELZ Markus Frauenknecht Bronze
M0PLA Paul Athersmith Bronze
JI3BAP Akihiro Matsuda Bronze
DH8WN Ludwig Niebel Bronze
M0PLA Paul Athersmith Red
JP3PAD Michihisa Ueta Red
DL7RAY Bjorn Kagelmacher Red
DD2TC Clemens Muller Red
Mountain Explorer
VK3ARR Andrew Ryan Gold
VE6AGR Ken Smith Silver
M0PLA Paul Athersmith Bronze
AB4WL Ken Moore Bronze
DL7RAY Bjorn Kagelmacher Bronze
Mountain Hunter
SV2RUJ Triantafylloy Stavros Gold
W6SAE Steven Ewald Bronze
AB4WL Ken Moore Bronze
DH8WN Ludwig Niebel Bronze
DF1AKR Andreas Kirchner Bronze
K7CLR Cindy La Russa Bronze
Microwave Award
G4AZS Adrian Bayling 300 km 13 cm
VK1AT Jim Henderson 150 km 13 cm
JP3DGT Katsushige Oiji 300 km 23cm
JM1NCT Kiminori Akiyama 250 km 23 cm FM
JP3DGT Katsushige Oiji 200 km 23 cm
JG4LCS Harada Seiji 200 km 23 cm
N2YTF Thomas Tumino 100 km 23 cm
AA0BV Joe Olsen 50 km 23 cm
SOTA Complete
KR7RK Keith Schlottman 100 summits
SV2RUJ Triantafylloy Stavros 100 summits
HB9CRY Rene Kurt 100 summits
There continues to be confusion about how to qualify for the Activator Unique and the SOTA complete awards. Details are on the website but essentially for Activator Unique it is the number of SUMMITS activated not the points gained for activating those summits (similar Rules for the Chaser Unique Award too). To claim the SOTA Complete award you must have both Activated and Chased the summit and, once again, it is the count of the number of Summits not the points gained.
Not much information about merchandise other than to point out that I can now produce name badges with a Red background as well as the existing Blue and Black.
Finally, because of difficulties in producing trophies with a Gold or Black infill to the engraving I have had to delete these options with immediate effect. Red or Blue are the most effective and I will try to find a suitable infill to offer other colours in the future.
I have just placed orders to replenish my stocks of hats with the embroidered SOTA logo. When these arrive I will have to increase prices quite considerably but current stock will remain available until then at the current price. Buy Now to avoid the price increase!
Stay safe on the hills
73
Barry GM4TOE
SOTA Awards Manager
---
From Simon G4TJC
A new Reflector feature
Users may have noticed a little feature we added to the Reflector.
Now, whenever you type a summit reference it automatically gets linked to the corresponding summit page. For example, if I type GW/NW-001 (simply the SOTA ref – no special codes or trickery) it receives the link which viewers can then follow.
What's happening is that a Discourse plugin component is watching out for any text which matches a regular expression corresponding to the exact format for SOTA references. Anything which isn't an exact match is ignored. So, it must be in upper case, include the / after the association code, the - between the region code and the summit number, and any leading 0 numerals to make up the full 3-digit number. For example, none of these will show a link to Snowdon: Gw/NW-001, GW/NW-1, GW/NW_001
It's all fully automatic. No special action is required by the user.
It knows nothing about the database though. So if the Summits site doesn't have an entry for the summit (e.g. it looked like a ref but actually it was some crazy sequence, or simply an old, retired summit) you'll get dumped at the Summits site default page.
Simon G4TJC
*Editor Notes: As I have been compiling this, I have observed that every summit reference in the preview window has gone blue and if I hover over that the link, the summit URL apears in the browser bottom line. Spot them in this news, click and try it out Jim G0CQK
---
From Mike AD5A
bit of news from New Mexico. WS0TA (aka KT5X), K1JD and myself, AD5A, refer to ourselves as the Three Amigos. Well, the Amigos had a good week last week. KT5X completed his 700th summit activiation, K1JD passed the 5K Activator points level and AD5A passed the 3K Activator point level.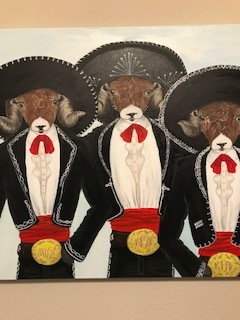 This painting hangs on the Top Secret "Goat Pub" located somewhere in Santa Fe, NM. Note the calls on the belt buckles:-)
73,
Mike AD5A
---
From Luc ON7DQ
Dragging a newbie to the summits …
The weather predictions looked good , and I had promised my friend Wil, ON6EO, that we would do a short SOTA trip to the two nearest summits from where we live.
As it happens, these two summits are in the North of France, FL/NO-133 and FL/NO-144.
So on August 21st, we went over there to have some radio fun.
Wil told me that he would only sit beside me and watch me "doing SOTA". He had no intention of activating himself. Yeah, yeah, I heard him …
Of course I was tempted, and after I had my share of QSO's, I said "now it's your turn" … it took some pushing and convincing talk … but I finally got him a headset and microphone on the head, and a small logbook and pen in the hands … and he started calling "CQ SOTA" …
On FL/NO-133 this resulted in 14 QSO's, on FL/NO-144 that afternoon, he made another 6.
On both summits, he even made a S2S QSO, one was EA6KB on EA6/MA-052, Puig de Maria, the other was HB9/DH8WN/P on HB/GR-20, Piz Turba.
Well done for a "newbie" !
Here our humble 9.15m endfed, compared to the 200m TV tower on FL/NO-144, Mont des Cats.
After a while, I couldn't get the microphone back … Wil was getting the hang of it …
Since it was such a nice day, we also took some time to play with a QCX 40m, and an EFHW.
Not related to SOTA, but we got a visitor too.
It was Pascal 'Duc' F5UQE which I know very well from the SKCC activities. He lives just 5 km down the Mont des Cats … and of course he called me first on the 40m band, before jumping on his motorbike and some minutes later he was standing beside me … what a nice surprise !
Here ON7DQ and F5UQE
It was a great SOTA day !
73,
Luc - ON7DQ
---
From Allan GW4VPX
Radio Tales from Wales
Since my last report we've had some glorious weather in Wales and many activators have taken advantage of this by hitting some of the high pointers and creating some activity on both VHF and HF.
Making frequent visits to Wales from his home QTH of Ludlow is Philip G4HQB . A few months ago Philip crossed 500 activation points and is now focused on getting his Mountain Goat over the next few years. Lately he's been taking advantage of the fine weather by hitting the Welsh high pointers and making inroads into his 1000 point goal. Mainly using 2m Philip puts out a good signal using a variety of antennae depending on the circumstances…keep up the good work Philip.
Philip G4HQB/p looking for 2m contacts with an unseen beam on his fibreglass fishing pole.
Not to be outdone, Phil's XYL can be heard quite often from the hills of Wales and along the border. Like Philip, Gillian 2E0OVW is an experienced hill walker and has already amassed a large number of activation points since September 2018 when she started SOTA…well done Gillian.
Gillian 2E0OVW heading for a SOTA summit
During September John M0VCM made his first foray into Snowdonia and a few high pointers which finds him heading nicely towards 500 activation points…thanks for the chaser points John.
John MW0VCM/p on Arenig Fawr GW/NW-011
Family selfie…Lizzy and John on Arenig Fawr GW/NW-011
On the 10th of September I was really surprised when I heard James M0JCQ/p calling on 2m FM from Great Gable G/LD-005 and even more surprised when he came back to my call, we soon exchanged signal reports. It's not very often I get the Lake District but my 5 element beam and lift conditions certainly pulled in James for a 168 mile SOTA contact.
I've added a link to Paul M0PLA 's blog which can be found below in the list of useful Blogs. Paul has been busy in Europe hitting the summits on his way to and from the radio rally at Friedrichshafen then as soon as he was back he was hitting the summits in North Wales…visit his Blog.
Paul MW0PLA/p on Carnedd y Filiast GW/NW-032
Tom M1EYP and Jimmy M0HGY were once more back in Wales to complete Mid Wales, I managed one s2s with them during their week. Alistair M0TYM from near Wolverhampton spent time in August hitting some of the big ones in Wales to push his activator points to over 500. I'm also keeping my eye on the SOTA database as we have one Welsh activator who is close to Mountain Goat…keep going Ian.
I visited Hope Mountain GW/NW-062 on the 18th of September and immediately ran into breakthrough and de-sensing problems on my Yaesu FT2 on 2m-fm. A quick change over to my Yaesu FT270 and the problem was solved with 16 crystal clear chasers in the log. There are large communication towers just below the summit so come prepared if your rig suffers from being too close to this type of installation. No such problems on HF (KX2) with 13 contacts on 80m and 60m before I had to go QRT.
Airbus Beluga on approach to Broughton airfield…taken from Hope Mountain
Comms towers below the summit of Hope Mountain
If you are venturing on to the hills and mountains of Wales please send me a brief report and especially some pictures of your activation so that I can include them here.
Useful Blogs and SOTA Mapping
If you are intending to visit Wales to activate a summit the following blogs contain valuable information.
GPS tracks and routes to our summits in Wales are also on SOTA Mapping https://www.sotamaps.org and is an useful first port of call.
Simon G4TJC continues to find new routes in North Wales with historical links and they can be found on his blog http://g4tjc.blogspot.com/
Allan GW4VPX continues to add reports and routes to 'Radio Tales from West Wales and beyond…' [https://gw4vpx.blogspot.com/ ]
Phil G4OBK … a wealth of information http://catterblog.blogspot.com/
Tom M1EYP …summit info as well as useful advice on places to stay and eat [http://tomread.co.uk/] (click on his link to SOTA on his website).
Andrew M1CJE http://blog.m1cje.uk/ and Paul M0PLA http://m0pla.blogspot.com/ blogs are well worth a visit with interesting presentations and information.
73 Allan GW4VPX
---
From Tom N2YTF
Finally getting to SOTA Sloth
Its taken me since 2008, but I finally got my Shack Sloth on Sept 8, 2019. When I first tried SOTA in 2008, there was only part of W2 in the US, and I got lost with my wife the first 2 times I tried to summit W2/EH-003, South Beacon. There were no trail maps, and what maps did exist at the time I did not know about. What government had what authority in the area was still being worked out so the parks were not organized.
Over the years I became a bit of a SOTA addict, with never enough time to fully explore my passion. I was frustrated more of the US wasn't in SOTA and there weren't many summits close to me, so I did my best to publicize it and I started the W1 area. I thought it might be a good idea to add an area that was home to ARRL HQ.
I can't believe how much SOTA in the US has changed since 2008----truly the program is unrecognizable from those years. I have watched the emergence of many US shack sloths and goats, something I never could have imagined when I was starting W1. I have to say I was quite envious as so many had so much time to play and I daydreamed of the time I could finally hit shack sloth and mountain goat (goat is still a long way off).
My home QTH is radio challenged, with noisy powerlines on two sides and a suburban sized lot only half way up a moderate hill…so chasing has always been challenging for me…particularly in this new era of QRP. Unfortunately my location is also far from any rich summit area.
So its not Double Super Sloth, but I am quite happy with myself and with SOTA and I can't wait for my little crystal cubes to arrive (because you need one for the office and one for the home of course when you are a true junkie!)
73,
Tom, N2YTF
W1 Area Manager
Tom N2YTF Working WG0AT April 2009 (Extracted from Tom's video)
*Editor Notes: I remember well working with Tom in the early days of US SOTA. I fully expected Tom to be one of the first US SOTA goats but as you can read, circumstances do not always work out. I recall one of Tom's early reports included a video where he made a QSO with Steve WG0AT when the the W0 associations were just being developed. Steve was not bitten by the SOTA bug at that time and now 10 years later Steve is a double goat and more than 3x shack sloth if I have read the tables correctly… Jim G0CQK
---
From Luc ON7DQ
A very hot SOTA activation …
After all my travels in the first half of 2019 (getting my MG in March, EA7 trip in May/June and the FH road trip with 20 summits, also in June) , I still felt the urge to do "another one" …
Little did Iknow that I planned a summit on the HOTTEST day in July !
Want to know how it went and how I kept my rig and myself "cool" … read my report here:
73,
Luc - ON7DQ
---
From Colwyn MM0YCJ
Quintuple mountain goat. 14th August 2019.
Thanks to everyone for the very kind comments about my quintuple Mountain Goatdom on Reflector, but the real thanks must go to my partner Ann, who often comments that I continue to "act the goat!"
My 5000th point was gained on the first activation of a Swiss summit, HB/VD-008 (Petit Muveran) on the 14th August 2019. I found the ascent dangerous because of steep, loose rock and I do not recommend attempting the peak. However, once established on the summit of Le Petit Muveran, it was a lovely day and I was able to sit comfortably in the sunshine during the activation; but concerned about surviving the exposed scramble back down! My 4000th activator point was gained on another very fine Swiss summit, HB/GR-025 (Piz Picuogl) on the 8th April 2018. In sharp contrast my 3000th point was gained at home on GM/WS-200 (Pap of Glencoe) on 4/1/2016. As is often the case we were sheltering on the lee side of a Scottish summit cairn and the wind was so strong we were required to do a bit of crawling to get safely to the top.
Timewise, quingoatdom has taken me a total of 8 years and 7 months, with a grand total of 9711 QSOs to reach this milestone. The timeline of these five "mountain goats" was;
Mountain Goat; 17th January 2011 – 16th September 2012 – 21 months
Double Mountain Goat; 16th September 2012 - 18th January 2014 – 16 months
Triple Mountain Goat; 18th January 2014 – 4th January 2016 – 24 months
Quadruple Mountain Goat; 4th January 2016 – 8th April 2018 – 27 months
Quintuple Mountain Goat; 8th April 2018 – 14th August 2019 - 16 months
The 9711 QSOs were amassed by transmitting from 851 summits (183, 153, 180, 168 and 167 summits respectively; and 1710, 2180, 2620, 1756 and 1445 QSOs respectively for each goat!) That is an overall average of 11.4 QSOs for each summit activated and for each Goat the average QSOs per summit was; 9.3 QSOs, 14.2 QSOs, 14.5 QSOs, 10.4 QSOs and in the previous 16 months a slightly higher average of 11.4 QSOs.
The number of QSOs on each summit has ranged from 1 QSO (5 summits) to 59 contacts on GM/CS-029 (Carn Liath) on 26th August 2017. In fact there have been a small number of summits where I made no QSOs, but obviously they were not recorded on the SOTA database. After empty rehearsals on two Scottish summits, I was successful on the second attempts, but for the overseas ones, they were written off as good training, or so I tell myself.
The 851 recorded summits include nine where I failed to make 4 contacts; 2 in Italy, 2 at home in Scotland, one in Hungary, one Swiss, the highest peak on The Falkland Islands, one in Norway and one in Iceland. In my home association of Scotland I have transmitted from 573 summits, down to single summits in Denmark, Lichtenstein, Sweden, Poland, Slovakia, Faroe Islands, USA and Luxembourg.
I note, that my second highest association summit total (79) is Switzerland, third is Austria (OE on 31) and fourth is England with 29 summits. I have been very fortunate to travel overseas with work and holidays and officially I have transmitted from 32 SOTA associations so hold Platinum Mountain Explorer Award Status.
On top of The Dom (4545m) HB/VS-002, on 3rd September 2019.
Of the 851 total there were 113 summits worth 1 point, 133 worth 2 points, 214 worth 4 points, 110 worth 6 points, 112 worth 8 points and my preferred option every time, 154 summits worth 10 points. Our highest peak so far has been the Strahlhorn (4190m), HB/VS-016 in April 2017, although I have twice now exceeded that height on the Nadelhorn (4327m) on 30th August and The Dom (4545m) 3rd September 2019.
I enjoy the extra challenge of activating in winter, or at least I have up until now, with 213 (25%) of my summits qualifying for winter bonus points. I can also substitute the avalanche probe I am carrying anyway to support the dipoles, instead of a fishing pole! Using skis is particularly good for descent and this was the method I used to ascend HB/GR-025 (Piz Picuogl) for my 4000th point. Although we also summited on Piz Kesch (HB/GR-012, 3418m) two days later, the weather and climbing conditions dictated a swift descent with no time for an attempted activation.
The maximum number of summits I have activated in any 24 hour period is 4 on 6th November 2011, 5th May 2012, 19th July 2014 and 31st May 2015. Multiple summit days seem to have been less common in recent years!
There are 2619 different call signs in my activator log, although a small number are duplicates when mobile/portable/etc, and I found a few errors which I corrected (and there will be others I know), so I have contacts with just over 2600 people. A big thanks to everyone I have spoken with since January 2011; long may it continue.
As I only use voice the split is 1941 QSOs on FM and 7770 on SSB. I really started using 20m on an overseas trip when my 40m antenna snapped and I couldn't repair it in the field. It is great to speak to chasers across Europe and I have occasional transatlantic contacts, which are always a pleasure. However, my QSO with Paul, VK5PAS, in South Australia was special and two QSOs, on consecutive nights with ZL1BYZ from Switzerland to Auckland in January 2017 on 14MHz stand out. I have also spoken with an Antarctic station (Palmer Station), although I was 56 degrees south on Two Sisters (VP8/EF-013) in The Falkland Islands at the time!
My most commonly used SSB band is 14MHz with a total of 4213 contacts, 7MHz with 3333. I did attempt previous SOTA challenges and amassed a paltry 196 contacts on 24MHz, only 22 contacts on 28MHz and a fine total of 3 on 50MHz. On FM I have 1941 QSOs on 144MHz.
From the start of my activation career I have used the same FT817 and a VX7 both blasting out 5 watts. I never invested in a lightweight ATU so relied on resonant inverted-V dipoles; this explains why so many of my early activations were single band. I then bought an Elecraft KX2 (10 watts and internal ATU), but having experienced early microphone problems, I often still carry the FT817 as a back-up. So much for trying to lighten the load!
My thanks go to all of the chasers with whom I have spoken. It is a joy (and often a relief) to speak to you all. My top 10 chasers are Don (G0RQL on 265 QSOs). It is always a pleasure to hear from Don, also reassuring that all is well with the World! Manuel (EA2DT with 220 QSOs) is a welcome regular. Next is a second regular Spanish station Pedro (EA2CKX on 218 QSOs). Robin, who coincidentally we once met on a summit by accident (GM7PKT/P on 99 summit-2-summit QSOs, plus 13 mobile and 16 base QSOs, a total of 128, but most of those with Robin being summit to summit contacts). Ken, who also lives in Edinburgh (GM0AXY) on 117, has been my local radio expert and he keeps me up-to-date reporting the conditions and weather at home to help me while activating. Michael (DJ5AV) with 101, Mick from Manchester (M0MDA on 97). Ken (G0FEX) with 95 QSOs, Terry (G0VWP) on 94 and Christine also in Edinburgh (GM4YMM) with 90 QSOs.
There are 501 summit-2-summit contacts in my log, 99 of them with Robin (GM7PKT/P).
I previously read the excellent RSGB book by Jamie Davies, "SOTA explained: a beginner's guide to hilltop radio." The authors' description of a SOTA activation as a combination of skill and chance, but without certainty of outcome, chimes with my own experience. If SOTA activating was easy, any appeal would quickly fade. He later writes, SOTA activating is… "The best of both worlds: beautiful hills and a little extra radio fun to be had at the top."
Thanks to MM0DHY (Adrian) who was the reason I took up SOTA, at least that is who I blame when blame is required!!! Despite the excitement of activating The Inaccessible Pinnacle on Skye and then later The Old Man of Hoy in August 2016, I look forward to future joint activations, I think! I would also like to thank the members of the Cockenzie and Port Seaton Amateur Radio Club, especially Bob Glasgow BEM (GM4UYZ), for guiding me through amateur radio licencing so successfully.
Many, many thanks again to everyone for all of your support and help. If you do hear me calling CQ, please try to get through to me. I also welcome all chaser SPOTS on Sotawatch to increase my average QSO rate.
73s and I hope to speak to you all further down the log.
Colwyn
MM0YCJ
---
From Guru EA2IF:
SOTA along the Camino de Santiago.
We've got Andrew VK1DA walking the French Camino de Santiago these days.

He started in St. Jean au Pied de Port (France) over the end of August and on his Camino through the Navarra lands he activated 3 different SOTAs with the support and the company of Ignacio EA2BD, Jorge EA2LU y Guru EA2IF.
From left to right: Ignacio EA2BD, Jorge EA2LU and Andrew VK1DA at Mt. Ortzantzurieta summit EA2/NV-012 on August 28th 2019.
Andrew VK1DA and Jorge EA2LU smiling during the 20m activation Mt. Ortzantzurieta.
Andrew VK1DA activating Mt. Erreniega EA2/NV-092 on August 31st 2019 with Guru EA2IF. Andrew chased this summit several months ago from his QTH in VK and he has now activated it, thus making it a Complete on this remote-for-him summit. Well done!
Andrew VK1DA activating Mt. San Cristóbal EA2/NV-119 on September 1st with Ignacio EA2BD.
Upon Andrew's arrival to the province and the city of León, he met Juan EA1AER to activate some SOTAs with him and visit León city and the mountains of León province.

On September 23rd, Andrew VK1DA and Juan EA1AER activated the 6 pointer SOTA Peña de Ten - EA1/LE-197 at 1.223m a.s.l.
Later that same day, Andrew VK1DA with Juan EA1AER and a group of hams from León tried to activate the SOTA La Campeona EA1/LE-165, but a sad technical mistake due to the EA group unknowing or inadvertedly not meeting an important part of the SOTA rules plus the communication problems due to each other very limited knowledge of the counterpartner native language invalidated the SOTA activation and it couldn't be such considered.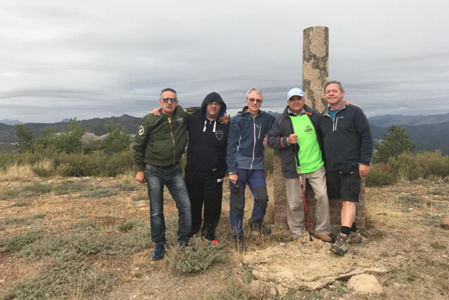 L to R: Victor EA1NY; Eliseo EA1IVD; Juan EA1AER; Agustín EA1AV; Andrew VK1DA.
It was a shame, but, anyhow, Andrew felt very grateful to Juan EA1AER and the group of hams from León for their kindness, help and availability.
Andrew is currently walking on the Galicia region, the province of Lugo: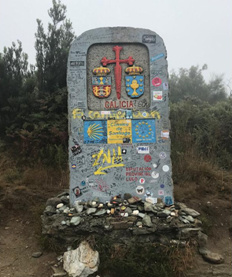 but it looks like he's run out of time to do any more SOTAs in the final part of his Camino through the Galicia region, as he expects his arrival to Santiago de Compostela by October 6th or 7th and his return flight departs on the 8th.
It's being a nice pleasure having Andrew over here all these days and we wish he will continue enjoying his Camino until he reaches Santiago de Compostela. We also want to wish him a very good return flight to Australia.
In case you feel interested in the Way of St. James or Camino de Santiago, you can visit:
http://www.caminodesantiago.me.uk/
73 Guru
---
Well that's it for this quarter. It is not too early to start to think what you may be able to submit for the next edition January 2020
Jim
G0CQK
---