Welcome to the July 2019 edition of the SOTA Quarterly News.
A few more contributions this quarter than the last so I hope that this continues to build over the next couple of quarters. My thanks got to CT2IWW, DG7ACF, EA2IF, GW4VPX, G4OBK, GM4TOE, K2JB, M0NOM, MM0FMF ON7DQ. ( have I missed anyone?) for their contributions to this quarterly news. We'll start with the awards news from Barry GM4TOE
SOTA Awards May & June 2019
There were very few Award claims in May so I have decided to combine the statistics for May and June
Congratulations to all who made Mountain Goat (1000 Activator points) and Shack Sloth (1000 Chaser points); all are listed below. K9IR and JA1VVH are new "Supersloths" and have received our variant on the standard certificate for this award. Special mention to DF3MC who must have been using his air miles to achieve the "Globetrotter" Mountain Explorer award; many of us would like the chance to activate on so many continents so well done to Martin.
It is interesting to note that the Microwave Award, which was introduced in collaboration with the UK Microwave Group to encourage portable operation on bands above 1000 MHz, has generally been awarded to Activators and Chasers outwith the UK. There is a lot of SOTA UK activity on the higher bands (especially 13 cm) so why no claims?
Trophies Issued
Mountain Goat
K4LPQ Patrick Quesinberry
W1PTS Tom Simpson
VK5CZ Will Northeast
OE6FEG Matthew Pullan
HB9DIZ Markus Schuler
GM3YTS Rob Ferguson
W6PZA Ron Adams
Shack Sloth
K4LPQ Patrick Quesinberry
K9IR Paula Uscian
2E0BLL Michael Green
VK1MCW Bill Kirkwood
F4HZR Micke Mondon
Certificates Issued
Activator
DG3NEU/P Tobias Lackermeier 1000 points
K4LPQ Patrick Quesinberry 1000 points
W1PTS Tom Simpson 1000 points
VK5CZ Will Northeast 1000 points
OE6FEG Matthew Pullan 1000 points
W6PZA Ron Adams 1000 points
K0NR Bob Witte 1000 points
W1PTS Tom Simpson 500 points
W1PTS Tom Simpson 250 points
GM4WHA Geoff Harper 250 points
OE2GXL Gilbert Schwank 250 points
JP3OYB Naoyuki Taniguchi 100 points
IZ1UMJ Marco Giulini 100 points
Chaser
K9IR Paula Uscian 10000 points
JA1VVH Tadayoshi Katano 10000 points
KE9AJ Joe Werth 2500 points
SP9TKW Marek Klimczyk 2500 points
K4LPQ Patrick Quesinberry 1000 points
KI5WA Horace Hinson 1000 points
VK1MCW Bill Kirkwood 1000 points
F4HZR Micke Mondon 1000 points
K0JJW Joyce Witte 1000 points
GM6ZAK Andy Sutton 1000 points
WD0ACB Leonard Bruce Russell 500 points
W1PTS Tom Simpson 500 points
JP3PAD Michihisa Ueta 250 points
W1PTS Tom Simpson 250 points
HB9GUX HaWe Grotemeyer 250 points
G4TCI Michael Soars 100 points
Chaser Unique
SP9TKW Marek Klimczyk 250 summits
WD0ACB Leonard Bruce Russell 100 summits
Summit to Summit
HB9DBM Mark Brun Platinum
GW4VPX Allan Jones Platinum
HB9DGV Rolf von Allmen Gold
NY4G Ariel Jacala Silver
W1PTS Tom Simpson Red
HB9GUX HaWe Grotemeyer Red
Mountain Explorer
DF3MC Martin Rothe Globetrotter
NY4G Ariel Jacala Bronze
PTS Tom Simpson Bronze
Mountain Hunter
W1PTS Tom Simpson Bronze
Microwave Award
JG1BOK Satoru Kawamata 200 km 23 cm
JP3DGT Katsushige Oiji 100 km 23 cm
VE6IXD Ian Drummond 50 km 23 cm
Not a lot to extra to report this month. My xyl has managed to find a home for all the T-shirt stock and spent many hours bagging and sorting them – guess I owe her a glass of wine!
My trophy stock has been decimated, more are on order but there will be a delay of about 4 weeks before I can produce any more Mountain Goat trophies. I also realised that my hat stock is missing a couple of popular colours so I will have to order more of those too – goodness knows where this extra stock will be stored!
Finally my sincere thanks to all those folk who have made a donation towards SOTA funds. Andy MM0FMF highlighted at the Friedrichshaven Rally the costs involved in running the free-to-use SOTA IT facilities and it is the sale of Awards and merchandise (plus these generous donations) that provide these funds
Stay safe on the hills
73
Barry GM4TOE
SOTA Awards Manager
---
From Phil Catterall G4OBK:
The complete adventures of Victor GI4ONL and I in the Czech Republic last month can now be found on my blog for May 2019. We activated 52 summits in 8 days, made 1180 SOTA contacts and drove 960 miles.
It was hard to write about something of interest every on every summit as many summits in the Czech Republic are in woodland and are easy to reach from the car, but I managed to flesh out my blog somewhat, interspersed with the occasional unusual occurrence and discovery such as:
The stag party thieves on the flight out to Prague
A description of the hotels where we stayed and one of the bars where we ate
Coming across 3 contest club stations sited on the tops of summits – off which 2 were in the middle of a VHF Contest
Finding a hotel on top of OK/VY-010 Kremesnik a 6 point summit – a future place for activators to stay I wondered?
Discovering that the Czech Republic has a similar situation to the old G/DC-004 Hensbarrow Beacon (Now G/DC-008) on OK/PA-040 Ochoz by way of an enormous rubbish heap that is higher than the stated summit
Meeting up with Jarek SP9MA on the summit of OK/PA-036 Zubri
Finding a cemetery on the summit of Chotuc OK/ST-097 and producing a YouTube video of us walking around it.
So please visit my blog at https://catterblog.blogspot.com/2019/05/ . I hope you find it of interest!
Postscript from Phil.
I will be operating from time to time next week when I am on holiday in France from Sunday 7th July until Friday 19th July. It's a holiday rather than a full blown SOTA Tour but I expect to be QRV from at least one summit most days from the FL/NO area whilst travelling through it, and from the FL/VO Alsace area whilst walking between Monday 8th and Weds 17th July. On Weds/Thurs 10th/11th I will be watching the Tour de France in the Vosges / Ballon area and will try to activate a summit each day after watching the cycle race pass by, I've watched the Tour on TV since the 1980s so this is the first chance I have had to see it live.
---
From Dean Blair K2JB:
The best news those of us in the W4T/W4C Association have heard in a long time is that Liz Burns K1LIZ and husband, Ron Burns KI4TN are again activating after Liz being hospitalized for an extended amount of time enduring a STEM Cell transplant and subsequent complications that had her on life support for several weeks. Ron has been Liz's helpmate their entire marriage as Liz was rendered completely blind from an automobile accident 30 years ago.

Photo copied from QRZ
But she is unstoppable and loves SOTA. While in the hospital her constant thoughts were, "When can we do another activation?" Those of us who know her are in awe of her ability to get to many of the summits she and Ron have activated and are in awe of Ron for guiding her all the way up and down to them. Since April, she has activated 10 summits.
---
From Allan GW4VPX
Radio Tales from Wales
It's been rather a quiet few months here in Wales due to some more really bad storms passing through again although we have had some glorious weather as well so we can't really complain.
There have been some GW related achievements during the last few months. Neil G0WPO who is a regular SOTA visitor to Wales and first started his Mountain Goat campaign on Cyrn y Brain, GW/NW-043 recently achieved his MG on Stoney Cove Pike, G/LD-018, so a well deserved congratulations Neil.
Completing the activations of all the summits in Wales is another challenge which is on my agenda for the next couple of years. Tom M1EYP and Jimmy M0HGY are well on their way by recently completing GW/NW, so well done both.
John G4TQE not only achieved Mountain Goat a few months ago but then went on quietly to complete the activation of all the summits in Wales by activating Cefn yr Ystrad GW/SW-008 on the 7th of May…what's next John?
A happy John G4TQE/p after his MG activation and 'Completing all of Wales' already on his mind
Rod M0JLA and Viki M6BWA jumped on the 'SOTA complete' band wagon and decided to have a change of scenery from the hills and mountains of Wales by taking a ferry and completing the activation of GI…well done both.
Phil G4OBK is still plodding away at completing Wales and was up on Pen y Garn GW/MW-004 on the 5th of June. Bryn GW4ZHI and I were mobile together so obviously we had to answer is CQ SOTA call with 5/9 each way and helping him to qualify the summit. Bryn has persuaded me to join him on a joint activation on the Backpackers contest in August and to that end we are building a portable 2m beam antenna, needless to say we will be on a SOTA summit with other bands possible…
Recently I took part in the Lake District SOTA weekend organised by Mark M0NOM and I must say I thoroughly enjoyed the whole experience with loads of contacts and Summit to Summits on the Saturday. I had the opportunity to do a few enjoyable joint activations on the Sunday with Paul HB9DST so thank you Paul for the company.
Paul HB9DST/p on Top o'Selside G/LD-048
The weekend also enabled me to get within 7 points of my 5000 point s2s challenge and the final sticker on the SOTA certificate. Needless to say I was out the next day on GW/MW-029 Hafod Ithel to get the sticker.
Allan GW4VPX Hafod Ithel GW/MW-029
I mentioned some of the bad weather we have been having recently and this affected a couple of our regular visitors who are trying to reach MG. Andrew M1CJE (Wiltshire) had to curtail his joint activations in North Wales due to stormy conditions and you can read all about his weekend and other activations on his Blog http://blog.m1cje.uk/
On the 2nd of June Jordan M3TMX (Erdington) sounded to me on 2m as if he was having a tough time in the wind and the rain on an exposed Moel Cynghorion GW/NW-030, nevertheless Jordan after a recent visit to the Lake District is now on 833 activation points…nearly there.
A wet but smiling Jordan on Moel Cynghorion GW/NW-030
Jordan M3TMX/p on Moel Siabod GW/NW-010 with his 2m 3 ele beam …on a good day
Jordan couldn't resist a selfie with his Auntie on Moel Siabod GW/NW-010
If you are venturing on to the hills and mountains of Wales please send me a brief report and especially some pictures of your activation so that I can include them here.
Useful Blogs and SOTA Mapping
Like a few others I'm a little behind with my blog reports, nevertheless the blogs still contain valuable information if you are intending to activate a summit. Information on routes to our summits in Wales continue to evolve and the SOTA Mapping is an useful first port of call. I don't think that there are many summits left without a published route and GPS track now. Simon G4TJC continues to find new routes in North Wales with historical links and they can be found on his blog http://g4tjc.blogspot.com/, Allan GW4VPX continues to add reports and routes to 'Radio Tales from West Wales and beyond…' [https://gw4vpx.blogspot.com/ ] , a wealth of information from Phil G4OBK http://catterblog.blogspot.com/ and likewise Tom M1EYP [http://tomread.co.uk/] (click on his link to SOTA on his website). New addition to the list is Andrew M1CJE http://blog.m1cje.uk/
73 Allan GW4VPX.
---
From Mark M0NOM
SOTA G/LD Weekend, 17th May 2019 – 19th May 2019
The Lake District SOTA weekend in May attracted 25 activators from as far afield as Switzerland and North America. Fortunately, the somewhat sketchy weather forecast improved during the week with a dry long weekend. The keen started on Friday with most activity on Saturday with the fit and able carrying on into Sunday. I'd like to firstly say a very warm thank you to all the chasers who persevered for contacts amongst the S2S melee!
The author M0NOM/P with fellow activator Paul M0SNA/P at the summit of Helvellyn
The statistics make great reading. Over the weekend 29 unique LD summits were activated, with 33 in total. There were 192 Summit-to-Summit contacts within the Lake District and 40 outside the region. Amongst the usual mixture of VHF and HF bands there were also contacts made on 10 Mhz, 1.24 Ghz and 2.3 Ghz with a mixture of CW, SSB and FM modes.
G4VPX/P - Allen's station on Claife Heights
On Saturday Allan, GW4VPX/P stayed put on Claife Heights and managed to work most of the Lake District activators out that day – ending the weekend with a total of 46 S2S contacts. On other days Allan jointly activated several summits with Paul M/HB9DST/P, the weekends' results pushing his S2S tally to within 7 points of 5000 (Platinum) – achieved few days later. Allan has the honour of becoming the first in the UK to reach this milestone.
Chris M0KPW braved a chest infection to activate Kirkby Moor and was kept very busy being one of the first on summit. Neil G0WPO had great views from High Stile, Pete M0HQO was on Pike of Blisco with Derek 2E0MIX nearby on Hard Knott. Geoff GM4WHA took in a couple of Wainwrights but was unfortunately in the cloud on Skiddaw. Chris M0RSF was impressed with the 2M activity on Red Screes. Phil G4OBK started on Stony Cove Pike with Judy and ended up on Red Screes, Andrew G4VFL activated Harter Fell (still on my list!), G6MZX was on Binsey, M0OAT wild camped overnight on Illgill Head and then moved on to Muncaster Fell the next day, G6PJZ was on Blake Fell with Di G0EVV/P close to LD land on Cross Fell G/NP-001. John G4TQE/P was on Hutton Roof Crags, Dave G3TQQ/P on Lambrigg Fell and Andy G8CPZ/P on Arnside Knott, in many cases fitting in an Activation around commitments.
Phil G4OBK/P on the descent to the Kirkstone Inn from Red Screes – after a long day!
My first SOTA activation on Saturday was with Paul W6PNG/M0SNA on Helvellyn. We arrived relatively early at 10:30 local and were amazed at the amount of activity on 2m. It was hard to find a clear frequency – a nice problem to have! At one point we had cross-traffic between two LD activators and an LD activator working into GI. I used a backpack mounted whip to try and ensure we made as many contacts as possible whilst traversing between summits, with the KX3 and SOTABEAMS Dipole for HF from both Helvellyn and Seat Sandal. We met Jamie M/N6JFD on the way back down to Dollywagon Pike - he takes the prize for furthest travelled participant and the best effort – Scafell Pike on Friday, Helvellyn on Saturday and Old Man of Coniston on Sunday (not counting his non-LD activations)! Alan M1FHM can't have been far behind him as he also activated Helvellyn shortly after Jamie.
Jamie M/N6JFD/P with me M0NOM/P and the two Pauls G4IPB/P and M0SNA/P
A quite unique situation unfolded as Paul and I crested Seat Sandal and spied Paul G4IPB/P freshly setup for VHF and HF having completed activations on both St Sunday Crag and Fairfield. A couple of minutes later Jamie came striding straight up the side of Seat Sandal to complete our unusual group of four activators on one summit. We somewhat comically then worked Allan on Claife Heights – passing Paul's handheld between us in quick succession. Stuart G1ZAR/P could have waved at us from Fairfield!
Andy M0FMF/P on 1.24 Ghz
Andy M0FMF/P and Paul HB9DST/P on Gummer's How used 1.24 Ghz – there were a total of 8 Summit-to-Summits using this band, with another handful on 2.4 Ghz. Of the non-LD contacts on 2m FM MI7ACD was worked on Slieve Commedagh and MD0PCF/P on Snaefell with a handful into GW. HF activity was more limited. The furthest S2S Contact was on Sunday between M/HB9DST/P & G4VPX/P on G/LD-048 Top o'Selside and EA6/G4ONL/P on EA6/MA-049 Amoixa at 1,700 km. Phil G4OBK/P (also using a rucksack antenna) worked Gillian 2E0OVW/P on Caer Caradoc G/WB-006 as he was near the Wainwright of Dow Crag LDW-047, whilst coming down from Coniston Old Man.
Paul M/HB9DST/P with Allan G4VPX/P on Top o'Selside
On Saturday evening several the day's activators retired to the Brookside Inn, Windermere to be fed and watered whilst comparing summit stories. It was great to put faces to callsigns and chew the cud, a rare treat indeed! One thing was agreed – we need to do this much more regularly in the future! Mark, M0NOM/P.
Social gathering on Saturday evening at the Brookside Inn, Windermere
---
From Paulo CT2IWW
SOTA Portugal yearly meeting in Santarém May 11-12
Portuguese activators and chasers gathered in the city of Santarém on May 11th to attend the sixth SOTA Portugal´s yearly gathering.
The day´s proceedings were opened with a welcome speech by our host, Sílvio Leiria - CT1BPT, president of Associação de Radioamadores do Ribatejo – ARR radio club.
Pedro Carvalho – CT1DBS, Association Manager, was next with a brief presentation on SOTA rules and procedures followed by Paulo Teixeira - CT2IWW with the program´s statistics for 2018, in Portugal.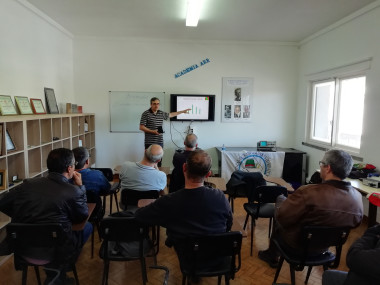 The morning´s last presentation was given by fireman Flávio Areias, from the Santarém Municipal Fire Brigade, who provided a rare insider´s view into the Portuguese emergency response system and how calls to the 112 emergency number are handled. SOTA activators, in particular, found the presentation very valuable since Mr. Areias confirmed that the system can work with the GPS coordinates provided by the caller.
After the lunchbreak, João Fragoso – CT7ABE, gave an overview of the types of antennas and tuners available for QRP and portable operations, followed by Filipe Relvão – CT7ALM and António Cardoso – CT1MH, who talked about their experiences as Scout leaders and the integration with amateur radio activities, namely SOTA activations.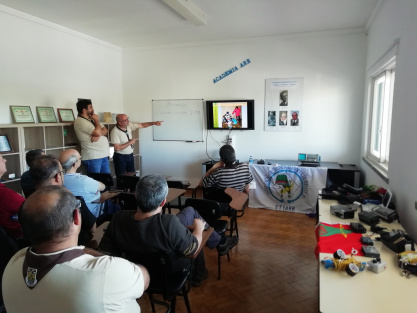 Emmanuel Lomba – CT7AFR, closed the afternoon´s presentation program with "What Can Go Wrong with a SOTA activation?", an often humorous yet serious personal account of challenges that have arisen whilst activating summits.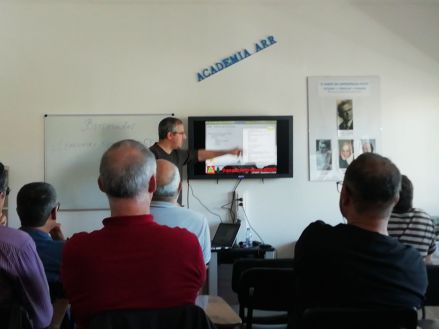 Pedro Carvalho- CT1DBS, closed the first day of this conference with the introduction of the SOTA-CT Portugal Certificate Program (see bellow). The last act was scheduling next year´s meeting, tentatively, for May 16-17 2020, in the Coimbra area.
On Sunday, 12th, the meeting´s "second leg" was taken over by several activators who headed to the hills, activating SOTA summits in different SOTA Portugal regions.
CT SOTA Certificates -SOTA Portugal CT
The Summits on the Air (SOTA) – Portugal CT awards program, implemented in 2012, has
nowadays a growing amount of participants. According to the latest SOTA Database
information, there are over hundred registered chasers and activators.
The DXCC entity Portugal CT has 237 summits and 11 regions qualified for the SOTA
awards scheme. Madeira CT3 and Azores CU have their own separate SOTA programs.
In order to acknowledge the accomplishments of both chasers, activators and SWLs, the
management team of SOTA – Portugal CT implemented the "Diploma SOTA CT ", a
national Summits on the Air certificate program for the "CT" DXCC entity.
Certificates will be issued, electronically, for the activator, chaser and SWL categories. For more information, the program´s rules can be downloaded from the official SOTA - Portugal website:
For diploma and further information requests, use the program´s oficial email: portugalsota@gmail.com
73s and good chasing/activating!
---
From Luc ON7DQ
Airport security and batteries
On my latest SOTA trip to EA7, my main battery already failed on the first summit, after having used it many times before without problems.
It was a homebrew 16.8V Li-Ion pack, consisting of 8 cells of the 18650 type, in a 4S2P configuration (the red box in the picture with the Lion on it … got it ? LI-ION ? hi).
Now I had a backup battery, so it was not a big issue. The backup is a 4S1P pack which fits in a cassette tape box. In this picture, I was using it with a QCX 20m in the QCX Challenge (which is each last Monday of the month).
Now, I wanted another "backup" for the backup … you can never be too sure , right ?
So what I did was this : I did have a typical Chinese powerbank, which I had filled with 4 Li-Ion cells. In this pack, the four cells are in parallel.
In my suitcase I had a battery box, wired to put these four cells in series, and presto !
I had another 16.8V pack for my KX3 or QCX.
It can be charged with a balanced charger as is, or one could put the cells back in the powerbank and charge them with a regular phone charger.
(I feed the KX3 via an automatic voltage reducer, the QCX can handle the 16.8V directly).
So this could be a solution for those travelling through "battery/radio sensitive" airports.
Most of the time, such powerbanks raise no suspicion, everyone is carrying one !
Good luck !
73,
Luc ON7DQ / KF0CR
---
From Andy MM0FMF
Platinum Status on the Mountain Hunter Award for MM0FMF and M0SNA/W6PNG
On our recent trip to the Friedrichshafen Rally, Paul M0SNA/W6PNG reached Platinum Status (20 associations activated) on our joint activation of Hoechsten DM/BW-854 and I reached Platinum on the next joint activation of Attsenberg DL/AL-276.
In total we activated
Italy: I/LO-272, I/PM-202
Switzerland: HB/TI-152, HB/GR-102, HB/GR-103
Liechtenstein: HB0/LI-012
Austria: OE/VB526
Germany: DM/BW-854, DL/AL-276
HB9/M0FMF/P 20m vertical on HB/GR-103, Tguma
We shared just one station on most operations to speed up activation setup and takedown time and used a KX2 with 40/20/10 endfed supported by either 1x 5m pole and trees to 2x 5m pole. The end fed performed best with the feed about 1.7m AGL and 3.2m of the antenna vertical up the 1st pole and the rest horizontal with the far end supported by another pole.
I/W6PNG/P waves for the camera with endfed rigged as Inv-L on a very busy I/PM-202, Monte Mottarone
With so many SOTA activators in the area for the rally, there were plenty of chances for S2S QSOs. Both of us completed HB0/LI-012 by chasing HB0/OE5REO/P from OE/VB-526 3 days after we activated it on the way to the rally. I was able to complete DM/BW-854 the same day by chasing DL/OK1CZ/P also from OE/VB-526.
Andy MM0FMF
---
From Pom DG7ACF
1905 km SOTA QSO on 144 MHz
On the 16th June 2019 at 0815z, Michael, DB7MM/p successfully completed a 144 MHz SSB QSO with R3PA. Michael was on DM/BM-345 Kalvarienberg and R3PA in KO93JV, that is 1905 km. Propagation mode was Sporadic E.
Michael reveals some details of the contact in the GMA forum (German only): "At 1015 (local) I heard R3PA calling CQ. I called him instantly and he came back with 'DM7MM'. I then corrected my callsign and the qso was completed. […] Two minutes later he disappeared." Michael was using 50 W into a 6 element Flexayagi.
Later on that day, good tropo conditions brought also 9A, F, HA, and S5 into his SSB log. Well done Michael!
---
From Guru EA2IF
Unfortunately as a consequence of the database changes, the normal data that Guru presents in his report are temporarily unavailable. Guru has been working directly with Andy, MM0FMF to resolve this but a solution awaits. Guru will post his report within this topic once the data is available.
---
Finally another reflector statistic to share. In the April News we looked at the Page Views and the New Topics on the reflector. As I mentioned the reflector produces a variety of reports. One of these track the number of what are called daily engaged users. These are people who interact with the reflector either by posting or by liking a post.
Daily Engaged Users 1st to 30th June 2019

Note that the base line is not zero starting at 30
That's all for this quarter. Was there any news missing from your part of the world that could have been shared. If so I am afraid nobody chose to share it.
73 Jim