Welcome to the February 2021 Quarterly News at a time when Covid-19 lockdown is seriously impacting many Associations and many of our regular reporters are out of action. However there is some light peeking through the clouds by way of all the new emerging Covid vaccines. I have had my first. Many thanks to Barry GM4TOE, Tom M1EYP, Luc ON7DQ, Ken G0FEX. Colwyn MM0YCJ and Allan GW4VPX for their contributions.
---
SOTA Awards November 2020 to January 2021
This report covers award claims for the period November 2020 to January 2021.
Highlights are: VK3PF, OE6BID and OE6PID all reach 5 x Mountain Goat, NE4TN reaches 75k Chaser points and AC1Z 50k Chaser points while IK2LEY achieves the Amethyst Summit to Summit Award.
Congratulations to all who have reached their own significant milestone
Trophies Issued
Mountain Goat
N6MKW Michael Williams
EA4DON Alejandro Caballero
EA4DOS Elena Ortega
KC7MSU Dan Devlieger
N3BZ Robert Fridell
VE6VID Ken Smith
Shack Sloth
DF1AI Armin Irlacher
M0DHP R. Benitez
KD7ICW Brad Jenkins
JG4LCS Harada Seiji
KF6HI Brian Hamerski
N4ARY Aaron Ray
K6RIN Ronald Nelson
JP3PAD Michihisa Ueta
K5RHD Randolph Diddel
VK5FMAZ Marija Simmonds
DL6HH Sascha Hoffmann
KF4BY Stan Nafziger
7N1FRE Kazuhiro Idenuma
KL7HM Hugh McLaughlin
Certificates Issued
Activator
VK3PF Peter Freeman 5000 points
OE6BID Barbara Schantl 5000 points
OE6PID Peter Schantl 5000 points
OE6BID Barbara Schantl 2500 points
OE6PID Peter Schantl 2500 points
KI4TN Ron Burns 2500 points
EA4DON Alejandro Caballero 1000 points
EA4DOS Elena Ortega 1000 points
IK2LEY Fabio Pellizzoni 1000 points
S58R Konrad Krizanec-Rado 1000 points
VE6VID Ken Smith 1000 points
K0DAJ Donald Jarvinen 500 points
N1RBD Richard Dervan 500 points
N5AAS Lane Dossett 250 points
JR8MHA Katsuyoshi Aoki 250 points
WD8LQT John Playford 100 points
SP9MTJ Michal Janecki 100 points
KC1HQZ Enrico Nuttoli 100 points
KD4CB Charlie Brown 100 points
VK2VRO Joel Buckley 100 points
JR8MHA Katsuyoshi Aoki 100 points
Chaser
NE4TN Walter Beaton 75000 points
AC1Z Bob Daniels 50000 points
K1LIZ Elizabeth Burns 10000 points
M5OTA Tony Hickson 1000 points
K6RIN Ronald Nelson 1000 points
JP3PAD Michihisa Ueta 1000 points
K5RHD Randolph Diddel 1000 points
VK5FMAZ Marija Simmonds 1000 points
DL6HH Sascha Hoffmann 1000 points
K2LT Lee Trudeau 1000 points
N3SW Scott Walker 1000 points
ON4BCA Patrick Janssens 1000 points
7N1FRE Kazuhiro Idenuma 1000 points
KL7HM Hugh McLaughlin 1000 points
N1RBD Richard Dervan 1000 points
JG4LCS Harada Seiji 1000 points
JS2ITI Reiji Tanaka 500 points
SP9MTJ Michal Janecki 500 points
KB7JJG John Gesell 500 points
JI8UCI Hiroto Miura 250 points
ON4KJM Jean-Marc Meessen 100 points
9A5MPV Vladimir Ivkovic 100 points
KB9LLD Tony Nass 100 points
VK2VRO Joel Buckley 100 points
YC2VOC Galih Suryananto 100 points
Activator Unique
M6BWA Vicki Archard 500 summits
M0JLA Rod Archard 500 summits
F5IUZ Moise Dautricourt 100 summits
Summit to Summit
IK2LEY Fabio Pellizzoni Amethyst
HB9EIV Michael Rass Gold
OE6BID Barbara Schantl Gold
OE6PID Peter Schantl Gold
EI6FR Declan Craig Silver
VK2JDL Phil Clancy Silver
JP3OYB Naoyuki Taniguchi Red
Mountain Explorer
M5OTA Tony Hickson Bronze
KD4CB Charlie Brown Bronze
N5AAS Lane Dossett Bronze
Mountain Hunter
KF6HI Brian Hamerski Gold
KB9JMU James Adams Bronze
9A5MPV Vladimir Ivkovic Bronze
Microwave Award
KM6TWI Alan Bauer 50 km 23 cm
Royal Mail once again have increased the costs of postage, this is on top of the incredible increase in postal costs to the USA that were introduced in the middle of 2020. In addition, with the UK leaving the EU , any package sent to the EU member states now will attract VAT and other Customs charges (and means I have to complete a Customs Declaration for every package that leaves the UK). I cannot under declare the value but everything is sent as a "gift" and, for items such as trophies I declare the actual cost without any value added, such as engraving.
Many people have continued to make donations towards the running costs of SOTA and this is really welcomed. Although the data processing gurus on the MT seek ways of minimising the costs (successfully I should add) the cost of the hosting, and other services, is quite considerable but profits from sales of merchandise and Awards, plus these donations, do keep the programme running in a stable financial state. Thank you for all your continued support.
The various lockdown conditions around the World are causing a significant impact on the number of Activations able to take place leading to higher numbers of folk chasing these limited activations. I can only hope that this virus will come under control soon so that we can all return to some form of normality. Meanwhile I have noticed that the "silly season", which normally occurs before the winter bonus season is upon us, has returned with several folk joining in with playing "Mornington Crescent", even from the antipodes!!! (For those of you not aware of what this is you can find an explanation at :https://en.wikipedia.org/wiki/Mornington_Crescent_(game) ). I think we are all suffering from cabin fever!
That is it for this quarter – stay safe on the hills and keep away from anybody carrying that infernal virus
73
Barry GM4TOE
SOTA Awards Manager
---
From Tom M1EYP. - Lockdown
Well exactly what I didn't want - life without SOTA! I thought I'd got it sorted. I had two SOTA summits within 20 minutes drive from my home QTH, and both in my local council area. I had a third that was right beside my commute route on workdays. I'd ticked the "Stay Local" box and the "Essential Travel" box. Then along came Lockdown 3, with similarly tight restrictions to Lockdown 1 back in March/April 2020. "Exercise" replaced "Exercise and recreation" as a reason to be outdoors and away from one's home. Exercising "from home if you can" made driving out to a parking spot in the countryside socially unacceptable, if not illegal.
Back in Lockdown 1, I had respected the restrictions, and worked within them to devise what I called my "Lockdown Walks". These were circular routes of between 5km and 35km, starting and ending at my home QTH on a large housing estate in the town of Macclesfield. The countryside could be reached within 10-15 minutes of walking from home, and lots of fantastic public footpaths were discovered for the first time, despite them being on my doorstep for half a century! I chained them together to create my routes, which I mapped, photographed and described on my website http://tomread.co.uk/lockdown_walks.htm
Lockdown 3 would mean a return to that Lockdown Walks project. It wasn't SOTA - but I could still take a handheld VHF rig out with me. Several other local radio amateurs got into the habit of bringing hand-portables out with them on their local exercise walks. A sense of community prevailed, especially as we started sharing and comparing our routes.
The local press took an interest in the project, and the Macclesfield Express newspaper ran an article about the "Lockdown Walks" in one of its January editions.
InYourArea.co.uk – 18 Jan 21
Tom Read helps people stay local in lockdown for exercise
Local People Magazine https://www.localpeoplemacclesfield.com asked me to write a monthly article about them for the coming 12 months. The greatest satisfaction came though when someone who was unknown to me signed my website guestbook with the following comment:
Hi Tom - I've just done the first of your lockdown walks. I'm fairly new to Macc, so it's a great way for me to get my bearings of the local area and also to get out and about.

While I was out I bumped into a couple who were also doing one of your walks - they'd just set out from Henbury.

I realised halfway through mine that I'd done it the opposite direction to the one you suggested, but bar a few bogs and mud baths, it was a lovely stroll and I look forward to doing the rest!
An old friend and musician colleague of mine from 25+ years ago saw the newspaper article and got in touch. He wanted my advice on routes he could do in the Macclesfield area that would clock up 11,000 steps. This was for his participation in the March the Month fundraising and awareness-raising event in support of Prostate Cancer UK. I was only too pleased to help, and recommended my Lockdown route 5 http://tomread.co.uk/lockdown_5.htm , which passes close to his home.
The 11,000 steps is in recognition of the 11,000 lives lost to prostate cancer every year in the UK. This phone call from a dear friend proved to be inspirational, and by the end of it I was signing up to take on March the Month myself! SOTA or no SOTA, I will definitely keep myself busy in March - and hopefully in decent shape too.

marchthemonth.prostatecanceruk.org
March the Month is a virtual walking challenge everyone can get involved with.
Despite lockdowns, a back injury and being unpleasantly ill for two weeks with Covid-19, I still managed to rack up my greatest number of SOTA activations in a calendar year in 2020 - 536. 2021 looks like a sharp contrast already. I commenced the year with five activations of two local summits in the first four days of January. But on the evening of January 4th 2021, Lockdown 3 was announced, which put a stop to all that!
So, as well as the Lockdown Walks project, what else have I been doing to fill my time? Well, I've not had that much time to need filling as it turned out. Obviously all my tour gigs for the year were cancelled, but fortunately I had my experience as a maths teacher to fall back on. I'm currently working at a lovely school in the Staffordshire Moorlands. It's a four day week, with three days working from home delivering live online lessons via Microsoft Teams, and one day on campus supervising the vulnerable and keyworker children. But that still leaves my non-work free time to fill!
I've taken the opportunity to finally try to learn how to do multitrack recording and video editing. As a musician of many years standing, it may come as a surprise to learn I knew next-to-nothing about these seemingly important professional disciplines! I noticed a number of bands doing new recordings and producing "lockdown videos". The idea being that each individual member would record (and video) their own part, and email (or more likely WeTransfer) it into the person coordinating, who would than mix the tracks and edit the video.
My own initial attempts at these are useful in giving me self-feedback on what I need to do to improve. Like acquire better equipment - I've since got an XLR-to-USB lead for taking my bass guitar signal from the Valeton Dapper multi-effects/amp emulator pedal into the PC. We've also binned the cheap karaoke microphone and invested in a Rode-NT USB microphone with boom stand. I'm currently using freeware - Audacity for recording and audio editing, and OpenShot for video editing. Both are pretty good for free, but both have limitations as one would expect. One of the things I need to do is update my version of Audacity so I can use the panning plug-ins and create a much more pleasant stereo mix. Ultimately I'll probably need to invest in Cubase, and a much more up-to-date faster PC, but it's difficult to justify investing in a business that is currently producing zero income!
So here you go, warts-an-all (distortion, mic clipping, video syncing issues, lack of vocal effects and panning), our latest attempt at a Lockdown recording and video:
Of course the "Stay at Home" way of life has brought a welcome return to people's lives of nice old-fashioned traditional things like families spending quality time with each other, home-cooking and baking, gardening, DIY, board games etc. Home delivery services are now a major growth industry, and some of our particular favourites have been Treacle Town Pies, Wincle Beers, Red Rock Brewery and Cherry Blossom Bakery. A young Indian couple took over the running of our local corner shop, and the young lady Priyanka regularly cooks authentic Northern Indian dishes to order. We enjoy these as they are very traditional and home-style - and not at all like what one would normally expect from a curry house or take-away.
Somewhat out of the blue, Jimmy @M0HGY and I started making homemade Scotch eggs. We've become rather good at them, and even made special ones with cranberry for Christmas, and with haggis for New Year's Eve. These have proven highly popular, and our batch size now needs to be over 20 each time, such is the demand from friends and family!
Tastes in TV entertainment have changed remarkably. Some of the teatime briefings from No. 10 have been gripping, while others have been beyond boring. I have tended to enjoy the mathematics and modelling presented though, as well as the tension between the understandable "spin" tone of the PM and cabinet ministers, against the steadfastly "non-spin" tone of the medical and scientific advisors!
Match of the Day used to be far-and-away my favourite television programme, and just about the only thing I would definitely sit down to watch every week. I still do - but its appeal gets less and less with every viewing. The intrusion of VAR (video assistant referee) into the game has stripped so much of its simplicity, excitement and spontaneity, not to mention Jock Stein's famous quote "Football is nothing without fans".
Facebook live streaming concerts, usually involving musician friends and colleagues, "Virtual Open Mic" nights etc have become more regular viewing on the Big Telly in the lounge. Marianne has even got me into "The Crown", a series on Netflix. Yes, for the first time in 26 years of marriage, I am watching "normal" television with my wife of an evening!
So yeah, life has changed unrecognisably. And that's without chalk and projector being replaced with antibacterial spray, facemask and headset microphone as the go-to equipment for a school teacher! Yet somehow I seem to be as busy as ever, as motivated as ever, and with as many current projects on my mind as ever.
Stay safe - we'll get through this.
---
From LUC - ON7DQ
The OST Morse Box DG
In a previous SOTA News, I reported about The OST Morse Box (see SOTA Quarterly News August 2020).
For our German friends, the OST Morse Box article has also been published in the 02/2021 edition of CQ-DL.
Since this Covid thing will be with us for some time … we still had time to think about what more we could do with our basic concept.
So I came up with some ideas … and my friend Gil, ONL12523 started programming and designing again.
What's new in 2021?
We now have an extension of the original OST Morse Box with a CW Decoder and an AF Generator , but it is fully compatible with the existing hardware, no need to build a new Morse Box.
Of course, if you haven't done already, you will need to build the basic OST Morse Box first, see
github.com
Interface for transmitting CW with an FM transceiver, has built-in keyer, touch paddle, random exercises, and much more …
In case you need a PCB for that basic project, Victor GI4ONL still has a few available, send him a PM for further details.
The information for the extension project is here:
github.com
Extension of the original OST Morse Box with a Decoder and AF Generator, but fully compatible with the existing hardware.
The OST Morse Box can be extended in software and hardware, to include a CW decoder for transmitted AND received signals. For receiving, a small extra PCB must be assembled, and connected to input D2 (connect at the Paddle Test jumper). There are two versions of the decoder:
one is based on a simple circuit with an LM567 Tone Decoder, and can be built with only a handful of through-hole components (easy). You can even build this one on a piece of perfboard.
one is based on a bandpass filter and level detector, and is only available in an SMD version (something for advanced builders)
For alignment purposes, the OST Morse Box now also contains an AF Generator, which can provide a test signal for general use (sine wave only, range 50 Hz – 2000 Hz).
The Windows program has been updated with the necessary extra functions, and some other improvements.
There is now also a quick and easy way to program the firmware into the Arduino Nano, using the program XLOADER.
A 20 page manual describing the new functions is available in Dutch and English (volunteers to translate it into other languages are welcome!).
We hope you find these extensions useful and fun!
73,
Luc - ON7DQ
---
From Allan GW4WPX
Radio Tales from Wales by Allan GW4VPX
We are still in lockdown in Wales and it looks as if this will be in force for at least another 3 weeks when a new review and announcement of the situation is expected by the Welsh Government. I don't hold out too much hope of a relaxation of the rules even after this announcement.
As I mentioned the last time I wrote a report, Roger Dallimore MW0IDX (Region Manager for Wales) started a new Facebook group entitled GW SOTA (Summits on the Air). It has been steadily gaining new members in Wales and indeed further afield although with the lack of activity, postings have dropped off since lockdown.
When we are allowed and you are venturing on to the hills and mountains of Wales please send me a brief report and especially some pictures of your activation so that I can include them here.
Useful Blogs and SOTA Mapping (most of these are now up to date)
If you are intending to visit Wales to activate a summit the following blogs contain valuable information.
Information on routes to our summits in Wales are also on SOTA Mapping https://www.sotamaps.org and is an useful and essential first port of call.
Simon G4TJC continues to find new routes in North Wales with historical links and they can be found on his blog http://g4tjc.blogspot.com/
Allan GW4VPX continues to add reports and routes to 'Radio Tales from West Wales and beyond…' [https://gw4vpx.blogspot.com/ ]
Phil G4OBK … a wealth of information http://catterblog.blogspot.com/
Tom M1EYP …summit info as well as useful advice on places to stay and eat [http://tomread.co.uk/] (click on his link to SOTA on his website).
Andrew M1CJE http://blog.m1cje.uk/ well worth a visit with interesting presentations and information linked to summits in Wales
Paul M0PLA http://m0pla.blogspot.com/ well worth a visit with interesting presentations and information linked to summits in Wales
Facebook:- GW SOTA (Summits on the Air)
73 and Stay Safe …. Allan GW4VPX
---
From Colwyn MM0YCJ
Activating Vaud for the first time.
2020 has been a busy SOTA year and, despite Covid-19, I achieved a trio of radioing from all the summits of one European country; The Netherlands (both summits!) And from every summit in one region in the UK; The Isle of Man. However, for me the best of the trio, on the 7th September 2020, was radioing from all of summits in the Swiss Canton of Vaud.
The Canton of Vaud is in the French-speaking part of Switzerland. The capital and largest town is Lausanne.
The final summit in my quest was HB/VD-007 (007, James Bond style!) the Tête à Pierre Grept (2903m, more than twice the height of any mountain in my native Scotland). It was not an easy mountain to ascend, and we (my wife and I) had previously failed in our first attempt to reach the summit! The fine alpine hut, the Cabane de Plan Névé (2265m) would have been the usual overnight staging post for a summit attempt, but Covid-19 had closed the hut for overnight stays.
Some 18 days earlier we had also succeeded in climbing, and radioing from HB/VD-011, the Haute Pointe (High Point!) on the absolutely stunning Arête de l' Argentine (2421m). We used climbing equipment for the final summit rocks, to get to the top. The Arête is a popular climbing route and is well equipped with fixed bolts and pegs for safety, protection, and abseiling in descent.
A year before on the 14th August 2019 the Petit Muveran (2810m, HB/VD-008) had been the target and was successfully activated for the first time. The day was not without interest. I had abandoned my XYL (with her consent!) on a sunny, comfortable, commodious, although precarious ridge, while I scrambled up loose rock to finally reach the large, flat, and (for me) relaxing summit. I also rescued(!) a local man by making sure he followed me down some of my ascent route to safety. Guiding him down proved to be a good distraction from my own growing safety concerns; I found it was not an easy peak to ascend. These three peaks (007, 008 and 011) were the ones I found technically the hardest summits in the Vaud Canton.
If I may be so audacious as to offer advice to my fellow SOTA enthusiasts; never leave the hardest summits until last!!! As I write, I see that no one else has succeeded using a radio from these three summits!
The hardest physically was on 11th March 2020; HB/VD-013 (Wittenberghorn / Witteberghore) where I had to wade through waist deep snow up the summit ridge for an hour (too steep and deep to ski), to finally reach the top. I felt I had earned my winter bonus that day! In descent we skied down across masses of avalanche debris triggered by my earlier efforts! At all times of the year it pays to be super safe in the mountains.
It had all started (although I did not realise it at this stage) in August 2016 when we climbed the Tour de Mayen (HB/VD-045) above the village of Leysin, close to where Dougal Haston died in an avalanche. Two days later we climbed the Via Ferrata (Klettersteig) on the Tour d'Aï (HB/VD-014). These two prominent limestone summits started my (still unconscious) Cantonal quest and in July 2017 the sole Vaud summit I activated was HB/VD-023 (Rochers de Naye) towering above the city of Montreux; helped by the fine mountain railway that almost reaches the summit of this prominent peak.
The 2018 year saw two visits, with a total of 11 Vaud summits activated. The first was a winter skiing trip immediately after I retired from the day job (3 skiing summits), and then a September summer visit (8 summits) including the two highest Vaudois summits; Les Diablerets (VD-001 with the summit glacier) and the Oldenhorne (VD-002), climbed on consecutive days from the Les Diablerets hut, the second squeezed in on the day the hut closed for the 2018 summer season. Another highlight was a wartime route onto the summit of La Grande Dent de Morcles (HB/VD-005, 2968m); I highly recommended you follow this unlikely route to the summit.
During 2019 I was fortunate enough to activate 23 further summits, 3 again while out skiing in March and April. It was at about this time that I logged in to SOTAWATCH and opened the Swiss Vaud region summits page and was surprised to see that I had activated, what I thought, was most of the summits (actually turned out to be 17 of 44). However, the seed was planted in what turned out to be fertile ground. Switzerland is a beautiful country, Vaud is a lovely area to visit, that I knew (or so I thought!) and perhaps I might be the first person to activate all of the 44 Vaud summits, although there was the challenge of a number of previously unactivated summits, which, for me really just added interest to such a pointless endeavour.
My ambition (obsession?) was clear as the next 20 summits were activated during August and September in the summer of 2019. This included the unactivated Petit Muveran (HB/VD-008) on 14th August. Once back down safely I understood why! At the year-end it was 37 ticked from 44, real progress.
2020 was the crunch year. Another 3 summits were ticked while skiing. Sadly, the Swiss ski resorts closed because of Covid-19, but thankfully the mountains remained open for 'essential exercise.' It was during the lockdown on 18th March that we had a long day out on the fine Le Tarent (HB/VD-009, 2547m) from the village of L' Etivaz. Thanks to the three young skiers also taking essential exercise who cut the uphill track and showed us the way, while remaining socially distanced, in reality because we couldn't catch up with them.
The final 4 were timetabled for summer 2020 and, after ticking PA/PA-006 (Signaal Imbosch) on 13th August, after post Covid travel was allowed, I managed to activate both HB/VD-039 and HB/VD-047 on 15th August; both modest summits but giving very pleasant walking, especially a somewhat crowded HB/VD-039 from a Covid-19 viewpoint.
On 20th August we set off from the car park at Pont-de-Nant at 08:06 hours and took the shorter hiking trail towards a farm called Le Richard. This was a steep but pleasant start through the forest, and we realised we were getting close to the farm as we could smell pigs and goats. They had 29 large piglets in a fenced enclosure complete with a muddy wallow.
From here the vegetated south flank of the Haute Pointe soars above and we took a steep pathless route to eventually reach a saddle on the main ridge of the Arête de l' Argentine. We used climbing gear to climb the short, exposed section from the saddle up to the highest point. There were 2 in-situ bolts we used for safety, and we used the abseil station above them on the left to belay the second and later for abseiling back to the saddle. The summit of the Haute Pointe is just that, the highest point, with little else to define it. The ridge is wide and long enough to safely set up a 20-metre-long inverted-V dipole antenna.
The final summit in my Cantonal quest was HB/VD-007 (007, James Bond style!) The second attempt started from the Refuge Col de Tour (1876m). Approached from Solalex and the Refuge Col de Tour had a 4-wheel drive taxi service, as we only discovered once we had walked there!
After a good night's sleep, we left the refuge, crossed the Col des Essets on a well-marked path and finally arrived on the residual ice of the receding glacier de Paneirosse. Before we reached the North Col we headed left (south) on a rising traverse over loose rubble and slabby rock under the summit rocks (of the col) and up onto the first (of two) Col de Chamois south (2660m). Continuing south there is a steep tower preventing access to the correct Col de Chamois south (2670m). Once on the left side of the ridge of this tower there is a fixed chain allowing a safe descent to the Col de Chamois south (2670m). We used the anchor to abseil down the 10 metres wall. There is a helpful marker confirming you are on the correct Col.
From here the actual ascent of Tête à Pierre Grept starts going directly up a few rocky steps on a vague track through the rubble. You may find one or two of the well-equipped abseil stations (which we later used in descent).
Soon the way is barred by a steepening wall and we traversed right approximately 75m over an exposed ledge onto the flank of the ridge. From here I advise you follow your nose up the easiest line. It involves scrambling but no serious climbing, despite appearances. Nervous folk should use a climbing rope for safety. You may find some of the upper abseil stations, which have a reflector attached. Continue scrambling carefully upwards and the narrow and restricted summit is soon reached via the NorthWest ridge. In descent we used the 10 abseil stations which were easily and safely reached with a 50-metre rope (25metre abseils). Sometimes the next abseil station was difficult to find while descending (despite the reflectors!) and there is occasionally a short walk to the next abseil point.
On the 44 Vaud summits I made a total of 613 QSOs, on average almost 14 QSOs per activation, but the reality ranged from only 4 QSOs to a summit with a maximum of 34.
What next? Post Covid and post Brexit, who knows? But keenly anticipating my doses of Covid vaccine.
With thanks to the HB/VD Region Manager Kurt (HB9AFI) for his help with this article.
73 Colwyn MM0YCJ
---
From Ken G0FEX.
Changing Times
Just lately we have had many newcomers participating in the Sota programme , this is great news for the hobby, quite a few feel the need to give out their callsigns numerous times when chasing a station , this only adds qrm for the activator .
I only give my call once and then leave a break before calling again, some just call & call & call (why ?).
I have even heard a some chasers trying to bully an activator into giving them a report, I presume just to gain the point's, this is not what it is all about, Sota is a hobby and not a contest or competition , I have even had a chaser tell me I was creating qrm, this station is one of the worst for this.
A bit like the kettle calling the pot as they say, I enjoy chasing Sota, it is not a contest for me, as I have said in the past what I do not gain today I can always get the next day .
Some chasers are quite aggressive when they are chasing again I do not understand why, if one waits all good things come to us all.
I am calling for calm when chasing Sota, it is not a case of beating the person in front of you, if one waits you will gain the points required.
Many thanks to all the Sota management team & more so to all Activators well done girls & guys, it is appreciated .
Best Wishes to all.
Ken G0FEX.
---
More from Colwyn MM0YCJ with Ronan MM0IVR.
High Tech versus Low Tech, maximising resilience when operating portable:
Ronan (MM0IVR) recently posted on the Cockenzie & Port Seaton Amateur Radio Club (CPSARC) Facebook page about direct logging for SOTA contacts using his mobile phone. The software / App is called VK port-a-log. In this article Ronan and Colwyn (MM0YCJ) consider different approaches to portable operating and logging.
Ronan's SOTA experience.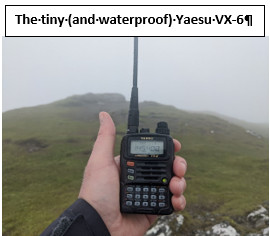 OK, I'll not lie here; I'm very much a beginner at the whole SOTA thing. When I first heard about SOTA it seemed like a great idea and something that may actually encourage me to haul my ever-expanding carcass up the odd hill or two. My partner, Dot, has been a keen hillwalker since her early years and would spend every weekend out in the hills if she had her way. We've done a fair few hills together but SOTA, it seemed, would give me more of an incentive to join her on her walks… My first few SOTA activations in October 2019 were in the Lake District. Attempt no.1 was on Helvellyn which was a bit of a punch in the face as I wasn't prepared for the struggle of juggling radio, antenna, logbook and pen while crouched behind the summit cairn trying to look inconspicuous in the pouring rain. I still managed two contacts on my little Yaesu VX-6. Well, I say two contacts, they were with the same person on two different bands so that didn't count as an activation but it DID encourage me to try again which I did the next day, and the next day AND the next…. Three successful activations; of Skiddaw, Place Fell and The Old Man of Conniston - all on 2m FM at under 5 watts. I was triumphant and was obviously now a SOTA force to be reckoned with.
Returning from the Lake District, I packed away the radio and tatty paper logbook ready for my next outing………… which wasn't until August 2020 (insert Covid excuse) when a trip to Islay gave Dot and I the opportunity to pop over to Jura to climb Beinn an Oir (GM/SI-013). I did manage to activate the hill but dropped and lost my Yaesu radio somewhere in the boggy bog-from-hell walk back to the car. A few more hills followed, using a new-to-me Yaesu FT2D coupled with a home-made slim-jim hanging on a cheap 5m telescopic pole from decathlon. Great results and very good audio reports from the new radio. I highly recommend building one of these antennas for this sort of thing as they work a gazillion times better than the default "rubber duck". They're easy to deploy too. Just look at Dot effortlessly balancing the 5m telescopic mast in the wind – such grace.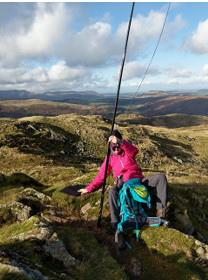 I was still struggling with the paper log though which is when I stumbled across an Android app called VK port-a-log. Now, I'd already tried a few logging apps on my phone and, to be honest, they were all awful - awkward to use and not very intuitive. Despite this, I decided to give VK port-a-log a try on a walk-up Ben Vane and was REALLY impressed with how easy it was to use. No longer was I struggling to scrawl log info on a paper pad in the cold/wet/rain with my freezing hands and dubious handwriting, I could simply prod the info into the phone! Setting up the App is very quick. You enter your callsign and your on-air callsign if that's different (/M /P etc). These don't have to be entered every time. You click the activation type (SOTA in this case) and enter the SOTA summit reference. It takes less than a minute to enter in the relevant details and the app is ready to go. This can all be done ahead of time.
Your SOTA reference is up at the top along with time in UTC and your locator which is automatically calculated using the phone's GPS. The screen scrolls down to reveal more data fields if you need them such as the other station's SOTA reference if this is a summit-to-summit contact. Swiping left and right on the screen brings you to other pages. One of these is for sending a "SPOT" to the SOTA website which alerts other operators that you are up a hill shouting at the clouds. Data entry in the logging screen is sensibly laid out and easy to navigate.
Another screen shows a list of recent spots posted to the SOTA website. One really nice thing about the app is that it exports an ADIF file correctly formatted for direct upload to the SOTA website so there's no more typing when submitting an activation log and harvesting those hard-earned points. All-in-all a very well thought out logging App and streets ahead of the others that I've tried on the Android OS.
Now, I realise that relying on a mobile phone to stay operating in the harsh conditions of a mountain top might be a bit silly but I am NOT a hardcore mountaineer, I'm very much a fair weather walker so my kit won't be subject to the harsh conditions in which Colwyn might find himself. I generally carry a powerbank and cable to re-charge the phone if necessary. I do still take a backup pen and waterproof pad in case the phone aborts the mission before I do.
So, that's my current not-really hi-tech approach to portable logging. I'll hand it over to Colwyn who dabbles a bit in SOTA, so I hear. He can rip my set-up to shreds and tell us exactly why this is wrong……
Colwyn's SOTA experience.
I have heard about the VK port-a-log and even seen it in use by a Belgian activator in Germany if you believe that! But I have never used any phone-based logging tool. However, on occasion I have taken a laptop up hills for an activation, but only on dry midsummer trips with a good weather forecast. I used the spreadsheet Microsoft excel with autofill for time, date, band, etc. Again, the extra weight, care needed with the laptop and typical Scottish weather means it is rarely used. So I actually still use a waterproof notebook and a pencil; I typically get one for Christmas!
The shelf of old notebooks is a reference library that allows me to go back and check dates and QSOs or correct mistaken callsigns etc. Unlike a mobile phone, a paper notebook never has a flat battery, or no signal. Twice I have arrived on the summit of a SOTA hill with a flat phone battery (far preferable to a flat radio battery!) I am much more careful about charging my phone properly nowadays, and often switch it off during the walk in if it will take many hours. My wife Ann's phone (different network) is also registered on Sotawatch so I can use that if required, with permission of course! The flat battery issue I now apply to all of my equipment. When walking, climbing or skiing etc. up a hill, I now no longer use internal batteries in case the radio (or headtorch) is accidentally switched on inside my rucksack. This also allows me to quickly change batteries during a long activation. Having leads which allow me to use every battery with every radio covers all of the options. So, no matter what goes wrong I will always have at least one radio that should work! This goes as far as carrying a spare radio on occasions. By the time I reach a summit, with the time, fuel and effort expended, I want to be certain I can use a radio so that I don't need to do it again! An Elecraft KX2, with inbuilt ATU is now my preferred main radio on short wave (all SSB). I also carry a Yaesu VX7 for VHF QSOs (larger than Ronan's VX6 plus a separate PTT microphone). My spare radio is a Yaesu FT817 (both HF and VHF capable) which I probably take with me on about half of my days out. It is heavy enough that I do not carry it all of the time, and usually not on very long days out.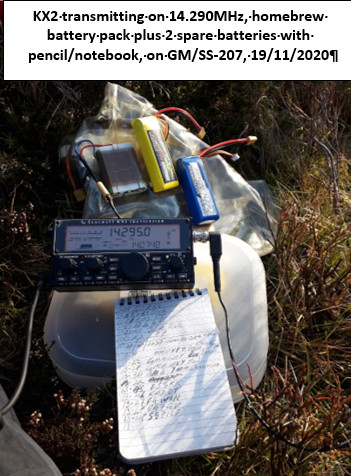 The other issue is when you arrive on a summit and there is no phone signal, so the phone is largely useless, although you can still collect QSO data offline. This happens less often than previously, but still influences my radio behaviour.
The Scottish weather is the final influence. Hiding under a bivouac shelter usually keeps the rain away from the radios (the VX7 is waterproof, the KX2 and FT817 definitely are not!) A notepad with waterproof paper and a few propelling pencils (just in case one doesn't work) means that I can record QSOs underwater. That has never happened, but on occasion I have been very wet from driving rain and my mobile phone would perhaps not survive. I can also write down a callsign and signal report wearing gloves, not always possible using a mobile phone despite gloves made with conductive yarn!
Finally, I carry a small kit to effect repairs to my antenna in the field. Spare wire, cord, cable ties and a small multi tool. On GM/SS-207 I recently used some of the large cable ties to repair a broken fence!
So, am I a luddite with my notebook and pencil, maximising resilience when out radioing on the hill? Call me a pessimist, but I am happy about the title! In the meantime, I may well download the app VK port-a-log onto my mobile phone, one further option maximising resilience, thanks Ronan!
73
Ronan Cantwell / Colwyn Jones
---
Just a couple of extracts from the PNW SOTA Newsletter Jan-Feb-Mar 2021 with thanks to Etienne K7ATN.
"Surprise" Mountain Goat Summit-to-Summit Party for Roland-K7FOP!
After 310 Activations and more that four years –
that's what it takes for an Oregon SOTA activator to
make 1000 points – Roland did it in style with a good
long hike - 12 miles RT and 3300 feet of gain to
W7O/WV-050 – Huckleberry Mountain.
There was lots of activity for Roland with 35 total
QSOs; 16 of them local folks on 2m FM that came on
to congratulate him for this "Surprise" S2S MG Party.
Roland is well known for sharing a trail, a summit and
his knowledge with others – he's an Elmer at heart.
Here he is talking about his SOTA experience with the
All Portable Discussion Zone.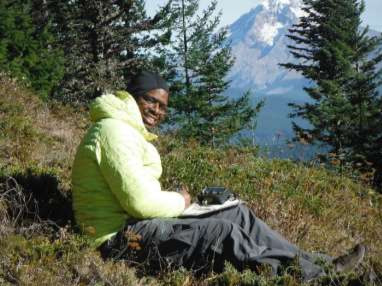 Roland with a background of Mount Hood at ease
working the HF pile up from Huckleberry.
If you would like to read more of what goes on in PNW take a look at:
http://www.pnwsota.org/sites/pnwsota.org/files/downloads/K7ATN/PNW%20SOTA%20Newsletter%20Jan-Feb-Mar%202021.pdf
---
That's it!
Before we go let me remind you that the Auction for a ATS-4B CW Transceiver closes in 8 days time at at 09.00 hrs UTC on 8 February 2021
Well that is it for this quarter. As we go through the next quarter please consider recording some of your experiences of escape from Covid-19 restrictions for the next quarterly news to be published in May 2021.
Till next quarter.
Stay Safe.
73 Jim G0CQK.