A short activation report of my recent hike to an unactivated summit (OE/ST-566) in the beautiful Nationalpark Gesäuse in Styria (OE6). The plan was to activate two summits on that day. We had to get up very early and left home at 06:00 LT. The beginning and the end of the tour was not the same … we parked our car at the carpark and took the bus to our starting point. At 07:35 LT we were starting our hike.
On the photo our summit looks like it is impossible to reach without climbing gear … but from the other side it's not that steep. There is no marked path to the summit.
After a short flat walk we reached a nice but steep gravel road, we gained altitude very quick. Every now and then we enjoyed the views to the impressive mountains at this early hour of the day.
For the last 200 vertical meters we had to leave the gravel road and find the best way through the forest … which was not easy all the time, we were behind schedule more than 30 minutes. On such a nice day we did not want to rush from summit to summit and decided to cancel the second activation and fully concentrate on the first summit. This picture was taken 15 minutes before we reached the summit.
The activation area was rather flat, so no real problem to errect the antenna. I started calling on 15m and worked some of the usual chasers. After some QSO's on 20m suddenly the pile-up was getting extreme … now I knew that someone had spotted me on the DXcluster with my POTA and WWFF reference. The next 30 minutes were stressful, but also nice

After working 77 stations in less than 80 minutes on 15, 20 and 40m it was time to call it a day. We also had a lot of walking to do to get back to the car. Here are some impressions of the rest of the day:
We were back at the car about 8 hours after starting our hike. We walked almost 20 kilometers and gained 1150 vertical meters. The APRS iGate in my car was working fine:
Many thanks to all the chasers … it has been a great day! I also achieved mountain goat #3 today: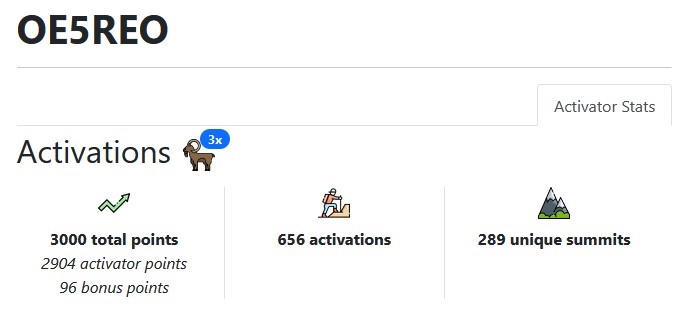 73 Martin, OE5REO