SOTA NEWS SEPTEMBER 2016 - Part 1 of 2
Editorial - by Mark G0VOF
Welcome to the September 2016 edition of SOTA News. My thanks go to the following contributors:- Barry GM4TOE, Skip K6DGW, Roy G4SSH, Kevin G0NUP, Rob and Audrey G4RQJ, Allen VK3ARH, Warren ZL2AJ, Toru JH0CJH, Bob F5HTR, Karl M3FEH, Geert PA7ZEE, Colwyn MM0YCJ.
As usual, the Summits team & MT have been working hard in the background & among many updates, TF (Iceland) association goes live from 1st September.
========================================================
The August 2016 edition of SOTA News was viewed more than 1003 times.
SOTA AWARDS August 2016 from Barry GM4TOE - SOTA Awards Manager.
Sometimes I might wish for something and get more than I really expected – awards claims have rocketed this month! We have had numerous claims from South Korea, (activators and chasers) which shows that SOTA is alive and kicking in Asia. Chasers achieving really high scores this month include VK2IO (20k), M3FEH (15k) , VK5PAS, EI9GLB and ON5SWA (all 10k). Karl M3FEH has achieved his chaser score in a really short timescale using no more than 10 watts and homebrew antennas and his growth into the hobby has been really interesting to watch.
The first award claim from ZL (ZL2ATH, Wynne) is now recorded on the claims register (Chaser 100), hopefully we will shortly see more claims as seasons revert towards summer in the Southern hemisphere.
Although the level of activations this last month has been as high as ever this is not reflected in activator based award claims – hopefully this will pick up soon.
Trophies Issued
Shack Sloth
2W0JYN Steven Bobby
VK3LED Col Herbert
GI0AZB Ian Evans
Certificates Issued
Activator
DS3FYA Jung Young Man 500 points
DS1QKF Bo-gyeong Lee 500 points
DG4KAI Kai Wendt 250 points
HL3ANE Hyeonho Cheong 250 points
DS3CNX Kim DongWook 250 points
DS3FYA Jung Young Man 250 points
DS1RHX Hyo-jong Kim 250 points
VK1VIC Anthony Vickers 100 points
M0VFC Rob Chipperfield 100 points
HL3ANE Hyeonho Cheong 100 points
DS3CNX Kim DongWook 100 points
Activator Unique
AE7AP Robert Kingery 100 summits
Chaser
VK2IO Gerard Hill 20000 points
M3FEH Karl Kruger 15000 points
VK5PAS Paul Simmonds 10000 points
EI9GLB Jim Hall 10000 points
ON5SWA Francois Gorremans 10000 points
VK3LED Col Herbert 5000 points
AE7AP Robert Kingery 1500 points
YO9YUL Iulian Constantin 1000 points
VK1VIC Anthony Vickers 1000 points
K9OSC Robert C. Brock 1000 points
VK3LED Col Herbert 1000 points
GI0AZB Ian Evans 1000 points
GI0AZB Ian Evans 500 points
DS3FYA Jung Young Man 500 points
GI0AZB Ian Evans 250 points
KD8DEU Allan J. Van Brocklin 250 points
HL3ANE Hyeonho Cheong 250 points
DS3FYA Jung Young Man 250 points
EI9GLB Jim Hall 100 points
KD8DEU Allan J. Van Brocklin 100 points
GI0AZB Ian Evans 100 points
SQ9JXW Jakub Kasprzycki 100 points
ZL2ATH Wynne Morgan 100 points
IS0LYN Mario Lumbau 100 points
KR7RK Keith Schlottman 100 points
HL3ANE Hyeonho Cheong 100 points
DS3FYA Jung Young Man 100 points
Chaser Unique
VK3LED Col Herbert 500 summits
AE7AP Robert Kingery 250 summits
DS3FYA Jung Young Man 100 summits
Summit to Summit
DS3FYA Jung Young Man Bronze
HL3ANE Hyeonho Cheong Red
DG4KAI Kai Wendt Red
Mountain Explorer
KK6YYD Phil Mosbacher Bronze
Mountain Hunter
G0FEX Ken Porter Gold
KD8DEU Allan J. Van Brocklin Bronze
KR7RK Keith Schlottman Bronze
10m – 6m Challenge
The following were the leading station in their Associations:
K6EL Elliott M Pisor W6 Activator
AE7AP Robert Kingery W7M Activator
There is not very much to report outwith the regular awards reports. Once again I find I am running out of flags as demand remains as high as ever and other items are rapidly needing replacement stock; I even ran out of board backed envelopes for certificates and had to purchase some at my local store!
Currently there is discussion about future challenges but the take-up of certificates for the last one is slow. I have had claims from people not qualified to claim them (similarly for other certificates); please ensure that what you are ordering is what you really want!
The following actions slow down my issuing of certificates because they result in additional work for me:
a) Wrong certificate claimed (e.g. Activator rather than Chaser)
b) Incorrect or missing qualification date – it is not difficult to ascertain the correct date from your records on the database. The qualification date is NOT the date you order the certificate.
c) Date format – this really does bug me as I have to make sure that your qualification date is correct when checking and again when formatting the certificate.
The certificate date is in the format dd,mmm,yyyy which is the European standard, the US standard of mm,dd,yyyy is generally easily translated but the one that I have to think about, and really slows me down, is yyyymmdd all digits. Please, please do not enter your date in that format because, if you do, I can guarantee you I will get the date incorrect on the certificate!
d) Asking for special filters from your records – if you want an award for "All CW" and your database records are mixed modes it means I have to do a sort to extract your records – make it easier for me by doing the sort yourself and emailing me the results!
I have recently had a number of examples of orders going missing; normal transit time from the UK to USA and Australia is in the order of 10 days from despatch, sometimes much quicker, sometimes slower; Europe 3 to 4 days is the norm. If you have not received your order within 28 days of placing it (which allows me time to process it, pack it and take it to the Post Office and for the postal service to get it to you) please let me know and I will get the order replaced.
Meanwhile, if activating please stay safe on the hills (and if you are a chaser – how about an activation?)
73
Barry GM4TOE
SOTA Awards Manager
========================================================
NORTH AMERICAN REPORT from Skip K6DGW
Hi All:
First off, I think there is a tiny bug in my statistics script this time. It's a bit hard to have 606 Unique Summits with 562 Total Activations. I'll see if I can find time to locate it.
At any rate, we were down in all categories for August. There are of course the usual reasons such as folks on vacation, although a lot of SOTA Addicts do more activations while on holiday. It does account for the lowered Chaser count however, most chasers do so from home. North America also experienced some very wild and destructive weather across the Plains and in the Southeast.
NORTH AMERICA TOTALS
Total Activations: 562 [673]
Nr Unique Activators: 195 [205]
Total Chaser QSOs: 3187 [6128]
Nr Unique Chasers: 215 [281]
Unique Summits: 606 [497]
2m: 124 (3%) [394]
6m: 1 (0%) [7]
10m: 2 (0%) [5]
12m: 0 (0%) [0]
15m: 2 (0%) [29]
17m: 44 (1%) [207]
20m: 2321 (72%) [4180]
30m: 255 (8%) [547]
40m: 429 (13%) [747]
60m: 2 (0%) [2]
80m: 0 (0%) [0]
160m: 0 (0%) [2]
Unk: 7
CW: 2077 (65%) [3956]
SSB: 978 (30%) [1780]
FM: 128 (4%) [390]
AM: 0 (0%) [0]
Data: 1 (0%) [0]
Other: 1 (0%) [0]
Unk: 7
AWARDS AND ACHIEVEMENTS:
Brad, WA6MM, reported that Dave, NN5K, has become New Mexico's eighth Mountain Goat. Congratulations Dave. There must be something in the New Mexico water that creates exceptional Summiteers.
And Matt, K0MOS, told me on 1 Aug that: "Carey/KXØR is on it's way to an new activation today (August 1st)… this peak will get him over the 2000 activator point threshold and therefore double MG… the first double MG in Colorado (WØC)." Congratulations Carey, one would think we could come up with a better term for 2,000 than "Double MG." Alpha Goat comes to mind but then, what would we do when you get to 3,000?
Right now, any activation in AK is an achievement, and we have another to report. Dave, KG5CCI, alerted me that Dale, KL7R, was about to activate KLF/FN-164. He was on FO-29/SO-50 for another all-satellite activation. He was also in BP65 for another National Parks activation as well.
Gary, NA6O, sent me a "newbie story" and embedded in it was the news that he had just made Shack Sloth. Gary is also a fellow member of the Northern California Contest Club, and turns in some impressive scores. Congratulations Gary and welcome to Slothdom.
NEWS:
Matt, K0MOS, also reported that the W0C ARM has been updated to Version 2.3 – major changes included updating the prominence from 500 feet to 150 meters [see, we are going metric, inch by inch]. They also corrected an error in the feet-meter conversion, and as a result most summit elevations grew between 3-9 meters.
Curtis, KC5CW, who has got to be in North America's Top 5 for gallons of gasoline per activation dropped a note:
"Thanks to SOTA, I've sold my house in Texas, found a house in Castle Rock, Colorado - and am currently homeless as I type this (my house has sold but I'm not in my new house yet). My wife and I are bunking in the basement of my original Elmer in Colorado Springs that got me into ham radio while I was in the USAF 20+ years ago. My new QTH (as of 26Aug) is in an HOA so I am planning on a Flagpole antenna and a wire in the attic to chase. After I get settled into my new job and QTH I plan on doing some activations in this very ripe SOTA field, that was a main driver for finding a job here!" [Ed. note: for those not familiar with the topography of eastern Texas, "flat" is the operative word]
John, VA7JBE, checked in with a couple of news items:
"August 1, 2016, marked a massive update for summit data in VE7 with more than 300 new peaks added to the database, particularly in Southwest BC. This update was focused on including summits with established access routes."
"On August 6, 2016, I became the first VE7 callsign to break the 100 point threshold. This was done on Cheam Peak (VE7/FV-007) with Ralph (VE7OM) and Eric (VA7NX), two local SOTA enthusiasts and regional managers. I couldn't ask for better weather or company. Despite feeling a bit 'delicate' from a staff event the night before I couldn't ask for better weather or company. You can find a full trip report (and pictures) on Eric's site here: http://www.scenicart.ca/content/mt-cheam-re-activated."
Etienne, K7ATN, advised: "Here's a link for the latest Pacific Northwest SOTA Newsletter – September and October:
http://www.pnwsota.org/sites/pnwsota.org/files/downloads/K7ATN/PNW%20SOTA%20Newsletter%20Sep-Oct%202016.pdf.
You can find newsletter back issues here:
http://www.pnwsota.org/content/pacific-northwest-sota-newsletters "
RBNGate: There have been some inquiries as to when or if KU6J's RBNGate software will reappear. From Elliott, K6EL:
"Yes, but the road is slow. KU6J died January 8th. His widow didn't have the password to the right computer. Eventually, a back door was found and I got the code in March. It then went to MMØFMF and VK3ARR, who discovered that an important part is missing. At that point, his widow was busy stepping-in as the new CEO of KU6J's company. We are still in contact, including a discussion last week about plans by W6PNG and WC6J to cement in place a memorial medallion atop a SOTA peak near her home, but she currently has no bandwidth for a renewed search of the KU6J computer. We will see, later. In the meantime, VK3ARR's RBNHole is running."
REPORTS:
Not all activations need to be or are Class 4 mountaineering expeditions. Matt, KF7PXT, posted an activation of W7W/RS-005 to his blog at:
KF7PXT Summits On the Air (SOTA) Blog: Mount Fremont (W7W/RS-005) SOTA Activation
Many of Matt's activations such as this one include his wife Delma and kids [there are quite a few :-)] and are a great illustration how SOTA can be turned into a family affair with benefits for all. In an age when many teens and pre-teens have their phones surgically attached to their hands, climbing a beautiful mountain that just incidentally has no cell coverage may be a good thing.
And finally, from Rob, AE7AP:
"We are back from our Trilobite Trip & had a great time. We were able to activate 5 summits over the 7-day trip:
     Signal Mtn. (W7M/CL-040) 
     Kevan Mtn. (W7M/FS-016) 
     W7M/FS-035 
     Cruiser Mtn. (W7M/FS-044) 
     W7M/FS-128

Climbing Signal Mountain
Most of the activations were super quick since there wasn't generally a lot of time to dally before we needed to hike back to our tent or on to the next campsite. I was able to work 20+ stations from the first two summits, but not so many after that. he trip was incredibly beautiful nearly every step of the way. We took over 600 photos. We encountered a pack train shortly after we left our first campsite on the morning of Day-2 & did not see another person until we returned to our truck on the evening of Day-7.
Trilobite Lakes
For a week it seemed that we were the only people in the world – except for the CW qso's! The trip was a 55-mile loop over the continental divide with the summit climbs added in where we could fit them. We pushed hard the last two days due to concerns that there would be heavy rain that might prevent us from crossing creeks & block us from returning – fortunately that did not happen. The extra time was handy on the final day because a 2015 burn really slowed us up due to deadfall & difficulty following the trail.
Final Summit
I really appreciate everyone being there to work me, it was so nice to hear that first return to my CQ's!"
That's going to do it from the New World for August, Fall will be upon us next month. Stay safe,
Skip K6DGW
North American SOTA Reporter Dude
============================================================
SOTA NEW ZEALAND REPORT from Warren ZL2AJ
The SOTA ZL report can be found here:
============================================================
SOTA NEWS FROM JAPAN by Toru JH0CJH
Hi all,
Please find the following SOTA News from Japan.
As I reported last month, 11 August was new national holiday in Japan. It
is "Yama no hi" the meaning is "Mountain Day". On this newly introduced
national holiday, many mountaineer enjoyed hiking. Big motivation is also
given to all SOTA lovers in Japan and many SOTA activation and QSO on the
day.
On 20 and 21 August, Japan's biggest radio amateur event "Ham Fair 2016" has
been carried out in Tokyo. This time is 40th anniversary of Ham Fair in Jap
an. SOTA Japan association takes this opportunities and joined in "Yama to
Musen (Mountain and Radio)" group stand and promoted SOTA and introduced to
all Ham Radio stations. Total number of visitors of Ham Fair 2016 on these t
wo days are 37,000 and it is +1,000 larger than last year. During this Ham F
air 2016, many visitors have also visited SOTA Japan association and had enj
oyed eyeball meeting and exchange information. One famous visitor was W3IZ
Norm Fusaro ARRL HQ member and he also made a presentation of National Parks
on the Air (NPOTA)in main studio of Ham Fair.
The blog of Hamfair 2016 is shown there (sorry in Japanese)
http://www.kawauchi.homeip.mydns.jp/jh0cjh/blog/2016/08/21/2016年ハムフェア/
And some photos are below.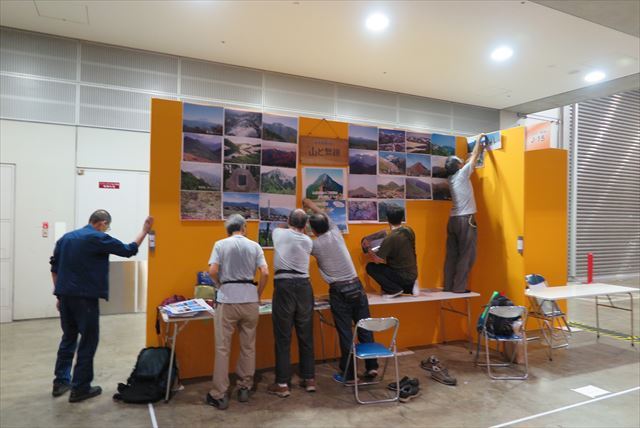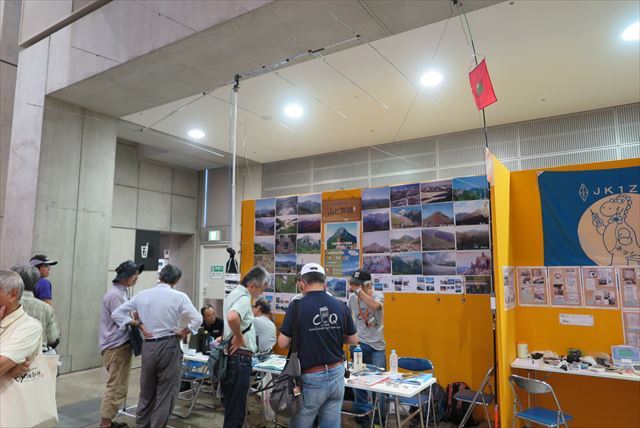 SOTA activity in August is a little bit activated because the rain seasons
was over.
SOTA operation August 2016 in Japan
Total number of Expedition 110 with 1079 QSO as of 30th August 2016.
JA: 106 expeditions with 1070 QSO from Summits
JA5: 0 expeditions with 0 QSO from Summits
JA6: 4 expeditions with 9 QSO from Summits
JA8: 0 expeditions with 0 QSO from Summits
The activity in JA5 and JA8 is very slow and some more promotion may be
required.
Toru Kawauchi
toru@kawauchi.homeip.mydns.jp

======================================================
THE VIEW FROM THE NORTH - 104 By Rob and Audrey G4RQJ
Well here we go again on a new month with a trip up Binsey in the very north of the Lake District. This is a very pleasant single pointer with quite different views of the mountains and lakes from the north. The trip up from Walney can be busy with tourists at this time of year and today took over two hours and as we neared the start we looked out for Keswick Garden Centre with its cup of tea, toilets and friendly staff and a popular spot with sheltering walkers and bikers, Guess what, it's gone, an empty shell with a collapsed roof. The start of the path up has been much improved of late with a gate replacing the Kamikaze stile and room for about five cars. The path up is wide and grassy and the final mound easy and short, a perfect family walk. As I put up the HF system, Audrey finds some activity on 2fm and we soon have two in the log with just the h/held. This seems to be handy as 5Mhz is as usual lately, no return and someone calls cq on top of us and goes into QSO with his mate. 7Mhz produces four contacts, 10Mhz just one and 14Mhz nil, this in spite of RBNHOLE spots on all three, QSB we hope!
As we swap antennas for 2M the h/held still on its whip raises Ian M3WJZ for a quick s2s from Cold Fell on fm.
2m ssb brings just four including regular chaser G4BLH/M, Mike has been off the air during a house move and still has no antennas at the new qth, Hurry back Mike we need you. Another regular John G0TDM also pops up, his health has not been good lately, get well soon John we need you too! FM activity is low with just three, one is WJZ still on Cold Fell letting us know how much stronger we are with the beam.
The next paragraph is really for those interested in North Wales summits, military climbing history, and old radios which we hope will include a few readers. While in the Isle of Man we picked up a couple of small second hand books The Legend of LLandrog and No Landing Place by Edward Doylerush which may sound like Mills and Boon novels but are in fact are detailed accounts of air accidents during the last war and the resultant creation of the RAF Mountain Rescue service. The first sets out the growing accident rate in aircrew training and the development of RAF LLandwrog, now Caernarfon Airport. The Station Medical Officer realizing the importance of early rescue formed a team of ground crew all volunteers and they set out to attend crashes as soon as they were reported. This was in their own time and in addition to their regular duties, the only kit they had was regular uniforms, RAF greatcoat, boots and rope. With this they scaled the highest peaks in the worst weather searching for survivors. I (Rob) can vouch for an RAF greatcoat at least doubling in weight when wet with no improvement in warmth and the boots even when studded nothing to write home about. Eventually they were given 38 sets for inter-person communication and a 19 set in their rudimentary ambulance. The 38 set could manage about 2miles range on hf and involved a long whip and a harness with separate HT and LT pack all in all a lot of weight. We have one but don't fancy carrying it far. The 19 set back to base used hf cw, we have one and very occasionally put it on air. The book goes on to cover the gradual improvements as the war continued and there are pictures of this and the improved kit that began to appear.
The second book covers the many crash sites in North |Wales in detail with personal accounts from survivors and rescuers often on hills and tracks we have used ourselves. One is a crew member of a Heinkel 111 that made a solo attack on the shipyard in Barrow on April 13th 1941 (missing me, can't say I noticed but I was in my cot at the time). On his return leg they hit Llydmor loosing two crew members but the rest were rescued. Lots of detail on crew members often wounded making heroic descents in dreadful weather, down tracks you will recognise from their descriptions both books are full of information of sad times and are well worth looking out for.
Back to business and Sunday 14th saw us off up Black Combe our local four pointer. Started as always from Whicham church, lots of space and an honesty box, the climb is relentless, even Wainwright said so. As we neared the summit we passed a lady, I would say old but think she was younger than me (Rob). She was struggling with the climb so we walked with her for encouragement. She was with a large family party who were now up ahead, it was fifteen years since she had climbed the hill and she was doing this in memory of her son, lost in a paragliding accident on the hill. The family were off to play a game of cricket on the summit plateau in his memory. We stayed with her up to the top when the family came over to collect her. The resultant large crowd round the summit shelter meant no space for us so we set up on the southwest edge of the plateau where a cold strong wind tried to pretend it was not August. We tried 5Mhz first with no success yet again and seriously began to wonder if this band is worth the effort since its expansion. 7Mhz and just two callers but 10Mhz and 14Mhz were quite reasonable. We were quite late in getting to VHF so not many contacts here either.
Back in April we climbed Muncaster Fell and commented on the terrible state if the boggy grass plateau just before the final pull up to the summit of this little, pretty fell. The area was cut to ribbons with deep vehicle tracks in the soft ground. On TV the other day we chanced on the new version of Top Gear and there were the presenters doing the damage while trying to drive to the top of the hill. One can only hope that Muncaster Fell owners made them, BBC, us oh dear, pay through the nose for the privilege.
Some may notice that we have missed a couple of Sundays this month mainly due to Audrey being a little out of sorts with some sort of virus. Things are looking a little better now and we are looking forward to getting back to normal on our upcoming trip to the Welsh Borders Hope to meet up with some of you at Telford and lots more from the summits, spots appreciated.
Until then, Take care out there.
73
Rob and Audrey
G4RQJ
========================================================
SOTA FRANCE Edition No.2 August 2016 – Bob F5HTR
The most important information of this month was the ascension of the famous "Mont Blanc". This expedition was held in the name of "UFT" association (Union Française des Télégraphistes). The challenge was not easy, and the preparation for this expedition took about 25 days in the area of Chamonix.
The famous F/AB-001 (4810m) might be the highest summit ever activated on the earth! Very few Hams have done successful activations. Last month, it was Jean Sébastien (F4CPJ) who activated the big one. This month, F4EZO, F8DQY and F6HBI have done a good job on the top of Europe.
About 50 qso's have been done on 10.122 MHz with Gérald (F6HBI) who had such a big experience of SOTA pile up. It was a big cafarnaum on the frequency when chasers found him!!! As the time on the summit was limited, chasers became a bit impatient!! This is the other side of the medal!!
F8DQY, Frédéric discovered the SOTA traffic and was very excited when he saw Gérald accumulate qso's in a row!!! Frédéric is very experienced in the mountain's techniques. We will meet him soon in the SOTA program! He is not so fast in CW, but achieved about 16 qso cw on 40 m!
F4EZO, Mathieu was on 40m in LSB, and it was very difficult. He has done about 13 qso in SSB. It was not easy job to manage so many chasers at the same time.
The weather on the summit was very hostile and each second was counted. They spent about 40 minutes maximum for operating the radio. Temperature was negative already from 4200 m. At the top, the wind was very strong, with a need to fix everything on the ice. Gerald told me that the rope between him and his partner was in a horizontal position! Temperature was about minus 25 with the wind I suppose.
A really big congratulation to all of them, it was a very big challenge and it took 25 days to prepare it in a safe way. A report will be done soon with photos. You can already have an look at these links: https://www.flickr.com/photos/geof6hbi/albums and also here : http://www.uft.net/img/mtb/mtb.htm And a video here: https://youtu.be/oS-MERPbXm0
Concerning SOTA FRANCE: about 90 activations have been done this month by 40 different HAM's. This month, the most active OM was Thierry (F4EGG) who achieved 12 summits in the F/AB region.
The new team of SOTA FRANCE is composed now and soon ARM will be updated on the website. I really thank all of them for the interest in the SOTA program and for their motivation to go ahead with the SOTA France.
A new Yahoo Group has been created in order to better serve the audience. Of course, you are welcome on it if you want to get information about French sota activities. The name of this group is: SOTA-FRANCE-new and the request for inscription is : sota-france-new-subscribe@yahoogroupes.fr
Best regards to all, if you come to France and wish have fun with Sota, do not hesitate to ask us for information.
F5HTR – Bob
========================================================
*********** SOTA NEWS PART 2 FOLLOWS BELOW ********