SOTA NEWS OCTOBER 2016 - Part 1 of 2
Editorial - by Mark G0VOF
Welcome to the October 2016 edition of SOTA News. My thanks go to the following contributors:- Barry GM4TOE, Skip K6DGW, Roy G4SSH, Kevin G0NUP, Rob and Audrey G4RQJ, Allen VK3ARH, Warren ZL2AJ, Toru JH0CJH, Geert PA7ZEE, Ken G0FEX.
A significant edition of the SOTA news this month for reasons that will soon become apparent. Also, along with regular & special contributions we also have news from the US of a new YL & a very nice memorial for Eric KU6J, as well as news of a talented new member of the SOTA Management Team.
========================================================
The September 2016 edition of SOTA News was viewed more than 1102 times.
SOTA NEWS - CHANGE OF EDITOR - Roy G4SSH
I took over as editor of SOTA News in 2008 when there were just a few hundred readers and I have seen this steadily increase until today when we regularly have in excess of 1000 viewers every month. In the early days the news was mainly filled with reports from the UK and Europe. Today we have input from the UK, Europe, the USA, Australia, New Zealand, Japan, and South Africa. We recently started displaying photographs within the news.
Input arrives from across the globe during the last few days of the month, which requires a considerable amount of time to process. The time has come when I would like to retire from the post of editor. The main reasons being my age (80's), and deterioration in my overall health.
Regular readers will be aware that I managed to recruit an assistant editor a few months ago. This was Mark G0VOF, who is the current "Top Band" contributor and who has published the last few SOTA News editions with little guidance from myself. He is willing to take over as editor.
I have enjoyed the job for the past eight years and have met so many friendly members, both on the air and at different Ham Radio shows. I must thank the regular contributors to the news for their support; without you there would be no news. I hope that you will continue to support the new editor.
I shall continue to submit a monthly SOTA CW Report and will still be heard chasing summits using my favourite mode of CW.
73
Roy G4SSH
========================================================
News from the SOTA Management Team
We are pleased to announce the addition of Christophe David (ON6ZQ) to the SOTA Management Team.
Christophe's work experience includes project management and software development. He is an active SOTA activator and chaser, and will contribute initially to the software related aspects of the SOTA MT and the Summits Team work.
========================================================
SOTA AWARDS September 2016 from Barry GM4TOE - SOTA Awards Manager.
September brought a rush of trophy claims, should keep my engraver busy! Quite a number of Mountain Goats and Shack Sloth claims, the listing is below. Very worthy of note is that G4OBK has managed to "Complete" 500 summits (Activated & Chased) which takes quite some doing while PA7ZEE has managed to reach Mountain Explorer Gold, again no mean achievement for somebody living in one of the flattest countries on Earth!
I have received another claim for the rarest of SOTA awards, the Microwave Award, from VK2JDL. It appears Microwave operation is of more interest to non-UK stations even though this award is jointly sponsored by the UK Microwave Group to encourage claims for shorter distance contacts. Within the UK there is the opportunity to borrow microwave equipment and microwaves do offer unique challenges for the hilltopper. How about trying this year?
Trophies Issued
Mountain Goat
SQ6GIT Konrad Smolak
W7JET Brian Betz
Shack Sloth
K7NIT Rachel Lindsay
JA1VRY Tadashi Mishima
KW6JIM Jim Armstrong
IN3EBZ Gerd Regele
IW3AGO Heinrich Pixner
IN3EBX Alois Regele
Certificates Issued
Activator
SQ6GIT Konrad Smolak 1000
ON6UU Frank Lagaet 1000
OM7AZB Zdenko Bubniak 1000
IW2OBX Roberto Polvara 500
AE7AP Robert Kingery 500
DK9JC Johnny Chocholaty 250
WX7EMT Chris Caviezel 100
Chaser
K6EL Elliott M Pisor 30000
GM4WHA Geoff Harper 15000
NU7A Bren Brenner 2500
JA1VRY Tadashi Mishima 1000
WC6J Jordan Heichman 1000
KW6JIM Jim Armstrong 1000
MI0RTY Martin Strawbridge 1000
KD8DEU Allan J. Van Brocklin 500
DG4KAI Kai Wendt 500
WX7EMT Chris Caviezel 100
Chaser Unique
G6TUH Michael Morrissey 5000
M3FEH Karl Kruger 2500
DL2YBG Klaus-Peter Dreessen 1500
GM4WHA Geoff Harper 1000
JA1VRY Tadashi Mishima 100
KD8DEU Allan J. Van Brocklin 100
Summit to Summit
WC6J Jordan Heichman Silver
SOTA Complete
G4OBK Philip Catterall 500
Mountain Explorer
PA7ZEE Geert Paulides Gold
Mountain Hunter
VK5PAS Paul Simmonds Platinum
GM4WHA Geoff Harper Gold
EA3GIN Rafael A. Antolin Bronze
JA1VRY Tadashi Mishima Bronze
GM4WHA Geoff Harper (V) Bronze
Microwave Award
VK2JDL Phil Clancy 50Km 23cm
10m – 6m Challenge
The following was the leading Chaser Worldwide:
EA2LU Jorge R. Daglio Accunzi
I have not made any reference recently to the large number of donations received from people taking part in SOTA. These are very much appreciated and do boost our ability to keep the IT systems running. Quite recently we had to move the database to a more powerful server and soon we will be moving other facets of our data processing to new servers to keep up with the demands of a growing community. Income from award and merchandise sales really help and the donations help ease the strain. Thank you one and all.
The SOTA leaflet has now been translated into French, German, Dutch, Portuguese and Spanish and should be available on the website shortly (if not already there). My thanks to all the individuals who assisted by translating the English version into their own languages and then proof reading my efforts to incorporate their translations into the final copy. Any errors are of my making and if there are any obvious ones please let me know and I will revise them. If there are other languages that should be provided I would appreciate assistance from native speakers to assist with the translations, document layout and proof reading – contact me direct if you feel you can help.
Not a lot more to report, hopefully I can get out and about more and give away some points from less visited summits.
Stay safe on the hills
73
Barry GM4TOE
SOTA Awards Manager
========================================================
NORTH AMERICAN REPORT from Skip K6DGW
Hello all,
It looks like SOTA activity slacked off a bit from the very fast pace set in August, although I suspect some very recent activity has not yet been reported when I downloaded these statistics.
STATISTICS:
NORTH AMERICA TOTALS [as of 2225 UTC 28 Sep 2016]
Total Activations: 542 [562]
Nr Unique Activators: 174 [195]
Total Chaser QSOs: 1397 [3187]
Nr Unique Chasers: 136 [215]
Unique Summits: 692 [606]
2m: 35 (2%) [124]
6m: 0 (0%) [1]
10m: 0 (0%) [2]
12m: 0 (0%) [0]
15m: 1 (0%) [2]
17m: 27 (1%) [44]
20m: 988 (70%) [2321]
30m: 124 (8%) [255]
40m: 222 (15%) [429]
60m: 0 (0%) [2]
80m: 0 (0%) [0]
160m: 0 (0%) [0]
Unk: 0
CW: 915 (65%) [2077]
SSB: 445 (31%) [978]
FM: 35 (2%) [128]
AM: 0 (0%) [0]
Data: 0 (0%) [1]
Other: 1 (0%) [1]
Unk: 0
AWARDS AND ACHIEVEMENTS: Several this time …
Dow, W4DOW, has become a 30K Super Sloth with 30,000+ chaser points from the W4V association. A quick check of the SOTA Database indicates that he joins a somewhat select crowd of nine others who have passed the 30,000 chaser point mark. Congratulations Dow!!
And from Todd, W7TAO, and definitely in the "Achievement" class: "I'm very excited to report that my youngest, Katie, passed her Tech exam last night. She beat her brothers by passing before her 10th birthday. She's super enthusiastic about it. Last night on the way home, I asked what she was most excited to do with radio. She replied that hiking and radio were her favorites. So watch out, another SOTA activator in the family!"
"Now if only one of the manufacturers would make a pink HT, Katie would be ecstatic! The photo is Katie posing with her CSCE and some very happy VE's".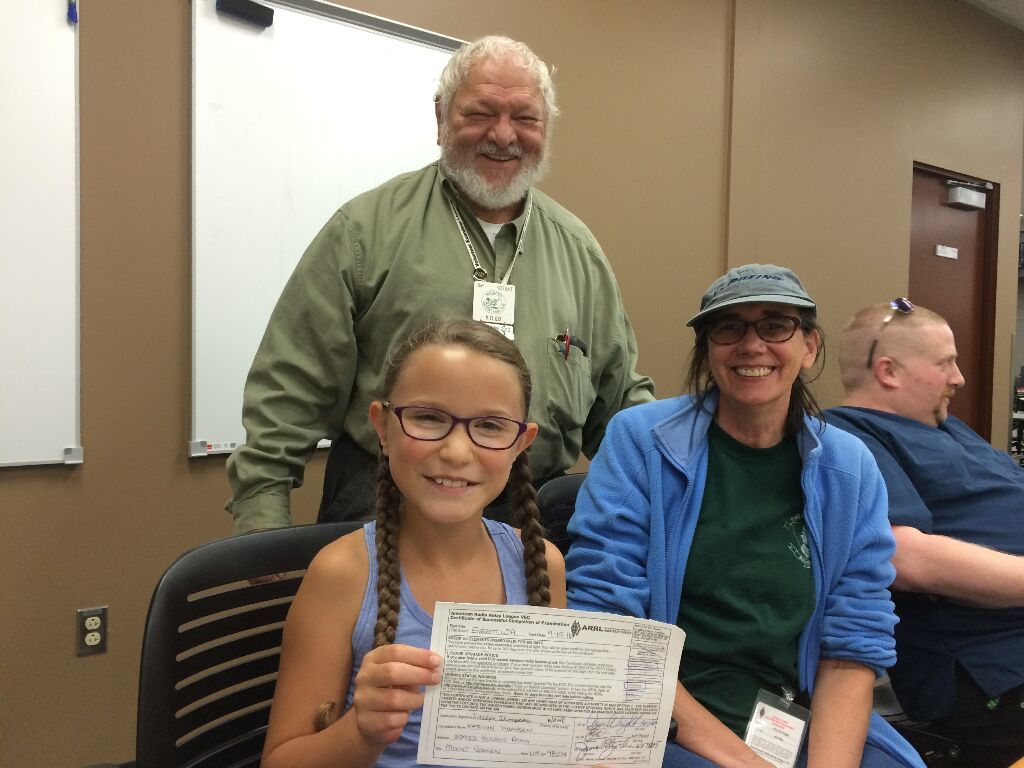 Katie has become KI7HCX. Congratulations Katie and welcome to Amateur Radio and SOTA!
And, rounding out this section, Bruce, W6WW, has achieved Shack Sloth with 1,006 chaser points. Bruce says he's fairly new to SOTA … hoping to hear a lot more from him.
NEWS:
From Elliott, K6EL: "We will have our fifth annual free SOTA lunch at Pacificon on Saturday, October 15, 2016, at 12:15 pm. The convention will again be at the San Ramon Marriott, 2600 Bishop Drive, San Ramon, CA. There is only one restaurant, Bishop Grill, and they are putting us around the back side of the bar at a long table, just as was done last year. Order off the menu. The tab will be picked-up by a certain lawyer from San Francisco."
"If you are registered with SOTA, you are invited. Last year, we had 17 takers. Elecraft announced they are sending their co-founder, Wayne, N6KR, who attended last year. So far, we also have K7SO, K6EL, WBØUSI, W6JMP, W6PZA, N7UN, W6PNG, NK6A, AK6Q, WA9STI and WC6J. If you want your name added to the above list of attendees, email K6EL."
[Ed. Note: Possibly Wayne will bring some show-and-tell?]
Most SOTA folks will recall that we tragically lost Eric, KU6J, early this year. Elliott reports: "WC6J and W6PNG will show us the KU6J memorial benchmark medallion they made for placement this winter on a peak near the KU6J family home. We will offer a toast in his memory."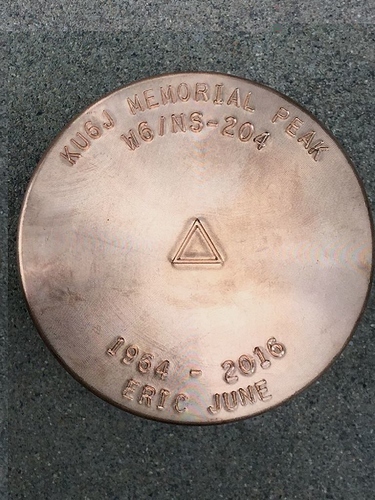 KU6J Medallion
Tony, VK3CAT, and his wife Nan have been touring the North American west coast during September. The photo of is of course in San Francisco, shortly after their arrival. They've been climbing various of our SOTA summits, and Tony's blog with great descriptions and super pictures is at North America 2016 | vk3cat.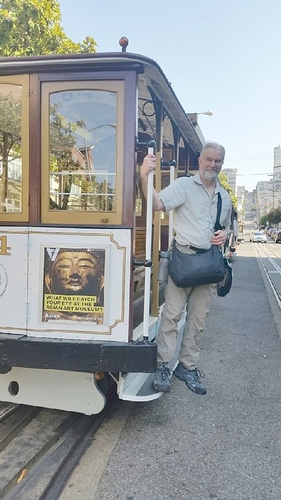 VK3CAT in San Francisco
[Allen: I know this is news about a VK, but Tony and Nan are ours for the duration :-)]
Pete, WA7JTM, has updated the North American Mountain Goats status to the NA SOTA Yahoo Group files page.
REPORTS:
Oleh, KD7WPJ, who we haven't heard a lot from for awhile reported in with:
"During Ontario Peak (W6/CT-048) activation on September 2nd I was able to make 16 contacts on VHF/UHF. It seems a lot, considering that this activation did not happened during the VHF/UHF contest. Maybe, a major magnetic storm (k=6) contributed to it. But I want to give credit for this to Kim, K6YYL. She spotted me on 6 meters, and it helped to trigger local activity on this band. When Kim told me that she spotted on the web-site and the Facebook, I was surprised. I've never heard before about spotting on Facebook. I think this is a brilliant idea. I would like to share this idea with worldwide SOTA community. I believe that Facebook and other social network should be used widely for SOTA spotting and promotion."
Incidentally, both the ionosphere and geomagnetic field have been in a state of moderate uproar throughout most of September which seems strange since the sun is taking a nap between cycles right now. Turns out, it has developed a "coronal hole" in its upper atmosphere which ejects extremely strong and fast solar wind at us. Just goes to show, predicting radio conditions is harder than predicting the weather.
My buddy Todd, KH2TJ, who drives trains when he's not annoying volcanoes, reported:
"A couple of quick lines on our recent outing up to Lassen Volcanic
National Park: Operators were Barry, K6ST; Bill, WB6CZG;
Steve, KS6A, and myself KH2TJ. We operated from two different
campgrounds. Barry and Steve were at Manzanita. Bill and I
operated from Summit Lake North Campground. This was a laid back
operation."
"I had planned on doing Hat Mtn for SOTA while there, and was surprised when I heard a station calling CQ SOTA on 146.52 simplex. Turns out we all worked Chris, KG6CIH, who hails from New Hampshire and was out on vacation activating peaks in the park, both for NPOTA and SOTA. Bill and I invited Chris to stop by for a friendly SOTA visit after his activation. He had visited Steve and Barry the day before (we didn't know this until we had chatted on 2M) after activating Lassen Peak, W6/CN-002. In addition to Lassen Peak, Chris also activated Hat Mtn,
W6/NE-039, 1st time activation; and Crater Butte, W6/NE-061 in the
wilderness area."
"We ran mostly QRP 10 watts or less into dipoles and a Buddipole. We were allowed to use the generators in only three 2hr time slots,
once in the morning, afternoon, and dinner time due to park
regulations. We mostly used the 2hr slots to recharge
batteries. Running 100W on generator power actually made little
difference and I believe it introduced hash into the
radios while they were running."
"For the N6L event, we worked a total of 125 Q's. 7 NPOTA entities. 6
SOTA peaks, and a handful of Europeans. On the last night of the event, while everyone else went to bed, I fired up the laptop and worked 7 PSK-31 Q's on 20M late at night running 10 watts into a Buddipole mounted just up off the ground. I handed out N6L NP38 to a bunch of deserving KH6's in the Hawaii QSO party! ;-)"
"We've been doing the N6L gig for7 years now. In the past, we've had up to 15 guys from around thestates playing radio. It started out as a low profile,low power, buddipole get-together. Budd, W3FF, (founder of the
Buddipole) came up one year and loaned out a bunch ofBuddipole parts for the group to use for the campout."
[Ed. note: Todd and his crew did cheat death again, Mt. Lassen is an active volcano in northeastern California, they all made it back, I saw Barry at the Ham Swap last Saturday.]
SHORT TAKE: I'm out of room but did want to squeeze in that a number of summiteers have reported working JA and especially ZL1BYZ on 17 meters so don't underestimate the bottom of the solar cycle.
Finally, Guy, N7UN, mentioned it to me and I know we all wish Roy, G4SSH, our best. Roy has been taking care of some medical issues but will hopefully be back "on the air" soon. And a big thanks to Mark, G0VOF, for picking up the Assistant SOTA News Editor job.
73,
Skip K6DGW
North American SOTA Reporter Dude
Sparks, NV
============================================================
SOTA NEWS FROM JAPAN by Toru JH0CJH
Hi all,
Please find the following SOTA News from Japan.
It was miserable weather in Japan in September. It was just 5 hours sun
shine time up to 24 September in Tokyo. It was rain after rain that makes
SOTA lovers dissapointed. In such poor weather condition, nearly 1000
activations have been made. What a power of SOTA lovers!
SOTA operation September 2016 in Japan
Total number of Expedition 95 with 977 QSO as of 29th September 2016.
JA: 94 expeditions with 973 QSO from Summits
JA5: 0 expeditions with 0 QSO from Summits
JA6: 1 expeditions with 4 QSO from Summits
JA8: 0 expeditions with 0 QSO from Summits
JA - Japan - Honshu Activator activity for September
Date Activator Summit Code Summit Name QSO
1-Sep-16 JP1QEC/0 JA/GM-027 Hanamagariyama 16
2-Sep-16 JA1KHZ/1 JA/YN-005 Komagatake 14
2-Sep-16 JA4RQO/4 JA/SN-085 Hanatakasen 5
2-Sep-16 JF8LPB/2 JA/GF-001 Norikuradake 4
2-Sep-16 JH1EWV/1 JA/YN-037 Konarayama 6
2-Sep-16 JM3GVH/3 JA/NR-057 JA/NR-057 2
2-Sep-16 JP1QEC/0 JA/GM-027 Hanamagariyama 12
2-Sep-16 JP3DGT/3 JA/HG-056 JA/HG-056 4
3-Sep-16 JA1CTC/1 JA/TG-020 JA/TG-020 1
3-Sep-16 JA1CTC/1 JA/TG-022 JA/TG-022 4
3-Sep-16 JA1KHZ/1 JA/YN-016 JA/YN-016 4
3-Sep-16 JA4RQO/4 JA/SN-085 Hanatakasen 4
3-Sep-16 JG1VCH/1 JA/KN-002 Hinokiboramaru 9
3-Sep-16 JH1EWV/1 JA/YN-037 Konarayama 15
3-Sep-16 JI1IHV/2 JA/SO-031 JA/SO-031 14
3-Sep-16 JK1OWD/1 JA/KN-007 Hakoneyama (Kintokizan) 4
3-Sep-16 JM3GVH/3 JA/NR-057 JA/NR-057 3
3-Sep-16 JM3HRC/0 JA/NN-002 Yarigatake 5
3-Sep-16 JP3DGT/3 JA/HG-056 JA/HG-056 13
3-Sep-16 JR1NNL/1 JA/YN-047 JA/YN-047 16
4-Sep-16 JL1NIE/1 JA/ST-013 Izugatake 30
4-Sep-16 JP3OSW JA/WK-014 Shiramayama 4
5-Sep-16 JM3GVH/3 JA/NR-057 JA/NR-057 1
5-Sep-16 JP1QEC/1 JA/YN-049 JA/YN-049 5
6-Sep-16 JM3GVH/3 JA/NR-057 JA/NR-057 3
6-Sep-16 JP1QEC/1 JA/YN-049 JA/YN-049 16
8-Sep-16 JM3GVH/3 JA/NR-057 JA/NR-057 1
9-Sep-16 JA4RQO/4 JA/SN-084 JA/SN-084 9
9-Sep-16 JM3GVH/3 JA/NR-057 JA/NR-057 1
9-Sep-16 JS1UEH/2 JA/SO-001 Fujisan Kengamine 32
10-Sep-16 JA1CTC/0 JA/NN-067 Utsukushigahara 2
10-Sep-16 JA1CTC/0 JA/NN-080 JA/NN-080 3
10-Sep-16 JA1KHZ/1 JA/YN-021 JA/YN-021 18
10-Sep-16 JA4RQO/4 JA/SN-084 JA/SN-084 1
10-Sep-16 JA4RQO/4 JA/SN-128 Dakesan 4
10-Sep-16 JE7RMV/7 JA/IT-016 Rokkoushisan 8
10-Sep-16 JF1NDT/0 JA/NN-081 JA/NN-081 6
10-Sep-16 JF8LPB/2 JA/AC-017 Honguusan 7
10-Sep-16 JG1LPK/0 JA/TY-007 Harinokidake 5
10-Sep-16 JG1VCH/1 JA/TK-005 Mitousan 4
10-Sep-16 JI1TLL/4 JA/HS-001 Osorakanzan 5
10-Sep-16 JK1OWD/1 JA/KN-012 Gongenyama 5
10-Sep-16 JS1GRO/1 JA/TK-007 Oodakesan 6
10-Sep-16 JS1UEH/2 JA/SO-001 Fujisan Kengamine 99
11-Sep-16 JA1CTC/0 JA/NN-076 Kirigamine (Kurumayama) 5
11-Sep-16 JA1CTC/0 JA/NN-089 JA/NN-089 5
11-Sep-16 JE7RMV/7 JA/IT-083 Monomiyama 7
11-Sep-16 JF1NDT/0 JA/NN-081 JA/NN-081 4
11-Sep-16 JF1NDT/0 JA/NN-087 JA/NN-087 24
11-Sep-16 JH1EWV/1 JA/KN-020 JA/KN-020 17
11-Sep-16 JK1NRL/1 JA/YN-044 JA/YN-044 5
11-Sep-16 JK1OWD/1 JA/ST-004 Bukousan 9
11-Sep-16 JM3HRC/3 JA/SI-013 Minakoyama 6
11-Sep-16 JP3OSW JA/WK-027 Oishigamine 1
15-Sep-16 JM3GVH/3 JA/NR-057 JA/NR-057 2
16-Sep-16 JA1CTC/7 JA/FS-033 JA/FS-033 4
16-Sep-16 JA4RQO/4 JA/SN-021 Ungetsuyama 2
16-Sep-16 JH1EWV/2 JA/SO-051 Darumayama 7
16-Sep-16 JM3GVH/3 JA/NR-057 JA/NR-057 2
17-Sep-16 JA1CTC/7 JA/FS-003 Nishiadumayama 4
17-Sep-16 JA1KHZ/1 JA/YN-006 Akadake 7
17-Sep-16 JA4RQO/4 JA/SN-021 Ungetsuyama 4
17-Sep-16 JF1NDT/1 JA/YN-065 JA/YN-065 6
17-Sep-16 JH1EWV/2 JA/SO-047 JA/SO-047 13
17-Sep-16 JM3GVH/3 JA/NR-057 JA/NR-057 1
17-Sep-16 JP3DGT/3 JA/NR-029 Kongouzan 14
17-Sep-16 JP3OSW JA/NR-040 JA/NR-040 1
17-Sep-16 JP3OSW JA/NR-043 JA/NR-043 1
18-Sep-16 JF1NDT/1 JA/YN-065 JA/YN-065 72
18-Sep-16 JK1NRL/1 JA/YN-047 JA/YN-047 8
18-Sep-16 JL1NIE/1 JA/KN-013 Ifujisan 6
18-Sep-16 JM3GVH/3 JA/NR-057 JA/NR-057 7
19-Sep-16 JM3GVH/3 JA/NR-057 JA/NR-057 1
20-Sep-16 JM3GVH/3 JA/NR-057 JA/NR-057 2
21-Sep-16 JA4RQO/4 JA/SN-053 JA/SN-053 1
21-Sep-16 JM3GVH/3 JA/NR-057 JA/NR-057 2
22-Sep-16 JM3GVH/3 JA/NR-057 JA/NR-057 18
24-Sep-16 JA1KHZ/1 JA/YN-012 Kitaokusenjyoudake 15
24-Sep-16 JA1KHZ/1 JA/YN-013 Kinpusan 7
24-Sep-16 JM3GVH/3 JA/NR-057 JA/NR-057 1
24-Sep-16 JM3HRC/2 JA/GF-142 Shougadake 8
24-Sep-16 JP3DGT/3 JA/HG-022 Sengamine 18
24-Sep-16 JR8SGE/0 JA/NI-111 JA/NI-111 6
25-Sep-16 JA1KHZ/1 JA/YN-044 JA/YN-044 5
25-Sep-16 JF1NDT/1 JA/YN-046 JA/YN-046 52
25-Sep-16 JH0CJH/1 JA/YN-062 JA/YN-062 16
25-Sep-16 JK1NRL/1 JA/ST-010 Shiroishiyama 14
25-Sep-16 JL1NIE/1 JA/YN-047 JA/YN-047 30
25-Sep-16 JM3GVH/3 JA/NR-057 JA/NR-057 5
25-Sep-16 JO3ALU/3 JA/KT-063 JA/KT-063 19
25-Sep-16 JS1UEH/1 JA/IB-004 Kabasan 35
26-Sep-16 JM3GVH/3 JA/NR-057 JA/NR-057 2
27-Sep-16 JM3GVH/3 JA/NR-057 JA/NR-057 3
27-Sep-16 JO3ALU/3 JA/SI-038 JA/SI-038 39
JA6 - Japan - Kyushu_Okinawa Activator activity for September
Date Activator Summit Code Summit Name QSO
27-Sep-16 JG6CRU/6 JA6/OT-007 JA6/OT-007 4
Toru Kawauchi
toru@kawauchi.homeip.mydns.jp
http://www.kawauchi.homeip.mydns.jp/jh0cjh/blog/
============================================================
SOTA NEW ZEALAND REPORT from Warren ZL2AJ
Note from Editor:-
Warren complies a bi-monthly report for the New Zealand national magazine after the end of the month, to allow him to collect all the statistics. This is forwarded along to me during the first few days of a new month but misses our publication deadline on the last day of the month.
News from New Zealand will be inserted here upon arrival – Mark
======================================================
THE VIEW FROM THE NORTH - 105 By Rob and Audrey G4RQJ
So here we are again at almost deadline time and not a pot washed and the baby to black-lead as my old mum used to say.(rather hope that the baby was some sort of domestic appliance) so off we go down to the Welsh Boarders for ten days. Sunday the fourth saw us settled at base and off to the Telford Rally. We really like this event and although a little quiet this year we were surprised to meet a good number of SOTA folk including quite a posse from South Wales. We helped Tom M1EYP put on a stall here a few years back with little support so the message must have spread. Had long chats with quite a number of people but missed Viki who was missing the rally for the joys of the Wrekin. All in all a really nice day but Audrey, still suffering the after effects of a virus was tired at the end so we gave the Wrekin a miss which did not upset me as it's not one of my favourites.
Monday started cloudy and damp with the cloud down so we spent some time in Church Stretton keeping one eye on the tops. By mid afternoon things had brightened up so we headed to Callow Hill. we reached the start point to find the bridleway barred with a length of baler twine We did not know whether this was to keep us or something either in or out so nipped up to the farm to enquire. Audrey braved the farm dogs to find that they were running a large herd of cattle up the road and the twine would look like electric fence to them and keep them on track , just drive under it(Audrey lifting) and park on the other side. As we booted up, the herd, huge by English standards came by, the twine worked and the lads thanked us for not breaking it, no problem , our playground is their work place. The track up is becoming rather overgrown and looks not much used, rather a shame as it's a nice little walk. On top there was not a soul to be seen so we were able to use the bench by the tour, blissful comfort. We worked a leisurely nine, six on 2fm one the Isle of Wight and three on 2m ssb including Don RQL down in Devon who we have not worked for ages due to conditions.
Tuesday and the three together starting with Long Mynd so as to avoid the "exciting" drive back down to Church Stretton. There was no one about as we reached the parking spot but the ponies were all around. They had a very young foal with them that could barely stand and walked like Bambi so gave them plenty of time to wander off before getting out and making a start. Spent quite a long time chatting to interested spectators on the summit, worked Vicky on WB-041 for a S2S on 70cms, unusual for us, normally a lot further north where the band has not been invented yet!
Next across to Stiperstones, not one of our favourites, the final stretch along the rocky ridge is murder on the feet even in good boots! We set up just below the trig on its rock pedestal and a heavy passing shower found us, what fun. At least the new lightweight waterproofs from Mountain Warehouse worked very well. Nowadays they seem to be producing reasonable kit for the average walker at sensible prices, maybe worth a look (we have no connections with them by the way)
Back to the car park, we were advised on the air that there has been a spate of thefts from cars parked here but all ok and off over the border to Corndon. The start point for this one is near the curiously named village of White Grit which our satnav ignores, fortunately we remember it. The climb is a steep grass slope, wet today, taking about 25 minutes. Audrey is tiring from the virus after effects but does it in several stages with rests and no problems. I find that my well publicised vertigo and lack of sense of balance do not go well here but I have a set of winter ice grips that help us old folk in slippy conditions and they make a huge difference on this type of slope even if a little out of place,75plus bodywork does not take kindly to falling over. Just four fairly long chatty contacts here from the nice seat at the summit. but it is tea time for a lot of people.
Next day is a rest day if shopping and touristy stuff in Ludlow can be thought of as a rest so its Thursday when we set off to Titterstone Clee. It is hard to believe that in the not too distant past nearly 3000 people lived and worked here, now all that's left is grass covered ruins. Only a short sharp climb from the car park but lately the hill seems to have taken an active dislike to our yearly visits, we've had sudden sharp rain, mist, a plague of locusts (not really, they were black flying things intent on mating), midges, and today high winds. We struggled across the top, Audrey in real risk of being blown over. The shelter is useless in these conditions but we found a bit of shelter in the lee of a small rise Twelve leisurely contacts and a few primed for our later visit to View Edge, a hill renowned for its lack of responses on 2m. A 15 minute drive sees us in the only parking spot available on View Edge, the entry to the SSI. The stile on the south side of the road at its high point is overgrown and even more horizontal than previous visits and not easy to get over, the field has been under seed this year but has mostly been cropped and the path along the head meadow to the fence at the high point is easy. Communication however is a different matter and it takes some time to round up the necessary four, we were carrying HF in case but not needed.
Friday, and Brown Clee, not a lot to report. The small parking place near the phone box (now a lending library) now has a deep rut down the road side, In the past it was a test of roll resisting capability of small cars parked there. We are not brave so use the gateway at the road junction, which seems to have had no use in the past 50 years. Windy on the summit so we have to hide on the east face near to the radio masts, which does not help.
Saturday Burrow one of our favourite little summits. Starting from Hopesay church the Shropshire Way is very cut up by tractors at the moment, when you enter a steep green field at the bottom edge. Look for a lone tree at the top edge and follow a path up across the grass past the tree and through an open gateway and continue up until you reach a gate on your left. Opposite this gate, across another steep field is a seat and a stile that gives entry to the hill fort area. Finding this route took a few years and should work until the two steep fields have crops planted. On the air fourteen contacts on 2m with honours equal, seven on fm and seven on ssb. On the Blackberry (fruit) front we picked enough in half an hour for about ten jars of jam and preserve so roll on Christmas when we shall open some and toast little Burrow for its generosity.
Sunday and our last day for this year and we try a new unique in the shape of High Vinnalls What a fine little hill, the only complication was the Food Festival in Ludlow which closed most of the through roads calling for a bit of side street navigation. The car park is large and FREE unlike the eight quid for a day in the Lake District! The route is reasonably marked and good underfoot and the summit a little gem with a nice seat. In addition to the usual 2m activation, we were interested to hear the Dutch balloon experiment on 2FM with German stations using it albeit with rapid flutter and QSB, package rotation? This hill will certainly be on our repeat list with its fine views all around.
Sunday 25th, back home and a quick trip up Hutton Roof Crag; one of our local (1hr 14m road on a good day) little ones. Windy with occasional very heavy showers, ours arrived just as we were setting up on the summit. Why do walking boots never want to go down waterproof legs easily when hurried? There is not a lot of die back in the bracken etc yet, and not much space to avoid it without upsetting fellow walkers on the paths. Small hawthorn trees and wire antennas are not a good combination! HF went well although the bands were busy, but I must apologise yet again to CW operators on 20m for the brain fade that sets in after a long stint when I stop recognising characters and start sending rubbish, time to pack up but I don't like to leave folks without a contact. Two metres was a bit of a non-starter with just two callers and a lot of calling. The local activity on 2FM has dropped hugely and it was much easier to get contacts on the Shropshire hills. Where has everyone gone? Digital? (open your wallet and repeat after me "Help yourself").
Enough moaning, keep walking!
Take care out there.
73
Rob and Audrey
G4RQJ
========================================================
*********** SOTA NEWS PART 2 FOLLOWS BELOW ********