SOTA NEWS - OCTOBER 2015 - Part 1 of 2
Editorial - by Roy G4SSH
Welcome to the October 2015 edition of SOTA News. My thanks go to the following contributors:- Barry GM4TOE, Skip K6DGW, Allen VK3HRA, Mark G0VOF, Kevin G0NUP, Rob and Audrey G4RQJ, Geert PA7ZEE, Bart SQ9APD, Gerald MW0WML, Marjan S51RU, Glyn G4CFS, Jun JI1TIL, Andy MM0FMF.
========================================================
The September edition of SOTA News was viewed 870 times.
6m/10m CHALLENGE - from Andy MM0FMF
The dates for the second session in the 6m/10m challenge have been adjusted. When the challenge was announced earlier this year, the announcement included notice that the dates for the second session were not fixed in stone and we would entertain requests to adjust the dates.
After input from VK, the dates for the start and end of the challenge have been brought forward one day. So the period for the second session is now 14th November 2015 to 13th February 2016.
Since the challenge started, JA has joined SOTA and you can see already that 6m is popular with JA activators. It may be that we will see some good scores from JA even allowing for the fact they entered the challenge part way through.
73
Andy MM0FMF
Database Manager
===========================================================
IMPORTANT NOTICE from Barry GM4TOE - SOTA Awards Manager:-
---
" I will be moving home shortly and will not be able to process orders for Awards or Merchandise.
Due to the need to downsize, and for the need to put much of my household into storage until a workroom can be constructed, this is anticipated to last from the end of October until sometime in January.
The Management Team will attempt to put in place temporary arrangements for the issue of certificates only during this period but extended delays will be inevitable.
If you wish to place orders I will be able to process them up to, but absolutely no later than, Saturday 24th October 2015.
There will be an announcement on the main reflector once some alternative arrangements are in place".
---
SOTA AWARDS FOR SEPTEMBER 2015
Award claims in September have reached an all time high; six people at the Activator 1000 point (Mountain Goat) level and DO1DJJ achieving the 2500 activator points award. I have just issued the first 120k Chaser certificate to Roy G4SSH who has achieved this solely on CW – may he go from strength to strength. Rob, G0HRT is the latest "Supersloth" having now achieved 10k points, again no mean feat considering the work he does helping new Associations complete their paperwork prior to joining the scheme (and all the updates too). The summit to summit award is also moving forward very strongly especially as it is recognition of the performance of all-rounders, those that both activate and chase. Worthy of note is the regular appearance, now, of callsigns from fairly new Associations in VK and W both of which cover vast areas of the planet where achieving these higher levels of S2S needs special dedication.
Trophies
Mountain Goat
K5RHD Randy Diddel
YO6PIB Kertesz Csaba-Zoltan
WB5USB George Yoakum
G8XYJ Matt Porter
Shack Sloth
W0CP Walton Stinson
W6JP Jeffrey Philpott
KM6CEM Charles E. McCants
Certificates claimed
Activator
DO1DJJ Joerg Pellenz 2500 points
YO2BP Thury Zoltan Alexandru 1000 points
EC2AG Antonio Garcia 1000 points
G8XYJ Matt Porter 1000 points
GW4VPX Allan Jones 500 points
DF2DR Hermann Schumacher 250 points
GW4VPX Allan Jones 250 points
AE7AP Robert Kingery 250 points
IV3RJH Carlo Londero 100 points
DO4KAI Kai Wendt 100 points
Activator Unique
G3RDQ David Griffiths 100 summits
VK2IO Gerard Hill 100 summits
DL4MHA Wolfgang Renner 100 summits
Chaser
G4SSH Roy Clayton 120000 points
G0HRT Rob Harwood 10000 points
VK2MWP Andrew Geddes 5000 points
KM6CEM Charles E. McCants 1000 points
DL3PU Willi Gietzen 500 points
VK5PL David Poole 500 points
SY2BEX Stergios Karoympakis 100 points
KD0IPI Jim Alders 100 points
G1BLJ Steve Lovell 100 points
Chaser Unique
DL7URB Robert Bree 3000 summits
Mountain Hunter
VK3OF Rex James Bronze
KD0IPI Jim Alders Bronze
GW4VPX Allan Jones (VHF) Bronze
Mountain Explorer
KC5CW Curtis Hays II Platinum
VK2IO Gerard Hill Silver
AE7AP Robert Kingery Bronze
Summit to Summit
GW4VPX Allan Jones Gold
VK1DI Ian Sinclair Gold
VK2IO Gerard Hill Gold
EA2BD Ignacio Cascante Silver
AE7AP Robert Kingery Bronze
KC5CW Curtis Hays II Bronze
The minor hiatus of running out of certificate blanks, Mountain Goat trophies and flags has now been overcome and, hopefully I have (or shortly will) catch up with the backlog. I have reduced the prices of the insulated mugs to see if I can tempt some purchasers into acquiring one – keeps coffee hot and beer cold, though not at the same time – and I would like to shift them as storage space will become a premium commodity shortly.
Can I please emphasise that we use Paypal as a preferential means of payment simply because that system allows for payment in your local currency and means I do not have to be concerned about exchange rates or the like. It is possible for you to pay direct into the SOTA bank account but it is imperative you pay all the fees associated with the transfer including currency exchange, transfer and banking fees. If you wish to pay by cheque (check) it MUST be in Pounds Sterling and drawn on a bank with a UK head office. We cannot accept checks drawn on any other bank, or any other currency, as the costs associated with cashing them would be prohibitive. Please use Paypal if at all possible.
Vacations have affected the delivery of some items from our US stockist. If you are expecting a baseball cap or some of the smaller merchandise items, and you live in the USA or Canada, then there will be an additional delay before you receive them. The stocks of some of the shirts are running low (particularly Large size T-shirts) and I will not be re-stocking until early next year. If you place an order I will try to offer an alternative but it might not be possible to fulfill your order, in which case your money will be refunded.
This month has been particularly hectic and my response times have been pushed to the limits. With events in the village demanding my time (guiding at the walking festival, marshalling a 100 mile cycle road race and various school and community events) plus the day job, the clock just ticked on and something (SOTA awards) had to give. This should all change shortly as I move away from the mountains to "retire" nearer the coast. Before that happens matters will get worse (see separate announcement).
If you wish to claim awards, or purchase merchandise in the coming month please order as soon as possible as I will not be able to process anything after 24th October 2015.
Please take care when out and about on the hills
73
Barry GM4TOE
SOTA Awards Manager
==========================================================
3rd SOTA SP DAY
From 9th to 11th October there will be a third SOTA SP DAY. This time we will meet in the Mountains of Sudety (SP/KA, SP/SP, SP/SS, SP/WS, SP/SZ).
On these days we will set off into the mountains, of southwest Poland with tens of activators.
Information about the activations will appear on sotawatch.org.
VY 73
Bart SQ9APD
SOTA Poland Association Manager
MORE THROUGH LESS - AN ANTENNA STORY from Geert PA7ZEE
My SOTA activator station consist of my KX1 with an external power supply of 9 penlight batteries, a Palm Radio paddle, ear buds, 30 m wire for an antenna and 3 wires of each 10 m as counterpoise. Basic but effective; I recall the S2S QSO's last spring from EA8/GC-001 and EA8/TF-002 (both Africa) with my SOTA friends in HA and HB9.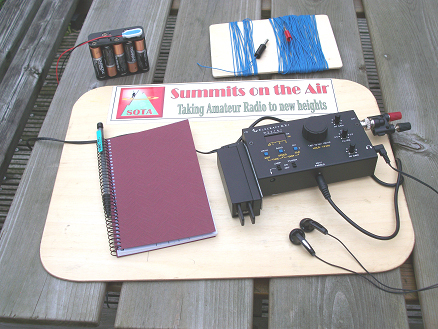 My SOTA activator station
The only problem was that my KX1 did not tune on 80 m with this 'antenna system'.
This is not a problem in the summer months but with the winter bonus season coming, I would like to use also the 80 m band.
In a booklet published by the RSGB 'Practical Wire Antennas', I found the W3EDP antenna.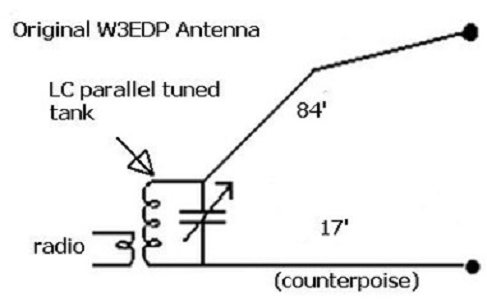 This was new to me and even more simple than the antenna system that I described above.
I decided to make this antenna and measured what the result was.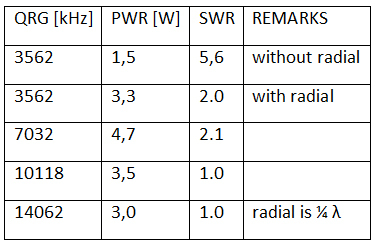 The counterpoise is in the original W3EDP antenna is not connected on 80 m but that did not worked in my case.
The loss in the transceiver by a SWR of 2.0 is about 11 %. Since there is no feedline, there are no losses there.
The disadvantage of HF-radiation in the shack seems to me not to be a problem in my shack in Nature.
So at the end I have now all four bands of my KX1 with even less wire.
More through less.
73 de Geert PA7ZEE
=========================================================
SOTA S5/JA-001 - from Marjan S51RU
Here are some photo's of my first activation:
SOTA S5/JA-001 Triglav 2864 M. a.s.l. - The highest mountain in Slovenia.
Dated: August, 31. 2015
73 de Marjan, S51RU
=====================================================
REFLECTION ON COMPLITION OF ACTIVATION OF ALLTHE GW/NW SUMMITS - from Gerald MW0WML
On Sunday 27/9/15 my wife and I made the trip out to Bardsey Island on the fast passenger ferry from Porth Meudwy near Aberdaron. The weather was almost perfect, with blue skies all around and only some haze to interrupt the view. After the easy climb to the summit of Mynydd Enlli GW/NW-072 we found a spot a little way to the North to avoid disturbing two ladies who were using the summit for some quiet contemplation and meditation.
The activation started, as I always do, with calls from my FT-270 2M (5W) handheld into a 2M vertical dipole (SOTABeams MFD - other 2M dipoles are available!). First in the log was fellow regular North Wales activator Allan GW4VPX/P on his own summit, Yr Aran GW/NW-019.
As I had plenty of time I was also able to deploy the FT857 to permit a move to 2M SSB (40W) again with the dipole, but horizontally polarised and then 60M SSB (20W) and 40M SSB (20W) with a linked dipole inverted Vee set up.
It was great to speak to so many regular chasers on this final GW/NW summit. To cap it all we saw some great wildlife such as a Peregrine Falcon (soaring the East face less than 200m away), Cormorants and Grey Seals.
My first ever summit was close to my home QTH in Mold in April 2011. Foel Fenlli GW/NW-051 is just a short drive and walk. I made just five contacts on that first activation, all on a VX8 handheld. It was a real thrill to make these first contacts and start to form the "over the air" friendships that I've enjoyed so much over the last four years. Bob G6ODU was the very first in my log that day and has been a regular contact ever since, we've even met up on the hill for joint activations.
I had a fairly slow start in 2011, not really picking up my activation pace until 2012, were in common with many others I "chased the points" on the bigger hills.
It was only after my Mountain Goat in December 2014 that I decided to turn my attention back to the rest of the hills in "my own patch".
Well what a revelation it has been! I've done so many lovely hills that I've never visited in 30+ years of regular hill walking. Of course they are not all brilliant, but by and large they have all had redeeming features and most are little gems.
What I have learned along the way?
• 2M FM works in some surprising places, especially if you put a better antenna on it. I sometimes carry a colinear and a "painters pole" to support it. A set up shamelessly stolen from my friend Karen 2E0XYL who has of course herself activated all of GW/NW. Combining this with the FT-270 gives a robust set up that is good in all weathers and fast to deploy.
• The FT857 is heavy, but the extra few Watts has made the difference on 2M SSB and 40M SSB a few times when I have struggled.
• The move to a LiFePO 7Ah battery removed all my "power anxiety" and considerably reduced the weight carried. Probably my best single investment.
• Write in the Rain logs are the way to go!
• Carry a synthetic down jacket. Even in summer.
Special moments
• Cramponing to the summit of Snowdon GW/NW-001 to do a winter activation.
• Inversion and Brocken Spectre on Cadair Idris GW/NW-008.
• First ever transatlantic QSO courtesy of Micky 2E0YYY, when I used his FT857 on 20M on Moel Famau GW/NW-044.
• Surviving an "invigorating" day of horizontal rain on Robell Fawr GW/NW-021. Sometimes those tough weather days can be rewarding - makes you feel alive!
• A great winter round of Moel Lyfnant GW/NW-018 and Arenig Fawr GW/NW-011 where some proper winter navigation skills were needed.
A big thanks to all the people who have helped me with advice and guidance on radio kit and operating procedure. Finally I couldn't have done it without my wife Sue who has come out in all weathers to support me and more importantly support the antenna… literally! Hi Hi
What next, well I think G/SP activation completion and then get on with GW/MW too. Be nice to complete all of my home country of Wales if I could - (Upper Park might be a problem!)
73
Gerald
MW0WML
==============================================================
UPDATE - from Glyn G4CFS
Just had the best months walking since my return to the hills and SOTA this last April.
In September I managed 13 summits in G/SE, G/SC, G/WB & GW/SW.
Despite the poor radio conditions all the activations have been great fun although the radio conditions on Monday 28th from South Wales were excellent.
My total summits for the year to date (5 months) is 37 with a lot more planned for the next few months.
73 Glyn G4CFS
THE VIEW FROM THE NORTH - 93 from Rob and Audrey G4RQJ
September and the Telford Rally, so off to the Welsh Borders for our week of activations.
The first day is Sunday and the Rally is the first thing on the menu. This little rally is always a pleasure and this year was no exception, not a lot of SOTA people about but a long chat with Mike 2E0YYY at his stall saw a few call in. Mike was informed by someone official from the Llandudno rally that the upcoming rally there was cancelled for this year. This is a bit of a blow for us as we have a week booked there with the rally as one of the highlights. (when you live in the wilds of Cumbria, Llandudno is one of our more local rallies) Never mind, it gives us another day of walking but it would be nice if the cancelation had appeared in some of the radio press! Later we had a walk up The Wrekin a steep little climb but a nice top and a few long chats with local stations trying to drum up support for our upcoming activities. Worryingly there were no calls from regular chasers particularly those in south Lancashire.
Monday, a beautiful late summer day, so three summits close to one another, Long Mynd, a ten minute walk from the car park, mostly on the wide well-surfaced "motorway" through the heather, Stipper Stones with its' trig on a ridiculous rocky pinnacle and a summit path that starts on grass and finishes on the most uncomfortable stones imaginable and Corndon Hill with its dauntingly steep grass slope and a park bench on top. All three produced contacts but still no regular chasers.
Tuesday, and in spite of the forecast for sunshine there was mist and cloud with a chill wind. We arrived at the huge car park on the shoulder of Titterstone Clee to find the summit well and truly in the clag. Twenty minutes later the summit trig loomed up through the gloom and we decided that, as no one else was likely to arrive in the conditions, we could safely use the pillar to support the antenna. Ten minutes later a party of some twenty five souls emerged from the mist and settled down for a lunch break. Sensing that some were not too happy we suspended activity and explained what we were about and that we would happily stop it was upsetting them. This approach generally works and did on this occasion. two of the group came over to chat, ones late father had been a G3— and he was just getting into things with a receiver The other had owned an 1155 and other similar kit (my era Rob), what a pleasant chat and the cloud cleared.
Next hill is View Edge a silly drive up of a one pointer. We parked in the gateway of the SSI the only option and operated from the path on the south of the road where it crosses the summit line. It would be nice to operate from closer to the trig but the path is very overgrown and guarded by four large noisy poodles - yes poodles! and a house holder who emerges and stares balefully at passers-by. We have done some map exploring but cannot find any trace of an access track to the radio mast installations just behind the farm even the site is hard to spot on Google earth. Maybe access is via the farm, we could not find any sign of access from the SSI. Some activators suggest a path from the north but we can find no sign of one. Any suggestions for next year would be welcome. The summit lived up to its' reputation of being difficult to qualify, HF sounded dead but as usual Viki and Rod in Hereford come to our rescue on 2m. Hope the shoulder is feeling better Viki.
Wednesday, and Brown Clee with a difficult to find start point, but we arrived at the red phone box which is now redundant but maintained as what must be the worlds smallest free lending library. There was just one problem, the road past the phone box which contains the only viable parking place for miles was closed for resurfacing. The work was scheduled to be over today but there was little in the way of activity and we eventually managed to park on the verge right in front of the Road Closed notices. This is one of the few hills that seems to become easier as time goes by, but our first experience of it was somewhat traumatic being after three of the other local 2 pointers and struggling for hours in the lanes trying to find the start point and starting up as night began to fall. Today we shot up the hill, had a great sunlit operation and rushed back down hoping that the car had escaped being tar covered only to find that all the road closed notices have vanished with no evidence of further activity.
Thursday, and after a day of touristy stuff we decided on an evening trip up Callow Hill close to our base. Again the hardest bit is getting to the start point through the narrow lanes, even a ford involved in this one. The walk up is pleasant, we do not use the direct ascent which is steep, wooded and seriously overgrown, the ramp route is nice and the summit with its tower (not an antenna but a tall stone tower built as a folly) is a little delight. We sat and called for long periods on 2m with little response and in desperation tried a self spot which did the trick and qualified the hill for us This hill is perfect for an evening activation but activity levels locally can be a little disappointing.
Friday. Burrow, the last of our targets for this year's visit. The approach to this hill can be confusing and a lot depends on the agricultural uses of the fields lower down , some years they have standing crops or stock to be avoided. Our current route which has worked for the last few years uses the Shropshire Way out of Hopesay, leaving the lane past the church and walkers cafe, on a cart track with over growing hedges. After a few hundred yards at a gate the hedge on your right disappears and about another hundred yards further you enter a steep field. At the top of the field to your left is s single tree. Aim at it via an indistinct track through the grass. As you near the tree a gate at the top of the field appears, go through and follow the track until a gate appears on your left at the corner of Bank Wood. From this gate a seat and a stile in the fence that encloses the wooded summit can be seen. Make your way across the field to the stile, cross it and join the ramped track to the hill fort. Lots of room on the ramparts for all types of antenna, we had a long stay on 2m in the sunshine.
Once again a self-spot helped drum up trade, something we should probably do more often. On the way down we picked almost seven pounds of wild blackberries Audrey has turned them into jam and preserved some. At Christmas we shall open them and think of Burrow and summer.
Last weekend of a September that has seen the best weather for this year by a long chalk and as we are back on home territory we decide on a trip up Lingmoor Fell. This hill is a steep climb mostly on a rather eroded path on grass and stones with lots of bracken. Our usual start is from a National Trust car park at Blea Tarn. It is expensive and often busy but the worst thing is the approach via Little Langdale. The road is single track and there are rumoured to be passing places.
Today as we are in the midst of it we encounter a pseudo Tour de France descending with cyclists at high speed suddenly arriving in the centre of a road where the foliage touches both sides of the car! If this is not enough fun a vintage British motorcycle rally arrives in a long strung-out convoy also descending among the remnants of the cyclists. Most people in both groups are cheerful and oh what fun! The steep climb of the fell comes as a blessed relief. There is plenty of space at the summit to be able to avoid the sometimes crowded little outcrop that is the summit and we are soon set up on the grass in the sunshine.
HF conditions are very patchy with deep sudden QSB. On 40m there seem to be two of us activators on, close to the same frequency, we cannot hear each other but now and again our UK chasers drop into QSB and their locals emerge briefly calling them, more fun. On 20m many thanks to the excellent discipline of the CW operators when trying to pick KA1R out of the pile up, a single plea and silence on the frequency while we completed. Thank you Gentlemen and hope we worked you all eventually. Once again response on 2m was poor in spite of a good takeoff to the south. On SSB we really need to get some of the big signals in the south to become interested in chasing and beaming toward the hills. On FM the number of keen chasers has dropped alarmingly and many of those we get are nice people just responding to stations struggling with no real interest, we need to inspire a new group. Noticeably a good number of callers in the south were bored mobiles but only at the right time of day. Maybe we have started to appear to be a DX only setup which would be a shame if it damaged the local friendliness. The activity in 2m seems generally down, maybe D star etc, and the fm end seems to have become a "talk to Bert and no one else" area.
Enough moaning, but ideas welcome.
Take care out there
Rob and Audrey
G4RQJ
=====================================================
SOTA TOP BAND REPORT - from Mark G0VOF
There have been no Top Band activations reported for the month of September.
=====================================================
********************** Continued in Part 2 *********************
SOTA North America Report
SOTA Australia Report
SOTA Japan Report
SOTA CW Report
Extracts from SOTA Database
SOTA News contacts.