SOTA NEWS NOVEMBER 2015 - Part 1 of 2
Editorial - by Roy G4SSH
Welcome to the November 2015 edition of SOTA News. My thanks go to the following contributors:- Barry GM4TOE, Skip K6DGW, Allen VK3HRA, Mark G0VOF, Kevin G0NUP, Rob and Audrey G4RQJ, Geert PA7ZEE, Sake PA0SKP, Hans PA3SYG, Phil G4OBK, Nick G4OOE, Dave G3TQQ.
========================================================
The October edition of SOTA News was viewed 980 times.
SOTA AWARDS - OCTOBER 2015 - from Barry GM4TOE - SOTA Awards Manager
October was another bumper month for awards with five new Mountain Goats and seven Shack Sloths. Most notable is the 5000 Activator award and 25k Chaser award for OK2PDT; in addition Jan has also activated 1000 unique summits. Quite an achievement. Rob G4RQJ(and his xyl Audrey) have now managed 2500 points as activators – did Audrey bake a special cake for the occasion? Summit to Summit awards are also popular with quite a number of individuals reaching the higher levels however there is still only one Amethyst award ever made!
Trophies
Mountain Goat
VK1NAM Andrew Moseley
N1FJ Frandy Johnson
KD7WPJ Oleh Kemytskyy
Shack Sloth
KG5EIU David Cappello
M0WBG Neil Challis
NU7Y Quinton Gleason
Certificates claimed
Activator
OK2PDT Jan Lavicka 5000 points
G4RQJ Rob Hannan 2500 points
VK1NAM Andrew Moseley 1000 points
OK1AU Stan Veit 1000 points
K5RHD Randy Diddel 1000 points
YO2MSB Sorin Daniel Barbu 500 points
DG3NEU Tobias Lackenmeier 500 points
Activator Unique
OK2PDT Jan Lavicka 1000 summits
DF3MC Martin Rothe 250 summits
KC5CW Curtis Hays II 100 summits
Chaser
OK2PDT Jan Lavicka 25000 points
VK2NP Clifford Hynds 5000 points
G0FEX Kenneth Porter 1000 points
M0XRS Christopher Rowan 1000 points
M0WBG Neil Challis 1000 points
YO2MSB Sorin Daniel Barbu 1000 points
K6QCB Jeffrey B Widen 1000 points
VK3PMG Mick Geraghty 500 points
SP6NVB Bogdan Morawski 250 points
PA7MDJ Michael de Jong 250 points
PA7MDJ Michael de Jong 100 points
EA3GBQ Josep Sirvent Sanchez 100 points
SQ9LBE Tomasz Loba 100 points
Chaser Unique
ON4FI Naessens Karel 5000 summits
PA0WLB William L.B.J. Dekker 4000 summits
ON6ZQ Christophe David 3000 summits
K6EL Elliott M Pisor 2000 summits
KA5PVB Charles Dobbins 500 summits
K6QCB Jeffrey B Widen 100 summits
SOTA Complete
OK2PDT Jan Lavicka 500 summits
Mountain Hunter
EB2GKK Inaki Fagoaga Platinum
PA1BR Pascal Breugelmans Gold
G1FOA Peter Franklin Bronze
DG3NEU Tobias Lackenmeier Bronze
EA3GBQ Josep Sirvent Sanchez Bronze
PA7MDJ Michael de Jong Bronze
K7ODX Ryan Etherington Bronze
Summit to Summit
OK2PDT Jan Lavicka Platinum
DB7MM Dr. Michael Multerer Gold
K7ODX Ryan Etherington Bronze
SQ9APD Bartosz Kuzma Red
The problems we had (and they still continue as I type this) with the database server put a real strain on the issue of awards. I was unable to check more than one claim before it timed me out and this caused extreme frustration, not to mention the time it was taking. Andy MM0FMF stepped in and managed to produce csv files of all claimants records from an offline database. There was only one problem caused by this with one claim being dated later than the previous backup and an exchange of emails was needed to clarify matters. My sincere thanks to Andy for his help at a time when he was tearing out his (rather limited) hair over the database server problems.
This is where it becomes obvious why we charge for awards – we are in the process of moving the SOTA database to a server with much more capacity, this costs money, real money, and the small profit we make on awards and merchandise funds this (along with the other IT products SOTAwatch and the Reflector). The failure of any one of these products causes untold problems for the whole SOTA community not least those who design the products and spend much of their free time maintaining them. In short, with the growing trend to purchase certificates as downloadable files, and the significant percentage taken by Paypal when ordering a single item (28% at the current time), we are planning a review of the charges for pdf files. Meanwhile, when ordering multiple certificates PLEASE order them as a single transaction rather than individual transactions; this maximises the income to SOTA.
Finally, this leads me onto the state of the SOTA shop. Many will have noted that the shop does not have any stock (Awards or Merchandise); this is intentional as I am moving home in the next two weeks and need to concentrate on that rather than SOTA shopping. Because the new qth is much smaller than my present home (less than 20% of the size) I need to build a "man cave" to accommodate my shack and office, consequently it is unlikely that I will be able to issue awards until the beginning of 2016. I will minimise the delay but please be patient and I will try to get something operational as soon as possible.
So for the last time this report comes from the highest village in the Highlands of Scotland set within the spectacular Cairngorms National Park (with most of the highest UK peaks within sight – a SOTAfeast) -this is a blatant advert, it really is that good. My next report will come from the lofty height of 80m asl on the glorious Moray Firth coast – a lot warmer in winter!
Please take care when out and about on the hills
73
Barry GM4TOE
SOTA Awards Manager
==============================================================
SOTA AT HAM RADIO CONVENTION IN THE NETHERLANDS
On the 7th of November there is a team of dutch SOTA enthusiasts active on the Ham Radio Convention (Dag voor de Radio Amateur) in the Americahal in Apeldoorn.
Our goal is the promotion of the SOTA program. In the team are parcipitating our Association Manager Hans PA0HRM, Mountain Goats Hans PA3FYG and Sake PAOSKP and myself.
Our stand will be on the first floor where we hope to meet many SOTA friends.
73 de Geert PA7ZEE
=========================================================
SOTA TRIP REPORT
Earlier last month we had a short holiday in Austria along with our wives, so it was not just a "SOTA" holiday hihi.
We still activated 10 mountains, several of them above the 2000m. Really climbing!
From 19 to 23rd October Hans and I made a SOTA-trip to Thuringen. It was unfortunately often foggy and rainy.
We used 1 transceiver, the KX3 (10Watt). Hans, PA3FYG operated in SSB and I in CW.
Thanks to everyone who worked us! In total 19 summits.
73,
Hans PA3FYG,
Sake PA0SKP
MY TRIP TO GOATDOM - By Victor GI4ONL
Early in 2010, after a 14 year absence, I rekindled my interest in amateur radio. I had always been a keen CW operator and enjoyed portable operating so when it came to purchasing a suitable radio the FT-817 appeared to tick all the boxes. Initially it took a little time to scrub the rust of the CW cells in my brain, however I found that I had retained most of my previous skills and enjoyed the challenge of getting back up to speed.
When browsing some or other radio related website late in 2011, I became aware of SOTA but didn't give it any serious thought until one evening whilst talking to the other Victor, (MI0JST), I asked if he had ever heard of it. He hadn't! Thankfully he didn't need much persuasion to try an activation, so, on the 8th of January 2012 we did our first of many joint activations and thence began our SOTA journey.
Over the past 3 and a bit years we have been out in all sorts of weather, driven literally thousands of miles and walked an unknown quantity, to jointly activate all of the summits in GI and numerous in EI along with a few in G and GM. Individually we have also activated summits in other regions. After our activations on 11th October this year I was only 6 points away from the magic 1000.
I was like a child waiting for Christmas or a birthday, and just couldn't wait for the day of the qualifying activation. Due to work and family commitments, MI0JST was tied up for the next few weekends so no chance of any joint activations.
On the 25th the wx was reasonable, my feet were itchy, and I succumbed to the SOTA rat that was busy knawing at me. I chose GI/SM-003 as it was the closest 6 pointer that I hadn't activated this year, but it still required an hour and a half of driving.
On arrival at the parking spot I noticed that all the tops in the Sperrin Mountains were engulfed in thick cloud, and it was quite windy – less than ideal conditions – but it would have taken a lot more than cloud and wind to dissuade me!
After I had the station set up I discovered there was no signal on my mobile phone so sending a spot was impossible, I just hoped the RBN would pick up my CQ and spot me – Thankfully it did.
By pure coincidence, or perhaps fate, the 4th and qualifying contact in the log was the person who has chased me most, di di dit, di di dit, di di di dit, the unmistakable call from Roy G4SSH. I went on to work a total of 40 contacts on 7-CW, 10-CW and 7-SSB and my final contact was with Victor MI0JST.
On my return walk to the car the feeling of elation was incredible. I had achieved something, which in 2012 seemed like an unattainable goal.
Becoming the first Mountain Goat in Northern Ireland was an added bonus!
I cannot write this story without further reference to the "other" Victor. He has been a true friend and great companion on our many joint activations. We have had some memorable times together and hopefully many more will follow.
Out of curiosity I have compiled a few statistics relating to my trip to goatdom:
Time taken: 3 years, 9 months and 17 days.
Associations activated: 7
Regions activated: 16
Unique summits: 144
Total summits: 203
Chasers worked: 3213
Average per summit:15.83
Total points: 1000
Average per summit: 4.93
As I am sure many are aware, I am also a keen SOTA chaser and would like to thank all the activators and chasers who have given me so much enjoyment over the past few years. To those behind the scenes who keep the SOTA machine running, we are all indebted to your hard work and commitment.
Here's to the next 1000…………
73
Victor GI4ONL
===================================================
THE TEES TO THE WASH - FUN DAY - 29th October 2015 - by Phil G4OBK
When Ed DD5LP (G8GLM/VK2JI) told me he would be visiting family in October in Northern England and wanted to activate at least one G/TW summit while he was here, it seemed to me as the G/TW Area Manager that this would be a good time to organise a SOTA Funday.
The last one I took part in was the North Pennines Fun Day, which was in January 2009.
Our G/TW area contains just five one point summits with a prominence of more than 150 metres. For those not familiar with our geography the area extends on the east side of the country abutting the north sea for approximately 120 miles north-south with the five summits spread over an east - west distance of around 35 miles. The distance from Normanby Wold TW-005 in Lincolnshire - our most southerly summit, to Gisborough Moor TW-003 our most northerly summit is 78 miles.
As it turned out on the day the weather was foul, with rain, strong winds and mist but this did not prevent 12 stalwart operators sticking to their word and turning out to activate all five summits. Between us we gave the HF and 2m FM bands a really good airing from our area.
The big hitter in DX terms was England's top scoring SOTA SSB Specialist Steve Green G1INK, (known to his ham radio mates as "Inky"). Steve completed 108 QSOs in an afternoon session from Gisborough Moor, TW-003. With his eye on the improving propagation of the 10 metre band Steve gave 10 metres a try at 1445z and was generously rewarded. 10m turned out to be Steve's "money band". Not only did Steve work a YV station in Venezuela, and a PY in Brazil, he worked 33 North American stations on 10 metres, including Ryan KK4OSG for S2S with best DX being Don NK6A (California), who some may remember was operating from Eire in September. Andy G6PJZ beat Steve on to TW-003 and covered the 2m FM band initially. Andy then departed and gave his call an airing on TW-004 - again on 2m FM before returning north to our supper social in a country pub.
Ex Army man Terry Sayner G0VWP also operated from a different place on TW-004 (the circumference of the activation zone down to 25m on the plateau is about 12 miles). Terry used a tarp shelter with an 11 foot coverage area. He even moved a small table and chair into it and operated in comfort with a large lead acid leisure battery. On contacts alone Terry was our top scorer with 115 QSOs. (It is possible to drive on to the summit of TW-004 as the A166 road goes right over the top of it).
The next big scorer was Nick G4OOE who finished just shy of 100 QSOs with 98 worked. after removing 3 dupes from the log. This was again from a different place on Bishop Wilton Wold TW-004, so there was plenty of separation between the two QRO stations… I don't know what rain protection Steve had on TW-003 but Nick did the same as I did - we protected our FT-857 radios and gear underneath with double skinned and vented fibreglass golf umbrellas which were pegged down.
Ed DD5LP, across from Germany, climbed up to Cringle Moor G/TW-002 from Lord Stones with his brother Jim G8DCD. Ed and Jim had the worst weather of the day I believe, but using his FT-817 and due to the rain and exposure, a mismatched Vertical antenna, they made 12 QSO's in 30 miutes. This was a SOTA indoctrination session for Jim who lives in the G/TW area.
Another operator who travelled over 200 miles each way to visit a TW summit was Peter G1FOA who came up north from Essex and activated Normanby Wold G/TW-005 on HF. Earlier in the day Simon M0RTZ was reported there on 2m FM. but I do not know many contacts he made. The summit is notoriously difficult to make contacts on using 2m FM. The day after our Fun Day Peter G1FOA went back to G/TW-004 and activated on HF before returning south.
Back to Fun Day and around midday three operators, Dave G3TQQ, Pete M0HQO and Jeremy M0JLP walked up Urra Moor TW-001 from Clay Bank and operated from under a shelter on 2m FM using 50 watts. They made plenty of contacts despite not being spotted at all throughout their activation… As they were walking back down Phil G4OBK was on his way up having attended a business meeting in the morning. Phil was operating from under a golf umbrella like Nick and as the weather began to improve put 70 QSOs into his log on 40m, 30m and 20m before closing down at 1545z. Top UK Chaser Roy G4SSH helped by providing spotting support, cellular coverage for data is not good in the North York Moors National Park yet.
With the SOTA database currently undergoing essential maintenance it isn't possible to give an exact breakdown and number of contacts made, but we know that well over 400 SOTA QSOs were made from the TW area on the day. We also know for sure that at least three chaser stations worked all five summits - thesnd to purchase certificates as d and Andrew G4AFI - there could well be a few more. I believe that G/TW-002 was the
toughest summit to work on the day.
Between 1800 and 1900, all activators, along with chaser Roy G4SSH, gathered for a supper in a country pub between Pickering and Malton. It was a great evening with lots of stories of SOTA adventures and what we were all planning for in the future.
My thanks go to Nick G4OOE for laying on transport for five of us to the pub supper and to all participants and chasers for their enthusiasm and for giving their best on the day.
73
Phil G4OBK
G/TW Area Manager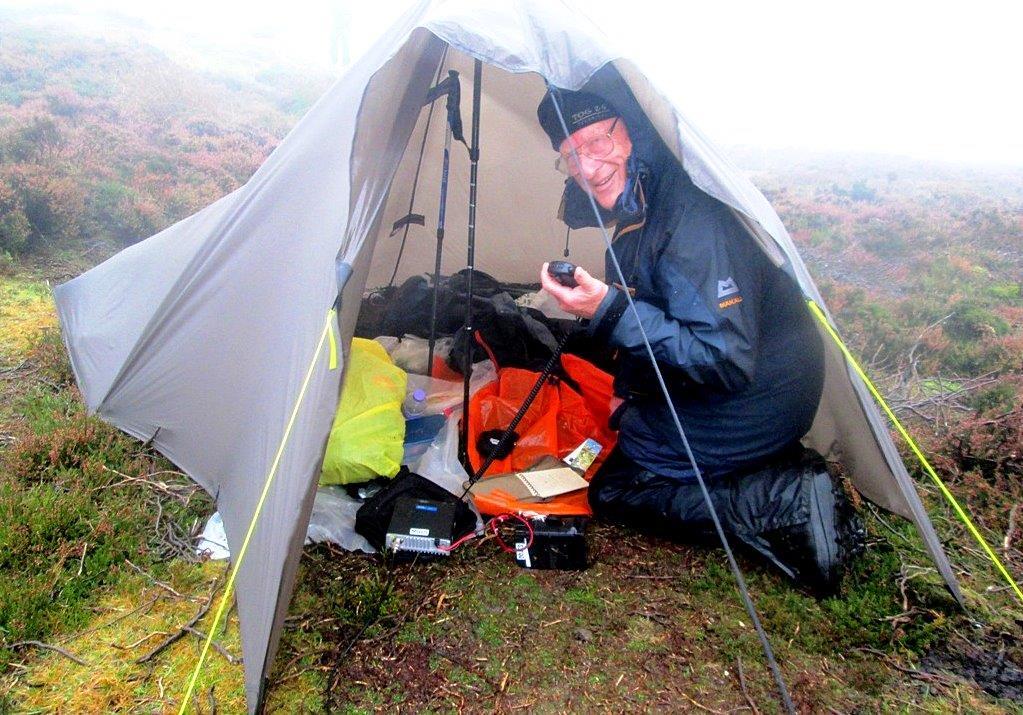 Dave G3TQQ operating from TW-001 with " winds so strong that you could hardly stand up, constant rain and very reduced visibility".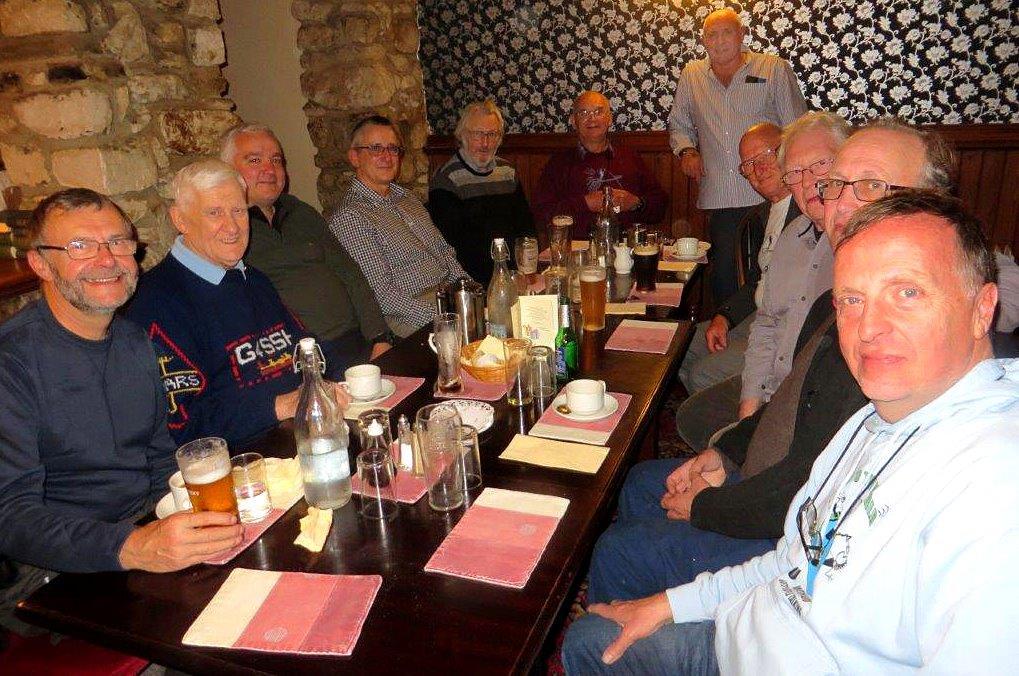 Phil G4OBK, Roy G4SSH, Andy G6PJZ, Steve G1INK, Peter G1FOA, Nick G4OOE, Terry G0VWP, Dave G3TQQ, Pete M0HQO, Jim G8DCD, Ed. G8GLM (DD5LP)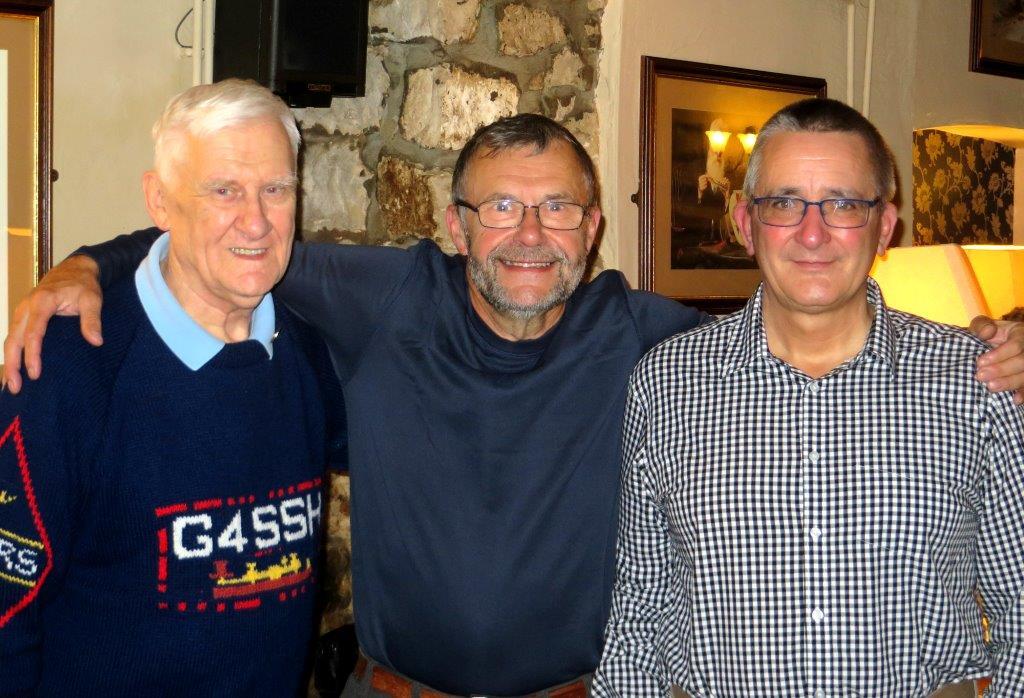 Roy G4SSH (Leading G chaser) Phil G4OBK (G/TW Area Manager) Steve G1INK, (Leading G activator) at the TW supper…
=============================================================
SOTA TOP BAND REPORT - from Mark G0VOF
Hello everyone & welcome to this month's edition of SOTA on Top Band.
After a couple of months with no summit activity on Top band I am pleased to report that no fewer than three activators tried the band during October.
First this month on Saturday 3rd October was the Worlds leading Top Band activator John G4YSS, using SSEG callsign GX0OOO/P. John's chosen summit was G/NP-002 Mickle Fell, which as large parts of this fell are used as a military firing range permission must be obtained before accessing the range.
There was a nice surprise for John when he reached the summit as fellow activator David G0EVV was in full flight on 40m CW. John & David exchanged greetings and took the opportunity to capture a few photos. Following this un-planned meeting, John partook of another of his interests, visiting the remains of a crashed Stirling Bomber. Many of the hills & fells in the North of England have claimed aircraft & crew over the years, both during war & peacetime. The remains of these aircraft can be in quite good condition, despite the passage of time in pretty grim conditions.
After returning to the summit cairn John then headed to the western end of the summit to set up for his activation. This would be an un-hurried multi-band activation & thanks to David also activating the fell on HF, John would be able to spend longer on some bands than he may otherwise have done. Starting on 30m CW John made his way to Top Band via 17m & 80m. I was very fortunate to catch John's first CQ's on 30m despite spending the morning in the garden & only popping into the shack to check my HF wire was still working correctly after dropping it to trim my hedge earlier!
I managed to work John on several bands & was monitoring 1832KHz CW when he first called CQ. Due to my high local noise levels I was also monitoring via a WebSDR, in case I could not copy John directly, I would still be able to monitor & spot any mode changes. As it happened I was very pleased to find that I could actually hear John better using my own antenna & radio, so muting the WebSDR I called him. Although signals were not very strong with 529 reports exchanged, for the middle of the afternoon I was more than happy. I was using 100 Watts into an 80m circumference horizontal loop at around 6m AGL, much more of an NVIS antenna for 80m upwards than for ground-wave on Top band. After a quite easy exchange on CW I was surprised to hear John requesting a QSY to SSB straight away. I quickly moved to 1843KHz LSB & heard John calling. This was far more difficult than CW had been, more I think due to the wider filter & my local noise than any fault with John's equipment, although he does suspect his amplifier's performance on SSB is not on a par with its performance on CW. Nonetheless we exchanged 32/52 reports which although a bit of a struggle for me, is not as difficult as some QSO's I have had!
Following SSB John returned to 1832KHz CW & was rewarded with a call from Roy G4SSH, who despite not having a 160m antenna does surprisingly well on the band when conditions permit. By this time John noticed that David was packing up so John waited on 1832KHz for David G0EVV to pass on his way off the summit. Chancing a CQ while David was some distance away John was very surprised to be answered by Phil G4OBK, who was not expected to be on the air that afternoon. Good reports were exchanged so John had now made 4 QSO's on the band, although two were with me. After a final foray onto 145MHz FM John packed up & made his way home.
Needless to say John has provided an incredibly detailed activation report & photos, which can be found here:
G4YSS: G/NP-002 MICKLE FELL on 03-10-15
The second activator to give 160m a try this month was Jack W4TJE who along with a few amateur friends planned an evening activation of W4V/WV-005 Point Lookout Mountain. Jack made a superb total of 8 QSO's on the band using CW before moving to 80m were he made a further 24 QSO's again using CW. As this activation crossed 0000 utc chasers had the opportunity to work Jack twice for double points.
Jack has kindly provided the following information:
"Here where I live, I'm surrounded by many summits that have had few, if any activations. If you view my location on a satellite map, you'll see what I mean. So my goal is to activate summits with no or little previous activity.
Some of these summits are hard to get to and involve long hikes. My mind has a tendency to wander while I'm out there hiking, and this summer I started thinking about SOTA activations that might be outside of the box.
And I got to thinking that nobody over here seems to ever do any activations on the low bands. So that's how I came to the idea. Next, I wanted to do an activation that would be easy to get to and set up from. And Point Lookout, with its easy access and flat, open summit, is ideal in that way. Then of course, we had to wait for the summer qrn to dissipate, but we didn't want to wait until it was too cold.
Finally, after all that planning, I wanted to be heard. So this summer I purchased a kxpa100 amp to go with the kx-3. The only problem was the wx. A front stalled out, with light rain and heavy fog. But we went on with it and it worked out great. The end fed wire for 80 and 160 worked very well. I would have liked to have worked more on 160, but the semi-pileups on 80 more than made up for shortfall on 160.
I don't like camping out overnight, as I had my fill of that as a Marine grunt as a young man. But I may do an overnight next spring from one of these summits in order to catch the morning sunrise and aim to put more DX stations in the log. One point I want to make clear: despite Point Lookout being accessible by vehicle, and I did drive close to the summit, all the gear used was gear that I had carried while hiking on my previous activation, including the amp and an extra battery.
Getting back to this past summer's sota (mis)adventures. I really did encounter many deer, 6 black bears, 2 timber rattlesnakes, a drunken floozie on horseback, and a naked appalachian trail hiker. I'm thinking of writing it all up and submitting it to CQ or RADCOM, It was a very fun, and adventurous summer, and if I can write it down properly, it might help to generate more SOTA interest."
Thanks for the excellent report Jack & very well done on the 160m QSO's!
The third activator to try Top Band was Jim K9JWV who dropped onto the band during his activation of W7U/WS-109 Snow Benchmark on 12th October. Sadly Jim did not manage to work anyone on 160m , but well done for trying.
Thanks & very well done to John, Jack & Jim!
At the time of writing, these were the only Top band activations during October that I am aware of, if I have missed any others please let me know.
On 3 October, John GX0OOO/P (G4YSS) Activated G/NP-002 Mickle Fell & made 4 QSO's (3 CW / 1 SSB)
On 10 October, Jack W4TJE Activated W4V/WV-005 Point Lookout Mountain & made 8 QSO's (8 CW / 0 SSB)
On 12 October, Jim K9JWV Activated W7U/WS-109 Snow Benchmark & made 0 QSO's (0 CW / 0 SSB)
As always, If you do have any suggestions on things that you think should be included, or if you wish to contribute tips, ideas or anything else that you think may help others on the band please email them to me at mark@brownhill.demon.co.uk
Until next month,
Best 73,
Mark G0VOF
=============================================================
THE VIEW FROM THE NORTH 94 - by Rob and Audrey G4RQJ
Sunday Oct 4th Kirby Moor this weekend, a repeat for us this year but close to home and a nice stretch of the legs if you start at the beginning of the Slate Road that crosses the moor and ends up in Kirby itself. From the southern end the road is drivable with care and a reasonable ground clearance but only up as far as the utility site at the entrance to the wind farm. There is very limited parking along the sides of the track. The walk up is quite pleasant with good views into the southern Lake District proper. We once met an old farmer half way up staring wistfully at the distant Coniston valley, he told us he had farmed there all his life but had been forced by old age to retire to Ulverston where his children lived and this was as close to Coniston as he could get. From the gate just after the utility site a right turn up the grassy slope beside a wall takes you onto the summit plateau from where follow the utility tracks past the windmills to the obvious high point with a pile of stones. There is little shelter on the summit and it is always breezy, the only hope is to get into the lee of the summit mound, not very effective if the wind is from the south, it is today! Contacts were slow in coming but never the less three hours soon passed, my cw is getting worse. the spring on the paddle is wearing out and it is making the key very light. Unfortunately the spring is cut from a miniature hacksaw blade and I am too lazy to make a new one, I'll get round to it!
Sunday Oct 11th Black Combe our most local larger than one point summit this hill dominates the local skyline to the north of Barrow in spite of being separated from it by the Duddon estuary. Like Morecombe Bay to the south but somewhat smaller, it too is full of dangerous sand flats covered by the sea at high tide whilst at low tide it looks crossable, its not! The crossing point is Duddon Bridge that carries the A595 coast road over. It is single track controlled by lights. Last week it was closed over night, the diversion was 110 miles round via the M6 to get past 30yds of road. The best start point for the climb is Whicham church just off the A595 about ten miles beyond the Duddon bridge, on the right and easily missed. There is a good sized car park with a simple honesty box. The little church yard has several WW2 war graves, unknowns washed ashore by the sea and two Australian airmen killed on the hill in a plane crash. We always stop there for a few minutes and remember how far they had come to help, only to die on our fells and to be buried so far from home. The hill is a no nonsense climb, not steep but relentless even the descent is a relentless strain on the knees. The summit plateau is large and grassy with a shelter round the trig pillar, lots of room for antennas but beware of the mist that can creep up suddenly from the sea and the paths on the summit are not obvious in poor visibility. Ability to climb this hill is thought of locally as a test of fitness, we climbed it for the Silver Jubilee, the Golden Jubilee and recently the Diamond Jubilee and all being well we will be there for the next one.
Sunday 18th Oct With the impending trip to North Wales for the radio rally that never was we decided on a little local repeat summit, Hutton Roof Crag. Lately we have taken to doing more repeats and it is fascinating to see these little summits in their different guises through the year. Now it's autumn and people are picking the last withered blackberries. Local lore has it that Satan goes round at the end of September and relieves himself on the remaining fruit so we don't pick any! The hill is best climbed from the parking spot on the south side of the hill, a couple of miles out of Burton in Kendal and close by a small disused quarry now a picnic area. Finding the summit is an art in itself. Basically navigate there via the host of woodland paths and remember them for the way down and the future. The woodland is managed as a resource and if you have not visited for some time much will have changed. The summit has a trig but activating close to it is difficult as there are a lot of visitors. The area around is bracken and hawthorns which hide quite a few deep narrow fissures in the limestone It is possible to set up among this but the hawthorns always tangle wire antennas and for ankle safety prod ahead with a walking pole. Once again a lack of 2m chasers in numbers.
This month's effort will be shorter than usual due to the cyber attack on our service provider which has left internet access rather problematic at the moment so hope to catch lots of you during the Wales visit, meanwhile take care out there
73
Rob and Audrey
G4RQJ
************************ Continued in Part 2 ********************
North American SOTA Report
Australian SOTA Report
SOTA CW Report
Extracts from SOTA Data Base
SOTA News contacts.