SOTA NEWS MAY 2017 - Part 1 of 2
Editorial - by Mark G0VOF
Welcome to the May 2017 edition of SOTA News. My thanks go to the following contributors:- Barry GM4TOE, Skip K6DGW, Roy G4SSH, Kevin G0NUP, Rob and Audrey G4RQJ, Warren ZL2AJ, Toru JH0CJH, Luc ON7DQ, Geert PA7ZEE, Viki M6BWA, Pauloi CT2IWW Bob F5HTR, Phil G4OBK.
73, Mark G0VOF
========================================================
The April 2017 edition of SOTA News was viewed more than 1100 times.
SOTA AWARDS April 2017 from Barry GM4TOE - SOTA Awards Manager.
Deciding to issue emailed certificates free of charge has resulted in an overwhelming demand which has resulted in inevitable delays. The following list illustrates the extent of new claims, more than double last month!
Congratulations to Vicki, M6BWA, who has achieved Mountain Goat based on UHF (70cm) contacts only; that is a really remarkable achievement. Congratulations also to HB9CBR, W7USA, DL4MHA, VK2HRX and VK3ANL for also reaching the 1000 points level. There are numerous Shack Sloths this month, forgive me for not including a name check here.
Following a long period without any claims for the Microwave Award this month there have been two, both on 23cm. Congratulations to G4AZS and G7HEM. How soon before I have a claim for the same award on 13cm – there are a group of GM's who know what I am talking about!
Trophies Issued
Mountain Goat
M6BWA Vicki Archard (All UHF)
HB9CBR Bruno Ackermann
W7USA Raymond P Sara
VK2HRX Compton Allen
VK3ANL Nicholas Lock
Shack Sloth
N5ZC Rich Thorne
Certificates Issued
Activator
DG0JMB Joerg Brueckner 5000 points
VK2HRX Compton Allen 1000 points
VK3ANL Nicholas Lock 1000 points
DL4MHA Wolfgang Renner 1000 points
LZ1GJ Yani Petkov Ganchev 500 points
LZ1GJ Yani Petkov Ganchev 250 points
YO8AZQ Adrian Done 250 points
YO8SSH Sebastian Hojbota 100 points
LZ1GJ Yani Petkov Ganchev 100 points
YO8SDF Lacramiora_Tatiana Clucerescu 100 points
G0POT Michael Sansom 100 points
KN4BKS Elizabeth Burns 100 points
DK6HS Sven Hammer 100 points
Chaser
NS7P Phillip Shepard 75k points
NQ7R Thomas Kramer 5000 points
N5ZC Rich Thorne 1000 points
KC5BG Mike Emerson 1000 points
K6MW Mike Wood 1000 points
KD0IPI Jim Alders 1000 points
M6BWA VIcki Archard 1000 points
YO8SSH Sebastian Hojbota 500 points
YO8AZQ Adrian Done 500 points
YO8SDF Lacramiora_Tatiana Clucerescu 250 points
YO8SSH Sebastian Hojbota 250 points
KK6ABZ Jan Pettit 250 points
VK4HNS Neil Shand 250 points
KP4RV Rafael Bonano 250 points
LZ2OQ Georgi Aleksov 250 points
YO8SDF Lacramiora_Tatiana Clucerescu 100 points
KK6ABZ Jan Pettit 100 points
KG7FOP Roland Simmons 100 points
KE0FQS Michael B. Kingsbury 100 points
YO8SST Tatiana Done 100 points
VK4HNS Neil Shand 100 points
KP4RV Rafael Bonano 100 points
Summit to Summit
WA7JTM Pete Scola Platinum
HB9BQB Guido Giannini Silver
M6BWA Vicki Archard Silver
LZ1GJ Yani Petkov Ganchev Bronze
LZ1GJ Yani Petkov Ganchev Red
YO8SSH Sebastian Hojbota Red
Mountain Hunter
WC9G Ron Burns Platinum
MI0RTY Martin Strawbridge Gold
G0UUU Phil Earnshaw Bronze
KE0FQS Michael B. Kingsbury Bronze
KK6ABZ Jan Pettit Bronze
LZ2OQ Georgi Aleksov Bronze
LZ2HT Ivan Todorov Bronze
Mountain Explorer
WC9G Ron Burns Bronze
F5UBH Christophe Toullec Bronze
YO8SSH Sebastian Hojbota Bronze
SOTA Complete
F5UBH Christophe Toullec 100 summits
Microwave Award
G4AZS Adrian Bayling 150 km 23 cm
G7HEM Mike Hartley 100 km 23 cm
The massive number of claims for certificates has rather dominated my work this month – it is rapidly becoming a serious job – so there have been inevitable delays. I cannot see this situation becoming better so the turnaround times may be rather extended. I also ran out of blanks for Mountain Goat trophies, these are on order and should be with me in the first week of May. Just to add to my woes I ran out of Mountain Goat embroidered badges (having just taken delivery of a large stock of regular ones). Delivery of these may well be extended.
Thank you to the people who have made donations this month. These have countered the loss of income from issuing certificates free of charge so we can continue to provide the online data facilities.
I have replenished my stock of hats and have introduced a Heather Grey ski hat and Red and Olive baseball caps to the existing range. All colours are now in stock although I am phasing out the Navy Blue ski hat as it has not sold very well. Stocks of Polo Shirts are also running down and will not be replaced; I will try to list what is still available on the reflector.
The Rally in Blackpool allowed several of you to purchase SOTA merchandise on the stand and I (along with GM4COX) will be at the Scottish Rally at Braehead on 7th May with a range of stock. If there is something you are particularly wanting and would like to save on the (exorbitant) postage then let me know in advance and I will bring it with me.
Stay safe on the hills
73
Barry GM4TOE
SOTA Awards Manager
========================================================
NORTH AMERICAN REPORT from Skip K6DGW
Hi All,
We're going to skip the statistics for North America this month, between two computers, one of which is behaving like a teenager right now, I can't find the Perl script or directories to run it. Getting the statistics will pop to the top of the To-Do list for next month. Meanwhile, I need to get this into Mark, so thus encouraged …
Sadly, Guy, N7UN, reported that Jim Rodenkirch, K9JWV, has become a Silent Key. Guy's note: "Some folks may have seen the announcement that Jim, K9JWV, has become a SK. Jim was involved early in 2009 with Stu/KI6J in the setup of SOTA for W6, W0C, W7A, and W7U. It was these early "seed" summits from KI6J that launched SOTA in the Western States. See qrz.com for a short biography of Jim.
RIP Jim! Thanks for your early contributions to SOTA!"
AWARDS AND ACHIEVEMENTS: Bob, AC1Z, reports that he has exceeded 20,000 Chaser Points in the W1 Association. He actually achieved this in February of this year but unfortunately, the stage coach travels slowly out here on the Western Frontier.
Richard, N2GBR, reported his first activation, Cross Mountain, W3/PD-008. With high QRN on both 40 and 20, and an inability to get a spot out on his cell phone, he moved to CW, called CQ SOTA several times, and RBN took care of the spot for him, leading to about 10 QSO's before the rain started.
With the first activation under his belt, he went on to activate Priest, Sharp Top Mt, Apple Orchard, and High Knob, all in W4V, over a 2 day excursion.
Rob, AE7AP reports that Vick, K7VK, got to Double Sloth this month in the W7M Association.
NEWS: Quite a bit this month —
Elliott, K6EL, our representative on the SOTA MT, reported from San Francisco:
"The March edition of QST magazine, at page 78, lists SOTA first among programs to consider for NPOTA who wish to stay active (inset on that page). I plan to email several dozen of the top NPOTA activators with an invitation to advise us if they want to tag along with a SOTA activation in their area, or to receive advice on equipment and easy summits. Can anyone think of a downside to mentioning this Yahoo group in the process?" [Ed note: Elliott is referring to the NASOTA Yahoo group and apparently no one found a downside].
He also commented that SOTA has received a great deal of free publicity in QST in the last year or so, which included a cover photograph and a cover photograph on the new ARRL Handbook! The current QST issue features "Take it outside" as a theme as well which may conjure up SOTA to a few.
From Guy, N7UN: "Paul/W6PNG and Guy/N7UN are planning to spend a week in W0C activating and visiting local folks. One key goal is to participate in the Rocky Mtn Rendezvous weekend. It would be great to get a lot of SOTA folks to "vacation" during this time and, of course, have some fun. Generally we try to meet at least one day for a SOTA party! Mark your calendars!"
— Aug 5-6: NA SOTA Rocky Mtn Rendezvous + Colorado 14er Event + W7 SOTA Activity Weekend + ARRL UHF (222MHz+) Contest
From Matt, K0MOS: "Thanks to the Summit and MT team, Colorado increased the number of SOTA qualifying summits by a total of 61 summits [27 brand new summits, 37 new summits due to prominence change (500 ft to 492 ft), and 3 deleted summits due to prominence failure]. You can now choose between 1805 high altitude summits. SOTA DB is up-to-date. W0C-SOTA.ORG and a new W0C Arm will be updated/posted soon."
SUMMITS: Guy, N7UN, for the NA SOTA Summits Team dropped a note:
"During the March 2017 SOTA MT meeting, we agreed to try to be more transparent about existing "work-in-progress (WIP) " efforts to bring new Associations into the SOTA framework."
"For the USA, we are very fortunate to have USGS data that provides summits names, elevations, lat/longs, and a calculated prominence and lat/longs of the col/saddle. This data makes it quite "easy" to update or initialize new Associations."
"For Canada, Central America, and South America it is not that easy. For the most part, the SOTA Summits Team can do a preliminary terrain analysis using SRTM tools that feed a GIS application to build a candidate summit list. That summit list must be verified against detailed digital maps which can be very problematic and time consuming."
"For North America, Iowa is the last potential Association for which we are trying to recruit a local AM. The following is the NA and SA current list of WIP projects:"
"Initial Inquiry Stage:
VE3 , VE4, and VE5: Need a local AM
CE Chile, CX Uruguay, PY Brazil, LU Argentina
Summit List in Production or Verification
TI Costa Rica
XE Mexico
VO1 and VO2 Newfoundland and Labrador
Finalizing ARM and SL docs
VY0 Yukon (Target for a 1 May launch)
As a final note, the SOTA Summits Team is actively looking for help in bringing these new associations on-line. If you have very good Excel and Word capabilities, please let us know. We need help!"
Elliott, K6EL, added to this that he has a volunteer for AM for Iowa but the two "peaks" are very flat and don't look like peaks from a distance which will impact the vertical height of the activation zones.
Continuing from Guy:"In 2009 and 2010, most of the W5 and W7 SOTA North America Associations were set up by one Association Manager with the understanding that as in-state, local SOTA participants emerged, a local AM would be appointed. A number of the early W7 Associations have been transitioned to local, in-state folks." Effective today [4/15/2017], W5N, W5O, and W5A will gain new Association Managers who will be announced shortly. We want to thank Mike, KD5KC, for his early work in establishing these three Associations."
EVENTS: From Gerald, G4OIG, a reminder: "After the success of the November 2016 NA<>EU S2S event, I have put forward Saturday 13th May 2017 for a second event with a projected time frame of 12:00 to 18:00UTC to suit a spread of activity across the States. The propagation predictions are unfortunately rather poor for the coming months and we are also within the major contesting season. On 13th May 2017 we will have to contend with the CQ-M contest. However, alternatives appear to be few and far between and virtually any date is likely to coincide with some contest activity."
"I hope that a good number of stations can be QRV on both sides of the pond. Having the ability to run more than just a few watts will certainly help out. In the longer term, my suggestion is that we aim for another event on 18th November 2017. Diaries at the ready!I hope we can make some good contacts on 13th May. If you don't try, you don't get." [For those not fluent in Oxford English, "diaries" roughly equates of our Station Notebooks … you do keep one, right? EU<->NA is reminiscent of Marconi's first transatlantic tests].
In the "Heads-Up department: "Scott WA9STI of Los Angeles, CA, is travelling to Ireland for the first time with his XYL KB6LAS. He hopes to do a SOTA as EI/WA9STI on EI/IS-127 in Dingle on May 24 or May 25. An Alert has been posted but would appreciate any Spots if he is heard."
REPORTS:
We have had several activation reports, I have room for a couple of short ones:
This possibly should have been in the Achievements section … from Bill, W4HBK on 17 m: "I've been trying some time now for a JA QSO but the path is very difficult from the East Coast for QRP and vanishing sunspots. But I finally made it with JI1IHV last week giving him a report of 329 for my first Asia. As it turns out he was running 40W with the help of a solar panel…the extra power did the trick."
From Ron, AE7AP in W7M: "Things are still slow in W7M. The snowpack is nearing its peak in the high country & beginning to melt in the lower areas. Many of the 4-point summits are now relatively snow-free. April saw a total of 5 activations in W7M by Rob-AE7AP, Bill-N7MSI & Vick-K7VK. The Montana chasers were active – Vick-K7VK achieved "Double-Sloth" in April. We're ½-way through our 4-month Montana spring!"
Spring is coming to Northern Nevada about as fast as we're inching our way to metric. Lots of snow in the Carson and Sierra Ranges, it's going to melt, we're downhill from it, and last I checked, water and everything else runs downhill. Andrea and I can swim.
73,
Fred ("Skip") K6DGW
Sparks NV USA
Washoe County DM09dn
NA SOTA Reporter Dude
============================================================
UHF Mountain Goat at last on 2 April 2017 - Viki M6BWA
When M0JLA discovered in 2009 that he was entitled to a full licence he wanted to carry a radio on the hills and soon discovered the challenge of SOTA. I then studied and gained a Foundation Licence in December 2010 on the 'if you can't beat'em then join 'em' principle but decided I only wanted to carry the lightest and simplest possible equipment (any idea of CW was/is quite beyond me). After 3+ years and a lot of hard work (and fun) the VHF Mountain Goat was reached and going up hills still seemed to be enjoyable but it was time to look for a new challenge.
I decided to start trying to qualify all my SOTA summits with 70cm fm as well as 2m in March 2014, after the end of the winter bonus season, as I wanted to find something to do whilst waiting for M0JLA to finish on HF. The kit is a VX-7R, max power 5w which is fine as I am restricted to 10w. I usually use a 2m Sotabeam dipole which seems to work even better on 70cm. I did try a j-pole last year whilst up in Scotland and sometimes this can be better as it is on a fishing pole and thus higher but, after some extensive trials, I reverted to the dipole (although I have lashed it high up on a fishing pole before now!) I can change frequency at the flick of a button (if I hit the right one!). Very occasionally I have 2 radios with me and have to just remember which one is on which band. Mynydd Eppynt (GW/SW-018) is not one of the easiest summits to qualify even if you are calling on the radio which is actually attached to the aerial!!
I nearly always call (and qualify if I can) on 2m fm first and ask every caller if they can work 70cm (usually on 433.475) as well, as I know that getting 4 on 70cm can be difficult - and sometimes impossible. When the main 2m pile-up has died down (if there was one!) I QSY to 70cm after promising that I will return to my 2m frequency as soon as possible. On 70cm I get, if I'm lucky, enough of my 2m chasers to qualify but often it seems to be 3 - and sometimes nil. I nearly always go quickly to 433.500 to see if I can pick up any listeners (G3XEV is the most likely person to be found - thanks John) but any answer is rare. Then I'm back to my 2m frequency and then the 2m calling channel - with a special plea for 70cm if I'm short of contacts. I do occasionally get pile-ups on 70cm (Titterstone Clee and Stiperstones come to mind) and can get 17 or more contacts but this is not frequent. My current record is 22 contacts on 70cm on my UHF Mountain Goat day on 2 April 2017 when I had done some extensive SOTA advertising – and the sun was shining brightly! I was operating from Waun Fach GW/SW-002, the top of the Black Mountains which are just over the Welsh Border and the 7 70cm S2S ranged from the western Brecon Beacons GW/SW-003 and Plynlimon GW/MW-001 to near Birmingham G/CE-002, Gloucester G/CE-001, Ludlow G/WB-012 and the Forest of Dean G/WB-012. Other contacts included Wolverhampton, Birmingham, Llandrindod Wells with the furthest, probably, G0BIN at Bedworth NE of Coventry. Not bad for 70cm on 5w with a dipole as I never got round to erecting the 70cm beam I was carrying as it didn't seem to be necessary to qualify the hill! A quick look at my summit to summit log shows a couple of 70cm contacts at 160km and 170km (G/LD-019 High Raise to GW/NW-026Mynydd Mawr) but on 2m there are a handful of 250+km S2S with the winner on 7/9/2016 GW/SW-016 Ysgyryd Fawr, near Abergavenny, to G/TW-002 Drake How Cringle Moor on the N Yorkshire Moors – a distance of 309km!
As we all know, it is only a small percentage of the British population who have an amateur radio licence and even fewer of those who will answer a SOTA call on any frequency. When you add in the limited range of 70cm (or even 2m) then things get more difficult and the less that a band is used then the fewer people will actually bother to listen. I remember a contact on 2m with an amateur in Milford Haven who said he liked to listen out on that band but only heard any activity about twice a month! Then there are the people who 'didn't bother to reconnect the 70cm radio when they rearranged the shack' or when the aerial blew down or even (from one of my precious 70cm contacts near Cross Hands) "I bought a new radio and this one doesn't work on 70cm at all – sorry!" Also common is 'the radio does do 70cm but I haven't got a clue how to get there (and what is the calling frequency if I actual get it to work??)'. I have even had contacts go and read the manual (What! Isn't that against the rules in any hobby??) and then successfully talk to me – to their surprise. I continue to be amazed and heartened by the pains that some listeners will take to try to help me qualify a summit. They have telephoned friends, run upstairs to get the aerial higher, taken the dog (and the radio) for a walk up the hill to see if we can talk – even got in the car and driven for some miles to get to a spot with better reception. They are a great bunch of people the 2326 different people I have spoken to (OK the statistic is 'call signs' but the number of individuals won't be much lower) during my nearly 6+ years of activating. I won't call them chasers as the majority of people I speak to are not collecting points and thanking me for a new summit. They are mostly 'real' people who know they may be helping me to get points by answering/friendly listeners who think they'll have a chat and hear what she is up to/bored whilst doing a task and think they'll have a short natter – and sometimes, a Sir Galahad or two who comes to rescue me when I plead for just one more call sign for 20 mins or so and they want to help me (or to get me to shut up!) Certainly in February this year my 4th 70cm on Mynydd Llangorse (GW/SW-015) came after 30 mins of calling, just as I was standing up to take down the rig as I was cold and wet and couldn't bang my head against the wall of silence any longer. It was then that 2W0MFD (Terry from Brecon) turned on the radio and galloped to the rescue. I was still cold and wet but a lot happier thanks to that last contact.
Meanwhile whether you are in the shack, the car or on a hill, don't forget that your cheap handy may well work on 70cm and make the contact - especially if you poke it out the window, get out of the car or even run to the top of the house and put the fishing pole out of the window (thanks for the many difficult contacts G0TDM, John!) Each time I travel to a different area (eg Snowdonia, Lake District, Arran etc) I tend to speak to a different set of people as I use only 2m and 70cm, unlike those using HF (and more power) who may well talk to the same chasers from almost anywhere in Britain (conditions permitting). This may explain the large number of different callsigns worked and go some way to excuse my inability to remember callsigns or names (and write them down correctly!) What I do remember is a contact in May 2016 from Arran to GM0FSZ Eric in Girvan who found that his 70cm set was still on my favourite frequency (433.475) from when we had last talked during my visit to Northern Ireland a year earlier! Come on the rest of you. Give the 70cm band a try and you might well be listening when, in despair, I call on 433.500.
I look forward to the QSO!
Viki M6BWA
============================================================
May OK SOTA tour – Phil G4OBK & Victor GI4ONL
On 3rd May Victor GI4ONL and Phil G4OBK will meet at midday at Stansted Airport and take a flight to Brno which is in the south west corner on the Czech Republic near to Austria. This will be a 5 day SOTA Tour of the summits west north west of Brno. OK/JM-065 will be activated in the evening of the arrival day with the tour operation proper starting properly on the 4th May.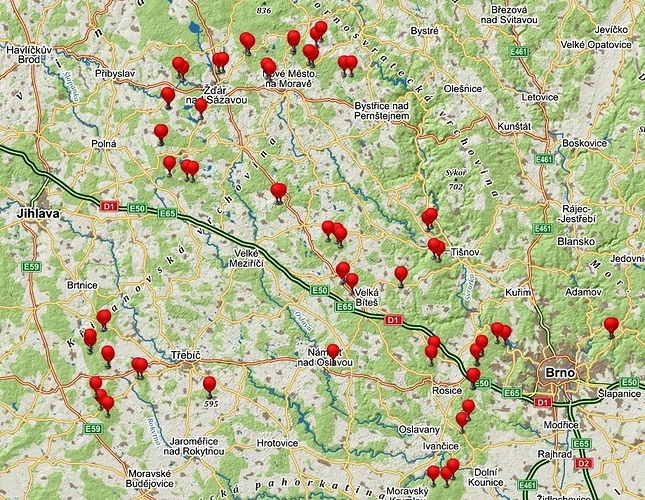 Target area around Brno
We will both use Elecraft KX2 10 watt transceivers with link dipole aerials, concentrating on the 20m, 30m and 40m bands. An HB1B will be carried as a backup radio. You can expect to hear us operating from around 30 summits over 5 days, before returning to the UK on 8th May. We have been working with Jan OK2PDT who have given us some useful advice on summit access in his local area.
With a tight schedule we do not expect to be operating on any summit for longer than 30 minutes, before moving on to the next one. Chasers can expect the operation to be around 75% CW and 25% SSB, with the most likely SSB operation to be by G4OBK on the 20m band.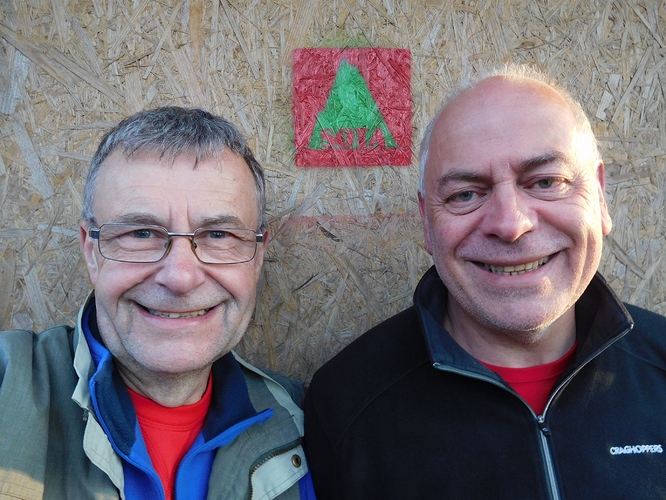 Phil G4OBK & Victor GI4ONL
73 from Phil & Victor
SOTA NEWS FROM JAPAN by Toru JH0CJH
In April, its SAKURA (Cherry blossoms) season in Japan. This spring temperature is very low and it was slow start of spring. But this makes long lasting of SAKURA flowers and we enjoyed it very much. SOTA Japan Activities are increased in this month by the spring season start.
From 11 to 20 April, famous SOTA activators HB9JOE Andy and HB9FPM Eva have visited Japan with JA call sign JJ1CKD and JJ1CKE. They got JA operation license using JA-CEPT bilateral agreement of Ham Radio operation between JA and CEPT registered countries, that has been taken into effect from December 2016. I believe these licenses are the first case that made into effect through this new JA-CEPT scheme. As per this license, Andy and Eva made several SOTA activation in Japan.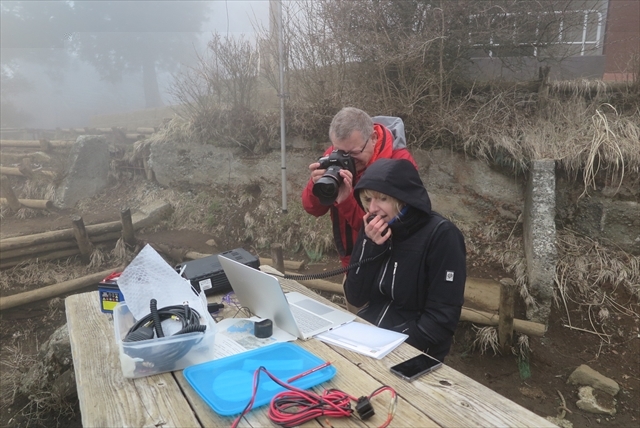 13 April Mt. Ooyama JA/KN-006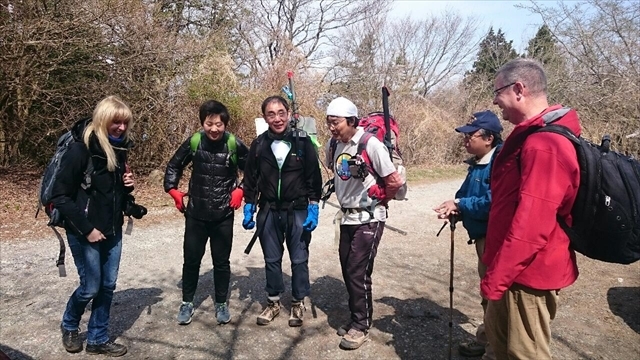 15 April Mt. Kintokiyama JA/KN-007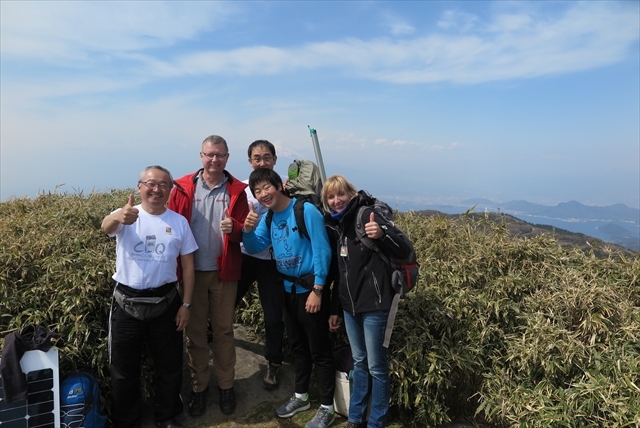 16 April Mt. Darumayama JA/SO-051
During this time Eva HB9FPM completed 2000 Mountain Goat award. Congratulations!
One week after these Andy and Eva's activation, we had a NA-JA S2S parties on 22, 23 April. This weekend was NA QRPTTF/SOTA event day. Then we expected many S2S QSO between JA and NA, also with DX but the condition was not the best one and very few DX QSO have been reported. We wish to set up another S2S party in near future.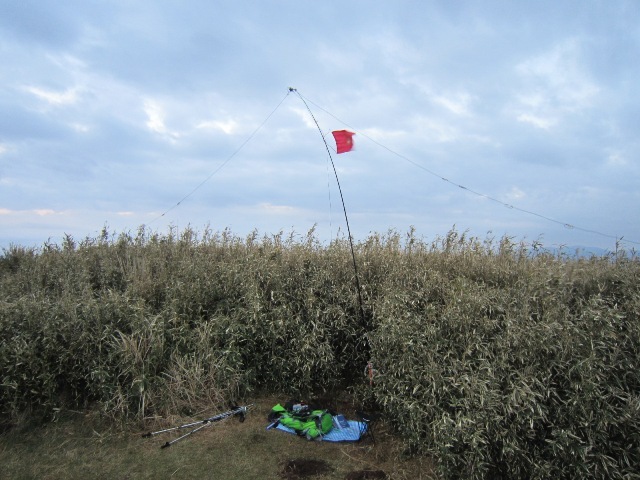 SOTA activities in April 2017 in Japan as of 30 April 2017.
Activation
Total 172 Activations with 1809 QSO have been made and reported.
JA: 167 activations with 1718 QSO from Summits
JA5: 0
JA6: 5 activations with 91 QSO from Summits
JA8: 0
Chasing
Total 367 Chasing QSO have been made and reported.
JA: 345 chasing QSO
JA5: 0 chasing QSO
JA6: 22 chasing QSO
JA8: 0
S2S
Total 183 S2S QSO have been made and reported.
JA: 175 S2S QSO
JA5: 0
JA6: 8 S2S QSO
JA8: 0
The number of Activation increased 28.4%, Chaser increased 46.2% and S2S increased 34.5% compare with last month.
---
============================================================
SOTA NEW ZEALAND REPORT from Warren ZL2AJ
SOTA Activity Report for March / April 2017
List Summits activated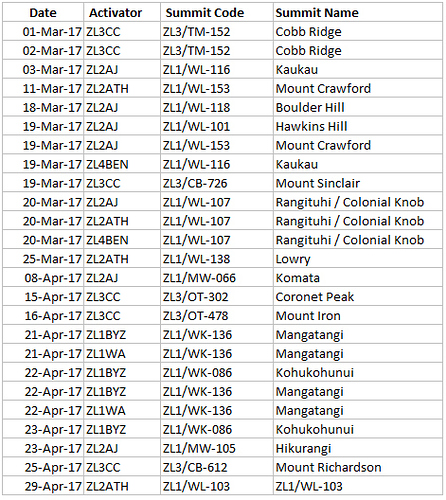 First for the March / April ZL SOTA report, an activation report from Jackie ZL2WA
Mangatangi Summit, Hunua, ZL1/WK-136 activated on 21.04.17 and 22.04.17
"This was only my second SOTA summit activated and I enjoyed it immensely. The weather was perfect for walking up to the summit. OM John, ZL1BYZ and myself set off along the track, sometimes very steep but quite manageable for a shack sloth like myself. John, being the fitter (and with longer legs!), forged ahead at a fairly quick pace, with me trailing behind. We used hand-held 2m sets to keep in touch and so I didn't get lost, my sense of direction is embarrassingly bad.
The views along the way were beautiful, with native bush and views of the immense Mangatangi Dam. Once at the top, John and found a suitable area to set up the antenna, a linked dipole offering 20, 17 and 15m, with hook-on bits for 40m. He had the trusty Elecraft KX3 up and running and put the call out for contacts and spotted us on SOTA watch. I made three contacts on 2m and one on 40m before the utc roll-over. The magic four contacts were just made in time; thank you to the four ZL's who came to my rescue! I made another five contacts on the new day – 4 VK's and one ZL, all on 17m. I was very pleased with my results, and John was equally happy with his 15 contacts too. It was time to roll up the dipole and pack away all the equipment for the trek back down the hill and to the car. Thanks to all the chasers who made it a successful activation."
de ZL1WA
Jacky Shaw
Jacky and John are active chasers, and regularly activate summits in and around the greater Auckland area. It was great to work both Jackie and John on their summits during this weekend.
During this report period, I had a work trip to Wellington and managed to activate 4 summits during this visit. One of the summits was a joint activation with Ben ZL4BEN and Wynne ZL2ATH. It was a pleasure to be able to meet these two gents for the first time. Wynne is an active sotateer in the Wellington region, and Ben is a keen young ham looking at starting out with SOTA.
As the days get shorter and the weather a little less predictable it is important to remember that as well as packing your radio equipment and food, make sure you take warm clothing on your trek. Bonus point season is about to begin. For ZL1, summits over 1200 mASL from 1st June to 15th September attract 3 bonus points due to the extra difficulty posed by often snow covered summits. No one has claimed bonus points in ZL1 yet. For ZL3, summits over 1100 mASL from 1st June to 30th September attract 3 bonus points for the same reason. Only Andrew ZL3CC has claimed bonus points from his activation of ZL3/CB570 last winter. The bonus points are not a motivator to take extra risks – safety first especially when conditions are extreme.
Chaser activity is up this period which signals an increase in interest from the amateur community in this award. Activation activity is down but only slightly and that is not unexpected when put beside the holiday period in January. If you are planning an activation, please make sure others know. Set an alert on www.sotawatch.org and let local hams in the area know to keep a listening watch. A post on our facebook group is also helpful, to give you the best opportunity to have a successful activation.
An audit of our summit list identified a few duplicate summits, 2 in ZL1 and 2 in ZL3. They have now been removed. We also added 14 new summits to ZL3 bringing the total count for ZL to 5184 summits. Only 111 summits have been activated, however that does not stop you from reactivating a summit to claim the points from a summit that has already been activated by another rham. In fact you can activate a summit as often as you like, but you can only claim the points from the summit once per UTC year.
I will be presenting a SOTA talk at this years conference in Rotorua. I hope to see / have seen many of you there.
Total Summits Activated for Period – 25
Total number of ZL summits – 5184
Total number of ZL summits activated – 111
Total ZL Chaser contacts logged for period 585
Regards,
73's ZL2AJ Warren.
============================================================
THE VIEW FROM THE NORTH - 112 By Rob and Audrey G4RQJ
Very little for us to report this month due to Audrey's continuing knee problem. she can walk reasonably long distances on the flat but up and down is still giving problems although improving. We can't risk it just yet but soon we will try a suitable hill, not easy to find in this part of the country.
Main excitement for us has been the annual Norbreck Rally which as always was very well attended by Sota aficionados. Great to meet up with old friends and to make new ones previously only voices on the air, particularly Esther and Jan, GI0AZA and GI0AZB all the way from Ireland. and the usual group up from Wales. Colin,M1BUU's rig, built on the summit before his contact taking him over the 1000 points mark was on show and produced a good number of complements from visitors. Roy G4SSH was presented with something special, more on that in a future edition of the SOTA News. This Rally was the usual busy interesting and pleasurable event, so busy indeed that we bought nothing (a first) and did not even get to see Mickey 2E0YYY's stall, Sorry mate, next time.
Locally the A592 through Bowness down to Newby Bridge has awakened from its winter slumber (Shut both ways) for months which was so popular that the highways people are having a repeat performance at the end of the year. Good news the suggested diversion is only 40 miles extra.
The weather at the end of the month has been unseasonable with snow on high ground and high winds to help. Viki M6BWA and Rod M0JLA have had some very cold wintery days during their spring visit to this part of the world .
The highlight of my (Rob's)activities was standing on top of some stepladders in the garden, one hand on the fence and the other holding a handheld trying unsuccessfully to work them on 70cms from Illgill Head, 51 with me but no go. We did meet successfully on 2M later.
Nothing further but we will be back! meanwhile,
Take care out there.
73
Rob and Audrey
G4RQJ
========================================================
*********** SOTA NEWS PART 2 FOLLOWS BELOW ********