SOTA NEWS MAY 2012
EDITORIAL – by Roy G4SSH
Welcome to the May 2012 edition of SOTA News. My thanks go to the following contributors:- Barry GM4TOE, Andy MM0FMF, Skip K6DGW, Steve wG0AT, Martin DF3MC, Vlado Z35M, Mike DJ5AV, Chris OE3CHC, David G3RDQ, Mark G0VOF, Rob and Audrey G4RQJ,
---
DATABASE NEWS - from Andy MM0FMF
Les G3VQO managed to turn up an intriguing feature in the database. He
tried to enter some chases from when SOTA started and couldn't as the
database would not allow contacts to be over 10 years old. It's hard to
think SOTA has been running so long. Anyway the hard coded date limit
has been massaged and now you can enter chases that are more than 10
years old.
Association Managers are now able to access reports of activity in their
associations now. All AM's should have received an email explaining where
these reports now live. If you haven't please email me for more details.
Changes to W4/W5.
Sometime back I fixed something we'd set wrong on the database. W4
Carolinas and Virginia were always separate associations but the
database was treating them as one association. Not fair on the guys
there really. The situation was the same in W7. The database fix had
zero impact for the database and I thought we were sorted. Of course it
broke SOTAwatch. We've discussed a few ideas on how to sort this. Many
involve writing new software for SOTAwatch and the database. The one
thing that Jon GM4ZFZ (who runs SOTAwatch) and myself haven't got is
lots of free time so we have had to go for the easier fix. That is to
change the association code from W4 to W4C for Carolina and W4V for
Virginia. As I write this, W4T Tennessee is waiting for upload, it may be
available by the time you read this.
Similarly W5 AM, Mike, KD9KC, has done a big update to the W5
association and that has now split into 4, W5A - Arkansas, W5N - New
Mexico, W5O - Oklahoma and W5T - Texas. The database has been split at
the time of writing but there are further data changes to come which
again may be in situ when you read this.
All the summits in these associations have been renamed so if you have
pending activations/chases for any W4/W5 summit you will find you can't
upload them unless you change the name to the new one. For example
Fresno Peak W5/BO-001 is now W5T/BO-001. If you had chased it a few
weeks back you would need to enter it as W5T/BO-001. I know these
changes are a pain but they are just a short term problem we have to
live with. In a few weeks nobody will remember the old codes

With hindsight, we should have done things slightly differently, but we
didn't! It would be so cool to always have the ITU prefix for the
association code but it doesn't work in some parts of the USA,
especially W7, as that call prefix covers such a massive area with so
many wonderful mountains. If we didn't have more prefixes than just W7
we would probably run out of region codes.
This leaves W7 needing attention. I broke it by changing it the same way
as W4. I haven't changed the prefix for the W7 associations yet as there
is only so much change I can inflict on people in one sitting. But as W7
has been broken for some considerable time it is next to be massaged
back into life. So soon all the US associations will be visible on
SOTAwatch again.
Andy, MM0FMF
Database Manager.
---
SOTA AWARDS APRIL 2012 - Barry GM4TOE SOTA Awards Manager
April has not been a good month for activating (certainly in the UK where the weather changed from the balmy summer days of March to torrential rain for April); this doesn't seem to have deterred the dedicated SOTA activator with many spots every single day. This has resulted in another bumper crop of award claims and significant numbers reaching the Mountain Goat and Shack Sloth milestones. Equally there are many individuals reaching significantly greater milestones of 5000, 10000 and higher points scores.
It is very easy to pick out significant achievements in these notes and then omit others just as deserving of special mention so perhaps I should just let the records speak for themselves. I must mention, though, the growing numbers of claims for almost "telephone number" scores - 5k, 10k and much higher – and this is not only for Chasers but includes Chaser Uniques and also we are looking at reaching these levels with Activator scores.
Congratulations to all who have reached significant milestones, long may you continue to enjoy SOTA.
Trophies
Mountain Goat
G0PEB Robert Williams - Mountain Goat
Shack Sloth
ND0C Randy Shirbroun - Shack Sloth
EA2BD Ignacio Cascante - Shack Sloth
AJ5C Robert Herrell - Shack Sloth
G6ODU Robert Gum-Wah Leong - Shack Sloth (Unique)
Certificates claimed
Activator
OE6PID Peter Schantl 500 points
OE6BID Barbara Schantl 500 points
G4OOE Nick Langmead 250 points
OE6MGG Gerald Meister 250 points
OE5YVL Yvonne Aigner 100 points
OE6MGG Gerald Meister 100 points
Activator Unique
M1MAJ Martyn Johnson 250 summits
W1DMH Doug Houston 100 summits
K6ILM Elliott Pisor 100 summits
Chaser
M1MAJ Martyn Johnson 5000 points
ON4FI Karel Naessens 5000 points
OK1AU Stan Veit 5000 points
G3NYY Walt Davidson 2500 points
OE3CHC Christian Hammeri 1000 points
GI4ONL Victor Mitchell 1000 points
EA2BD Ignacio Cascante 1000 points
HA8TI Janos Kakuk 250 points
YO3RK Paul Mastu 250 points
MW6GWR Ricky Duckhouse 250 points
K6ILM Elliott Pisor 500 points
HA8TI Janos Kakuk 100 points
W1DMH Doug Houston 100 points
EA2EAH Jorge Moremo 100 points
DK6YM Sebastien Teipel 100 points
Chaser Unique
OK1AU Stan Veit 1000 summits
GI4ONL Victor Mitchell 250 summits
Mountain Hunter
G4SSH Roy Clayton - Mountain Hunter Platinum
GI4ONL Victor Mitchell - Mountain Hunter Platinum
EA2BD Ignacio Cascante - Mountain Hunter Platinum
OK1AU Stan Veit - Mountain Hunter Platinum
MW6GWR Ricky Duckhouse - Mountain Hunter Gold
HA8TI Janos Kakuk - Mountain Hunter Bronze
G1JPV Tony Ciathos - Mountain Hunter Bronze
K6ILM Elliott Pisor - Mountain Hunter Bronze
Anniversary Awards
G1JPV Tony Ciathos 10th Anniversary G Activator
MW6GWR Ricky Duckhouse 10th Anniversary GW Chaser
G1JPV Tony Ciathos 10th Anniversary GW Chaser
Worth mentioning this month are the higher claims for the Mountain Hunter award with several individuals reaching the Platinum level. When we introduced these new awards it was thought that "Worked All Associations" would be the ultimate challenge, possibly not, although with more Associations around the world it is an ever moving goalpost plus there are one or two Associations which exist but have had very little in the way of activity. Certainly "Worked All Continents" is rapidly becoming achievable – we do need an Association in Antarctica though; is anybody up to it?
Claims are starting to come in for the 10th Anniversary Awards, these are supplied as pdf files by email and will cover all of the UK Associations when the milestones are reached. Can I also give you a "heads-up" to the Belgian Association which is to issue an award on the 1st July this year to celebrate 5 years of Belgian SOTA – have a look at http://www.youtube.com/watch?v=oH9ibDYVU-k for more information.
I mentioned last month the significant increase in postal charges being introduced in the UK on 1 May; SOTA are not able to ignore these increases and so all postage on awards and merchandise will increase in cost with immediate effect (anything that will be posted after 1 May 2012). To help work around this increase we have decided (following a suggestion from K6ILM) to make the certificates available as an emailed pdf file, with immediate effect, so you can print them on your own computer. These will be available for a donation of £1 (with discounts for multiple awards as before) and will be emailed directly to you. The only noticeable difference (other than the paper quality, that is in your hands) is that they will not be individually signed; I doubt SOTA funds will pay for my globe trotting to do this is person – I am perfectly happy to do it if there is a kind benefactor out there who will foot the bill! The normal printed certificate will still be available at the same charge as before if that is what you prefer. Unfortunately we cannot do this with Trophies – despite the discussion on the reflector about 3D printers – so they will still be hand engraved and posted as usual.
One impact of the change in availability of certificates will be the termination of the facility to order directly via the website, all applications will now be directed to www.sota-shop.co.uk (or www.sota-shop.com , both work) but payment by cash, cheque or BACS will remain as well as the Paypal facility used on the shop site. I need to make sure the contact details for these payments are shown on the shop checkout page – needs a little thought from this end!
Well, that is all for now, as I type this the sky is blue, the temperature has climbed to a staggering -2.3 degrees and the rain has stopped. Take care on the hills and enjoy both activating and chasing
73
Barry Horning GM4TOE
Awards Manager
---
SOTA News also congratulates-
Aage LA1ENA who qualified as a Super-Sloth with 10,000 points on the 8th April.

Victor GI4ONL, who gained his Shack Sloth and 250th Unique during April.

Mike DJ5AV for reaching the magnificent total of more than 50,000 chaser points.

Lutz DL3SBA, who has completed activating all 107 references in North Rhine - Westfalia. (DM/NW region)

Damjan, Z35BY who became a Mountain Goat with his 121 activations in 44 activating days for period of 6 months and one week, since 9.Oct 2011.

Mike 2E0YYY for gaining 1000 summit to summit points - a remarkable achievement.

Brian MM1HMZ who reached Shack Sloth status on the 8th April.

Daniel OK1DIG who also reached \Mountain Goat status, in less than 12 months…

Bogusz OK8PKM who has achieved a total of 3004 activator points.

Paul, OE8SPW on achieving Mountain Goat on 21st April

Nick G4OOE who passed the 250 activator points milestone

Rod M0JLA who became a Shack Sloth.
Note from Editor The input for this section is gained from e-mails received telephone messages and comments on the reflector. If you or a colleague has passed some important SOTA personal milestone please drop me a line for inclusion here. - Roy,
---
INTERNATIONAL SOTA WEEKEND 2012
This is scheduled for the weekend of 5th-6th May when activators make a special effort to be on the air and so increase their chance of making s2s contacts both on VHF in their own country and international s2s contacts on HF. Last year many activators in the UK posted their intended SOTA's on the Reflector or on the Alerts which gave other activators the opportunity to plan their location for maximum results.
An added attraction this year is that Saturday the 5th May is the start date for the Special UK "Quebec" prefix's when regional indicators will be replaced by "Q" such as
GQ4ABC
MQ3ABC
2Q0ABC
For the benefit of overseas chasers you will no longer be able to identify the region (Scotland, Wales, Northern Ireland etc) from the callsign, but uniquely for SOTA activators, this will be revealed in the SOTA Reference.
The special prefix is to celebrate the Diamond Jubilee of the Queen and will be in use for 6 weeks. However, this is optional and not all stations will use the special Quebec letter in their prefix.
---
SOTA-DL (German Alps) REPORT by Martin DF3MC
April was not a successful month for SOTA activity in the German Alps:
Only 3 of the lower DL-summits have been activated up to now. This was mainly
due to bad weather and a lot of snow even on lower mountains but also
because of other obligations for the main activators.
DF3MC is planning a tour to Scotland from May 3rd until May 9th:
"SOTA is not the first priority of our holiday - but I will bring my
mountain and radio equipment. I got a permission to operate from
Holyrood Park, Edinburgh (thanks for the advice, MM6YCJ!) - so an
activation of Arthur's Seat (GM/SS-272) should be possible on May 3rd.
Afterwards we will stay in the Loch Ness area and I will try to
reach more summits. Ben Nevis is a long time wish of mine but I was
told that there is still much snow up there. So we will decide
later what to do.
I am looking forward to meet many friends !"
TNX and vy 73
Martin DF3MC
---
THREE YEAR ANNIVERSARY OF Z3-SOTA ASSOCIATION
The highlight of the Three-Year Anniversary of Z3-SOTA Association is achieving the "Mountain Goat" status by Damjan, Z35BY who dedicated six months (9 October 2011 - 17 April 2012) to SOTA, combining his love for hiking and extreme off-road driving with ham radio. Achieving 1001 activator points in only 170 days (44 activating days) is an impressive achievement worldwide. He climbed 89 summits and performed 121 activations with more than 1700 Phone QSO's on HF
Since 2009 the members of Z3-SOTA Association have made a total of 259 activations from 94 summits, with more than 8000 QSO's, and in the same period achieved more than 2100 chasers QSO's.
Vlado, Z35M
AM Z3-SOTA
---
SOTA REPORT from Mike DJ5AV
My chaser score recently passed the 50.000 points mark, but I am not so happy with it. I used to cooperate with Ambrosi, HB9AGH, using 2 m FM for intercom every day. Unfortunately Ambrosi has had to remove his aerials whilst a new roof is installed on his house, so we have only exchanged by emails since March 1st.
He will also be off the air for a week for vacations without the radio. However, I hope to find him on HF and VHF again by the end of May.
I intend to do 2 activations in my vicinity, but will try to wait until Ambrosi is back on the air.
My rig for SOTA activations is an FT 817 with 2 x 10 m dipole and Miracle Whip antenna. However, I intend to improve the dipole to include operating on 30 & 20 m, but will wait for warmer days.
Since Easter I am working part time assisting tourists, so my time on the air and for aerial testing in the garden is limited.
73 from Lake Constance
Mike, DJ5AV
---
First VK to UK SOTA QSO. - Roy G4SSH
As often happens with momentous events, it all occurred quite accidentally. I had risen early on the morning of the 7th April as I had an appointment in Scarborough and as I had a few minutes to spare before leaving I checked out the SOTA spots and managed to contact early-bird Mike DL4ABO on 7032 at 0644z.
Feeling quite pleased at having collected 10 chaser points to start the day, I was about to switch off when I noticed a self-spot from Wayne VK3WAM on 14063 KHz. However, with a basic set up and just a single vertical antenna I do not often hear SOTA DX activators, but decided to have a listen, just in case.
To my amazement I heard Wayne calling CQ SOTA, quite weak, about 339 with QSB taking him out at times. I called him a couple of times with no success, then heard him sending 2…2… As this was not his reference I called 2 KHz higher on 14065 KHz and nearly fell of my chair when he answered G4SSH de VK3WAM/p. We completed the QSO without too much trouble, with 339 reports each way and I did not hear Wayne after that. I later checked his log on line and found I was the last in his log.
Not only that, but I also appeared to be his first UK SOTA contact and a quick check though the other VK SOTA logs showed it to have been the first VK-UK SOTA QSO.
I departed for my appointment with a definite spring in my step.
When SOTA first started in the USA it was forecast by many that it would be a while before SOTA contacts with European stations would be made, in view of the distance, low power of the activators and the time difference; however it was not long before the first transatlantic QSO was made, followed fairly quickly by a few s2s contacts.
Many thanks Wayne. I wonder who will make the first VK/EU s2s?
73
Roy G4SSH
---
REFLECTIONS OF A SOTA NEWCOMER – by Chris OE3CHC
I first started to chase SOTA activations in February 2012, inspired by the videos of Chris OE5HCE and a winter-activation of Max OE3MHU,
Soon I was infected by SOTA-fever, as Roger- F5LKW- calls it, and I encouraged my radio friends in the area to join in. On March 24th, I reached Shack Sloth status, but I was not content with just being a chaser and wished to activate summits for myself - hi.
Since then I have activated six summits, including some first- time activations; mostly with my radio friends, because it's nice to share the experience together. My thanks go to Karl, OE3KAB, one of the SOTA-pioneers in OE, Max, OE3MHU, and Gert, OE3ZK.
Myself and this crew have planned a ham-radio sailing trip to 9A from May 20th to May 25th.
We will try to activate some Islands in the IOTA EU-170 Group and although there are no SOTA-summits I would be especially happy to have some contacts with SOTA-Chasers!
In the short time that I have been interested in SOTA I have learned to appreciate the SOTA-Community, where there is real Ham spirit and pure and simple – but effective – Ham-Radio!
It is also a perfect way to do something outdoors and to learn about new areas.
My TNX to all for the QSO's and I hope to CU on the next summit!
73 de Chris, OE3CHC
---
CANADA/US SOTA NEWS - from Fred K6DGW Through 25 April 2012
Well, we've reached a turning point for "SOTA In The New World!" I
normally list all the activations for the month on the theory that, "If
you made the trek to the top, and many of the NA summits are in the
3,000 m (10,000 ft) range, you ought to see your call in print at least
once." We're going to have to move to Plan B because for the month of
April (through the 25th) we logged 155 activations which is way too many
to list in Roy's SOTA News on the reflector.
Plan B will be statistics, and, thanks to some nifty database additions
by Andy, MM0FMF, I can get them fairly easily. I do need you to bear
with me another month, I am still tweaking the software I wrote to
distil Andy's reports. I quit most computer programming when I retired
12 years ago, and I'm a little slow and rusty. And I use the term
"tweaking" somewhat loosely, some of it doesn't work at all … yet. But
for April we had:
Total Activations: 155
Unique Summits: 114
Unique Activation Calls: 52
Top Activators:
KD5ZZK (14)
WS0TA (12)
KE5AKL (11)
NM5S (10)
N4EX (8)
WA2USA (8)
A number of the activations were 2 or more summits in one day, which is
getting to be quite common. It's going to be interesting as we progress
into better weather, there were quite a few attempts aborted on safety
grounds because of winter weather.
On the Chaser side, it was equally impressive with 1,461 completed QSO's
by 83 unique Chasers. The top Chasers (50 or more QSO's) are:
AJ5C (113)
KK1W (109)
N1EU (106)
NS7P (84)
N4EX (74)
W7CNL (72)
WA2USA (62)
K3KYR (54)
K6ILM (53)
WB9WHQ (51
N1FJ (50)
I've noticed when chasing that the activators are actually getting small
pile-ups rather than begging for contacts. So far, the pile-ups seem to
be civilized and everyone gets in the log, let's all hope that continues.
There have been some queries on the NA-SOTA e-mail group about the
distribution of QSO's by band and mode. Andy's tables offer the
opportunity to look into that, I did, and the results are (bands not
listed were zero):
BAND #QSO's PCT
160 3 0.21
40 314 21.49
30 3 0.21
20 997 68.24
17 45 3.08
15 65 4.45
2 32 2.19
MODE #QSO's PCT
CW 765 52.36
SSB 653 44.70
FM 32 2.19
AM 7 0.48
Data 2 0.14
Other 2 0.14
I don't know what "Other" might be … Flashlight? Semaphore?
By the time you read this, we'll have had another SOTA Event, this one
was on Sat 28 April, and was conducted in tandem with the "QRP To The
Field" event. QRPTTF always has a theme of some sort, I remember one
was "Borders" … extra points if you operate on an international, state
or province, county or other border. This year it was "Get High with
QRP." There are a couple of incentives in the rules: First off,
registered SOTA summits are multipliers this year just like states,
provinces and countries. So every SOTA activation is a new mult. You
take the sum of the number states, provinces, countries, AND
SOTA-activations you worked, and multiply it by the total number of
contacts. That's your preliminary score. Then you multiply that by a
to-the-field multiplier:
x1: At home
x2: On a "hill" (you know them when you see them)
x3: On a "summit" at least 500 feet above surrounding terrain
x4: On a registered SOTA summit (i.e. a SOTA activation)
I'm writing this on Thursday evening the 26th to make Roy's deadline so
I can't tell you how it "went" because it hasn't yet. I have a couple
of commitments on Saturday AM and I won't be able to make a registered
summit but I have a "hill" picked out in our little town. It's called
Camp Flint and was an Army camp with a lookout tower used to spot
attacking aircraft during WW2 (I don't think they ever saw one). The
tower is gone and the Auburn Police have a VHF repeater there, but it is
still called Camp Flint.
Coupling up SOTA with other events seems like a super way to get the
word out to those not yet addicted to the world Ham Radio With Altitude,
as well as increase the opportunities for enjoyment for those of us who
are addicted. The QRPTTF idea and connection was worked out by Fred,
KT5X. Following that lead, I'm wondering if a "Bees Getting High" theme
might work for the Flight of the Bumblebees event at the end of July?
I'll contact Chris.
Unless everyone gives up on SOTA over here in the western hemisphere, it
looks like we'll do Plan B from here on. I really did wonder if there'd
be enough activity when I took this job. Sounds foolish now. Thanks to
everyone for the activation reports. And a big thanks to Andy for the
data sources.
73,
Skip K6DGW
Canada/US SOTA Reporter Dude
NEWS FROM W0:
The W0 SOTA team was quite busy during the month April.
The newly finished W0 SOTA Website (http://w0-sota.org/) had over 1500-visitors during April with thousands of page-views. We consider that a success.
We also registered a new domain NA-SOTA.ORG. The idea was to provide an 'umbrella' website for all SOTA Associations in North America. Steve/wGØAT and Matt/KØMOS whipped-up a Webpage with no specific content, just a map leading to Websites of individual SOTA Associations. This will allow anyone with an interest in SOTA to obtain region specific information. In case where an Association does not have a Website, the link will lead to the specific Association section of the SOTA UK site. It will not only help with finding the right information for newcomers, but it can also be used for marketing purposes. Check it out at: http://NA-SOTA.ORG/
Active on the club circuit were Bob/KIØG and Jerry/KDØBIK presenting SOTA at four different occasions (Amateur Radio Clubs) - with several converts showing interest by joining Jerry for his live SOTA activation demo on Genesee Mtn. One of Bob's converts Ash/KQ0C solo'd his first SOTA activation of two summits on the CO's western slope for 46-QSO's/8pts. SOTA fever is catching on in W0-land and the season is just begun!
Cheers, Steve …wGOAT & W0 SOTA Team
http://w0-sota.org/
---
Note from Editor. SOTA Reports are always welcome, whether personal achievements or from Association Managers and are of great interest to readers.
Does your association submit a report to SOTA News??
---
EA8 AND THE MOUNTAIN HUNTER AWARD
Congratulations and thanks from grateful chasers go to Jürg HB9BIN for a magnificent DX-pedition to the Canary Islands last month. Operating from 12 SOTA's on 2 Islands (10 on Lanzarote and 2 on Fuertaventure) Jürg made 312 QSO's in the six day activation.
The importance of this SOTA operation from the continent of Africa is that this will allow many chasers to qualify for the Gold or Platinum standard "Mountain Hunters" Award.
This requires contacts with at least 2 SOTA's in 2 continents for Gold or 3 continents for the Platinum continents. The 3rd continent is the difficult one for the chaser with an average set-up of 100w to a vertical or G5RV antenna. For example, every EU chaser will have Europe as the first qualifying continent and many will have the USA as the second, but the 3rd continent is particularly elusive.
Not any more ! Many thanks Jürg; I would think that Barry the SOTA Awards manager will have quite a few claims following this expedition.
A reminder for the qualifications for Mountain Hunter Award. QSO's with:-
Bronze Award - 5 Associations in 1 continent
Silver Award - 10 Associations in 2 continents
Gold Award - 15 Associations in 2 continents
Platinum Award - 20 Associations in 3 continents
Worked all Associations - All Associations in 4 or 5 continents.
Roy G4SSH
---
SOTA ON TOP BAND - Mark G0VOF
Hello everyone & welcome to this month's edition of SOTA on Top Band. April was a quiet month, with to my knowledge only one activator venturing onto 160m from a SOTA summit.
That said, at least this time I was in the shack & had my 50ft loaded vertical up anyway hence I could at least listen. So a somewhat shorter Top Band section this month.
That activation took place on Easter Saturday 7th March when David G3RDQ took advantage of a family trip to include a diversion to G/SE-001 Walbury Hill. This evening the band was busy with SP contest stations, but undaunted David decided to give 160m a try anyway. I had missed David's earlier self-spot but just happened to check SOTAwatch in time to see a spot from Phil G4OBK. I quickly tuned to 1840KHz & had no trouble copying David's signal as he was a solid 599. I was amazed when I later found that he was only using 5 Watts from his FT817!
David has kindly sent me the following, which gives a little more detail about this activation:
Easter Saturday was probably not the best of evenings to activate SOTA on 160m as many people would be tied up with family things.
However, as I was taking my son into Andover for a meal (and a few drinks) I decided that the timing would be good for a 160m activation. I could set up at dusk whilst I could still see to erect the station and only have the packing-up to do in the dark. I could then pick up my son on the way home.
I was using the FT817 with 5 watts to a full size dipole with the ends held up with bamboo canes. I intended to use 1.832 KHz, but when I listened there were stations taking part in a Polish contest so I moved as far away as possible without going into the phone section starting at 1.840 KHz
I spotted and called CQ & soon worked Phil G4OBK who gave me 599. Directly after Phil I heard a weak OE station giving his callsign and went back with a 449 report but did not complete as I heard nothing further. After a few more CQ's Mark G0VOF called and got 599. Further CQ's were unanswered.
I thought I would see if any contest stations could hear me but as it was an SP contest I could only call SP's, so I called a couple without any luck. I finally went back to 1.840 KHz and put out a few more CQ's and worked Andrew GM0UDL again receiving a 599 report.
Further calls went unanswered so I packed up in the dark and made my way back to the car. I am sure that I could have worked many more stations but they were just not around at that time! (I was hoping to hear the regulars who work John GX0OOO/P on top band when he is active)
I might have posted an alert before leaving home but since I started self-spotting I never bother with alerts, then I can't let anyone down if I don't show up for some reason.
I have found that 160m works well with QRP provided you go after dusk and can put out plenty of wire.
73's
David. G3RDQ
Thank you very much for the info David. As you say, Easter Saturday evening is probably a busy time for many people so not many of the regular 160m chasers would have been around. Of course, whether or not to alert is the activators decision, however with a "minority" interest such as 160m I feel it definitely helps. I personally do not mind if an alerted activation does not happen on time, or at all, as there can be a myriad of reasons why, & many of them can be beyond the control of the activator.
Below is a link to a short video I took of my reception of David's activation: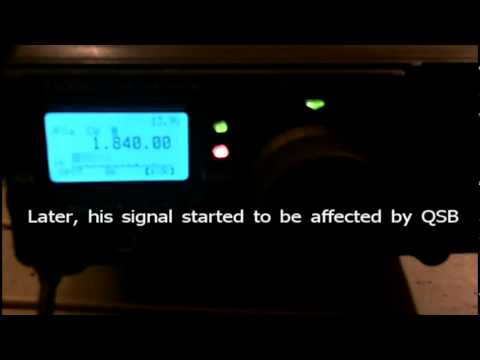 At the time of writing, this was the only Top band activation during April that I am aware of, if I have missed any others please let me know.
On the 7th April, David G3RDQ/P activated G/SE-001 Walbury Hill, & achieved 3 QSO's on 160m, using CW.
As always, If you do have any suggestions on things that you think should be included, or if you wish to contribute tips, ideas or anything else that you think may help others on the band please email them to me at mark@brownhill.demon.co.uk
Until next month,
Best 73,
Mark G0VOF
---
Note from Editor. Roger has requested that the following information, first published in the April 2012 SOTA News, be repeated until the date of activation as a reminder and to spread the message about this very special event as widely as possible. - Roy
GB10SOTA by Roger MW0IDX
To celebrate 10 years of the Summits on the Air programme, I will be using a special event call sign GB10SOTA from the summit of Mount Snowdon GW/NW-001 on the 19th, 25th June, 2nd and 9th of July 2012 - weather, work and legs permitting!
I will take my K2 for HF and a VHF/UHF radio with me. If any activators wish to join me, you will be most welcome as I would like to cover as many bands/modes as possible. Please send me an email if you plan on joining me on one of the dates. Email details on QRZ.com.
Time has flown since my first SOTA activation from Snowdon on 2nd March 2002. The Summits on the Air programme has grown and matured into such a wonderful group of like minded friends.
Thank you to all involved with SOTA over the last 10 years and I look forward to working as many of you as possible as GB10SOTA.
---
FINGER TROUBLE - by Roy G4SSH
Would you like to increase your chaser band/mode score without going on-air?
It is a well known fact that any data base will contain input errors, especially the ones done by hand. A one percent error rate is very low and does not sound much, but when applied to the scores of the leading chasers it could mean individual chasers with 500 - 600 SOTA points credited to the wrong mode or band.
I would advise chasers to spend just a few minutes checking through the "improbable" tables for their own call. For example;
The all associations 7 MHz FM table contains 83 entries claiming 750 points,
The all associations 14 MHz FM table contains 60 entries claiming 435 points.
The all associations 10 MHz SSB table contains 70 entries claiming 600 points.
It only takes a moment to check, and if you ever wondered where that elusive contact went, then this may be the answer.
73
Roy G4SSH
---
THE VIEW FROM THE NORTH 40 - Rob and Audrey
April already but the temporary summer seems to have disappeared and things have cooled off quite a bit. We looked around and decided on Hard Knott Fell as a good test of the improving back.
Sunday April 1st Hard Knott Fell.
This summit is most easily attacked from the top of the Hard Knott pass accessed from the east via Wrye Nose pass or from the south via Dunnerdale to Cockley Beck. (The route from the south is a long drive round and if coming in via the M6 it is probably better to come in via Windermere, Ambleside and the eastern approach.)
The road over the two passes is not the world's best, very steep, narrow and winding, single track with passing places and not for the faint hearted. The local garage used to make a steady living recovering vehicles and replacing clutches until the recent improvements in car design. There is some parking at the summit of Hard Knott pass but it is often busy and do avoid parking in the passing places. Many parkers are only there for a short time, rejoicing that they have reached the top and taking photos.
There is a handy space on the right just below the summit when coming from the east; three cars at a push but beware of the big rocks under wheel! From here it is a straight climb although we temper it by taking the quad track to the right which contours round to meet the steeper direct path. About 100yds further up a path contours off to the right on grass which contours the next high section, not to be confused with the true summit which appears eventually ahead with the summit cairn clearly visible.
The ground can be very boggy in wet periods and a small lake can develop but at the time of writing it is bone dry. The final assault is straight up the front of the outcrop with just the odd tricky step, nothing drastic, The actual summit is grassy with rocky outcrops, unfortunately our favourite on the west side was exposed to the cold wind so we were forced onto the more grassy east.
The activation went well, unfortunately at the moment in an effort to remove weight from my pack I am not carrying the 4m or 2m backup h/helds which takes almost a house bricks weight out. (2m backup is now the little Baufeng that sits in a pocket and weighs almost zero). We did try a quick burst on 70cms from the FT817 at the end and worked a couple of stations. As the WX was sunny we decided to try a short step grassy descent to the east, contouring round on grass to join the regular route at the base of the final outcrop and avoiding the awkward step and resulting in a very nice descent on grass all the way.
Sunday 8th April Whitbarrow-Lords Seat
It seems quite odd to see the Lords Seat reference, locally the summit is Whitbarrow Scar and I kept confusing people by calling it that on the air, sorry just habit. We decided that in view of the lack of greenery which later in the year obscures the exposure on the direct route from the school we would use Bell Rake for both ascent and descent. If parking at the school there is room for eight cars but it is a popular spot for bird watchers to park and using Bell Rake both ways adds a couple of miles to the walk. Bell Rake however is more gentle and lacks the exposure of the more direct route. Just after the gate at the top of the Rake there is a cave/old mine entrance on the right. As the visibility was good we decided to investigate the more direct route to the summit rather than the regular walk round following the wall.
We climbed the path to the left of the cave entrance and followed a reasonable path past some more entrances (deep fenced off holes) to arrive on the summit ridge about 100yards to the north of the Lords Seat summit marker. As we arrived so did the cloud and rain from the west so we set up slightly down the eastern slope for a bit of cover. CW was a disaster as there seemed to be a short circuit on the dash side of the paddle and there was too much flying water to be able to rig a temporary work round so sorry, no CW today. Worryingly I have not been able to replicate the problem in the shack so hoping for a clean activation next time. VHF conditions seemed very flat compared with the recent highs.
Sunday 15th April Norbreck Rally
This is probably the premier SOTA rally in the UK being conveniently situated close to the original chaser heartland so with a car full of cake we set off on the trip round the bay. We can see Blackpool from home about eight miles away across and after nearly an hours driving we actually turned to head towards it! Having safely navigated the forest of speed cameras known as Blackpool we arrived at the venue and met up with the EYP's - not seen them for some time so great to catch up and congratulate Jimmy on the new call.
We must be getting the hang of things at last because setting up the stand went quickly and easily. We had tried to get photos covering 10 years of SOTA to go along with the birthday cake. Once the doors were open it never stopped! 76 people signed the visitors' book but there were many more as it was five deep at the front most of the time. We cut the birthday cake at lunch time and all sang happy birthday to SOTA then carried on talking and eating. By the time things had quietened down and we got to sneak a look round stalls were beginning to pack up! This really is a great event and a pleasure to put faces to calls and meet many new starters in the program, thanks to everyone for being there and making it one of the highlights of the year.
See some discussion of tents and SOTA so here is our two pence worth. We tend to run without a shelter in the winter although we carry a bothy bag for emergency use. When in the Isle of Man on our regular summer visit we do use a small fishing shelter on the three higher peaks. These activations tend to be an all-day affair and the shelter makes a nice base camp to keep off the wind, the sun (we hope) and some of the many visitors in the case of Snaefell. If the modern popup tents, when carried, looked less like a canvas version of the star ship Enterprise we may be inclined to think of one for the winter.
Sunday 22nd April Top O Selside.
We decided on this one as the forecast for the higher tops was bad and the walk from Dodgson Wood car park on the eastern shore of Coniston Water is stunning when the blue bells are up. Unfortunately although the blue bells are out in the churchyard here on Walney someone seems to have not told those on Top O Selside that it is spring. Beware of the hidden rocks on the Dodgson wood car park as I found out! There were showers about, much as forecast but we were surprised to see black pillars of cloud rather like "Lost" wandering along. These were accompanied by a lot of electrical activity and about half way through the activation one decided to pick on us. The temperature dropped sharply, the static level rose to well over S9 and a huge boom of thunder had us quickly dropping the antenna and keeping ourselves low down, battered by a fierce hail storm. After the storm subsided we resumed activity and were rewarded with a small dog running through our set up causing quite a few extra dits on CW. Then we were blessed with the first cuckoo of the spring which must be as adrift on timing as the bluebells. All this took some three and a half hours after which my back took exception to the lack of activity leading to a less than comfortable descent.
Sunday 29th April and a forecast of Armageddon from the weather men made us decide that enough is enough and to stay warm and comfy at home (well it is May next week). We are so lucky to have the Lake District to hand and always feel so sorry for those who have spent hard earned cash travelling here for holidays only to be washed out. The WX, with a few exceptions, seems to have been cold, windy and wet for most of the time lately and in our case a bad back has not helped. We are already running out of smaller hills for points and are still a bit concerned about larger ones in case of another flare up whilst out. We really could do with cutting down our time on the hill but we have made so many friends on so many bands and hate to disappoint them. The rain is being driven against the windows by a north easterly gale as we write this so it looks like a good call! We will really try to get things back to normal next month, till then take care out there
73 Rob and Audrey
G4RQJ
---
CW REPORT FOR APRIL 2012 - by Roy G4SSH
Propagation during the month of April was very variable, with good conditions during the first half of the month then deteriorating until by the end of the month there were days when 40 and 30m were virtually dead for hours on end.
Many CW activators started using two or more bands in order to satisfy both EU chasers and the USA; typically 7 and 14 MHz or 7 and 21 MHz. This also is an advantage to chasers on the outer edges of EU, such as the UK, who cannot usually copy QRP activations from southern EU stations (OK,OM,S5 and OE) on 7 MHz. Reinhard EA5/DK1IO was a regular activator on a spot freq of 14050 KHz on most days.
Activity followed much the same pattern, with a high level in the early part of the month, falling to days when chasers had difficulty gaining double points on some days in the middle of the month, but increasing towards the end, when we had spots peaking at over 200 again on the last weekend.
On 8th HA6QR Gyula operated with his own call from HA/EM-004 then jumped over the border fence to activate OM/KE-017, both on 10 MHz. Gyula again operated split, listening up 1, as did Ruda DL/OK2QA on 20th. There was also two more cross border activations from Bob I/F5HTR on the 25th and Gerald I/F6HBI on the 26th when both ops climbed the mountain in one country, then descended on the other, so doubling the points.
The number of SOTA CW chasers continues to increase (more than 800 in the data base) especially at weekends, when there are dozens of callers in the pile up's. Under these conditions it is very difficult to recognise your call sent by the activator because the tail-enders are tail-ending the tail-enders and you only hear the report. It is therefore a great help to the chaser if the activator repeats the call of the chaser at the end of his over, such as G4SSH GM UR 559 G4SSH K. This procedure is already being used by many of the most experienced activators such as Andre F5UKL, Jurg HB9BIN, Janos HA4FY and Walt, G3NYY and is much appreciated.
In addition to the EA8 DX-pedition (mentioned earlier) there were many other SOTA tours lasting many days heard during the month, much to delight the chasers, such as
OK/DJ3AX, DL/HB9BIN, EA5/DK1IO, EI/GI4ONL, EI/MI0JST and EI/G4ASA
April was the month when OK SOTA CW activators were particularly active, being far and away the most prolific country and dominating the spots table. Congratulations.
Heard active above 40m were:-
28 MHz: F5UKL,
24 MHz F5UKL,
21 MHz:
CT7/EA2NN,
DL/HB9BRJ
EI/G4ASA,
F5UKL,
G4ISJ. G0PEB, MM0FMF,
HA/DH7KU, HA6OY,
OE5EEP,
OM4DW
S5/OM4DW,
KF7LX, AA5CK,
NM5S, NE1SJ, N7RR, NM5TW, NM5SW,
WS0TA, K4ADV,
18 MHz:
EA8/EA8BIN
EI/G4ASA,
F6HBI,
G0PEB,
OE/OM4DW,
OM6AZ, OM3CUG,
F5UKL4ISJ
S57X,
K3NG,
NE1SJ, N0INB,
14 MHz:
CT7AEZ, CT7/EA2NN,
DJ3WM, DL/HB9BIN, DL/OK2QA, DK3WM, DL6AP, DL/HB9BRJ,
G4ISJ, GI4ISJ,GI4ONL G3CWI, GM4COX, MI0TUB, G0PEB, MM0FMF, G3NYY, M1EYP, MM0GYX,
EA5/LA1ENA, EA8/HB9BIN, EA5/DK1IO, EAA2NN/4
EI/G4ASA,
F5VGL, F5UKL, F6HBI,
HA2PP, HA7UL,
HB9BIN, HB9BQU, HB9BAB,
OE5EEP, OE3CH,. OE/OM4DW,
OH7BF
OK2BWB, OK3EQ, OK1DVM, OK1AXB, OK1CZ,
OM4DW, OM6TC, OM6AZ
S57X, S5/OM4DW,
VA2SG
VK3WAM
AI4SV, K6TW, K7ATN, KF7LX, KE5AKL, K4ADV, KD7WPJ, KI6J, K7ATN, KB1NFC, KQ0C, K4QS, KJ7AE, KD9KC, K7NEW, KB1NFC, KF7LX,
NE1SJ, NM5S, NS0TA, N4EX, N6ZA, N1EU, N1QLL, KH2TJ,
WS0TA, WT5RZ, WA2USA, W4EON, W7VH,
Z35M,
10 MHz:
CT7/EA2NN,
DJ3AX, DL8MBS, DL8DXL, DJ5AA, DL6AP, DL/HB9AGO, DL/HB9BRJ, DF0AAA,
EA8/HB9BIN, EA5/DK1IO, EA2NN/4
EI/G4ASA,
F5VGL, F6AVE, F5LHR, F5UKL,
G4ISJ, GI4OSJ, MI0TUB, M1EYP, GW4DDL, GI4ONL,
HA7UL, HA5LV, HA5MA, HA2PP, HA6QR, HA3HK, HA5AZC, HG4UK,
HB9DGV, HB9BQU,
I/F6HBI,
LA1ENA,
OE5EEP, OE/OM4DW, OE1HFC, OE3CHC,
OH7BF,
OK1DDQ, OK/DJ3AX, OK1HAG, OK1DVM, OK1DIG, OK1VWB, OK1OX, OK1CZ, OK2HIJ, OK2SAM,
OM/HA6QR, OM6TC
PA0SKP,
S57X, S51ZJ, S51RU, S57XX,
VK3WAM,
Also thanks to the stalwarts who enthusiastically continue to activate on 80 and 160m:-
3.5 MHz G0PEB, N6ZA, OM6TC,
1.8 MHz G3RDQ,
Heard active on expeditions outside their own countries were:
DL/HB9BIN, DL/HB9AGO, DL/HB9BRJ,
EA5/LA1ENA, EA5/DK1IO, EA8/HB9BIN,
EI/G4ASA, EI/GI4ONL, EI/MI0JST.
HA/DK7KU, HA/DH7KU,
I/F5HTR, I/F6HBI,
OE/LX1NO, OE/OM4DW OE/OM1DX,
OK/DJ3AX, OK/OM6TC,
OM/HA6QR,
S5/OM4DW,
VE2/VA2SG
73
Roy G4SSH
---
CONTESTS DURING MAY 2012
The following scheduled contests are expected to cause severe QRM to SOTA activity, especially on the 40m band. Activators should plan accordingly with alternate spots/bands. This is not a complete list of contests.
1ST only 1300-1900 AGCW QRP Party. CW
12th only 1000-1200 EUCW CW QSO Party
12-13th Volta RTTY Contest
12-13th CQ-M International DX Contest SSB & CW
26th 27th 0001-2359 CQ World-Wide CW WPX contest. (Major disruption)
SOTA News is normally published around noon UTC on the last day of each month and can only be as interesting as the items submitted. If you think your particular field of interest is not being covered then please submit an article by the 25th of the month. Have you a favourite SOTA? favourite mode? favourite rig, antenna, or favourite band? How did you find your first day / month / year as an activator or chaser? Your comments and experiences will be read by SOTA enthusiasts all across Europe and beyond, in a total of 24 different countries. Your input will be most welcome.
I receive many e-mails during the month containing details of activations, milestones reached and general SOTA news. Unless advised otherwise I will use this information in the next edition of SOTA News. It is important therefore that you advise me if any information is not intended for publication
73
Roy G4SSH
SOTA News Editor
g4ssh@tiscali.co.uk
U.S. and Canadian reports to:-
Fred K6DGW [aka "Skip" on the radio]
Canada/US SOTA Reporter Dude
Auburn CA
k6dgw@foothill.net or k6dgw@arrl.net
============================================================