SOTA NEWS MARCH 2018 - Part 1 of 2
Editorial - by Mark G0VOF
Welcome to the March 2018 edition of SOTA News.
My thanks go to the following contributors:- Barry GM4TOE, Skip K6DGW, Roy G4SSH, Kevin G0NUP, Brian ZS6BV, Warren ZL2AJ, Geert PA7ZEE
.
73, Mark G0VOF
========================================================
The February 2018 edition of SOTA News was viewed more than 875 times.
========================================================
SOTA AWARDS FEBRUARY 2017 from Barry GM4TOE - SOTA Awards Manager.
The volume of award claims was much lower this month but there were more trophy claims to compensate.
Congratulations to Mountain Goats N3ICE, K7PX and G4TJC and Shack Sloths K9OZ, KE0FKE,VK4TJ, N7EDK and HB9FPM. Special mention to KG3W and OE6WIG for 50,000 Chaser points and to W4KRN at the10k level.
Trophies Issued
Mountain Goat
N3ICE Jill Kennard
G4TJC Simon Melhuish
Shack Sloth
KG3W Scotty Covert (50k points)
K9OZ Bruce Plantz
KE0FKE Jason Gottsacker
Certificates Issued
Activator
K7PX Stephen Schlang 1000 points
G4TJC Simon Melhuish 1000 points
OE6WIG Franz Wieser 500 points
OE3BWC Walter Baier 100 points
KG7VLX Chris Freund 100 points
KB1JDX Vinny Mazzarella 100 points
Chaser
KG3W Scotty Covert 50000 points
OE6WIG Franz Wieser 50000 points
W4KRN Karen Russo 10000 points
N7EDK Edward Kacura 5000 points
YO8AZQ Adrian Done 1500 points
VK4TJ John Kirk 1000 points
N7EDK Edward Kacura 1000 points
HB9FPM Eva Thiemann 1000 points
ZL2ATH Wynne Morgan 500 points
M0PLA Paul Athersmith 250 points
VK4SMA Mark Why 100 points
Activator Unique
KR7RK Keith Schlottman 100 summits
Chaser Unique
W2SE Bruce Babcock 1000 summits
W4KRN Karen Russo 1000 summits
M0WBG Neil Challis 500 summits
Summit to Summit
K1LIZ Elizabeth Burns Bronze
ZL2ATH Wynne Morgan Red
Mountain Explorer
HB9FPM Eva Thiemann Platinum
HB9JOE Andreas Thiemann Platinum
G4TJC Simon Melhuish Tourist
Mountain Hunter
HB9JOE Andreas Thiemann Platinum
2E0HPI Carl Gorse Bronze
Microwave Award
GM4WHA Geoff Harper 50 km 23 cm
Very little to report this month but if your claim is not shown in the above listing please check your database entry is correct and current. There was a failure of the database server and some entries were lost; you may need to go back and check that your log upload is completely correct. The relevant dates in January are on the reflector.
Please take care and be safe on the hills
73
Barry GM4TOE
SOTA Awards Manager
========================================================
NORTH AMERICAN REPORT from Skip K6DGW
Greetings to all: I'm not sure I believe these statistics, but they were produced by the same code from the usual files.
NA Statistics for Feb
Produced: 02/28/2018 at: 14:07:09
  Total Activations:    130  [556]
   Total Activators:     75  [176]
 Total Chaser QSO's:   1625  [7749]
      Total Chasers:    149  [313]
     Unique Summits:    104  [371]

BAND     #               LAST MONTH

3.5MHz: 6 ( 0.3%) [ 53 ( 0.6%)]
5MHz: 71 ( 4.4%) [ 111 ( 1.4%)]
7MHz: 489 ( 30.3%) [ 2030 ( 26.4%)]
10MHz: 262 ( 16.2%) [ 1104 ( 14.3%)]
14MHz: 693 ( 43.0%) [ 3570 ( 46.5%)]
18MHz: 33 ( 2.0%) [ 204 ( 2.6%)]
21MHz: 2 ( 0.1%) [ 24 ( 0.3%)]
28MHz: 13 ( 0.8%) [ 26 ( 0.3%)]
144MHz: 36 ( 2.2%) [ 487 ( 6.3%)]
433MHz: 4 ( 0.2%) [ 34 ( 0.4%)]
MODE # LAST MONTH:
CW: 1191 ( 74.0%) [ 5433 ( 70.7%)]
FM: 39 ( 2.4%) [ 505 ( 6.5%)]
SSB: 378 ( 23.5%) [ 1738 ( 22.6%)]
At any rate, on to more interesting stuff.
AWARDS AND ACHIEVEMENTS:
From Scott, VY1CO [one of our new NA Assoc. Mgrs.]: "Not too much to report from VY1-land just yet. Within the next few weeks I hope to get out on some of Yukon's lesser summits to activate at least one…I wound up in this position by asking about SOTA…now I am one! Simon in UK has done the initial mapping…just need to get myself up a mtn."
Welcome Scott!! Just hearing from a new NA Association is an achievement. You might want to wait for a little more daylight, however.
Now, moving much further south, from Chuy, XE2N: "Hola Fred and Amigos SOTAeros! It is a pleasure to know about this project and also clear that yes, participate in it; we are just beginning the SOTA project both in the XE1 and XE2 areas respectively, I clarify that in the two entities I am the regional responsible and very probably also in its moment of the entity XE3.
Welcome Chuy!! I still maintain that the XE Associations should get bonus points for an active volcano, and double that if it's erupting. I'm sure the KH6, W6, W7O, and W7W Associations will be weighing in on that proposal too. [

And George, VY2GF, checked in … no news from VY2 yet. Welcome George!! Wait 'til summer comes.
Danny, AE9F, reported: "After a large log upload in February, I was pleased to discover that in mid-January I had passed 25,000 chaser points (W6 region). Done exclusively with my barefoot FT-817 with modest antennas, and buried here on the coast (El Granada) in a bit of a canyon. The kudos really goes to the activators, who manage to hear my little five-watt signal out in the field. Despite recent stretches of bad propagation, chasing SOTA has been a lot of fun."
Congratulations Danny!
And finally, Loren, VO1PWF, checks in from VO1: Considering the Region, it's active and a lot of interest…I was hoping to get 2 activations done this winter but travel in the back country is hard due to the lack of freezing on the ponds. We (the ground search and rescue team I'm with) have already had to go bail out 4 people since Dec breaking through ice."
"I did NL highest point in SEP and my hiking buddy that did it with me is now a ham because of it. When the snow goes and trails are more accessible I'm sure things will perk up around here."
NEWS: I suppose the Big News for NA SOTA is the move of our group reflector from Yahoo to groups.io A big thanks to Barry, N1EU, and the crew … the process was essentially automatic to all of us group members [not so automatic for Barry and the crew], but the Yahoo Groups meeting place is now deactivated. If you were a member of the NA SOTA Yahoo group, you are now a member of the NASOTA@groups.io group. All you have to do is change your address book entry.
We have two new Regional NA Awards to announce, both from W5N. From Fred, KT5X [aka WS0TA]:
Activating peaks wouldn't be much fun without the CHASERS! As a "Thank You" to Chasers the NM SOTA Association is offering this award. The medallions will be serial numbered (who will collect serial #1 shown in the attached photo?) and issued until medallions on hand (about 25) run out).
NEW MEXICO CHASERS CENTURY AWARD:
The award is for making 100 contacts with New Mexico activations.
The medallion: Made by well known Jemez Pueblo potter, Bernice Gachupin (whose husband is Hall of Fame runner, Steve Gachupin, six time winner of the Pikes Peak Marathon). It is hand-made, fired in a simple wood fired kiln, using Red Mesa clay. It is in the shape of the state of New Mexico, and features meaningful hand-painted designs including the famous Zia symbol found on the state flag. They are signed work of art. It will be serial numbered on the front, and personalized to you on the back.
How to earn it: Make one hundred QSO's with New Mexico activations beginning February 1, 2018. For the purposes of this award, you may work multiple stations and each station multiple times on different modes and bands on the same peak on the same day.
While New Mexico is one of the least populated states, we feature ten "Mountain Goats" who together did almost 700 activations last year. Most operated on multiple bands providing several thousand opportunities to add to your count.
Submit a log, a numbered list of QSO's, showing call sign, date, band, mode, and peak designation, to me by email for verification. Upon verification, you will be given an address to which to send ten dollars to cover costs, including mailing.
Have fun Chasing us!
ICONIC PEAKS OF NEW MEXICO AWARD
The Award will be New Mexico shaped pottery made by Jemez Pueblo potter, Bernice Gachupin (wife of Steve, the six times winner of the Pikes Peak Marathon and Hall of Fame Native American runner). There are several slightly different designs, the attached photo shows one of them. These are the same medallions that will be used for the NM Century Chasers' Award. Award will be offered until I run out of medallions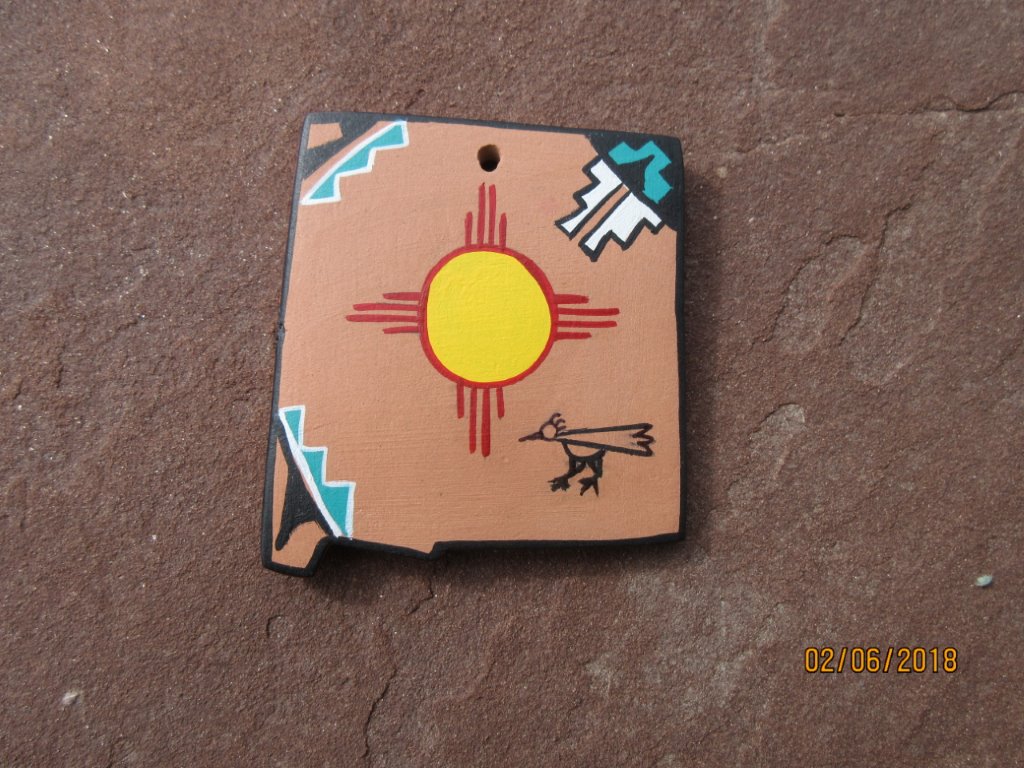 In naming what I consider the most iconic peaks of New Mexico, I include three that require class 3 climbs. I don't want to encourage anyone who really shouldn't be there to try them. For this reason, none of them have to be done to qualify for the award. I take NO RESPONSIBILITY if you choose to include one of the climbs. That is YOUR decision.
Wheeler (SS-001) - NM's tallest peak over 13,100 ft
Sierra Blanca (SC-001) - NM's greatest prominence, sacred to the Apache
Chicoma (SE-001) - 2nd to Blanco in prominence, sacred to Santa Clara, north rim of Jemez Super-Volcano
South Sandia (SI-003) - the more challenging of the two peak s representing the gigantic Sandia uplift
Mt Taylor (SM-001) - gigantic volcano, sacred to the Navajo, "the Body of the Rock Monster"
Hermit Peak (PW-015) - Beacon for travelers on the Old Santa Fe Trail, incredible east facing cliff
Capulin (SG -009) - the national park east of Raton, NM's classic cinder cone
Organ Needle (OR-001) - pinnacle in the sky in the Organ Mtns (misnomer, originally "oregano" mountains)
Cabezon (SM-019) - "Head of the Rock Monster" to the Pueblo's, taller and higher than similar Devil's Tower, WY
Pedernal (SE-018) - the mountain that eclipses, ten ft wide, a mile long, made famous in paintings by Georgia O'Keefe
Note 1: that 8, 9, and 10 all have class 3 climbs on them from which it is possible to fall and be hurt. Don't do them unless very confident of your ability, safety rope strongly suggested.
Note 2: No starting date. If you have already done some or all, that's fine, qualifies.
NM Resident: Activate ANY SEVEN of the ten to qualify for the award. NON-Resident: Activate ANY FIVE of the ten to qualify for the award. Send me [Fred, KT5X, just.one.hill@gmail.com] a list of the dates of your activations and ten dollars.
From Paul, W6PNG, a cool report about Death Valley and "The Racetrack" where rocks have legs:
Hitting the Wall, a Death Valley High – Paul Gacek
Ian, VE6IXD, reported from Alberta:
"Jan 20th was the start of the ARRL VHF contest. The weather was also reasonable for the time of year, so we had 5 SOTA activators out on the hills around Calgary, VE6VID and VE6LCE on Ranger Summit, VE6AGR and VE6LEW on Square Butte, and VE6IXD on McLean Hill. The Elecraft radio owners took a hand-held each, and the 817 owners took some more serious VHF antennas to try some SSB as well as FM contacts. While we all activated summits and made the S2S contacts for SOTA, I know that I did not manage to contact the other players on all the various bands that were available. I have to find a better logging system than my usual SOTA pad of paper so that I can easily see the gaps in contacting each contestant on all the bands they have available."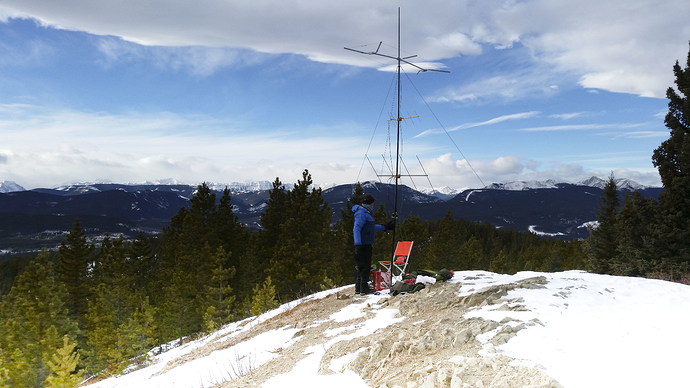 "I enclose a photo taken on McLean Hill showing VE6IXD's antenna set-up. The pole is 15 ft (4.6 m) tall, the mid five sections of an MFJ 10m telescoping fibreglass pole. The top antenna is a 6m Moxon, the second antenna a 6-element 435 MHz yagi (cheap LEO design), and the bottom antenna is a commercial Arrow 4-element back-packer yagi. The three antennas are connected to a 4-way co-ax switch mounted on the pole, and the 817 had key frequencies stored in memory, so it was quick and easy to change bands. The two yagi antennas are mounted at 45 degrees to the horizontal so both vertical and horizontal polarized antennas could be worked, albeit at a 3dB signal penalty,"
"In summary it was an entertaining day for both the SOTA activators, and for the more serious contesters."
That will do it from the New World for this month, I'm pretty much out of time.
Skip K6DGW
NA SOTA Reporter Dude
Sparks NV DM09dn
============================================================
SOTA NEWS FROM NEW ZEALAND by Warren ZL2AJ
SOTA Activity Report for January / February 2018
List Summits activated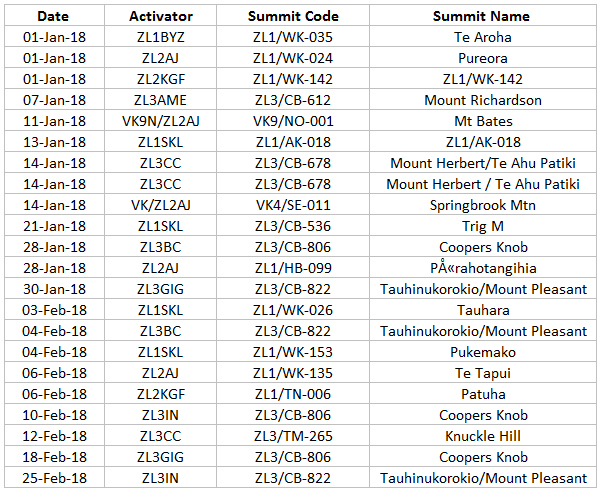 The spring dried out into a great summer, mixed with the odd tropical cyclone. Despite the odd weather bomb 22 activations have been recorded for January / February either in ZL or by ZL activators. This report welcomes 3 new activators all from Christchurch. ZL3IN Paul, ZL3GIG Ian and ZL3BC Brent. It is great to see some new callsigns broadcasting from summits. We all hope we hear more from you. Soren ZL1SKL has also been busy adding to his SOTA Activator log.
I had the great fortune to spend some time in Norfolk Island and Springbrook in January with my lovely (now) wife Emma. Naturally the radio came with and we activated Mount Bates, the sole summit on Norfolk Island, and Springbrook mountain, inland from Surfers. I recommend Norfolk Island as a place to visit if you ever get the chance. The place is full of history and beauty, with a friendly island culture to go with and cuisine that is genuinely tasty.
On Waitangi Day myself and Myah (Emma's daughter) thought we would have a go at a summit with no track. A bush bash if you will. This was tough going and we relied on our GPS heavily. We did make it to the top and worked Kyle ZL2KGF summit to summit. It taught us both some bush and navigational skills. Unfortunately there was no view from this summit which is one of the drawcards to SOTA for me.
Achievements include Wynne ZL2ATH making 250 Summit to summit points. Summit to summit contacts are some of the most treasured contacts in SOTA and Wynne has achieved a great result. 11 ZL hams have now achieved over 100 chaser points. Chasers are just as important as activators in SOTA as it can be very lonely on the summit without chasers to work.
That's all for this edition. I look forward to working you from the next summit.
Total Summits Activated for Period – 22
Total number of ZL summits – 5187
Total number of ZL summits activated – 140
Total ZL Chaser contacts logged for period 374
73, Warren ZL2AJ
============================================================
SOTA South Africa – Brian ZS6BV
SOTA ZS activity.
The additional South African summits that were mapped last year and newly added to the database have started seeing activity and SOTA is getting good exposure in the Radio ZS magazine thanks to the editor Dennis Green ZS4BS, who is also a SOTA activator. The twelve months to date have seen a 14% increase in Activations, a 45% increase in Chases and an 8% increase in Summit to Summits against the previous twelve months in South Africa.
A special upcoming SOTA Alert.
Tylor Stegmann, a Scout from 1st Polokwane Scout Group, is completing his Springbok (SA's Top Award, as in Queen Scout or Eagle Scout) and he has made SOTA the theme for his expedition over the coming Easter weekend, 30th March to 2nd April. During the expedition he will be activating two 6 point summits (ZS/LP-052 Ribbokkop and ZS/LP-055 Applous) using the Group call sign ZR6PS for DX as he has a class B amateur licence. Details, times and frequencies will be posted on Reflector Pre-planning shortly and an alert on Upcoming Activations. Look out for him.
ZS6BV's preferred SOTA Equipment.
For SOTA I use a Yaesu FT-857D with a YT100 tuner mounted in a lightweight backpack frame, and LiFePO4 7.5Ah batteries. Antennas I use are either a linked inverted V dipole (80, 40, 20, 15, and 10m) or an end fed sloper with a 9:1 unun. As a mast I carry either a 10m fiberglass telescopic or two extender painter poles, which I join end to end with a short plastic pipe, giving me a 7m height. I have a Signalink USB interface for digital modes through a Linux Netbook and I have just constructed a homebrew dual paddle portable key for CW. I also use a homebrew 2m / 70cm (3el / 5el take down) handheld beam antenna and a Baofeng UV-5RHP 8W Handheld with a 2800mAh battery.
73, Brian ZS6BV
========================================================
*********** SOTA NEWS PART 2 FOLLOWS BELOW ********