SOTA NEWS MARCH 2017 - Part 1 of 2
Editorial - by Mark G0VOF
Welcome to the March 2017 edition of SOTA News. My thanks go to the following contributors:- Barry GM4TOE, Skip K6DGW, Roy G4SSH, Kevin G0NUP, Rob and Audrey G4RQJ, Warren ZL2AJ, Toru JH0CJH, Geert PA7ZEE, Bob F5HTR, Peter ON4UP, Luc ON7DQ.
73, Mark G0VOF
========================================================
The February 2017 edition of SOTA News was viewed more than 883 times.
SOTA AWARDS February 2017 from Barry GM4TOE - SOTA Awards Manager.
February has been quite a busy month for awards with two new Mountain Goats, W0CP and OE1WED and VK2IO claiming his award for "All CW" although he actually qualified as Mountain Goat last year for "All Modes". Shack Sloth awards have gone to KA9BBQ, WC9G and G0FVH while VK3PF continues to surge forward and is now on 25k Chaser points. I am still getting certificate claims for last year's 10m – 6m Challenge but I will shortly retire these certificates from the shop (although they will still be available should you wish to contact me direct).
Trophies Issued
Mountain Goat
W0CP Walton L. Stinson
OE1WED Gerhard Weissenbock
Shack Sloth
KA9BBQ Matthew Steffen
Certificates Issued
Activator
VK2IO Gerard Hill 1000 points
OT6V Rene Van de Wiele 500 points
VE6IXD Ian Drummond 500 points
YO8AZQ Adrian Done 100 points
NE4TN Walter Beaton 100 points
KG7FOP Roland Simmons 100 points
Chaser
VK3PF Peter Freeman 25000 points
SQ9KFW Miroslaw Kulawik 2500 points
WC9G Ron Burns 1000 points
G0FVH David Dolling 1000 points
KA9BBQ Matthew Steffen 1000 points
WC9G Ron Burns 500 points
G0FVH David Dolling 500 points
YO8AZQ Adrian Done 250 points
G4IPB Paul Hodgkinson 100 points
Activator Unique
VK3ANL Nicholas Lock 100 summits
Chaser Unique
W6JMP Gene Trasti 1000 summits
DG4KAI Kai Wendt 100 summits
Summit to Summit
YO8AZQ Adrian Done Red
Mountain Explorer
VE6IXD Ian Drummond Bronze
Mountain Hunter
WC9G Ron Burns Gold
WC9G Ron Burns Silver
YO8AZQ Adrian Done Bronze
EA7JPD Jose Villoslada Bronze
VE6IXD Ian Drummond Bronze
WC9G Ron Burns Bronze
10m – 6m Challenge
VE6IXD Ian Drummond Activator
Postal rates are set to rise yet again, Royal Mail claim they are still the cheapest in Europe but they fail to appreciate that annual increases are not justified just because others are "cheaper". Unfortunately I have to pass on these increased costs and the shopping site rates will be modified shortly to reflect these inflated charges. All orders placed before mid-March will attract the existing postal rates so shop early for a bargain!
Another organisation that seems to need to earn more money is Paypal. This highly successful business model is now showing signs of the greed that pervades the conventional banking industry (yes, I am having a rant!). The upshot of this is that we will now receive only a small proportion of the price charged for email certificates and, as these now outsell printed certificates at a rate of about 8 to 1, we are faced with increasing the price of an emailed certificate to protect our limited income. This is not going to happen straight away but will be discussed at a future Management Team meeting and announced here once a final decision is made.
I would like to introduce some new (and different) SOTA branded merchandise during 2017 and would appreciate suggestions for what that might be. Any design that is used must be either copyright free or utilise our existing copyright logo or trademarked name – apply your thoughts to what we might be able to do.
Summer is coming in the Northern hemisphere so get out on the hills and enjoy SOTA (those of you who stand on their heads – wrap up warm and get out there anyway!)
Stay safe on the hills
73
Barry GM4TOE
SOTA Awards Manager
========================================================
NORTH AMERICAN REPORT from Skip K6DGW
Hello to all from a white NW Nevada. February SOTA activity in North America is up in all of the statistic categories, although the weather in Feb pretty much mirrored the weather in January – cold, windy, lots of precipitation. But then, SOTA-folk are a pretty hardy bunch. It appears that 30 and 40 meter usage is slowly creeping upward but still too soon to declare a trend.
NORTH AMERICA TOTALS as of 1930 UTC 27 Feb
Total Activations: 462 [338]
Nr Unique Activators: 144 [123]
Total Chaser QSOs: 6595 [4560]
Nr Unique Chasers: 276 [254]
Unique Summits: 313 [233]
2m: 144 (2%) [144]
6m: 0 (0%) [4]
10m: 10 (0%) [10]
12m: 1 (0%) [0]
15m: 85 (1%) [57]
17m: 388 (5%) [123]
20m: 2997 (45%) [2322]
30m: 916 (13%) [621]
40m: 2003 (30%) [1264]
60m: 39 (0%) [9]
80m: 0 (0%) [0]
160m: 5 (0%) [0]
Unk: 7
CW: 4646 (70%) [3058]
SSB: 1807 (27%) [1351]
FM: 140 (2%) [144]
AM: 1 (0%) [2]
Data: 0 (0%) [0]
Other: 0 (0%) [2]
Unk: 7
AWARDS AND ACHIEVEMENTS:
Don, NK6A, has reached stratospheric level of Slothdom with 10,000 chaser points. Last four points came from George, KX0R. Congratulations Don!
Lynn, KC0YQF, is closing in to become the first North American female Mountain Goat, which heretofore has been a totally male club. In celebration of this event, husband Frank, K0JQZ, filed the following report and offer:
"As Lynn, KC0YQF, nears in on becoming the FIRST North American female to achieve the Summits On The Air (S.O.T.A.) Mountain Goat status, Lynn and I want to extend our celebration to our chaser friends.
One person, who talks to Lynn during her next two activations (most likely the last weekend in Feb and the first weekend in Ma r) and sends her a QSL, will have the chance to win a new, un-built Mountain Topper Version 2.
Here is what you need to do:
Work Lynn SSB on any band and during her next two activations; and
Send her a QSL card to confirm the QSO"
NEWS:
Etienne, K7ATN, reported: "Oregon SOTA had a no-host gathering of twelve activators and SOTA wanna-bees the third week of February. We met for several hours on a Tuesday evening and enjoyed general conversations about hiking, activating, radio gear and all the things we enjoy about Summits on the Air. This was followed the following weekend with introductory activations. We had great weather on five summits for this event (in Oregon "great" means "dry.") Activated peaks were Bells Mountain (WA with Scott-K3BYU and Guy-N7UN, Cooper Mountain (OR with Benton-KF7QLP), Mount Sylvania (OR by Mark-KE7MSU), Mount Scott (OR by Roland-KG7FOP) and Bald Peak (OR with Rachel-K7NIT, Dan-KG7VAK, Kevin-K7KAD and Etienne-K7ATN with guest op James, son of VAK)."
"Other SOTA-connected parties also heard chasing included: Brian-AC7MD, Rusty-K7RMO and Dave-N7DB. Everyone got their four contacts, a lot of Summit-to-Summit contacts were made, and several folks had their first 2.3GHz QSO."
(Ed note: I believe that marks the first 2.3 GHz SOTA QSO's in North America. If this keeps up, I'll have to adjust the script that builds the statistics)
For those involved in Scouting, Wunder, K6WRU, has created a custom map with SOTA summits that are within the bounds of the Philmont Scout Ranch. He's posted it on his blog at:
HAMFESTS: From Rob, AE7AP …"
I am putting in my annual plug for the SOTA-friendly Glacier-Waterton Hamfest (July 14-16) up here in Montana. I registered today & will plan on arriving mid-day on the 12th with hopes of doing activations on the 13th & 14th. There are lots of SOTA summits in the area, including two in Glacier Park that are directly across from the camping/hamfest area. It is great fun to work those below when you can actually see them & also a lot of fun to watch the activators ascend. I haven't yet decided which summits to activate, but would very much enjoy doing Elk Mountain (W7M/FN-110) again if someone was game for joining Barb-AE7AQ & myself. Elk Mountain is a nice 3,400 foot on-trail hike."
"The hamfest itself http://www.gwhamfest.org/ is a fun low-key family style campout. Most people RV-camp, but we tent-camp in the grassy "overflow" field with our friends from Helena & hopefully a few other SOTA people. Last year we had a fun crew that included Bruce-N7RR, Todd-KH2TJ, Bill-N7MSI, Bob-K7HLN, as well as Barb & myself."
VJ/ZL-NA ACTIVITY DAY: Pete, WA7JTM, is hoping to stir up some cross-equator, cross-dateline activity:
"The March-April DX window, which is historically good for this path is fast approaching. Even in a down cycle the path should be good in this time frame, especially late March or early April. Even early May can be good."
"So is there any interest in an activity day for this path in this time frame? I would love to make another s2s contact with a VK…or two."
INFORMATION: Fred, KT5X/WS0TA, often found on a mountain top, offers this to help those chasing him:
"It may be helpful to Chasers (of WS0TA) to understand this … my trapped EFHW is resonant on several bands. I can switch bands essentially instantly. I can work a station 40M and another 20M within the same minute. I try to take advantage of this."
"I generally begin an activation on 20M, and I will stay there until there is no one left calling me. (If K1JD is with me, he will likely be on 30/17/15 and then may make an appearance on 20 also). With no one answering me on 20M any more, I will then go to 40M for short skip QSO's in adjacent states, mostly."
"Here is where it may be helful to you if you are a little late to the Chase… if there is no reason for me to make a hasty escape from the mountain peak, I will then bounce back and forth between the two bands to pick up late comers. So if you see a spot for me on, say, 20M, and get there a little late, keep listening for a little while. Good chance I will return. Same thing about 40M."
REPORT OF THE MONTH: Richard, N2GBR, filed a great report of his visit to Pennsylvania and Virginia with a number of activations and photos. Unfortunately, it is too long to post directly but you can find it in his Dropbox account at:
That's going to be it from the New World for February. Everyone activate safely,
73,
Skip, K6DGW
NA SOTA Reporter Dude
Sparks NV DM09dn
============================================================
ON SOTA Association 10th Anniversary award - Peter ON4UP
Danny ON4VT has created some very nice certificates you can achieve only this year:
10 years ON association celebration chaser award
for those who have chased at least 10 different ON SOTA summits in 2017
10 years ON association celebration activator award
for those who have activated at least 10 different ON SOTA summits in 2017
10 years ON association celebration complete award
for those who have activated AND chased at least 10 different pairs of ON SOTA summits in 2017.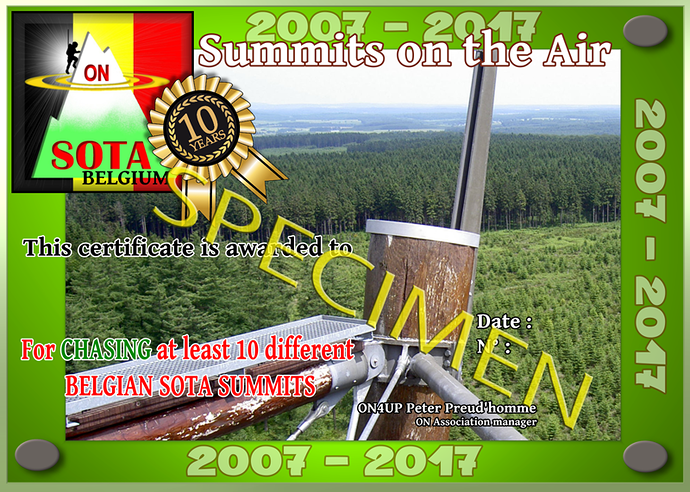 The award will be available in electronic format only (PDF-file) and will be completely free of charge.
To request one of more of these awards, simply send an e-mail to the ON association manager Peter Preud'homme ON4UP via on4up@skynet.be including the list of chased and/or activated dates of your ON summits.
The latest date a reward can be requested is the 31st of March 2018.
Please distribute this information as much as possible to make 2017 a big ON SOTA celebration year!
73, Peter – ON4UP
ON Association manager
============================================================
Some experiences activating summits on Gran Canaria - Geert EA8/PA7ZEE
After a stay of about 7 weeks on the Gran Canaria Island, I like to share my experiences here with my SOTA friends. The reason for this is that visiting SOTA activators are informed about the differences with other countries like for instance PA, DL, ON, F and G.
The weather
First and most important in terms of risk, is the weather. There is a big difference in weather conditions over the island. Although the diameter of the island is roughly 50 km, on a distance of 20 km or less there can be heavy rain and wind on one side and calm winds and full sun shine on the other side. For the mountains the differences can be even bigger. Some days before an activation, I consult several sources on the Internet to select the best day. But even with a weather forecast with calm winds, I had strong winds that came up during the activation.
The trails
When I compare an average activation in PA and surrounding countries, with an activation in EA8, there is a big difference in the walk ability of the footpaths. Jagged lava, loose stones, big steps, climbing on hands and feet, slippery pine needles etc., make hiking more tire full.
By activating EA8/GC-005 Morro de la Cruz Granda, I touched my limits. I know as a 77 year young activator that my limits differ from youngsters, but I am fit and a well trained runner and much younger hikers around me had similar problems.
Antenna
My antenna is the W3EDP since this is a light and very simple antenna. Most of the times there is a suitable tree to throw my wire in and I am QRV within 10 minutes after arrival on the summit. On EA8/GC-012 Amurga, where I was with Frank EA8/PC7C, Frank needed the antenna mast and there were no trees for my antenna wire. I laid my antenna wire on 1 m high shrubbery and it worked.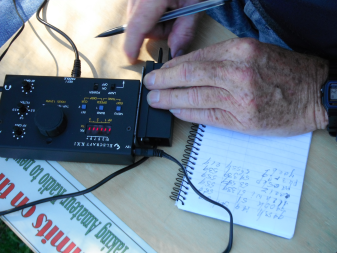 Propagation
Since Gran Canaria is surrounded by the ocean, propagation is remarkable better than at home where I live below sea level. Despite the very simple W3EDP antenna and the humble 3 W of the KX1, I had several QSO's with North American stations and received very reasonable reports. Conditions were not always good in the February of this year.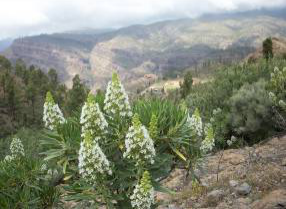 Nature and views
There is a reward for all the hard work during activations. Great views, many flowers in the winter months and wild life is what you get back, apart from the SOTA Fun off course J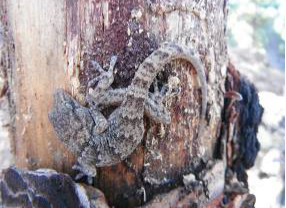 73 de Geert EA8/PA7ZEE
============================================================
ON SOTA Tour
Luc, ON7DQ, is planning another tour of the ON summits between 9th and 12th of March, just in time to get some winter bonus points.
This includes the planned VK/ZL < > EU S2S party on Saturday 11th, and on Sunday the 12th also the UBA Spring Contest on 2m SSB (7-11 UTC). This may be a good opportunity for ON stations to work towards the ON SOTA Association 10th Anniversary award .
If weather and time permits, he will also try some digimodes (PSK and/or RTTY) with a Linx 7" tablet and the KX3, as described elsewhere in this Newsletter, so get your computers ready …
All details will be posted on the alerts page.
============================================================
SOTA NEWS FROM JAPAN by Toru JH0CJH
Hi Mark and all
Please find the following SOTA News from Japan.
In February, no big events were reported from Japan that were SOTA related. However, recently there has not been a weekend without spots on SOTAwatch2 or the Japan radio cluster. SOTA is gradually spreading in Japan but still only JA association is the main stronghold with not many activations carried
out in JA5, JA6 and especially in JA8 associations. This is due to severe climatatic conditions in JA8 in winter time.
I've hiked Isezawanoatama JA/KN-025 on 12 Feb and got a beautiful view of Mt. Fuji from the way to Isezawanoatama.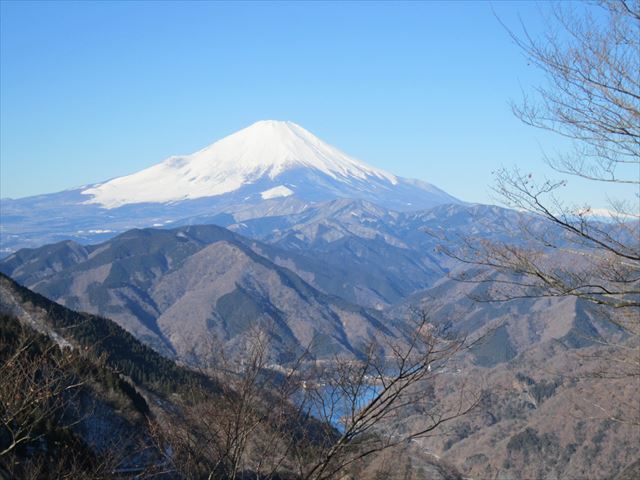 Mt Fuji
Also met with wild "Nihon Kamoshika" Capricornis crispus during my trail.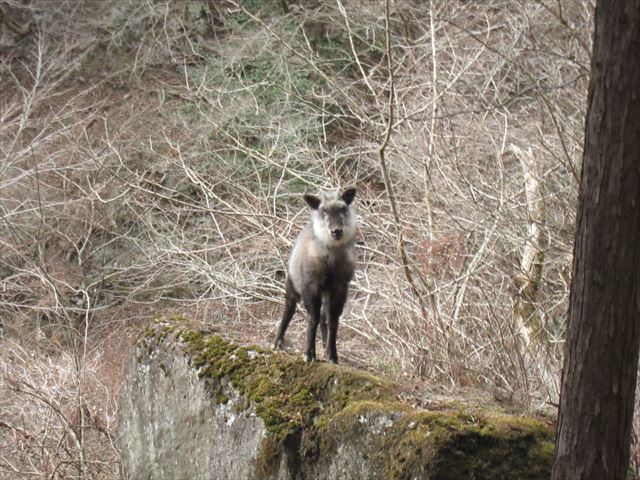 Nihon Kamoshika
Also I had a chance to visit Sendai city in Miyagi prefecture, MG region, on 17, 18 and 19 Feb and activated 3 summits near Sendai city. I heard this winter has a lot of snow fall but contrarily there was no snow
at all in the downtown area and little snow cover, even on top of these summits.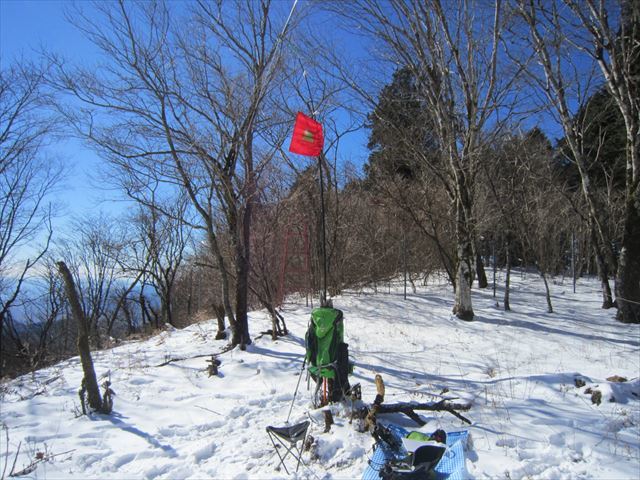 SOTA activities in February 2017 in Japan as of 28 Feb 2017.
Activation
Total 117 Activations with 1286 QSO have been made and reported.
JA: 115 activations with 1239 QSO from Summits
JA5: 0
JA6: 2 activations with 47 QSO from Summits
JA8: 0
Chasing
Total 185 Chasing QSO have been made and reported.
JA: 166 chasing QSO
JA5: 0
JA6: 19 chasing QSO
JA8: 0
S2S
Total 118 S2S QSO have been made and reported.
JA: 115 S2S QSO
JA5: 0
JA6: 3 S2S QSO
JA8: 0
Toru Kawauchi
toru@kawauchi.homeip.mydns.jp

============================================================
THE VIEW FROM THE NORTH - 110 By Rob and Audrey G4RQJ
This month has been a disaster SOTA-wise with the only activation actually being on the 29th of January! when we climbed our small local hill, Gummers How. This is a nice walk with a steep craggy bit at the summit which can be avoided by following the path that contours round to the right at the top of the stone stepped section. The steps can be slippery in rain and icy conditions and many folk take to the grassy mud with hidden roots that runs alongside them. The hill is much favoured on Sundays by folks in unsuitable foot ware heading home after holidays who tend to struggle descending what looked like a good bet on the way up. Being of advancing years and an unstable walker at the best of times I (Rob) tend to use a set of ice grips as advertised in the press for negotiating icy pavement. These may look a bit naf but do a great job and I can get down this type of path quite quickly. Today we made the summit quite quickly and started out on 2m fm where in spite of a spot chasers were few and far between. Those we did work were chatty which is nice as we like a chat but together with long spells of calling in between contacts ate up quite a bit of time. Just one caller on 2m SSB, and that a follower from FM in spite of a lot of calling. The same was true of 5Mhz, just one and 7Mhz so full of contest stuff it was on to 10Mhz and here we were spotted by the robots which produced us some much needed contacts.
As February opened things went down hill, the car, a 2 year old with a 7 year warranty stopped functioning as Audrey was on the way home. I walked round to the site not too far from home and it really was "dead as a nit". As it is a diesel, not electrics and plenty of fuel, rescue services were called. They got it started but it sounded like a bag of spanners and fuel had to be hand pumped to sustain it. "Back to the agents" they cried and carted it off to Morecambe some 45 miles away by road while we walked home, on the way Audrey caught her foot on a raised paving stone but no great problem. The following day her knee is up like a balloon and the physio says it will take time to heal and no uphill walking and only short distances then. The car proves to be much worse than first thought and the Great Computer in The Sky that all the downloaded gen is sent to, predicts fuel pump (no) injectors (no) feed bar (no) but all fitted and now ECU which we are waiting for with bated breath. All this has put extra work on to our bus passes and we have spent some time contouring round Walney Island to the chemists. In desperation a friend gave us a lift round to Morecambe to pick up a courtesy car but Audrey's knee is still light exercise swimming, short walks and no climbing. So if anyone knows of a summit with a flat approach where you can swim to the top please let us know (Dodd Fell Hill has water round the trig but not deep enough! Gun almost qualifies on both counts)
Nice to catch John YSS on top band cw the other early evening from Burnhope Seat, Strange how signals appear from out of nowhere and disappear just as quickly on this band. I have just 84 ft of wire end fed with three short counterpoises and I tune the whole lot with an ancient home brew ATU and the FT101ZD, seems to like it. Like John we find that without spots 2m FM has become rather more difficult in many areas due to lack of activity. The era of the 5w unspotted FM activator seems to be drawing to a close.
We are not keen on self spotting from the summit, a chaser spot or even a robot spot always seems better somehow. A beam helps. Just set in old ways I guess.
Well that is about all from us for the time being as we wait for both car and knee problems to be resolved, just 2 points during winter bonus, Audrey has cabin fever and is cleaning everything in sight.
Take care out there
Rob and Audrey
G4RQJ
PS I just noticed that I had typed cat instead of car at the beginning of the second paragraph, probably a bit more amusing!
========================================================
*********** SOTA NEWS PART 2 FOLLOWS BELOW ********