SOTA NEWS MARCH 2016 - Part 1
Editorial - by Roy G4SSH
Welcome to the March 2016 edition of SOTA News. My thanks go to the following contributors:- Barry GM4TOE, Skip K6DGW, Mark G0VOF, Kevin G0NUP, Rob and Audrey G4RQJ, Geert PA7ZEE, Don M0CHU, Allen VK3ARH, Toru JH0CJH.
========================================================
The February 2016 edition of SOTA News was viewed more than 1100 times.
SOTA AWARDS FEBRUARY 2016 - from Barry GM4TOE
February saw fewer claims for awards than January but also saw a very significant milestone. OK2PDT has managed to reach the incredible score of 10000 Activator points, a figure which was considered unachievable when the programme started. Congratulations to Jan on his efforts. There are quite a number of claimants for Chaser points above 10k but I must mention our first Shack Sloth in Japan, an Association which has only been active for a few months; JM3GVH has achieved this level and mainly on 70cm (with a few 40m and 2m contacts).
Congratulations to all who have achieved significant milestones.
Certificates Issued
Activator
OK2PDT Jan Lavicka 10000 points
F8FEO Le Drezen 1000 points
CT2IUV Nuno Freitas 500 points
G4CFS Glyn Dodwell 250 points
WI2W Steven G Holly 100 points
Chaser
EA2CKX Pedro Chinchurreta 50000 points
ON6ZQ Christophe David 25000 points
VK3PF Peter Freeman 20000 points
VK2IO Gerard Hill 15000 points
EA2BD Ignacio Cascante 10000 points
VK1AD Andrew Moseley 10000 points
DL3MBE Hans J. Scharfen 5000 points
VK5FANA Adrian Addison 1500 points
JM3GVH Katuyosi Oobai 1000 points
W4ALE Ron B. Fisher 500 points
2E0EUW Martin Augustus 100 points
VE1WT Phillip Long 100 points
K6JEB Jack E Burris 100 points
Chaser Unique
EA2CKX Pedro Chinchurreta 5000 summits
VK2IO Gerard Hill 1000 summits
Summit to Summit
EC2AG Antonio Garcia Platinum
G4ISJ Peter Martin Silver
Mountain Hunter
VK3WE Rhett Donnan Platinum
G4CFS Glyn Dodwell Gold
W3AAX Jason Johnston Bronze
NP3MR Alberic J Medina Ramirez Bronze
The process of moving into a new home is always stressful but now my workshop is up and running and shortly I will have antennas in the air and be back to Chasing. Meanwhile, a long planned vacation to sunnier climes is about to happen which means that with effect from 24 February until mid March I will not be processing any Award claims or merchandise purchases.
Once I return from vacation I will be able to process claims for trophies and will update the shopping website to enable this. When I do this I will also make all merchandise available as I have now found everything that is in stock! I realise that this has been very frustrating but thank you all for your patience.
I have managed to email out all pdf files for award certificates that have been ordered despite the ridiculous state of my lack of access to broadband; perhaps the UK telephone monopoly will deign to install the copper wire between the new pole across the road and my house by the time I return (some hope!!).
If you have not received an order that was placed on or before 24 February please email me direct and I will try and sort out matters when I return; but, provided you have paid for the order, then it will have been despatched by the time you read this report
Please stay safe on the hills
73
Barry GM4TOE
SOTA Awards Manager
=============================================================
SOTA UK
THE VIEW FROM THE NORTH - 98 by Rob and Audrey G4RQJ
So far this short month we have seen three decent days and February fill-dike has lived up to its name. Added to this, the effect of all Dunmail Raise traffic being rerouted over Kirkstone Pass has not helped the County recover from the damage done back in January. A recent report on the state of the footpaths which incidentally would stretch from here to Istanbul if placed end to end has found close to 300 minor bridges seriously damaged or gone so repair costs will be several million pounds and take time. As an example quite a few activators will have walked up Loughrigg Fell from the car parks at Rydal on the A591 using the pedestrian bridge over the river Rothay. The bridge is gone and the stepping stones also, the only crossing is the old packhorse road bridge about a mile south down the A591. This is the sort of thing that you may be faced with. The tourist trade is reported to be down 25 percent and Keswick is losing about a million pounds a week due to the closure of the A591, the current estimate for reopening being the end of May!
So it's time to get on with what will turn out to be our only summit for this months effort and we decide on Hutton Roof Crag one of our nearby one pointers as once again the forecast is for strong winds at height. This little hill is a pleasant walk through woodland for the most part but it is advisable to start at the small car park on the south side, about two miles up Dalton lane at the southern end of Burton in Kendal. The approaches from the north tend to involve a lot of struggle with limestone pavement and or undergrowth. The woodland on the southern side has been heavily cut back in recent years and since our last visit a large area on the right has been fenced off for replanting. This has resulted in quite a lot of deep mud to be negotiated, slowing down progress so we were running late as we arrived at the trig point.
There is quite a lot of passing traffic on the top particularly strollers on a Sunday afternoon so operating up against the trig is not a good option. The summit is quite a plateau with not a lot of shelter and our favourite rock was no help due to the wind direction and the best we could manage was on the open ground a few yards to the south. The undergrowth has not died off as much as usual and the antenna wire is forever snagged by thorns during installation. One group on the summit was very interested in our activity and we spent some time explaining things to them, as they left a chap came over and said that he had caught some of what we had said and it sounded very interesting so we ended up running it all past him as well. We are always glad to do this but it set us back more than ever so we were quite late onto 5Mhz.
First contact was an s2s with Rod on in the Welsh Borders who seemed to be struggling for contacts. Next a solitary PA station and that was it. Since the band was thrown out to more stations the SOTA activity has dropped off markedly and we are re evaluating the time calling CQ on what used to be our most productive band. 7Mhz cw was lively but the cold was getting into my (Robs) head to such an extent that copying Z had become a real trial, odd things heads! 10 MHz was busy but found a clear spot QRL? QRL? CQ-------- Back comes an HB station 599 599 73.
Call pops up on the frequency , OM you are on top of ??? (The rarest station in the world). I cannot hear him but sure enough there is a pile up higher up all calling him oops! SRI OM QSY QSY and I slink off in disgrace to 14 MHz for a few trouble free contacts.
By this time 2m is almost devoid of chasers, just Roy M3RDZ a reliable signal from Nelson on ssb and on fm just G6LKB looking for a trig 9A new one for him and one other call and silence reigns so thoroughly cold we pack up and set of down.
We really must review our activity pattern if the present shortage of calls on the once certain bands of activity is to continue, equally well the cw pileups are becoming hard work, either feast or famine. Maybe self spotting is the answer we shall see. It is certainly nice to have long activations when the weather is warmer. Enough moaning, we hope to climb Whitfell on the 29th if the weather holds so hope to work lots of you then.
For now, Take care out there
73
Rob and Audrey
G4RQJ
====================================================
SOTA REPORT FROM THE CANARY ISLANDS by Geert EA8/PA7ZEE
Since mid January we had a wonderful vacation on Gran Canaria Island - Continent Africa. My plan was to activate SOTA Summits once a week. The reason for this limit on activations is that my budget for car rental was limited. Hiring a car including insurance here cost 30 euro a day. Gasoline on Gran Canaria cost around 80 cent per litre, hence per activation day 5 euro.
Hereunder I will give some experiences of the activations until now, while I still have a few weeks in front of me before returning home.
First my equipment:
• Rig Elecraft KX1 with build-in ATU and an external power supply of 9 or 10 AA batteries in series (no problems with airport security); output around 3 W.
• Antenna: W3EDP sometimes as a sloper with a fish pole of 10 m, sometimes tossed into a tree.
Then some words about the weather during my activations. This winter the weather in the mountains was very mild; often temperatures of around 20 C with light winds. Only during the activation of EA8/GC- 011 Montaña de Tauro, when the wind was 65 km/h with heavy gusts.
Around the 19th of February, there were high winds with snow in the mountains, hence no activations for me.
Most of the summits that I have activated were in protected natural parks. This means that the mountain walks were very beautiful with stunning views. Although we have come to Gran Canaria for many years, thanks to SOTA I have now been to places where I have not been before.
Easy accessible were EA8/GC-001, -003, -008 and -026. More difficult were EA8/GC-004,
-010, -011 and -012.
Thanks to the efforts of Roy G4SSH, Phil G4OBK, Lothar DL3HXX, Manuel EA2DT, Marko OH9XX, Frans PA0INA and Lars SA4BLM who all put a Spot after working me, and thanks to all the Chasers who worked me, I had enough QSO's to qualify. Surprising for me were the QSO's with George N1GB and Barry N1EU when my humble 3 W into a very basic antenna system crossed the Atlantic.
I chose to work in the 20 m band since this band in general works best to Europe and the USA during daytime. Originally it was my idea to activate two summits on one day but that was a bit too ambitious. This is because the accessibility was more difficult than I expected and in my experience the propagation around 12:00 UTC, is at best.
Although I have activated some Virgin Summits, there are still more to be activated.
In addition to my activations I was also active as Chaser out of the bungalow in Maspalomas where we are staying. My antenna there is an inverted vee 2 x 20 m held up by a 12.5 m fish pole with a 300 ohm twin lead as feeder. Other radio amateurs asked me whether the antenna was allowed by the management of the hotel. "Don't ask" was my advice and I was only getting complaints when I took the antenna down because other hotel guests found the way to their own bungalows with the help of my antenna mast. Rig was Yaesu FT-857 with 100 W.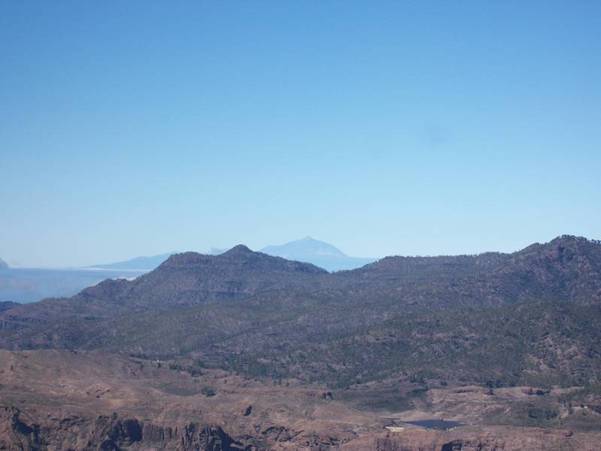 View from EA8/GC-010 Morro de la Hierba Huerto to El Teide on Tenenerife
On 24th February Geert EA8/PA7ZEE sent:-
Yesterday I was more than an hour later than my Alert.
The reason was that my map showed a parking place on one hour walking from the summit. However the road was closed with a chain.
I walked in total 6 hours and made over 25 km.
Big blisters under both feet.
There were still Chasers when I went QRT; sorry for them. I had to stop since I had to walk back and tried to avoid to drive in the mountains while it was dark.
It was a fantastic day!
I am in the Canary Islands until mid March
(Ed note) This is a correction to an earlier report that Geert was departing on the 28th February.
73
Geert EA8/PA7ZEE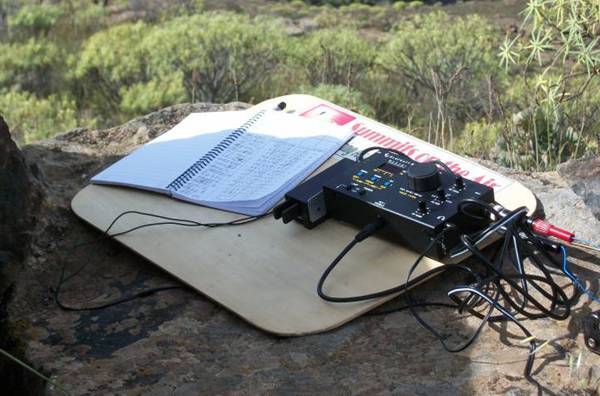 Elecraft KX1 with Palm Mini Paddle on operating board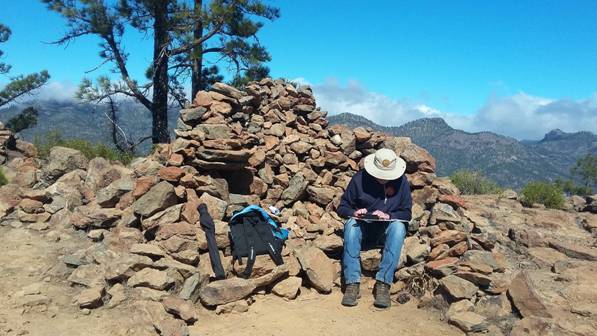 Shack in nature on EA8/GC-011 Montaña de Tauro (battery pack near my left foot)
===============================================================
SOTA AUSTRALIA NEWS from Allen VK3ARH
Its cooled off here and we have had a full month with gathering.
Also I've updated my email address, so please update input to: - VK3ARH@wia.org.au
February saw the annual VK3 SOTA CONFERENCE again hosted by the
Moorabbin and District Radio Club this year with a theme of "Starting
out in SOTA"
With a intro to SOTA by Glenn VK3YY then Wayne VK3WAM ( VK3 Association
Manager) updated us as to where we have been then Glenn returned to
discuss home built linear amps and transceivers. Allen VK3ARH updated as
to web tools available, Ron VK3AFW discussed Frog Sounds and Rockmite
xtal locked tcvrs, Tony VK3CAT lead discussions as to equipment to take
on a activation and finally Andrew VK3ARR show the effort or in some
cases lack of behind the scenes as to the mapping process. Thanks to all
for their presentations which made for a very good day. The presentation
slides are available from the the VK SOTA Yahoo group.
Some interesting equipment on display including, Tony VK3CAT's KX3 field
station used for successful chase, Peter VK3PF's mcHF SD Tcvr, modified
Pixie and novel 40 m rx from Peter VK3YE, Glenn's VK3YY's homebrew PA
and transceiver.
To Ron VK3AFW who organized the entire gathering and to Ken VK3KIM for
helping run the show and cleaning up afterwards a big well done & thanks!
2016 Hotham Gathering
February also saw what may be not be the first of such a event,
definitely the reference for future events. It this case the Hotham SOTA
Gathering. Initially raised in November 2015 by Brian VK3MCD, where he
proposed a weekend of SOTA activating based at a ski lodge at Hotham out
of season.
Many jumped at a chance to spend a couple of days surrounded by SOTA
tragics and high worth summits. We had 6 Mountain Goats and 8 Shack
Sloths for the weekend including,
Tony (VK3CAT), Glenn (VK3YY), Compton (VK2HRX), Ron (VK3AFW), Adan
(VK1FJAW), Peter (VK3PF), Andrew (VK1AD), Andrew (VK1MBE), Rob (VK2QR),
Ken (VK3KIM), Adam (VK3AGD), Alan (VK3FABT), Allen (VK3ARH)
and Brian (VK3MCD).
There are over 30 summits within 30Km of Mt Hotham and Brian had
identified 14 target summits worth considering, all worth 8 or 10
points. Activators were spoilt with choices!
Many of the summits would be located in the Alpine National Park, so
qualified for WWFF activations as well as SOTA.
The density of activity on Saturday morning most of us were within line
of sight/rubber ducky range. Chasers reported poor conditions but
summits were being qualified on 2M by multiple operators just on S2S
contacts. Propagation whilst always been crucial for contacts is of
great concern for low powered remote portable operations.
Highlight was the sunset activation of Mt. Hotham VK3/VE-006 with
Champagne and cheese. Not my normal method of activations.
I enjoyed meeting many activators whom I'd worked but never meet. It was
worth the effort just for that alone. Great weekend, great food, great
people, lots of fun will definitely be up for another one!
Again, a very big thank you goes to Brian VK3MCD and Kathy for all their
efforts. Thanks also to everyone who participated whilst the troposphere
disappointed, the atmosphere was excellent all weekend.
Keep your eyes open for some announcements for the next gathering –
likely to be in southern NSW in October 2016.
Allen
VK3ARH
Forward Australian input to: - VK3ARH@wia.org.au
==========================================================
NEW ZEALAND SOTA ACTIVITY REPORT for January / February 2016
from Warren ZL2AJ
List of Summits activated
Date Summit Reference Summit Name Activator
1-Jan-16 ZL1/WK-153 Pukemako ZL1PO
1-Jan-16 ZL1/WK-188 Puketarata ZL2AJ
5-Jan-16 ZL1/HB-096 Tourere ZL2AJ
5-Jan-16 ZL1/HB-135 Te Mata Peak ZL2AJ
5-Jan-16 ZL1/MW-113 Ahiweka ZL2AJ
6-Jan-16 ZL1/HB-106 Te Awaputahi ZL2AJ
6-Jan-16 ZL1/MW-113 Ahiweka ZL2AJ
7-Jan-16 ZL1/HB-098 ZL1/HB-098 ZL2AJ
8-Jan-16 ZL1/HB-001 Kaweka ZL2AJ
12-Jan-16 ZL1/HB-097 Kahuranaki ZL2AJ
16-Jan-16 ZL1/AK-023 Maungawhau / Mt Eden ZL2AJ
29-Jan-16 ZL1/WK-151 Pauanui ZL2AJ
29-Jan-16 ZL1/WK-195 Paku ZL2AJ
7-Feb-16 ZL1/AK-016 Rangitoto ZL/M0HCU/P
7-Feb-16 ZL1/WK-102 Ngautuku ZL2AJ
8-Feb-16 ZL1/WK-036 Maroanui ZL2AJ
9-Feb-16 ZL1/NL-079 Kauri Mountain ZL/M0HCU/P
11-Feb-16 ZL1/NL-076 Mount Parihaka ZL/M0HCU/P
12-Feb-16 ZL1/WK-153 Pukemako ZL2AJ
13-Feb-16 ZL1/WK-153 Pukemako ZL1PO
26-Feb-16 ZL1/WK-142 ZL1/WK-142 ZL2AJ
Some good SOTA activity for summer. John ZL1PO Activated Pukemako (Sanatorium hill near Cambridge) for New Years rollover, getting double points. He also took REG branch members for an outing following a branch meeting on the 13th of February. A good way to promote SOTA within your club.
Don Cockman ZL/M0HCU Activated a handful of summits during his visit to ZL. Rangitoto Island and 2 summits in Northland – Kauri Mountain and Mount Parihaka. He says he would have liked to have activated more but ran out of time.
I managed to get a handful of summits in over Summer. A lap around some low hanging fruit in Hawkes Bay and then a hike to the tallest summit in Hawkes Bay, Kaweka J. A trip to Corromandal added Pauanui and Paku to the log and a trip up to Taupo's 675 repeater for maintenance added Maroanui to the log. A Friday evening picnic at Pukemako (Where John has activated) was enjoyed by the family. My activator log is now at 40 with 22 unique summits.
ZL3 is progressing – we haven't forgotten about you mainlanders. The list of summits to verify is long so it is taking a little longer than expected. As soon as it is due to be listed I will advise via zl-sota email reflector and infoline.
ZL Chasing regulars include Neil ZL2UN, John ZL1PO, Andrew ZL3CC, and me. I often work others from summits so don't forget to log your contacts via www.sotadata.org.uk to be eligible for awards. As an activator it is always good to have reliable chasers that you can count on to get to the magic 4 contacts (where activator points are awarded).
I am doing a SOTA talk at the Hawkes Bay ham fest in April and at the NZART conference in June, Christchurch. I hope to take a drive up to Mt Pleasant Monday morning after conference for those that wish to join in and see an activation in action. All will be welcome. Details at NZART conference.
Total Summits Activated for Period – 21
Total number of ZL summits - 1252
Total number of ZL summits activated – 26
Percentage of ZL summits activated – 2.08%
Total ZL Chaser contacts for period - 85
73
Warren ZL2AJ
==========================================================
NEW ZEALAND EXPEDITION REPORT- from Don ZL/M0CHU
During a brief stay on New Zealand's North Island, 3 Summits were successfully activated.
ZL1/AK-016 Rangitoto 7th February
ZL1/NL-079 Kauri Mountain 9th February
ZL1/NL-076 Mount Parihaka 11th February
(Brief reports are on the reflector)
Being weekday activations all were very quiet, mostly on 20m to a variety of VK chasers, although a couple of 2m chasers on Rangitoto were very welcome. Many thanks to everyone who helped me qualify the summits.
Rangitoto was VERY busy (being Waitangi Day, a public holiday… I'd recommend not doing this on a public holiday! Standing room only on the ferry, and virtually a queue up the summit track!)
Kauri Mountain had fantastic views from the top along the coast, not much to be said about Mount Parihaka, virtually a drive on summit overlooking Whangarei, with a huge metal clad monument on top… I did wonder if it would tune up at all

I was hoping to attempt another couple, but time just slipped away I'm afraid.
I'm across the Tasman briefly for a few days starting 1st March, Sydney to Melbourne, I hope to be able to get at least one activation in whilst there
Don
ZL/M0CHU
****************** SOTA NEWS PART TWO IS BELOW ***************