SOTA NEWS JUNE 2018 - Part 1 of 2
Editorial - by Mark G0VOF
Welcome to the June 2018 edition of SOTA News.
Apologies again for the late publication of this edition. Since January I have been suffering from Depression , which for those unfamiliar with the condition may not sound like much, but it affects every aspect of your life. Thankfully I am on the mend & hope that normal service will resume shortly.
My thanks go to the following contributors:- Barry GM4TOE, Skip K6DGW, Kevin G0NUP, Andrew G4VFL, Paulo CT2IWW, Guru EA2IF, John N0EVH, Tom M1EYP.
73, Mark G0VOF
========================================================
The May 2018 edition of SOTA News was viewed more than 918 times.
========================================================
SOTA AWARDS MAY 2018 from Barry GM4TOE - SOTA Awards Manager.
Another busy month for awards with some catching-up to do after a short vacation.
Congratulations to Mountain Goats IW2OBX, YO6EVA, VE2DDZ, OM6CUG, OT6V and LZ1GJ and Shack Sloths DL9KWA, K6MW, M6NSV and N1ZF. Prolific chasers ON4FI, KI4TN and K3TCU are amongst the high scoring Chasers this month and G4OOE a high scoring Activator.
Special mention this month to OK2PDT who has managed to "Complete" 1000 summits (Activated and Chased – no mean feat just activating 1000 summits too). New to the awards list, and a first from South America, is PR8ZX; all we need to do now is get some Activation awards from these new Associations.
Trophies Issued
Mountain Goat
IW2OBX Roberto Polvara
YO6EVA Eva Gajdo
VE2DDZ Malcolm Harper
OM3CUG Igor Frola
Shack Sloth
DL9KWA Karl-Hermann Wolski
K6MW Mike Wood
Certificates Issued
Activator
G4OOE Nick Langmead 2500 points
OT6V Rene Van de Wiele 1000 points
LZ1GJ Jany Ganchev 1000 points
YO6EVA Eva Gajdo 1000 points
OM3CUG Igor Frola 1000 points
AE5KA Chip Stratton 500 points
NA6MG Daniel Ducey 500 points
M0BLF Dominic Smith 500 points
ZL2AJ Warren Harris 250 points
DO5TMM Marcel Muller 100 points
SQ9RZA Grzegorz Bakalarczyk 100 points
AE0AX Stuart Cox 100 points
9A2GA Boris Lanca 100 points
Chaser
ON4FI Karel Naessens 75000 points
KI4TN Ron Burns 10000 points
K3TCU Gary Kulling 10000 points
OM3CUG Igor Frola 5000 points
9A2GA Boris Lanca 1500 points
AA1VX Dave Glow 1500 points
DL9KWA Karl-Hermann Wolski 1000 points
M6NSV Neil Smith 1000 points
N1ZF Paul Pribula 1000 points
SQ9RZA Grzegorz Bakalarczyk 500 points
SP9SOL Jacek Nawrot 500 points
SQ9RZA Grzegorz Bakalarczyk 250 points
SP9MOV Krzysztof Krawiec 250 points
W5IJH Jeff Pennington 250 points
SQ9PNV Pawel Kektor 100 points
SQ9RZA Grzegorz Bakalarczyk 100 points
W5IJH Jeff Pennington 100 points
SP9OZI Krzysztof Roman 100 points
AA4SB Steven Bouck 100 points
PR8ZX Pedro Nogueira 100 points
KI7OFN Estell Countryman 100 points
Activator Unique
OK2VWB Wieslav Bajger 250 summits
M3TMX Jordan Harrop 100 summits
Chaser Unique
K3TCU Gary Kulling 1000 summits
AA1VX Dave Glow 250 summits
AA1VX Dave Glow 100 summits
SQ9RZA Grzegorz Bakalarczyk 100 summits
Summit to Summit
SP9PND Milosz Kocierz Platinum
SP9PND Milosz Kocierz Gold
OM3CUG Igor Frola Gold
YO8AZQ Adrian Done Silver
SP9PND Milosz Kocierz Silver
SQ9APD Bartosz Kuzma Bronze
SP9PND Milosz Kocierz Bronze
SQ9RZA Grzegorz Bakalarczyk Red
SP9PND Milosz Kocierz Red
SOTA Complete
OK2PDT Jan Lavicka 1000 summits
Mountain Explorer
K7MAS Mark Sandler Silver
K0NR Bob Witte Silver
KR7RK Keith Schlottman Silver
OK2VWB Wieslav Bajger Bronze
VE2DDZ Malcolm Harper Bronze
Mountain Hunter
K3TCU Gary Kulling Platinum
OM3CUG Igor Frola Platinum
OK7JR Jan Reznicek Bronze
PR8ZX Pedro Nogueira Bronze
SV2HSY Efthymios Nikolaou Bronze
Microwave Award
G4WHA Geoff Harper 100 km 23 cm
G4WHA Geoff Harper 50 km 23 cm
GM4WHA Geoff Harper 50 km 23 cm
Not a lot to add this month; the Blackpool and Glasgow rallies provided an opportunity to meet with the SOTA community and I took the chance to have a quick chat with G3CWI and 2E0YYY who both had trade stands in Glasgow – I hope it was worth the long trip North.
Only one error in award applications this month and it was easily corrected. Accuracy definitely makes my life easier with more than 70 awards to handle in a month – and a significant number of merchandise orders too.
I managed a quick activation on the way to Glasgow – three S2S on 13cm and the summit qualified with a random 4m FM qso (I don't know who was more surprised at that contact, GM4ODW or me; 4m can be rather quiet up here outside contests).
Please take care and be safe on the hills
73
Barry GM4TOE
SOTA Awards Manager
========================================================
NORTH AMERICAN REPORT from Skip K6DGW
Greetings from North America and what a difference Spring makes! We're up to a mean of 3 activations per activator for May, and we're holding pretty close to our mean of 13 QSO's per activation. I really don't believe those two VLF QSO's but I've been wrong before. CW is holding in there for about 3/4 of all QSO's. These statistics do not include the Costa Rica Association [see below].
NA Statistics for May
Produced: 05/30/2018 at: 18:51:59 UTC
  Total Activations:    697  [130]
   Total Activators:    209  [75]
 Total Chaser QSO's:   9056  [1625]
      Total Chasers:    310  [149]
     Unique Summits:    518  [104]

BAND     #               LAST MONTH
 VLF:    2  (  0.0%)  [    0 (    0%)]

3.5MHz: 35 ( 0.3%) [ 6 ( 0.3%)]
5MHz: 361 ( 4.0%) [ 71 ( 4.4%)]
7MHz: 1818 ( 20.2%) [ 489 ( 30.3%)]
10MHz: 1427 ( 15.9%) [ 262 ( 16.2%)]
14MHz: 4562 ( 50.9%) [ 693 ( 43.0%)]
18MHz: 318 ( 3.5%) [ 33 ( 2.0%)]
21MHz: 43 ( 0.4%) [ 2 ( 0.1%)]
28MHz: 43 ( 0.4%) [ 13 ( 0.8%)]
50MHz: 1 ( 0.0%) [ 0 ( 0%)]
144MHz: 341 ( 3.8%) [ 36 ( 2.2%)]
433MHz: 6 ( 0.0%) [ 4 ( 0.2%)]
1240MHz: 3 ( 0.0%) [ 0 ( 0%)]
MODE # LAST MONTH:
AM: 3 ( 0.0%) [ 0 ( 0%)]
CW: 6710 ( 74.9%) [ 1191 ( 74.0%)]
Data: 8 ( 0.0%) [ 0 ( 0%)]
FM: 344 ( 3.8%) [ 39 ( 2.4%)]
Other: 4 ( 0.0%) [ 0 ( 0%)]
SSB: 1889 ( 21.0%) [ 378 ( 23.5%)]
AWARDS AND ACHIEVEMENTS: John, N0EVH, reported that Charles, K0LAF, has reached 40,000 chaser points and is now the leader in the W0M association. Congratulations Charles!
Etienne, K7ATN, pointed me to:
the results of the 2018 ARRL Jan VHF contest. W7A put in a concerted effort in Arizona and had 13 activators who worked 600 QSO's. Pete, WA7JTM, also pointed out: "This article really focuses on SOTA in a big way throughout the article, and illustrates how the Arizona SOTA group went all out for the contest, making it maybe the "busiest January Contest" ever here in Arizona. As the author states SOTA was a 'Big Deal' in this contest across the USA and especially here in Arizona. He begs for more of the same in future contests, as SOTA, VHF, hill topping, and VHF contests are a perfect fit. SOTA already is included in the QRPTTF event every year, so here are more opportunities for SOTA ops to get involved."
With the ARRL Grid Chase this year and the fact that many summits are in rare grid squares that are mainly inaccessible to those in vehicles, SOTA activations can really make a VHF contest interesting.
John, VE3IPS provided a summary of his activation of VE3/SO-101 which you can read at
VE3/SO-101 – 409m, 2 Points SOTA Summit (Height 1342 ft) | ve3ips.
Now, this is a 409 meter 2-point summit, but I include it in achievements because, looking back in the NA SOTA archives, I believe this is the first VE3 activation report we've ever had. Thanks John.
NEWS: I asked Ward, N0AX if he could enlighten the SOTA folks on several growing movements for increasing youth interest in ham radio and the many related things that were going to be on display at the Xenia Hamvention [aka "Dayton"]. He wrote this prior to the event, and its magnitude and breadth was both surprising and pleasing.
"There is an encouraging number of new initiatives, events, modes, and groups through ham radio today, all pushing the envelope in one way or another. I started calling this 'Ham Radio 2.0' a few years ago in the sense of new ways building from and on the old ones to make something different, yet fulfilling the Basis and Purpose. I don't claim any ownership of the term - Jason, KC5HWB, has a dandy YouTube channel with the same name (https://www.youtube.com/user/kc5hwb) and there is a Facebook group with that name as well. It's all good - lots of potential out there."
"SOTA is one of those new HR2.0 groups. SOTA has been responsible for a lot of interest in QRP and portable operating, combined with interests in geography, outdoor activities, and physical fitness, plus using the internet to alert people of new activations and to discuss the results. This hybridization is a hallmark of innovation, whether technical, artistic, or cultural. It gives a new energy to amateur radio, brings in new people, and new ideas, too. The 'OTA' meme is also catching on - look for the long-active IOTA, plus YOTA, and NPOTA, for example - with the most important aspect being 'on the air' using our bands and privileges. What's not to like?"
"In order to create a little synergy and help people make connections between groups and themes, the Yasme Foundation (yasme.org) decided to create a '2.0 Row' area at the Hamvention to provide a gathering and socialization center. The ground-breaking HamSCI (hamsci.org) group was right next door, along with FIRST Robotics and the Hamvention's Youth Tech area. HamSCI and HR2.0 decided to share a presentation schedule resulting in the list of talks published on the SOTA website. We were worried about having enough interest - now we're worried about being overrun! That's the right problem to have." Thanks Ward!
Iceland [TF] is technically in Europe, but since close neighbor Greenland [OX] is technically in North America for amateur radio purposes, I picked this up from the Elecraft list from Yngvi, TF3Y:
"I thought some here might enjoy some photos from my first SOTA activation
using my brand new Elecraft KX2. This transceiver is absolutely brilliant
for SOTA! Mine has the built in ATU and used the built in Lithium battery
pack. The antenna was a 58' LW held up using a 13.5' fiberglass pole from
sotabeams.co.uk with a 12.8' insultated counterpoise laying on ground.
Everything performed perfectly. The farthest QSO was with K6MW in WA."
"Here is a link to the photos: https://photos.app.goo.gl/qLDY9cT6tWZaAdzm9 "
and congratulations to Michael, K6MW, too, TF's not a common prefix to work, and on a summit as well.
Vick, K7VK, reported for W7M:
"The snowline is rapidly receding in Montana and the 4 & 6-point summits are opening on their southern aspect. Taking advantage of that in May were Lance, W7GJ, Matt, KF7PXT, and Rob, AE7AP.
Recent Shack Sloth turned Activator W7GJ crossed a few snow drifts to activate his first summit, Blue Mountain W7M/LM-121. He is pioneering FT8 SOTA activations and has been successful on Six Meters and on HF. KF7PXT activated two summits braving the elements and reporting 'horrendous bugs' that shortened his activations. It must be time to carry that DEET and bug netting. AE7AP, Rob activated four summits climbing over the winter's 'downfall of trees' and as in most areas of Montana carrying recommended bear spray along with his SOTA gear. As he hiked with his XYL Barb, AE7AQ, he spotted a snowshoe hare in the trail and exclaimed 'Barb – there is a Hare – get in front of me' (to take a photo). Barb heard 'Bear' – but didn't hesitate! Now that's an amazing XYL!
"K7VK, Vick avoided the snow and bugs by heading to Washington State activating three Washington and Oregon State-Forest summits. KI7WBJ, Charles had an even warmer weather experience activating a Georgia summit, Blood Mountain W4G/NG-004. Thanks Chasers!"
While I'm not sure how this found it's way into my email inbox, it appears that Allan, operating as TI/K3LL activated the 8 point Cerro Barbacoas, TI/SJ-037 back in April. I'll have to do some research on this, I was unaware we had a Costa Rica Association.
One last item in the ham radio youth department, on Sat, June 9, we will have K7RC on the air from the Nevada Space Center as part of a youth science and space exhibition. We'll be operating W7RN remotely on SSB and we're expecting a fair contingent of Scouts as well as other kids. I'll monitor SOTAWatch looking for activations to contact. We're not on a summit but feel free to call and give the kids a thrill if you hear us. I suspect most operation will be on either 15 [if open] and 20. W7RN has an S-zero noise level, 1500 watts, and a very high coefficient of aerial aluminum so we should be able to hear most everyone. The station is in DM09ei and Storey County NV if you need either. We'll be on from about 1500 - 1930 UTC.
73,
Skip K6DGW
Sparks NV DM09dn
NA SOTA Reporter Dude
============================================================
A Couple of First's – Andrew G4VFL
Congratulations to Andrew G4VFL on achieving a couple of SOTA First's!
1st recorded chase of ZB2/GI-001 (Rock of Gibraltar) - 11th May on 50MHz sporadic E
1st UK S2S cross association border on 2.3GHz - UKAC (RSGB UK Activity Contest) Tuesday 22nd May
G/LD-030 <-> GI/MM-017
G/LD-030 <-> GM/SS-065
============================================================
SOTA Portugal – Paulo CT2IWW
On may 12th, about two dozen SOTA enthusiasts gathered in Lisbon to attend the 5th SOTA Portugal's annual meeting of activators and chasers.
The event was opened by Francisco Gonçalves, CT1DL, head of the ARVM club, who welcomed all participants to the meet that took place in that club's headquarters.
Pedro Carvalho, CT1DBS, proceeded with a presentation of the SOTA program and was followed by Paulo Teixeira, CT2IWW, who made the balance for the previous year's activity in Portugal. Despite an activation slowdown from 2016 (undoubtedly due to an abnormal fire season) , the program continues to follow the growing tendency registered since 2014.
The following demonstration was by Nuno Freitas, CT2IUV, who made a very informative presentation regarding proper clothing and individual protection gear for outdoors activities.
To close the morning proceedings, João Morgado, CT1BQH, made his case for the use of CW on SOTA activities. Mr. Morgado, who is currently the top chaser in Portugal, went into details on how to prepare and proceed with both activation and chasing operations using that mode.
After the lunch break, Pedro Carvalho took over the floor, making a thorough presentation on IT tools to use in support of activations, namely SOTA Maps, SOTA Database and the SOTAWATCH alert and spots page.
The talk schedule was rounded up by Emmanuel Lomba, CT7AFR, who made a very complete presentation on portable power and battery choices for the activator and /P activities in general.
After closing of the presentation schedule, the participants engaged in a general discussion of diverse matters regarding SOTA Portugal, namely the vacancy of the national Association Manager post. It was agreed, also, that the next yearly meeting will occur in the district of Santarém, as per offer by João Coelho, CT1BWU, who took on the responsibility for its organization.
As usual, the next day (Sunday, 13th) was reserved for group activation, which took place in Arrábida, CT/ES-003.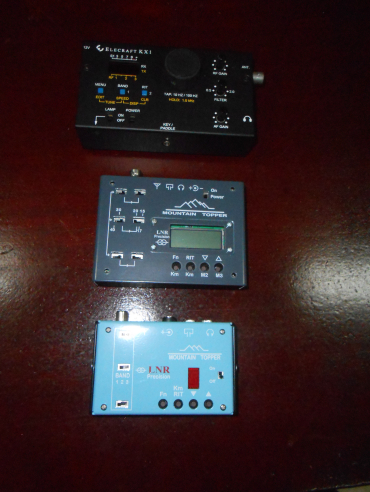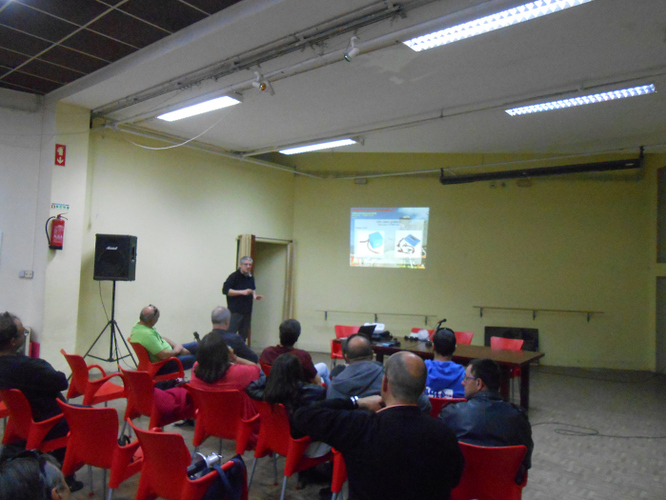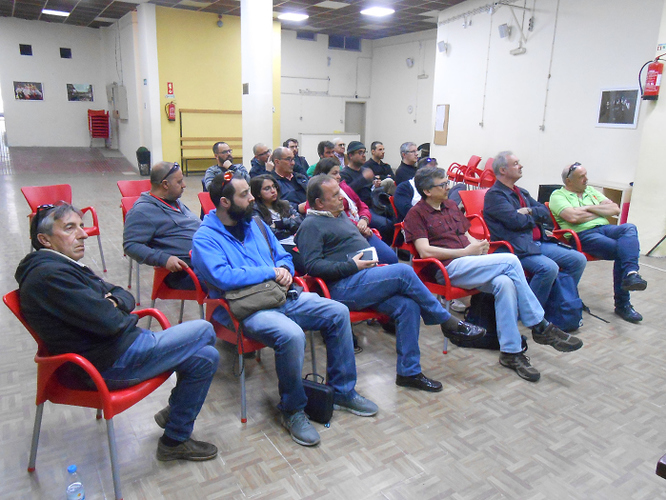 73, Paulo CT2IWW
========================================================
*********** SOTA NEWS PART 2 FOLLOWS BELOW ********