SOTA NEWS JUNE 2016 - Part 1 of 2
Editorial - by Mark G0VOF
Welcome to the June 2016 edition of SOTA News. My thanks go to the following contributors:- Barry GM4TOE, Skip K6DGW, Roy G4SSH, Kevin G0NUP, Rob and Audrey G4RQJ, Luc ON7DQ, Allen VK3ARH, Warren ZL2AJ, Jürg HB9BIN, Toru JH0CJH, Nick G4OOE, Hans PB2T, Martin DF3MC, Geert PA7ZEE.
Firstly a reminder that the annual friedrichshafen amateur radio rally takes place from 24th –26th June. This is usually an ideal opportunity for activators & chasers from around Europe & beyond to meet up. Many activators also take the opportunity to activate summits in the area and also on the way to & from the rally.
========================================================
The May 2016 edition of SOTA News was viewed more than 1250 times.
SOTA AWARDS May 2016 from Barry GM4TOE - SOTA Awards Manager.
May has been a very quiet month for awards claims but there are some notable ones none the less. Congratulations to Mountain Goats KC5CW, HL2OLP and HL2IYQ; apparently there are more Mountain Goats than Shack Sloths in South Korea and efforts are being made to encourage more local amateurs to Chase SOTA activations. Shack Sloth award claimants this month are AC2KL, GW4BKG and KC6CMG.
DB7MM continues his steady activations now reaching 2500 points and HB9JOE has activated 250 unique summits – once again, congratulations.
Trophies
Mountain Goat
KC5CW Curtis Hays II
HL2OLP Kim Chang-Shin
Shack Sloth
AC2KL Kevin Magde
GW4BKG Stephen Emlyn-Jones
Certificates Issued
Activator
DB7MM Dr. Michael Multerer 2500 points
HL2IYQ Hogyeong Gwon 1000 points
G1FOA Peter Franklin 500 points
ND9Q Douglas Quamme 500 points
N2GBR Richard Jones 250 points
Activator Unique
HB9JOE Andreas Thiemann 250 summits
Chaser
K6CMG Christopher Goodman 1000 points
GW4BKG Stephen Emlyn-Jones 1000 points
AK5SD Scott T. Dupuie 1000 points
HB9FBG Mauro Santus 500 points
DG4KAI Kai Wendt 250 points
KB9AIT Gary Hoehne 100 points
AF7VP Tyler Call 100 points
Chaser Unique
OZ4RT John Arnvig 5000 summits
G1FOA Peter Franklin 100 summits
W0QFW Robert A Carter 100 summits
VK5PL David Poole 100 summits
Summit to Summit
G4CFS Glyn Dodwell Red
Mountain Hunter
DG4KAI Kai Wendt Bronze
I have been informed that my contact address is wrong on some pages of the shopping website, this is due to the ongoing lack of easy internet access and the requirement to do a full update of this website. If you do need to contact me then the address shown on the checkout page, and also on qrz.com, is the correct one although I do have mail re-direct from my old address.
New T Shirts are now in stock with Red replacing Magenta (although I do have a few Magenta ones available if you are interested – email me to find what is available). I have a prototype sweatshirt with a multicolour screen printed logo on it and will put a photo on the SOTA website once I am happy with the results.
Just a reminder that awards (and merchandise) form the only income stream to keep SOTA, and its digital facilities, available free for use by all so please consider claiming awards as you achieve key levels to keep SOTAwatch and the database available.
73
Barry GM4TOE
SOTA Awards Manager
NORTH AMERICAN REPORT from Skip K6DGW
Hi All,
Well, as of this writing, still no activations from the new KL associations. News from the New World is a bit sparse this month. The statistics look a lot like last month … except we had just a bit over half the reported Chaser QSO's of last month. Weather in the eastern half of the continent may have contributed to that decline, it has been wet, violent, and prolonged.
STATISTICS [as of 1730 UTC 29 May 2016]:
Total Activations: 396 [394]
Nr Unique Activators: 152 [147]
Total Chaser QSOs: 2904 [4457]
Nr Unique Chasers: 222 [234]
Unique Summits: 329 [305]
2m: 188 (6%) [118]
6m: 2 (0%) [0]
10m: 1 (0%) [7]
12m: 0 (0%) [0]
15m: 17 (0%) [60]
17m: 97 (3%) [92]
20m: 1807 (62%) [2844]
30m: 283 (9%) [275]
40m: 503 (17%) [1050]
60m: 0 (0%) [2]
80m: 0 (0%) [0]
160m: 0 (0%) [1]
Unk: 6
CW: 1827 (62%) [2607]
SSB: 887 (30%) [1723]
FM: 186 (6%) [125]
AM: 0 (0%) [0]
Data: 1 (0%) [0]
Other: 1 (0%) [1]
Unk: 6
The split between CW, SSB, and FM has remained essentially constant for many months, as has the preponderance of 20 meter QSO's. 10 and 12 meters are pretty dead right now and 15 meters hasn't been much better. Cycle 24 surely wasn't anything to write home about, but at its peak it was still a lot better than now as we wait for Cycle 25 to crank up.
AWARDS AND ACHIEVEMENTS:
Doc, K7SO, advised me that, "Yesterday Alan, NM5S, became the 2nd NA activator to reach 4000 points. Next up is no doubt Fred, KT5X. That will put 3 New Mexico Goats leading the herd!" Congratulations Alan!
NEWS:
Paul, W6PNG and W6 Assoc Mgr, reports: "Michael, KX6A has assumed the duties of Region Manager for the W6 Southern Coastal Region, taking over from Christopher, K6CMG."
Also from Paul: "As some of you might have seen in this months SOTA news we have added approximately 570 peaks to 3,718 we already have for a grand total of 4,329 and it didn't include any serious tectonic activity but rather the benefits of improved satellite imaging."
There is a brand new website at www.W6-sota.org with news and W6 SOTA events.
And speaking of association web sites, this from Etienne, K7ATN: "Here on May Day, spring seems to have arrived in the Pacific Northwest. And so Here's a link for the Pacific Northwest SOTA Newsletter for May and June"
http://www.pnwsota.org/sites/pnwsota.org/files/downloads/K7ATN/PNW%20SOTA%20Newsletter%20May-Jun%202016.pdf
"We've a great story from John-VA7JBE on his attempt on Mount Rogers and news about the SOTA Gathering in Seaside, Oregon on June 3, before the SeaPac hamfest."
"You can find newsletter back issues here:"
Pacific Northwest SOTA Newsletters | pnwsota.org.
Although it's a bit in the future, the Colorado 14er Event is a big one and Bob, K0NR reports: "We've made an important change to the Colorado 14er Event this year: it has been expanded from Sunday morning only to all weekend. More specifically, the event is all day Saturday August 6 and Sunday August 7. The 14er Event task force recently made this decision with the intent of expanding the event to give mountaintop activators more options to participate."
"We believe that the inclusion of SOTA summits and increased event
duration is a very nice combination. For example, you might want to do
an easy SOTA peak on Saturday and then climb a 14er on Sunday. We expect that most of the activity will be concentrated on Saturday and Sunday mornings, because climbers will want to avoid the afternoon
thunderstorms. But many of the SOTA summits are near or below treeline, so we may see activations later in the day."
"So update your calendar and think about how you might take advantage of the expanded options. The ham14er.org web site has been updated with the new dates."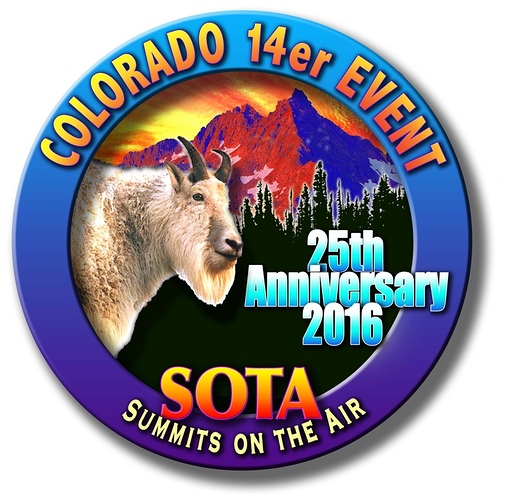 The rather cool 14er logo
REPORT(s) OF THE MONTH
This month we have a cross-Atlantic trip from Paul, AA1MI/HB9DST: "A return trip to the USA including 12 SOTA associations from New York to the Dakotas"
"My daughter graduated from Notre Dame this past May. My ex-wife Marge was driving from NH to IN and back. I offered to fly over from my home in HB-land to help with the driving, but only if we could activate every SOTA association along the way and back - and she took me up on the offer. Over three weeks we drove a total of 5650 miles (9092 km) and I activated 12 summits, each one in a new association for me, bringing my current total to 31. Our route was basically NH to PA, VA and WV, across KY and TN to MO, then to South Bend IN for graduation festivities. We continued to MN and SD (our western-most point), then to the upper peninsula of MI and finally VE2 before returning to NH."
These are the summits I activated:
W2/NJ-009 (Palisades HP)
W3/PO-032 (Shanwnee Mtn)
W4V/GC-001 (High Knob)
W4K/EC-001 (Black Mountain)
W8V/NR-014 (3420)
W9/IN-002 (Jackson County HP)
W8O/SW-012 (Hamilton County HP)
W0M/SF-001 (Taum Sauk Mountain)
K0M/SE-003 (1110) / Frontenac State Park
W0D/ES-002 (Roberts County HP)
W8M/UP-062 (Sugarloaf Mountain)
VE2/ML-004 (Mont Royal)
"Because we were on a somewhat tight. ambitious schedule, I selected easy summits, typically ones you can drive up to. The most hiking we did at any one spot was 30 minutes. The first week of travel we were dodging thunderstorms, but I got lucky and needed my rain pants only once. The third week of the trip we had bright, sunny skies and summer temperatures. Besides the SOTAs, we made some side trips for Marge's benefit to places including Monticello, Nashville, the Jim Beam distillery in Kentucky, Niagara Falls and a return visit to Montreal."
"Operating CW only as AA1MI/P, my station consisted of a kit-built MTR-5B (and an ATS-4 for a backup) with a 9.9V LiFePO4 battery and an EndFedz 40/30/20m end-fed dipole elevated with a 5 meter mast secured at the bottom with a fishing rod holder. Fortunately I had no equipment troubles, and airport security showed little interest in my gear (as opposed to the Canadian border crossing when our car was scanned). I got two S2S QSOs (NS7P on W7O/WV-07 and K9PM/P on W7A/PN-001) plus two DX contacts with G4OBK and EA2LU, both of whom I have in my log many times from EU activations."
"I discovered several differences in a SOTA activation compared to Western Europe. First is the number of chasers on the air. I did manage to get the required 4 QSOs on every summit, and I averaged almost 9. There was one case, though, where it took me a full hour to get just 4: it was noon on Mother's Day (and I guess chasers have mothers, too, so weren't sitting in front of their radios). But without spots and the Reverse Beacon Network, I'm not sure if I would have gotten all the activations in the log. This contrasts to Europe where you call CQ once or twice on a SOTA frequency, and within minutes you have a pileup to rival the ones I experienced during the 3W6C Vietnam DXpedition. Further, in Europe on CW, 40m and then 30m are the bread-and-butter bands; in the US I relied on 20m for 95% of my contacts and 40m was almost always dead. Finally, in the 12 activations I got only 2 S2S contacts; in Europe, where the number/density of activiations is much higher, I'm disappointed if I don't get at least one S2S, and if I hang around for an hour or two on a summit I can generally bag 10 or more S2S QSOs."
"As noted, it was sometimes not easy to get the necessary QSOs to qualify the activation. Thus, I would like to especially thank K4MF and W7RV, both of whom made contact with me on six summits, and KG3W, N8BB, NE4TN, NS7P, W0ERI and W0MNA, each of whom made contact with me on five summits. Great ears, guys, and thanks for the support!"
"As an aside, during the trip we had many wonderful experiences and saw many sections of our beautiful country. Marge also managed to book us into some interesting hotels, three of which deserve mention. First is the Deer Head Inn in Delaware Water Gap, PA. I visited this place 45 years ago when I was a bartender in the Poconos for a summer. It claims to be the longest continually running jazz club in the US, and we were there for a Thursday night jam session. Also, the hotel is directly (and I mean directly) on the Appalachian Trail.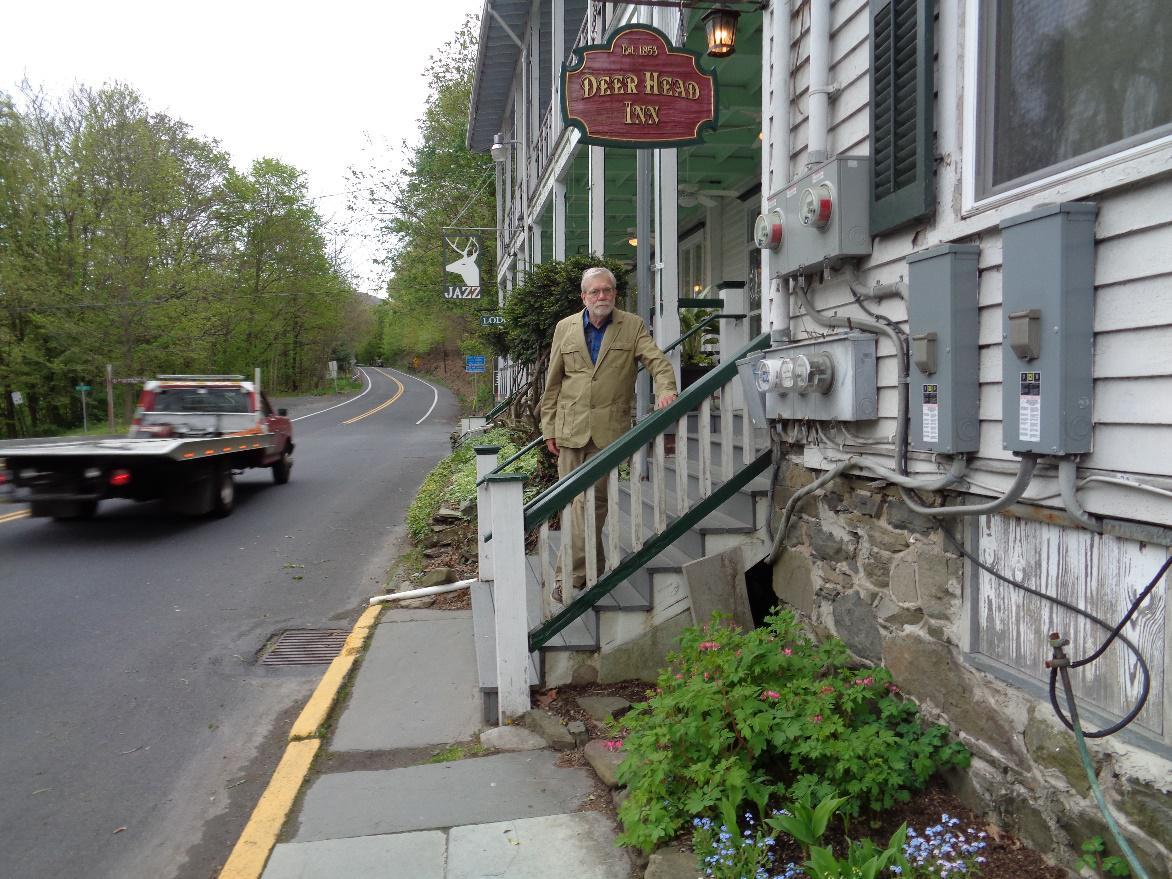 The Deer Hear Inn
Second is the Benham School House Inn in Benham, KY. In the early 1900s, International Harvester built a school to educate the coal miners' children, and not long ago it was converted into a really interesting hotel where the classrooms have been turned into hotel rooms. Third is the Thunder Bay Inn in Big Bay, MI. This is the place where the 1959 movie Anatomy of a Murder starring James Stewart, Lee Remick and Ben Gazzara and with a score by Duke Ellington was filmed. Don't expect WiFi here, or even electric sockets that accept a third prong, but we listened to a group of locals perform an informal concert of country and folk music."
"All in all, it was a wonderful trip. The future? My other daughter graduates from the Emory School of Medicine in Atlanta next May, and I have the suspicion there might be a SOTA trip heading west from Atlanta as far as who knows where? Keep an ear out for my signal!"
Finally, from John, VA7JBE, some unplanned excitement:
"On April 14, 2016, four of us decided to make a late-season skiing attempt to summit Mt. Rogers in Glacier National Park, British Columbia. This 3,168m peak is named after a surveyor who first mapped the area in the late 19th century for the Canadian Pacific Railroad Company. Our attempt began just after sunrise the highway trailhead at 1200m. We climbed 800m through steep trees to reach the alpine before making a sharp turn and climbing another 500m up towards the Swiss Glacier between Mt. Rogers and the Hermit Range. The final approach was too steep and hard to skin up, even with ski crampons, so we strapped our gear to our packs and kicked steps into the snow for the last 400m."
"We had decided on a turnaround time earlier in the day to allow us to descend below the large avalanche hazards before dark. Unfortunately, that time arrived at the same time that we reached a col 100m below the summit. Deciding not to risk further exposure, we took a few pictures and prepared to ski back down the glacier to the second car we had stashed earlier in the day. The FT-817 and 20m dipole I had climbed with for 2000m stayed in my pack, there was no time."
"I skied first and after only a dozen turns suffered an equipment malfunction, tearing the toe piece of my binding out of my ski and sending me tumbling down a 40 degree slope. I was able to self-arrest after about 30m, with one ski on and the broken binding still attached to my boot. After checking to see if I was alright, the rest of the group skied down the glacier and confirmed that the ski was unrepairable."
"With my mobility significantly limited, and sunset quickly approaching, I decided to contact the National Parks service and ask for help. There is limited cellular service in the park, and we were beyond the line of sight for all of the towers in the area. Fortunately my VHF handheld was capable of operating beyond amateur bands, and I had the frequencies for the Parks repeater. After contacting the dispatcher a helicopter was prepped and flew in to meet us at a flat spot on the glacier below. We had a good view of the route that took us 10 hours to climb up as the helicopter reversed it in less than 5 minutes."
"See the following for a full report and photos:"
That's -30- for this month, Safe Summits are Happy Summits,
73,
Skip K6DGW
North American SOTA Reporter Dude
SOTA NEW ZEALAND REPORT from Warren ZL2AJ
NZART Conference. My talk will be on Sunday 5th June 2016 (conference is Saturday as well).
I will activate a summit or 2 the following Monday.
Regards,
Warren Harris ZL2AJ
021 649284
Note from Editor:-
Warren complies a report for the New Zealand national magazine after the end of the month, to allow him to collect all the statistics. This is forwarded along to me during the first few days of a new month but misses our publication deadline on the last day of the month.
News from New Zealand will be inserted here upon arrival - Mark
SOTA NEWS FROM JAPAN by Toru JH0CJH
It's May. Stable weather, dry air, many sunshine, the best season has come
to Japan.
More than 50% larger expeditions have been made compare with April and more
than double numbers of SOTA QSO have been recorded on database in May.
Especially in JA Honshu region the number of SOTA QSO is nearly 3 times of
April.
Honshu region is obviously largest part of Japan and 81 percent of
population is allocated in Honshu region. This number means SOTA is
getting more awareness of ham radio group especially in Honshu region. It is
true that some stations started to use SOTA summit ID code in CQ calling.
We SOTA lovers are really appreciate the current state of awareness.
SOTA lovers group got reputation of good manner of operation of DXing.
There is famous DX cluster in Japan, and one day some wrong setting caused
SOTAwatch2 posting fed to the DX cluster. In the DX cluster self-spotting
is ruled out because of its congestion and abuse of cluster spotting.
However the SOTAwatch2 self spot feed looks exactly like those self
spotting on DX cluster. Some irritated DX cluster user started to claim
this self spotting by SOTA group. Suddenly all SOTA lovers stopped self
spotting on SOTAwatch2 to avoid miss treatment on DX cluster and try to
find out the route of this wrong feed. Fortunately this feed has been
stopped and came back to normal status but we made apology message to DX cluster
operator and users. Then we got the message that all DX lovers found this
matter write after feed started within DX lover group and they understood
that it shall not be the activity of SOTA lovers and they believe that
some mistake has been made at somewhere. This means SOTA lovers were
thought that they shall never doing such out of rule things on DX cluster.
We really appreciate this sincere comments and all of this come from
moralistic operation of ham radio by SOTA lovers and kind understandings
of DX lovers. We shall never end this trust between DX lovers and keep it forever.
SOTA operation April 2016 in Japan
Total number of Expedition 158 with 2000 QSO as of 30th May 2016.
JA: 146 expeditions with 1910 QSO from Summits
JA5: 3 expeditions with 34 QSO from Summits
JA6: 9 expeditions with 56 QSO from Summits
JA8: 0 expeditions with 0 QSO from Summits
THE VIEW FROM THE NORTH - 101 By Rob and Audrey G4RQJ
Off we go again and first out of the box is Normanby Top, a by product of our visit to Lincoln for the Dam Busters Rally. This hill is a drive up top occupied by a radar site and wide swathes of field under intensive agricultural activity leaving not a lot of open space for activation. As usual we parked the car close to the radar site and walked a respectable distance from it along the road which has quite broad but sometimes muddy verges.
As we set up the 2m antenna a chap returned to a 4x4 parked in a field gate further down the road. He looked across at us and started fiddling with some sort of rod from the back of the vehicle. We had noticed an alert for an earlier activation from the hill so wondered if this was the other activator but he showed no sign of approaching us, just watching from a distance. We carried on and when our 2m beam rose in the air he shouted across "What are you after?" "Radio Amateurs we replied". He nodded and turned to the vehicle and when he turned back towards us he had a large beautiful bird of prey on his arm He held the bird up for us to see, returned it to the vehicle and drove off,
Amazing what you see on summits. We launched into the activation on 2mFM, takers were few and far between but we eventually managed one on 2mSSB and six on FM including G6PJZ/M, Andy who had been the earlier activator on the summit and he drove back into the activation area to meet us to round off a nice basic activation.
Sunday 8th May and it's bluebell time so off to Top O' Selside where the woods are always spectacular… The only path up to the bridleway that borders the slope high on the fell is from Dodgson Wood car park on the eastern shore of Coniston Water. This small space in the woods can take about half a dozen cars but be careful of the rocks in the ground that can do serious damage to low slung cars. (We speak from experience). Today all the spaces are taken but there is still hope. About a hundred yards into the woods is a bunk house used for camping, the occupants use the Dodgson Wood car park and often pull out on a Sunday morning. One of them confirms that they are off shortly and another arrives soon after and swaps places with us leaving us temporarily boxed but free to set off up the hill. The path through the woods is a delight at this time of year with a carpet of blue and white among the green trees that cover the quite steep slope. At the end off the woods the path has a steep climb beside a wall and some parts do duty as part of the nearby stream. Once on the bridleway a pleasant walk contours round the slope with superb views over Coniston Water to the higher fells behind. When you reach a marker post it's time to leave the bridleway and climb on grass back almost the way you came to curve eventually to your right to meet a little valley that leads up to the summit marked by a pile of stones. There is some shelter all round the summit but today the usual cold wind forces us onto the western slope with a poor takeoff to the important south. In the following two hours we managed just FIVE contacts including two s2s, all on 2m FM… On 2m ssb,5Mhz 7Mhz, 10Mhz 14Mhz NOTHING, broken sky and lack of chasers. Best DX was the first cuckoo of spring we heard in the distance on the descent!
After an exhaustive investigation the FT817 and the antennas are proved not guilty and it's Sunday 15th and time for Holm Fell which is best climbed from rhe little car park beside Yew Tree Tarn room for about six cars but very busy with short stay photographers. The climb is steep once the low section to the east of the tarn is covered. As we climb steadily up the stony gully that does part time duty as the stream we are passed by a group of visitors who give us a friendly Hello but nothing else and speak a language we do not recognize with our basic French and German. They leave us at the point that we turn left up the steep grass slope that leads to the summit. We settled on the top, out of the wind, ready for a pleasant activation. After an hour on 2m we have made just seven contacts five on FM and two on SSB Of these one is a portable above Tilberthwait Gill about half a mile away, one a s2s with Ingleborough and one a pair with the same station in both modes. not an inspiring bag! perhaps HF will be better. Half an hour later after extensive calling on 5MHz I give a despairing last call with no replies I hear nothing but Audrey says she hears an s2s call, I try again and there is Andy FMF who reports similar lack of activity. 7MHz cw produces three and a half contacts in deep QSB, 30m and 20m are not playing at all, Eleven total in two hours is not good!
Time now for a midweek trip to Skipton so Tuesday17th and an early evening trip up Sharp Haw. The walk in from Bog Lane is always a bit of a slog but today it is almost totally dry under foot which is rather unusual given the name of the start point. The summit is unchanged and the remains of the once pleasant bench lie where they fell some years ago. Over the stile made from an ancient bed stead the summit area is quite eroded and dusty with lots of mountain bike tracks, three visit while we are there, 2m is hard work for just 5 on FM and1 on SSB the latter a repeat from FM.
Wednesday18th and we are on our way to Great Whernside, aiming to walk from the cattle grid 3.5 miles from Kettlewell. As we arrive at the start of the road from Kettlewell we find workmen putting up road barriers, the road is closed for three days from today, good news there is a diversion bad news, it's 32 miles long! We have a hasty council of war, other local hill is Buckden Pike but we only know it from the same cattle grid and are not mapped up for it so Cracoe Fell it is. The lay by on the B6160 is small and hard to spot, the hundred yards to the start of the bridle way with no footway is the stuff of nightmares as the two way traffic is all doing 60MPH round the curve so can't see you 'till they are on your lap, what fun. Personally I (Rob) find Cracoe hard work, the path from the cross that overlooks the valley to the obelisk marking the high point is wearisome in the extreme and I much preferred the old Thorpe Fell Top which was more of a navigation exercise Just 8 0n 2m FM and two on 2m SSB after a lot of calling and some long nice chatty QSO,s and we trudge off down. Its our wedding university again(53) so we are going out to celebrate, Wait a minute we're staying in a pub with great food! problem solved.
Thursday 19th and the plan is to activate Rombald's Moor. Following problems finding the road up the hill in the past I(Rob) have marked it for our GPS so off we go. It seems to pick a very strange route and after we pass through Ilkley and are miles up a single track road to nowhere it becomes obvious even to me that I have not done it very well! We turn round and Audrey navigates us faultlessly through Silsden and up to the radio mast. The moor is very dry (this is a relative assessment) and much work has been done on the footpath with stone flags since our last visit so we are soon on the top and in action. Just 4 on 2m FM and 3 on ssb and one of those is a double. In an experiment we stay in qso on 144.300 for about 10 minutes surely someone will tell us "You're on the calling channel" but no the band remains as quiet as the grave. We close and head for the low ground.
Back at home and looking at our recent figures there would seem to be an alarming drop off in local chasers. We set out as an experienced operation running 5W ish from an FT817and a four element beam to see how well we can do from some of the lower northern hills. Most of the stations who worked us were either older folks who like a chatty qso (so do we) They will come on "to give you a point 'cos you seemed to be struggling but I don't bother with going on the sota site" or new call sign holders breathless at working some DX. Both these are great and love this sort of contacts but where are the former regulars? Have they become disenchanted and if so why? We used to enter a log for an elderly chaser who we met on the air but never in person. He was not into computers so we printed a blank log sheet and periodically he would return a full one for us to enter. We still have a letter from him after he received his first Chaser certificate saying how proud he was of it as in all his years of amateur radio he had never achieved anything like it. Perhaps you know someone you could do this for. One of our recent callers turned out to have been seriously disabled in an accident, in better times he had climbed Cracoe many times and was delighted to hear about the summit and we were able to bring it to him for a few moments. Please take time to chat if conditions permit, if not say so, people are not stupid, End of sermon.
By the time the NEXT SOTA news comes out we should be on the Isle of Man for our annual visit. Once more the G4RQJ/P Worked all GD Summits Award 2016 will be available for anyone who works us on all five of the Manx Summits at least once. As usual we will try to activate all of them at least once on as many bands as possible, just hope hf conditions buck up a bit. Times will be variable as we fit in holiday stuff.
Hope to work lots of you, meanwhile
Take care out there
73
Rob and Audrey
G4RQJ
*********** SOTA NEWS PART 2 FOLLOWS BELOW ********