SOTA NEWS JUNE 2011
EDITORIAL – by Roy G4SSH
Welcome to the June 2011 edition of SOTA News. My thanks go to the following contributors:- Barry GM4TOE, Fred K6DGW, Rob and Audrey G4RQJ, Walter DK1BN, Martin DF3MC, Mark G0VOF, Nick G4OOE, Dave G4ASA, Jason HL4/W2VLA, Phil G4OBK.
May was a month when propagation changed from Spring to Summer with heavy QSB affecting most signals. There were days when general background static and heavy crashes tended to wipe out all chasing on the lower HF bands, and the higher HF bands started to be used by SOTA activators. The weather turned quite violent across Europe towards the end of the month, with expeditions cancelled and antennas blown down in severe gales.
The extended SOTA weekend at the beginning of May was a considerable success across all bands. On Sunday the 1st May there were 217 spots recorded, with both activators and chasers collecting a significant amount of points, with many s2s contacts made.
---
DATABASE UPDATES - Andy MM0FMF
There have been a number of minor updates to the database this month
that turned out to be easy to implement.
Associations in drop-down lists were not sorted in a consistent
matter. Now all the drop downs are presented the same. The sorting is by
Association prefix and that means that Malta (9H) comes first in the
list and South Africa (ZS) is last. All other associations come
somewhere in between! The drop down itself may need more work as the
number of associations continues to grow. In the meantime we have the
advantage of consistency.

For activators, the facility now exists to download a single
activation rather than having to download your full activation log. This
facility exists primarily to enable easy edits to your log if there are
omissions or mistakes. Now you can download this short log and edit
that. Unlike the full download, there are no additional data fields in
the log and after editing the file is suitable for immediate re-upload.

For chasers, you have not been able to upload a log file containing
multiple chases of the same activator on a same summit on the same day.
Many of you enjoy chasing an activator on a summit on all the bands and
modes the activator uses. The database would ignore multiple chases of
the same activator and so this added extra work for chasers who wish to
log as much as they can in the database. Now the database will accept
multiple chases of the same activator/summit on the same day as long as
the band or mode is different. Only the first contact will count for
points and the others will be marked as non-scoring duplicates.

A bug when an activators points score was displayed after uploading a
log file has also been fixed.

A note advising users about session cookies used by the database is
displayed prominently on the database login page.
73,
Andy
---
SOTA AWARDS FOR MAY 2011 By Barry GM4TOE - SOTA Awards Manager
May proved to be another busy month for awards and there is a pattern emerging for claims. I get a burst of claims just after the monthly report appears on the reflector and another burst about a week before the month end – reminder and a desire to be mentioned in despatches?
Congratulations this month to new Shack Sloths DB7MM and G4DDL and certificate claimant MW6BDV. I should also mention G6ODU who has played catch-up with his certificate claims. Special mention though to Roy G4SSH for his 45000 Chaser points (All CW) followed by equally impressive claims from G0TDM (20k) and IK3GER (10k). Roy cannot rest on his laurels; there are others not too far behind him who could give him a run for his money!
Now that the database filters are in place to recognise when it is possible to claim the Mountain Hunter and Mountain Explorer awards there has been an upsurge in claims for these different certificates. Two claims for the Mountain Hunter Platinum award from G3VXJ and DL3JPN are also matched by Ruda OK2QA claiming a matching Mountain Explorer Gold award to go with his Mountain Hunter award. These awards show how international SOTA has become in a very short space of time.
Trophies
Shack Sloth
DB7MM Michael Multerer Shack Sloth
G4DDL Mike Pemberton Shack Sloth
Certificates claimed
Activator
M0XMC Mick Coad 500 points
M0YDH David Holman 250 points
MM0MXW Ian Maxwell 100 points
Chaser
G4SSH Roy Clayton 45000 points
G0TDM John Sutton 20000 points
IK3GER Paolo Corsetti 10000 points
G6ODU Robert Gum-Wah Leong 5000 points
G6ODU Robert Gum-Wah Leong 2500 points
G4DDL Mike Pemberton 1000 points
G6ODU Robert Gum-Wah Leong 1000 points
MW6BDV Barry Vile 1000 points
G6ODU Robert Gum-Wah Leong 500 points
N4EX Rich Homolya 500 points
G6TUH Michael Morrissey 500 points
M0XMC Mick Coad 250 points
M0LEP Rick Hewett 250 points
G6ODU Robert Gum-Wah Leong 250 points
SV2HTC Dimitrios Katsavelis 100 points
HL4/W2VLA Jason Vlasak 100 points
G6ODU Robert Gum-Wah Leong 100 points
M6LEP Rick Hewett 100 points
G0SDD Chris James 100 points
Chaser Unique
G0TDM John Sutton 2500 summits
G6ODU Robert Gum-Wah Leong 500 summits
M0YDH David Holman 250 summits
G4DDL Mike Pemberton 250 summits
G6ODU Robert Gum-Wah Leong 250 summits
N4EX Rich Homolya 100 summits
G6ODU Robert Gum-Wah Leong 100 summits
M0LEP Rick Hewett 100 summits
Mountain Hunter
G3VXJ Bob Rylatt Mountain Hunter Platinum
DL3JPN Steffen Ackermann Mountain Hunter Platinum
G6ODU Robert Gum-Wah Leong Mountain Hunter Gold
G0TDM John Sutton Mountain Hunter Gold
M6LEP Rick Hewett Mountain Hunter Bronze
M0EPR Edward Rippon Mountain Hunter Bronze
Mountain Explorer
OK2QA Rudolf Klvana Mountain Explorer Gold
There are a number of individuals still waiting on Shack Sloth trophies; the manufacturer has had a problem supplying and I am still waiting for an order I placed in April. Once I receive the trophies the engraver will take about a week to ten days to turn them around so it is unlikely that you will receive them in the post until mid-June.
I have had several enquiries about SOTA merchandise; until I can finalise a design for a shop you will need to email me for availability and postage costs but payment can be made direct to our Paypal account at sota-awards "at" btconnect.com (change to the usual format for email accounts).
Several people have made very generous donations towards the running of SOTA and their contributions are very much appreciated: thank you G6ODU, G6TUH and G4SSH.
The weather here in the North has been awful for the whole of May, as I write this the weather is more like October than the end of May with high winds, torrential rain, snow and hail. It is certainly not suitable for activations. With a bit of luck things will calm down now and it will be possible to go out and about at high level without risk of being blown into another Association!
Take care on the hills as always and I hope to be able to work some of you on my next outing.
73
Barry Horning GM4TOE
Awards Manager
---
Further congratulations go to:-
Bobby GM7GAX who reached Slothdom during the month, plus 100 activation points.
Don G0RQL for reaching 20,000 Chaser points (all on voice)
Chris 2E0FSR who upgraded to M0SRF,
OK9HAG Marek who has upgraded to OK1HAG.
Joska HA5CW, who on change of QTH has been issued with UK callsign M0HAA
Tony 2E0LAE, who has now upgraded and issued with G1JPV which was his uncles old "B" class license which had not been used for over 25 years, since he passed his Morse and is now a G0.
To Barry MW6BDV who is now a shack sloth
To Gordon G0EWN on becoming a Mountain Goat
---
A reminder that Sunday 5th June has been designated SOTA VHF LOW BAND FUN DAY, hopefully due to the prospect of Sporadic E being at it's best.
Further details on the Reflector under the post "VHF Low Band Fun Day" dated 10th May 2011
---
We have been advised of the following EU Radio Rallies in June 2011.
5th-6th June
There will be a ham radio meeting in Laa an der Thaya (Austria) next weekend (5-6th June). Fried is too far for me, so I have decided to ride to Laa, including activation of some OE/NO summits.
73 Janos HA4FY
10th-12th June
Hungary's greatest HAM meeting BuRaBu held in Budapest where there will definitely will be a SOTA meeting organised by HA5CQZ!
73: Jóska, HA5CW
24th-26th June
Friedrichshafen Radio Show
---
SOTA ACTIVITY FROM ROMANIA - by Walter DK1BN
My YO/MC-033 activation together with Csaba YO6PIB ( his first points
in SOTA on 2m FM) and helpers DF6PW Hardy, DJ7PI Chris) was my 150th
activation (and also 150th unique summit). We were very limited in time
because it was raining before there and almost became dark and foggy at
our descent but we could do 86 contacts.
Activation of Postavaru YO/EC-011 (1800m) was easier because we had
sunshine and real nice weather and we got a spectacular view over Brasov
city and also the other carpathian mountains.
We tried to activate also YO/MC-009 but we had to stop because of bad
weather ( rain and hail). Unfortunately there was only half an hour of
walk left. But it was safer to stop and go back to the cable car station.
73
Walter DK1BN
(Tnx for the first points from YO-land Walter, you were putting a great signal into the UK on 14 MHz from both locations – Ed).
---
SOTA REPORT FROM HL - By Jason HL4/W2VLA
It's almost been a year since the HL SOTA Association started up and there's been a bit going on since that time. Though I'm not regular to post news about HL to SOTAwatch I'm spurred this time by the fact that there were four activations last weekend, and not a single one with me involved (I was in class the whole weekend). In some of the more established Associations this may not seem to be that much activity however I consider this to be a victory that SOTA is catching on here in Korea, and starting to roll on its own. Another reason is that I had my first "intentional" SOTA chases from abroad, from GW4BVE and OE6GND.
Up through the end of 2010 there were a small (3 or 4) number of "regular" activators logging their activities on the hilltops here, mostly those that showed interest from the start and helped put together the Association from the start (DS1SED Francisco, DS1DAT Gabriel and I, with 6K5ZLH Wan-seok joining in later).
Though 2011 started with a bit of a rough start, where DS4QBE and I went for a New Year's sunrise activation yet failed to activate, January second saw things pick right back up again (two activations that day) and it's been snowballing ever since, especially when spring had sprung only two months ago. It's these new activators that I'd like to take a chance to welcome:
HL4GKR Gi-bong, based in Jeonju, has been out on the hills in the Jeonbuk Province area on 2m. He literally has JB-104 Godeoksan right in his back yard. He's been out on his own and we've had the chance to work jointly on other mountains.
HL2OLP Chang-shin, from up in Incheon, has been extremely active on the days he has off from driving the bus. He can be found on 2m as well as 40m in CW and some SSB–he's currently tackling the hills in the Seoul and Gyeonggi Province area, being lower in elevation he hasn't racked up that many points yet but it hasn't slowed him down at all!
DS4GQZ Gwang-seok is a new licensee from down south in Sunchang, we've gone out activating together on the islands, as well as had some contacts. It's a great way for the ham newbie to get into the hobby with SOTA!
DS2CYI Dae-geun magically appeared from Suwon, activating firstly on Minjujisan a week before the Int'l SOTA weekend, the irony being we chose that peak for the weekend! He's continued to activate since then in Chungnam as well as Busan just this last weekend on 2m.
HL1IYQ Ho-gyeong from Seoul has just started activating, and up in the northern part of Gyeonggi Province by the DMZ!
6K5XZE Cheol-hwa from Daegu was a contact who chased me last year and this spring has finally started activating, the other weekend on Hakgasan on 2m.
DS2NED Bo-yong based in Bucheon (between Incheon and Seoul) is an OP who tried to activate with me last year (but we got rained out and were restricted to activating halfway up the mountain much below the AZ). A regular hiker/camper NED has since then been up on a few hills, most recently Oseosan at the beginning of May where I had a chance to grab a VHF S2S with him from the other side of the country in Busan.
Of course, these activators need chasers to make contacts, some of the top chasers include DS4QBE Byeong-cheon who's already claimed his first 100 points, and DS4RDY (currently at 71 pts) and DS1SED (at 51 pts) who should be getting close to that point sometime soon…
I mentioned International SOTA Weekend earlier–however in Korea this year it was washed out as the Saturday of the weekend saw the whole country hit with severe thunderstorms from the early morning until the following Sunday morning. This basically killed the mass outing we had planned with six activators ready to activate all night long from HL/CN-002 Minjujisan. Immediately following on Sunday was the Yellow Sand (Asian Dust, a springtime phenomenon) that came through restricting people's outings, though I still went out for a short activation at the very last minute locally to HL/JB-104.
While out on a "short" activation to no-name HL/JB-155 I had a "lucky" S2S with DS4GOD operating from HL/GJ-001 Mudeungsan. This is special because the top 200 or so meters of Mudeungsan is military installation and generally off-limits, so getting points either way with this mountain is pretty difficult. On May 14, the summit was opened to the public for the very first time in 46 years for a six hour window…had I known about this I surely would've trucked down there to see for myself! DS4GOD Chung-bin certainly takes the cake for HL SOTA "DX!" Next time… (I should note that callsigns are randomly assigned in Korea and there is no vanity call system in place

Now for some numbers:
2010 saw 43 activations, so far in 2011 there have been 40 confirmed activations to my knowledge. This has meant just over 100 operating hours from within activation zones.
There have been approximately 300 points logged (before seasonal bonuses), contacts have been 84% (2m) FM, 11% SSB and 5% in CW for a total of approximately 500 QSOs domestic and DX (22 DXCC)
These 10 or so activators have activated 54 unique summits of the 2456 summits in Korea currently available in 10 of the 16 regions.
In the near future, the Korea QRP Club is planning an activation of HL/GW-001 Seoraksan on June 4. 6K5ZLH Wan-seok and I are crashing to turn it into a SOTA event

Seoraksan is the fourth highest SOTA summit in Korea clocking in at 1708m in height. Also, an event for the end of June/beginning of July called "SOTA – Seoul On The Air" is being prepared, where at least 11 activators will be activating all eleven summits in the HL/SL (Seoul) region at the same time with a meet up following.
That is the long and short of the first 11 months of SOTA in HL-land, I always post updates on my activations and other noteworthy items on my site at http://w2vla.wordpress.com – fully illustrated.
Keep your ears peeled for more news from "down east"
73 de Jason
HL4/W2VLA
jason at vlasak dot org
---
15 SUMMITS IN DL/EW - by Martin DF3MC
There are 15 SOTA-Summits in the Estergebirge/Walchenseeberge region in the Bavarian Alps.
With the activation of Hohe Kisten, DL/EW-010, on May 21st, I have activated each summit of the region at least once. On five summits it was a first activation.
I had to cover about 110km by foot and on snow shoes, more than 70km by mountain bike and the accumulated ascent was more than 9900m. On three occasions I failed to activate on the first try.
Twice there was too much snow to reach the summit and one activation was not successful due to a technical problem.
Still it was a lot of fun to visit all the summits in one region and also explore the rarely visited peaks.
73
Martin DF3MC
---
GREAT WHERNSIDE SOTA - G/NP-008 – 3rd May 2011 By Nick G4OOE (GX7OOO)
I left Scarborough at 0603 full of excitement on my first solo 6 pointer! The drive was very pleasant going via Helmsley, Ripon, Pateley Bridge, Grassington and Kettlewell. Lots of casualties seen on the road including a wrecked car, two dead badgers and a dead deer! I arrived at the top of Park Rash (SD 9863 7573) at 0843 and after a quick coffee from the flask, I left at 0906.
The advantage of starting from this point, rather than in Kettlewell, is that the altitude is already 1500 ft. The walk up was a steady climb, mostly on paths with just a couple of steep bits of shale to negotiate. It was a great opportunity for me to try out a GPS which John G4YSS had kindly lent me. I arrived at the summit at around 1045. After taking some snaps of the trig point, cairn and stunning views, I erected a 3 element 2m SOTA beam oriented Eastwards and a 30m dipole as an inverted vee. I used a SOTA pole to support the 2m beam and another four sections of another SOTA pole to support the ends (bottom two sections at one side and next two sections on the other).
I had no mobile phone coverage from Park Rash or the Great Whernside summit, so it was a great comfort to get Roy G4SSH 59 on 2m fm who had kindly agreed to spot me and keep the XYL informed of my progress. I continued to work other stations in the East and off the back of the beam including an s2s with GR1OPV/P from G/LD-013 Old Man of Coniston.
The HF side of things was most disappointing, I had no contacts on 7032-cw or 7120-ssb and only three: HB9FAI, SM1CXE and F8FKK on 10118-cw, so I reckon that I initially had a problem with a dodgy connection and by the time I had sorted it, my battery voltage was too low, this combined with poor conditions left me somewhat frustrated.
I then had a successful 2m CW contact with Roy G4SSH and a most unusual whistled 2m CW contact with Phil G4OBK, who had no key available for this band; however to get a true 599, he really needs to get some lessons from Roger Whittaker!
After exploring a bit more of the summit area, I left at 1415 arriving back at the car at 1512. I had a chat with a man who couldn't get his car started and he had managed to contact the AA on his mobile phone which proves that at least one network has coverage there. After coffee and sandwiches, I made my home via Leyburn, Wensley, Bedale and Helmsley, a 170 miles round trip through fantastic scenery. We really are well blessed here in Yorkshire with the Dales, Moors and Wolds!
Equipment:
HF - FT-857 40w - LDG Z-100Plus ATU - 30m dipole ant.
VHF FT-857 40 watts - VX-7R 5 watts back up - 3 el 2m SOTA beam
QSO's
7 MHz-cw - nil 7 MHz-ssb-nil
10 MHz-cw - 3
144 MHz-cw - 4
144 MHz-fm - 6 (inc 1 s2s)
Total - 13
73
Nick G4OOE
---
SOTA ON TOP BAND - Mark G0VOF
Hello everyone & welcome to a new section of SOTA News dealing specifically with SOTA activity on the 160 Metre band. I hope to keep you informed with news of activations & other SOTA related items on what is for most amateurs, the lowest frequency band we have access to.
As this section develops I hope to include tips & hints that will help the budding Top Band chaser & activator alike, achieve success on the band. With this in mind, & to keep this section as lively & interesting as possible, if you have any information or comments that you feel should be included please email them to me at the address at the end of this article.
For this first edition I will reflect on what was for me another month of growing success on Top Band, but by no means purely down to my efforts alone.
After my first tentative steps using Top Band on activations during April, which included a summit to Summit contact with John G4YSS, operating as GX0OOO/P from G/LD-013 Old Man of Coniston, only the third S2S on 160m since the birth of SOTA, the opportunity for another S2S attempt presented itself with Phil G4OBK planning a trip to the Isle of Man & hoping to include some Top Band activations during his stay. The exact itinery would not be known until Phil was on the Island & had looked at the local weather forecast, which indicated that Sunday 15 May would be the most favourable. Having already activated G/SP-012 Easington Fell twice this year I fancied a change & a more adventurous summit, G/SP-007 Fair Snape Fell, which would also have a better daytime path to the GD summits Phil was intending to activate.
Full details can be found in my activation report posted on the reflector, but Phil & me achieved not one, but two Summit to Summit contacts on Top Band that day, using both CW & SSB. This was achieved under adverse weather conditions, which saw me colder than I have ever been on an activation, even in winter.
While I am grateful for the congratulations on my recent success on 160m, as the saying goes, "It takes two to Tango" which is also the case with Summit to Summit's. If it weren't for people like John G4YSS & Phil G4OBK, who regularly activate on Top Band it would not matter what I did, there would simply not be the opportunity for a S2S.
I suppose that is the reason why Top Band S2S's have been so rare, you would need at least two activators out on different summits at the same time, both with 160m capability, & of course they would also need to be within range of each other.
I think Top Band has great potential for Summit use, once the problem of a large antenna has been overcome. I am more than happy with my full size dipole which although built & trimmed to resonance on Easington Fell in dry conditions over flat terrain, performed almost identically on Fair Snape fell over wet peat with varying terrain underneath the antenna. When Phil GT7OOO/P was on GD/GD-001 Snaefell, he was much stronger on 160m than he was on 60m, & there was less noise too!
There will always be the problem of noise at the chaser end of a Top band QSO with most stations suffering from it to some extent, as well as the fact that relatively few chasers have space for good 160m antennas at home. I suppose that serves to add to the "mystique" of the original "Gentleman's Band".
I do hope to have an amplifier to go with my FT817 that would give me more TX power on 160m which I will need if I want to give chasers the chance of working me on future activations. That may be some time off, but already I have been given a few good pointers by Barry GM4TOE, so watch this space

I am sure that many have seen my video of my activation of Fair Snape Fell, but in any case for those who haven't, a link is below. I don't have footage of our first S2S, but it does include the second S2S between G/SP-007 Fair Snape Fell & GD/GD-001 Snaefell. I doubt I could have picked a better summit to attempt the S2S's from, with line of sight, & a sea path of about 130Km.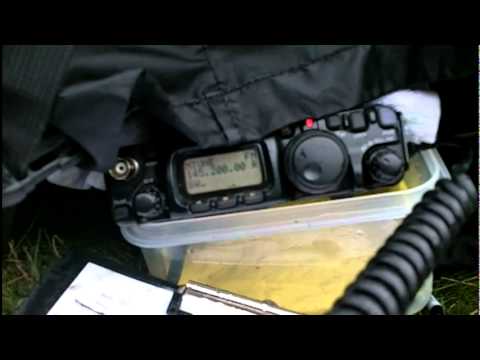 Although now into summer in the Northern Hemisphere, (currently the weather in this part of the world would suggest otherwise), several activators continue to use 160m with some considerable success on what is primarily a winter band. An interrogation of the database produced the following details:
On the 1st May, Peter ON4UP/P activated ON/ON-020 Bois de Viné & had 3 QSO's on 160m.
On 9th May, John G4YSS (operating as GC0OOO/P) activated GW/NW-016 Moelwyn Mawr, & had 1 QSO on 160m.
On 13th May John G4YSS (Operating as GC0OOO/P) activated GW/NW-010 Moel Siabod, & had 3 QSO's.
On 15th May, Phil G4OBK (operating as GT7OOO/P) activated GD/GD-002 Slieau Freoaghane, & had 6 QSO's including a S2S on CW & SSB.
On 15th May, Phil G4OBK (operating as GT7OOO/P) activated GD/GD-001 Snaefell, & had 2 QSO's which were a S2S on CW & SSB.
On 15th May, Mark G0VOF/P activated G/SP-007 Fair Snape Fell, & had 4 QSO's, which were 2 S2S's on CW & SSB.
On 27th May, Bill GM4WSB/P activated GM/SI-171 Ward of Scousburgh, & had at least 1 QSO (Total unknown at present)
At the time of writing those are all the activations on 160m during May that I am aware of, if I have missed any, please let me know. I was fortunate enough to hear Bill GM4WSB, who called on SSB from GM/SI-171 Ward of Scousburgh at the end of his activation on the evening of 27th May. I am not sure how successful Bill was on 160m but I was lucky enough to see Bill spotted while in the process of erecting my 50ft loaded vertical, which is vastly superior to my 80m horizontal loop on Top Band. Despite the band being very noisy with lots of static crashes I could hear Bill's voice & despite my antenna giving a high SWR reading Bill heard me & we exchanged 55 reports. Within a few minutes Bill's signal was now being swamped by the static & I could no longer read him. That said, well done to Bill for trying Top Band for what I believe is only the second time. Given the distance involved I am sure Bill would have much success on the band if he tried 160m on more of his many activations.
So, for now, I hope you have enjoyed this new section of the SOTA news. If you do have any suggestions on things that you think should be included, or if you wish to contribute tips, ideas or anything else that you think may help others on the band please email them to me at mark@brownhill.demon.co.uk
Until next month,
Best 73,
Mark G0VOF
---
CANADA-US SOTA NEWS - By Fred K6DGW
Getting started with this report for SOTA News has meant catching up on some of the activity prior to the first issue of Canada/US SOTA News, and I thought we were getting close to current.
Then, I discovered we have a "Stealth SOTA Op" in Doug Houston, W1DMH!
See below, and as usual, full reports and photos will be posted at
www.foothill.net/~andreaj/SOTA.htm
North American SOTA activity really picked up in May despite some very
bad weather and a very hard winter over most of the continent. A few
attempts were wisely aborted for safety reasons, something we all need
to remember. Starting out with Quebec, J.P. [VA2SG] reports:
"VE2JCW activated Montagne Noire, VE2/LR-005, 30 April 2011, and kept
hiking despite a couple of 'knee deep in snow' steps! This is a
courageous OM. The not less courageous and intrepid, VE2PID and VA2SS
activated Mont Shefford VE2/ES-008 on 1 May 2011."
"I want to thank Jean, Pierre and Jean-Francois for their efforts and
successful activations. VA2SG, who by the way can't wait to copy some
pileups, came close to activating two summits, and even hiked almost 2/3
of VE2/SG-003 with 2 rigs, a jackite pole and the portable moxon in the
backpack but, despite all the efforts he showed and with sadness, had to
cancel for snow/WX/safety reasons. No need to risk an injury as there
will be plenty of occasions for DX."
"It is now obvious that activating as lots of melting snow is left is
not an easy task. My experience now shows its gonna be tough to activate
in VE2 between December and june, unless a bit of adventure is expected.
But that's all fine and we'll handle that. We hope to get a couple new
activators on the air this summer."
"On the chaser side, Jean-VE2JCW (85 activators-339 pts) and J.P.-VA2SG
(72 activators-346 pts) are almost tied on second place trying to catch
Mike VA6FUN (99 activators-472 pts). This is gonna be a long road…"
"Merci et à la prochaine!"
And, apparently lurking in the shadows all this time, I received a
stunning report from Doug Houston, W1DMH [formerly KB1TBW]. It seems
that since 31 Dec 2009, he has activated a total of 55 summits,
including the entire W1/NL- region [26 peaks], heading up the W1
Association Roll of Honour with 266 points!
31/Dec/2009 W1/HA-113 KB1TBW Cannon Mtn
27/Jan/2010 W1/NL-024 KB1TBW Blue Job Mtn
07/Mar/2010 W1/HA-105 KB1TBW Mt Passaconaway
07/Mar/2010 W1/HA-172 KB1TBW Mt Whiteface
11/Mar/2010 W1/AM-003 KB1TBW West Peak on Bigelow Mtn
27/Mar/2010 W1/NL-004 KB1TBW Green Mtn
30/Apr/2010 W1/HA-010 KB1TBW Mt Kearsarge
25/May/2010 W1/GM-015 KB1TBW Bolton Mtn
28/May/2010 W1/HA-006 KB1TBW Kinsman Mtn South Pk
09/Oct/2010 W1/HA-008 KB1TBW Smarts Mtn
13/Nov/2010 W1/NL-002 KB1TBW Belknap Mtn
14/Nov/2010 W1/NL-010 KB1TBW Parker Mtn
26/Nov/2010 W1/NL-013 KB1TBW Catamount Mtn
02/Dec/2010 W1/MV-008 KB1TBW Saddleback Mtn
29/Dec/2010 W1/NL-019 KB1TBW Mt Pawtuckaway North
31/Dec/2010 W1/HA-113 KB1TBW Cannon Mtn
04/Jan/2011 W1/HA-179 KB1TBW Oak Hill
07/Jan/2011 W1/HA-049 KB1TBW Mt Israel
10/Jan/2011 W1/HA-206 KB1TBW Beech Hill
10/Jan/2011 W1/NL-001 KB1TBW Mt Shaw
15/Jan/2011 W1/HA-113 W1DMH Cannon Mtn
15/Jan/2011 W1/HA-134 W1DMH Thorn Mtn
25/Jan/2011 W1/NL-022 W1DMH Pine Mtn
26/Jan/2011 W1/HA-069 W1DMH Black Cap
28/Jan/2011 W1/NL-016 W1DMH Pocket Mtn
30/Jan/2011 W1/NL-014 W1DMH Moody Mtn
31/Jan/2011 W1/HA-014 W1DMH Kearsarge North
08/Feb/2011 W1/NL-003 W1DMH Red Hill
09/Feb/2011 W1/NL-023 W1DMH Stacy Mtn
11/Feb/2011 W1/NL-005 W1DMH Copple Crown Mtn
12/Feb/2011 W1/HA-015 W1DMH Mt Tecumseh
14/Feb/2011 W1/MV-007 W1DMH Pt. 920+
16/Feb/2011 W1/HA-018 W1DMH Mt Field
22/Feb/2011 W1/NL-011 W1DMH Prospect Mtn
24/Feb/2011 W1/HA-033 W1DMH North Pk on Mt Tripyramid
08/Mar/2011 W1/HA-001 W1DMH Mount Washington
09/Mar/2011 W1/HA-068 W1DMH North Doublehead
14/Mar/2011 W1/HA-105 W1DMH Mt Passaconaway
14/Mar/2011 W1/HA-172 W1DMH Mt Whiteface
17/Mar/2011 W1/AM-007 W1DMH Saddleback Mtn. East Madrid
23/Mar/2011 W1/MV-002 W1DMH Fort Mtn
26/Mar/2011 W1/NL-009 W1DMH Mt Morgan
29/Mar/2011 W1/NL-026 W1DMH Mt Jesse
31/Mar/2011 W1/NL-020 W1DMH Mt Bet
07/Apr/2011 W1/HA-060 W1DMH Wildcat Mtn
10/Apr/2011 W1/NL-017 W1DMH Caverly Mtn
27/Apr/2011 W1/NL-007 W1DMH Beech Hill
27/Apr/2011 W1/NL-021 W1DMH Pt. 1240+
27/Apr/2011 W1/NL-025 W1DMH Hicks Hill
01/May/2011 W1/NL-015 W1DMH Pt. 1557, 1.2 mi. NE of Prospect Mtn
06/May/2011 W1/NL-006 W1DMH Mt Prospect
06/May/2011 W1/NL-012 W1DMH Leavitt Mtn
13/May/2011 W1/NL-008 W1DMH Grant Pk on Nickerson Mtns
22/May/2011 W1/NL-018 W1DMH Bald Mtn
WOW! I included his entire list because several were double activations
in one day and many are very close together in date. Many of Doug's
activations occurred in winter and several of the photos he provided
show him and his climbing partner on skis in deep snow [see the above
website]. Nice going Doug!
Moving on to the W4 Association, Carolina's Region, Rich, N4EX reports a
DX activation:
"EI/IS-052: Seefin Mtn, Ireland. May 19th. Single-op, single station by
Marc, W4MPS. Total of 34 QSO's made on 10Mhz CW in 45 minutes. Marc
has set the "distant activation" record for "The Carolinas" and was able
to directly experience European SOTA activity levels with a QSO rate
that we just dream about stateside. Congrats Marc!"
Still in W$, Chuck, K4QS reports from Virginia:
"May was a quiet month for me. I made an attempt on Elliot Knob
W4/HB-001. The weather forecast indicated a 20% chance of a shower late
in the afternoon. By late morning I was hiking in continuous moderate
rain and by the time I made the summit it was about 45 deg with a
30-40mph wind. Rain was blowing horizontally across the summit… Yuck!
I'll try this another day."
"The rest of my May vacation involved a road trip to Maine for a wedding
and visiting with family. There was no time for an activation from the
north country. We did stop in Northampton, MA on the way home and had
lunch with Frandy, N1FJ of SOTA Jerk fame. That was fun. I'm back to
work, so activations won't be as frequent as the month of April. I'll
do what I can."
By the time you read this, weather cooperating, Chuck will have made
another try for W4/HB-001. More on that next month.
From W4, we also have a "Stealth Operator", Eric, W4EON, who reports
the following activations:
4/15/2011 W4/SH-030 Blue Mtn
4/17/2011 W4/SH-027 Dickey Hill
4/18/2011 W4/SH-002 Stony Man
4/24/2011 W4/SH-007 Hogback Mtn
4/27/2011 W4/SH-005 The Pinnacle
4/30/2011 W4/SH-009 North Marshall
5/11/2011 W4/SH-016 Compton Pk
5/21/2011 W4/SH-026 Oventop Mtn
From the very large W5 Association, our "usual suspect" Fred [KT5X]
reported four activations. See www.foothill.net/~andreaj/SOTA.htm for
his reports, he included some great photos and his reports are best read
when you can see the pictures too.
12 Apr 2011 W5/PW-020 KT5X Pt 9420
28 Apr 2011 W5/SM-019 KT5X, KE5AKL Cabezon Pk
29 Apr 2011 W5/SE-037 KT5X Pt 7472
05 May 2011 W5/SE-048 KT5X Otowi Benchmark
And Mike, KE5AKL, activated W5/SL-015 El Cerro de Los Lunas on the
weekend of 21 May. His report is posted on the website.
Jeff, K5VU who is KD9KC's Arkansas Manager reports no activity there,
likely due to the hugely violent weather that has been raking the
Southeastern US. Jeff has sold his home and is moving to South Dakota
where he no doubt will be helping Steve, "the Goatmeister" out with the
Wzero Association. So, Mike, KD9KC is looking for an AR coordinator.
No word from W's 6, 7, or zero this month. Rich, NU6T, and I are
planning on activating W6/SN-039 [Leviathan Peak] on 25 Jun, assuming
the road is clear of snow by then. That coincides with ARRL Field Day
[we should have lots of Q's!] and we'll likely submit a 2B-battery entry
for FD as well. We'll use Rich's call on both stations and post an
alert when we get a better handle on the snow situation.
That's it from the New World for this month.
73
Fred K6DGW [aka "Skip" on the radio]
Canada/US SOTA Reporter Dude
Auburn CA
---
GT7OOO/P ON THE ISLE OF MAN - May 2011 by Phil G4OBK
I'm getting to know the summits of the Isle of Man very well – this was my fourth visit since I started SOTA activating and chasing in 2005. My little used Yaesu FT-857 came out of hibernation on this holiday. The radio and gear had not been used since I took part in CW NFD in June 2010 on TW-004. This is due to my current preoccupation with climbing Lakelands Wainwrights for WOTA. Unfortunately after this IoM trip my FT-857 came back in two pieces after a mechanical breakage. I used the callsign of my radio club on this trip, which belongs to Scarborough Special Events Group.
Eight of us traveled over to the island. We are members of Ryedale Walking Group and I am the only member with any interest in ham radio. The main purpose of the visit was to take part in the annual walking festival. We stayed at The Devonian Guest House in Douglas – we've stayed there before and it is to be recommended. The drawback with staying in Douglas are the parking restrictions as you cannot leave your car in the town for more than two hours parked in the same place between 8.00am and 6.00pm. This involves a lot of car shuffling unless you are using your car every day - which we were not. Public transport on the Island is excellent however, whether by bus, steam train, electric railway or horse drawn tram!
Trying to work out an opportunity to activate three of the five highest summits so as to gain maximum points and take part in the Walking Festival every day was the difficult bit. I missed out the two one pointers on this trip. Bradda Hill GD-004 is the hardest to get to out of all five and is a half day expedition. The other summits are more easily reached when time is the limiting factor. On Friday night the IoM Met Office gave Sunday 15th May as the better day than Saturday 14th so I went for that. The met office got it wrong when you are up at around 2000'. Mark G0VOF had timed an activation of Fairsnape Fell G/SP-007 to coincide with my activation of GD-001 Snaefell and GD-002 Slieau Freoaghane that Sunday. We both got drenched in the process but I guess it was worth it to make summit to summit contacts on 160m. If it hadn't have been for Mark I would have packed up after completing GD-002 but the thought in my mind of poor Mark sat on a Lancashire hilltop waiting for a top band signal in the middle of the day spurred me on to climb Snaefell in awful weather.
GD-002 Slieau Freoaghane Sunday 15th May 2011 160m-60m-40m-30m
An early start had me parked up near Injebreck on the B10 road and I was soon climbing GD-002 over the moor in the mist. As I know this fell well I did not use GPS and my sense of direction without compass oddly enough, despite my worries, took me straight to the well defined summit in visibility of around 25m. I was calling CQ on 160m at 0630z but Mark had not yet set up on SP-007. Before Mark showed up G4SSH, G0NUP, G4OOE and EI2CL were worked on the top band, with G0VOF following later at 599/57 using 5 watts in CW and SSB. I was using an 132' inverted L on a 10m pole fed against two 66' radials with an LDG Z100 auto ATU. This antenna was also pressed into service on 30m, 40m and 60m on both summits. 73 contacts were completed at a power level of between 50 and 100w using LiPo battery power and I was QRT at 0742z.
GD-001 Snaefell Sunday 15th May 2011 160m & 40m
I drove from Injebreck to the bungalow on the famous TT Mountain Course with the intention of jumping on the electric train up to GD-001, which was due at 0935z. The stationmaster told me that the train was full when it left Laxey, so I reversed my plan and climbed the mountain, arriving at the summit at the same time as the train. I returned downhill on the service at 1215z. Once on the summit I took shelter behind the westernmost transmitter building. There was no interference on HF which I was aware of. Without the shelter of the building I could not have activated, however because the wind and rain turned right on to me part way through my activation I finished early with only 43 QSO's in the log. On setting up the radio I discovered that the shaft on the select control on the FT-857 had sheared off inside the detachable front panel of the radio. Some controls were no longer accessible because of this but the main functions were still usable. I suspect this vulnerable part on the front panel was damaged due to me trying to cram so much into my rucksack, despite the rig being carried in a canvas padded bag. The most notable contacts were again an S2S contact with Mark on SP-007 for the only 160m contact on the band, and with LA1ENA/P Aage on VF-012 for another S2S on 40m CW. I packed up completely cheesed off but the feeling faded after a few days when my enthusiasm for SOTA returned, so I decided to go on another early morning climb up to South Barrule GD-003.
GD-003 South Barrule Thursday 19th May 2011 80m-40m-30m
The climb from Round Table up to GD-003 takes less than 20 minutes. The morning was pleasant, with mist coming and going on the summit. The old hill fort sports a trig point and a respectable shelter and the activation was so comfortable it restored my faith in SOTA activating (I am also a Chaser) once again so much that I went on to SSB on 40m! My preferred mode since becoming a ham has been CW and that will never change.
The first station in my log at 0622z was Roy G4SSH (SOTA News Editor) on 80m CW – thank you to Roy for his support by spotting me on SOTAWatch on all these activations. I had large pile up's on all three bands activated. The only station making a complete nuisance of himself by repeatedly coming back to me when I was calling other stations on 40m CW was DL3DXF. I eventually had to work him to get rid of his QRM as he would not give up! Blacklisting an operator using selective deafness only works if they give up and go away to bother someone else and he didn't! I intended to work 60m but the callers on 30m CW did not let up and I had to QRT at 0746z with 114 stations in the log. 40m SSB was quite successful for me for a change and I made 7 QSO's on that mode. It needs patience and more time to make contacts on 40m SSB compared to CW and time I did not have. I needed to now get to Peel by 0900z to meet up with a group of walkers and then walk back to Castletown on the 15 mile Herring Way, across the flank of the hill on which I was now stood.
We returned home on Saturday 20th May very tired after a good holiday when most of us walked over 60 miles in five days.
Phil G4OBK
---
QUILTS UK - by Nick G4OOE
SOTA ACTIVATIONS G/WB-009 G/CE-001 G-WB-023 & G/TW-005
Day 1 - Quilts UK was a four days patchwork quilt exhibition in the Three Counties Showground Malvern, I suppose it must be a patchworker's equivalent to SOTA and the Blackpool Rally. Anyway Eva, the XYL, thought it would be great if we went down for a few days. We arrived in Malvern at around 1300. After checking in at the B & B, I headed off for the Worcestershire Beacon. I parked at the Beacon Road car park (SO 76872 44033) and walked up the tarmac footpath to the summit which took only 22 minutes.
The scenery was superb with good 360 degree views extending miles taking in numerous SOTA peaks including the Brecon Beacons. However, the wind was horrendous, I managed to secure my fibre glass pole to a wooden bench but there was no way I could get the other poles into the hard dry earth so I just secured the ends of the dipole into the ground with metal tent pegs and just hoped for the best. I was on the air at 1418z and I managed to qualify on 40m-cw before going to 30m-cw and finishing off on 2m-fm. I met in with the XYL back at the B & B and she proudly announced that she had managed to purchase two pairs of shoes in the local shoe shop sale and had therefore saved even more money!
Day 2 - After a hearty breakfast I dropped off the XYL at the show, I headed off to Cleeve Hill near Cheltenham. I drove through Cheltenham on to the A40, turning off at the village of Whittington and then just past the Cotswold Way to the car park by the telecoms towers near the summit. The sign on the fence warned about adders coming out of hibernation and that bites could be fatal for dogs! After a short walk I found the trig point which conveniently took the mast, the two dipole ends were secured to an adjacent fence. Conditions were mixed with numerous contacts on 40m-CW & SSB but only one on 2m-fm and none on 30m-cw. Perfect WX for SOTA, a very light breeze with sunshine and thankfully no snakes! A pleasant journey back to pick up the XYL who was laden down with bargains!
Day 3 - I wanted something very easy today so I chose Hegdon Hill which I found in the sticks roughly between Leominster and Bromyard. Same routine as the previous day, I found the field with the trig point but because the field was covered with oil seed rape, I chose to work from a gateway close by. Conditions were better with numerous contacts on 40m-cw & ssb, 30m-cw and 2m-fm. I picked up the xyl at the show and she was proudly walking out wheeling a sewing machine trolley, thankfully there wasn't a sewing machine inside but of course it wasn't empty! After our evening meal I took the XYL up to Worcestershire Beacon to show her the views. Following this we had a very good weekend with our daughter Sarah and family in Gloucester.
Day 4 - Driving back from Gloucester to Scarborough, I managed to convince the XYL that we could go via Normanby Top in Lincolnshire (G/TW-005) so that I could activate my fifth and final TW. We took quite a while to get from the M1 to Normanby Le Wold near Gainsborough. I recognised the golf ball radome on top of the mast from a Wikipedia photograph. Again the fields were covered in oil seed rape so I decided to activate just down the road from the mast. The wind was even more horrendous than experienced on G/WB-009.
I secured the centre pole to a farm gate and one end of the dipole to a tree and the other to a poorly secured pole which was erected with help from the XYL. I managed 28 contacts on 7032-cw, then the supporting pole collapsed in the wind and rain spots had just started forming on the FT-857. At this point I abandoned any thoughts of getting the pole erected again so I reluctantly didn't attempt 30m or 2m. We had a pleasant journey back to Scarborough via the Humber Bridge. It was a brilliant few days away with four activations from four different counties. I would like to thank G4SSH, G0NUP and HB9AGO and anyone else that spotted me, (I had no internet access so may have missed others) and of course thanks to everyone that worked me. I almost forgot to mention that I have a very rare collectors' item in the log - an HF SSB QSO with our editor G4SSH!
Equipment used for all activations:
F7-857 HF-40w 40m dipole as inverted vee. VHF-40w SOTA beam 2m dipole
MFJ-403 portable iambic keyer - 7Ah and 10Ah sealed lead acid batteries.
Stats:
18 May 2011 G/WB-009 Worcestershire Beacon nr Malvern, Worcestershire
7032-cw PA0WDG, F5SQA, DL2EF, DL6UNF, F5JKK, DF5WA, DL7VKD, DL1FU, DJ5AV, OK1YR, PA0HRM, DL4FDM & GOANV
10118-cw HB9AGO
145-fm M1CNL, G4ILI, 2E0FLP, G8XRS/M, G4ERP/M, 2E0CDG, G4BOF & 2E0KEG
19 May 2011
G/CE-001 Cleeve Hill nr Cheltenham, Gloucestershire
7032-cw G4SSH, DL3HXX, DL1FU, F5SQA, HB9MKV, DL2EF, DL2HWI, G0TDM, OE8SPW, G4CMQ, S58AL, DF5WA, SM1CXE, OK1FMG, GM0AXY, HB9CGA, OM7OM, F5PLC, ON4CAP, DLFFCK, S51ZG, OE7PHI, OM1AX, EA2BD, PA3CWG, F5AKL, I1ABT, DL4FDM, G3NYY, G0NUP, PA0WDG, HB9AGO, F6ENO, OE7PHI, F/G0TAK, DL6UNF, DL4FCK & S2S with G3RDQ on G/SC-002.
7168-ssb G3NPJ, G4WSB, G6ODU, ON7KJW, G4SSH, ON5QRP, GM4IPD, G3NYY & G3VXJ
10118-cw nil
145400-fm G3LVP
20 May 2011 G/WB-023 Hegdon Hill nr Bromyard, Herefordshire
7032-cw
G4SSH, G0NUP, GM0AXY, DL3HXX, DL1FU, DL2HWI, PA0WDG, OE8SPW, LX1NO, OE7PHI, DJ5AV, DK1HW, G0TDM, ON3ND, F5AKL, SM7GUY, I1ABT, G4CMQ, DL2RUF, OE6WIG, G3NYY, ON5QRP, S51ZG & DL2AJB/P S2S on DM/TH-807.
7168 KHz SSB
PA0WDG, HB9BQU, G7JVG, DL2EF & G3VXJ
10118-cw SM1CXE, OZ4RT, DF5WA, LA8BCA, IK3DRO, PA0SKP & HB9BIN
145400-fm G0JWJ/M, G0PPM/M, M6HBS/P & G4RQJ/P S2S on G/SC-006
23 May 2011 G/TW-005 Normanby Top nr Gainsborough, Lincolnshire
7032-cw
ON4CAP. G4SSH, PA0WDG, OK2NR OE6WIG, HB9BIN,G3VXJ, DL6KR, G4CMQ, DK3LT, ON3ND, HB9AGH, DJ5AV, G0TDM, GM3JSX, F2LG, LA8BCA, IK3DRO, DL2EF, F5SQA, I1ABT, G4WSX, DF2UD, MW0ZAP, F6CEL, F6ACD, HB9BIN & HB9CMI.
73 Nick G4OOE
---
THE VIEW FROM THE NORTH 29 - by Rob and Audrey G4RQJ
A change of format this month as Audrey's breathing problems continue, so sorry no activations for the first two weekends of the month We were due to have a week in Somerset so decided to do several small hills down there hoping to improve things as we went. The activations would be mainly VHF fm in order to reduce the length of stay on the summit, usually with HF thrown in an activation involves a stay of up to three hours which we did not think a good thing just at the moment. We arrived at our base for the week, a cottage on a working farm close to Wiveliscombe. The cottage was super but very remote and isolated with no internet or mobile phone connection so there was not going to be much in the way of advanced posting. We were really glad of our recently acquired satnav in the car as it would have been a long job finding base otherwise.
Sunday 15th May. Dunkery Beacon.
There are two obvious start points for this one, both from the minor road to the east of the summit. The southerly one is shorter but with more ascent, we elected for the more northerly track, a longer walk but less of a climb, room close to the start for about ten cars but a popular view point so quite a few are just passing, The walk is on a good wide track across open moorland but there is little shelter at the summit. On the air it was a struggle, a lot of calling on 2mssb produced nothing and 2m fm was not much better and shorn of our usual band of faithful chasers it was heavy going. Four contacts on 2m fm and one on 4m fm took over an hour to achieve and the 4m qso was a repeat from one of the earlier 2m contacts, GW was the most prolific source.
Sunday 15th May. Selworthy Beacon.
Dunkery's smaller neighbour and a similar sort of hill. Start from the Memorial Hut as marked on the OS map. Room for a couple of cars here but a big car park further down at the end of the road. Beware if you turn in the car park as there is a huge hidden step between the tarmac and the unsurfaced area. Managed to bottom the car, not popular. From the hut a broad track leads directly to the trig, about a five minute walk. I even repeated it to retrieve a dropped water bottle while Audrey looked at the memorial hut so it can't be far! Radio wise things were a little better with six contacts on 2m fm in a little under an hour, Shepton Mallet /Yeovil and Wales being the main providers. There is no actual shelter at the summit but there is extensive gorse which gives pleasant shelter from the wind.
Monday 16th May. Staple Hill.
Inland today, aim for Staple Fitzpaine then take Underhill Lane to the gate where the tarmac ends where there is room for one car on the right about 50yds back from the gate. From the gate a broad logging track leads through nice woodland, uphill to a turning circle close to the trig. The trig is very overgrown so we decided to operate from the track which is well inside the activation area. Contacts today were much easier to come by and ten minutes on 2m fm saw seven in the log, again mostly Wales and Shepton Mallet areas.
Tuesday 17th May. Wills Neck.
Off to the Quantocks and we allowed the sat nav free reign through the maze of lanes to a large car park at Triscombe Stone. This is on the side of a beautiful old drove road edged and canopied by ancient trees, a very pretty spot. From here it is a fifteen minute walk to the open shelterless summit. Here we managed seven 2m fm contacts in thirty minutes and were visited by a pair of Chinooks that did not stop. On the descent drive just outside Williton on what claims to be a reasonable road we managed to knock a front tyre seal off the rim in a pot hole which the locals seem to regard as a normal occurrence. An hour later and £60 lighter we continued to the Bakelite Museum, lots of memories for us oldies, plenty of radios and TV's of yesteryear and almost everything ever made in Bakelite right down to a full size coffin!
Thursday 19th May. Christ Cross.
South into Devon today, our hosts were not impressed with the route from the sat nav via endless narrow lanes and suggested an approach via the A386 and Silverton. This provided a good road all the way to the summit where we operated from the track to the radio station. This one is not easy on 2m! An hour of CQ calls produced just two contacts. In desperation we set up HF and 7 MHz CW produced four in just six minutes and our only spot of the week as we subsequently discovered, (thanks Roy). This was achieved standing with the key strapped to my leg so hope it did not sound too bad. The road down to Cullompton and the M5 is another series of "interesting" Somerset lanes!
Friday 20th May. Periton Hill.
Last lap, we saved this one till last as there is rather more contour crossing than the others though not a lot. The theory was that Audrey would have regained some fitness on the earlier hills and this proved to be correct. The hill is a very nice walk from the parking area (10 cars) at the end of the lane that leaves the A39 to the south at SS946455. The woods can be a little confusing to the unwary with lots of tracks. We decided to take the broad track on the left which eventually meets the broad track along the spine of the hill. Through the gate and this track leads directly to the trig which is to the left in the edge of the trees, big and obvious but easily missed if you're marching. Eight 2m fm contacts from this one including a summit to summit with Nick G4OOE/P on WB-023 rounded off the holiday activations.
In retrospect the Taunton/Minehead area is a good base for a week's holiday with six summits close by and several local attractions that can be paired with a summit to give a balanced day out. Local chaser support is limited, no one worked in the Somerset /Devon region was a dedicated chaser, however several in the Shepton/Yeovil area gave enthusiastic support and we notice they appear in most recent logs from these summits. Several in South Wales were chasers, inspired by the activations in their area. We were glad of HF back up when things dried up on vhf. All activations used the Kenwood TH F7 hand/held and the 4 element yagi The FT817 got us out of trouble on Christ Cross but was rested for the rest of the trip which was just as well as I (Rob) found that I had not packed its charger, remember the 6P's!
There seems to have been a large reduction of activations in LD so far this spring, guess the current fuel costs have a lot to do with it. Add to this the weather that since the bulge of bank holidays has not been over welcoming to the walker and does not favour long stay activations. Our own contribution has been cut back by Audrey's slow recovery from the breathing difficulties following the very nasty virus attack. At the moment a hill like Periton Hill is a challenge and we have none in this part of the world anyway. The current target is to be back to full speed for the Isle of Man expedition in about a month's time. As a result this offering is a little short on LD news but we hope to remedy this next time.
Take care out there
73
Rob and Audrey
G4RQJ
---
CW POSTCARD from Dave G4ASA
The following attachment might be a bit of fun to put in the next Newsletter for CW addicts to see if they can decipher it.
It is the reverse of a Postcard given to Mike/G4VHM and myself at the Vets Parade in Hull last year. The lady in question bought the card for the picture on the other side, not realising at first what she had bought. She had tried for some time to get it deciphered, without success. However we were successful and made her day.
The lady the card was addressed to was 28 years old in 1908 and it certainly seems unusual for a female to have known Morse code at that date. Unless it was just being copied from a book.
I will be in Ireland for three weeks from 23rd May so may work you from some hills. (He did, on 40 and 30m CW - ed).
73
Dave/G4ASA
Note from ed to any budding cryptographers - this is not an easy task; the dashes are fine, the dots are fine but the spaces are missing; come to think of it there are a few CW stations on the air with similar characteristics.
---
CW REPORT FOR JUNE 2011 - by Roy G4SSH
May was a month of increased background noise on the HF bands, making life very difficult for CW chasers. Activity levels were very variable, ranging from over 100 points available on some weekends, to days when chasers struggled to collect double figures.
The higher bands began to attract more activators, even up to 28 MHz and it was a pleasure to see quite a few CW activators starting on a high band, such as 18 MHz, then dropping down through 14 and 10 MHz to finish on 7 MHz. This is a much more efficient method, allowing the pack of chasers to thin out in stages and so avoid the feeding frenzy on 7 MHz. Activators from France, Spain and Germany were heard employing this strategy during May.
Alain F6ENO was working split, by operating on 14060 KHz and listening one up, whilst on AM-739 on the 23rd.
Chasers were again delighted to hear many expeditions during the month where activators activated multiple SOTA's in a 24 hour period. This was especially prevalent during the SOTA Weekend.
The CW WPX contest managed to swamp out 40m for most of the last weekend in May and the majority of SOTA activators moved up to 30m which is a much better band for both signal strength and space. On the Sunday morning there were 5 stations calling CQ SOTA at the same time on this band, spread between 10116 and 10120 KHz.
I have had no ISP for the past two Sundays, probably because the company consider Sunday the best time to provide maintenance work. Fortunately, last thing at night I always download the SOTA Alert list for the next day, so at least I am aware of the majority of activations. My apologies to those activators whom I worked first and were wondering why I did not spot; this was the reason.
SOTA CW continues to attract newcomers at an increasing rate, with in excess of 20 callsigns noted using CW for the first time during the month.
Heard active above 40m were:-
28 MHz: EA5EA, DC7CCC,
21 MHz: DK1BN, HA5AZC, F/HA2VR, NE1SJ,
18 MHz: DK1BN, EA2EA, YO/DK1BN, F/HA2VR, HA2VR.
14 MHz:
CT1DRB,
E74A,
EA2EA, EA2/F5UKL,
F5VGL, F5LKW,
DK1BN, DL2AJB,
HA2LV, HA2MA, HA2VR, HA5AZC,
HB9BAB, HB9DGV,
KE5ILK, AA5CK, KE5AKL, NE1SJ,
LA8BCA,
M1EYP, M0CGH
OE/DL4CW, OE5EEP, OE5HCE,
PA7ZEE
SV3/DK2JK,
S56CW
WS0TA, W2VV, WA2USA,
YO/DK1BN,
Z35M
10 MHz:
DJ3CQ, DJ3AX, DF3MC, DD1LD, DL8MBS, DL2AJB. DK1IO, DL/LX1NO, DL6CGC, DL6DH,
EA2EA, EA/F5UKL,
EI/W4MPS, EI/G4ASA,
F5VGL, F6ENO, F5LKW,
G3CWI, MM0FMF, GX7OOO, MM0ROV, GT7OOO
HA2LV, HA2MA, HG4UK, HA7UL, HA2VR,
HB9CGA, HB9BIN, HB9DGV, HB9BAB, HB9AGO, HB9AFI,
I1ABT,
KE5AKL,
LA1EBA, LA1ENA, LA1KHA, EA2EA,
OE5EEP, OE/DL4CW,
OK2SAM, OK1EQ, OK1HAG, OK2VWB, OK7CM, OK1KT, OK2HIJ,
SP/OK2HIJ
S51RU, S57XX, S51ZG, S53XX,
WS0TA, W5ESE,
YO/DK1BN,
Z35M
Also thanks to the stalwarts who enthusiastically continue to activate on 80 and 160m:-
3.5 MHz OK9HAG, GT7OOO.
1.8 MHz GC0OOO, GT7OOO, G0VOF,
A warm welcome is extended to the following newcomers, heard activating SOTA's for the first time on CW during May:- Miro S52ON, Michael DL4ABO, Dirk DK2DH, Martin OM4MM, Josef OK1AXB, John OE7PHI, Martin DC8MH, Chris DL8MBS, Bruno I1ABT, David CT1DRB, Manuel CT1BWW, Sanjin E71DX, E73DX, Edin E74A, E75O, Reinhard DK1IO, (Club) WS0TA, Gonzalo EA4ESP, Hans OE3HPU, Marc W4MPS, Marko S56CW, Antonin OK4CMP, Edin E74A, Stan OK1AU, Vrata OK1KT,
Heard active on expeditions outside their own countries were:
DL/OK4DX, DL/LX1NO.
EA/F5UKL
EI/W4MPS. EI/G4ASA.
F/HB9AFI, F/HA2VR
HB9/PA0HRM
OE/DL4CW, OE/DD1LD, OE/S57XX, OE/DF3MC,
OK/DL6UNF,
SP/OK2HIJ,
SV3/DK2JK
S5/DD1LD,
YO/DK1BN,
---
CONTESTS DURING JUNE 2011
The following scheduled contests are expected to cause severe QRM to SOTA activity, especially on the 40m band. Activators should plan accordingly with alternate spots / bands. This is not a complete list of contests.
4th-5th 1200-1200 SEANET Contest CW, SSB, RTTY
4th-5th 1500-1500 IARU Region 1 CW Field Day
12th only 0001-2359 SKCC weekend sprint
11-12th 1500-1500 GACW WW CW Contest
18t-19th 0001-2359 All Asian CW DX Contest
25-26th 1200-1200 Ukraine Digi Contest RTTY & PSK31
SOTA News is normally published at 1200 UTC on the last day of each month and can only be as interesting as the items submitted. If you think your particular field of interest is not being covered then please submit an article by the 28th of the month. Have you a favourite SOTA? favourite mode? favourite rig, antenna, or favourite band? How did you find your first day / month / year as an activator or chaser? Your comments and experiences will be read by SOTA enthusiasts all across Europe and beyond, in a total of 24 different countries. Your input will be most welcome.
73
Roy G4SSH
SOTA News Editor
g4ssh@tiscali.co.uk
North American input to:-
Fred K6DGW [aka "Skip" on the radio]
Canada/US SOTA Reporter Dude
Auburn CA
k6dgw@foothill.net or k6dgw@arrl.net
---