SOTA NEWS JULY 2016 - Part 1 of 3
Editorial - by Mark G0VOF
Welcome to the July 2016 edition of SOTA News. My thanks go to the following contributors:- Barry GM4TOE, Skip K6DGW, Roy G4SSH, Kevin G0NUP, Rob and Audrey G4RQJ, Allen VK3ARH, Warren ZL2AJ, Toru JH0CJH, David G0EVV, Geert PA7ZEE.
========================================================
The June 2016 edition of SOTA News was viewed more than 1175 times.
SOTA AWARDS June 2016 from Barry GM4TOE - SOTA Awards Manager.
Claims for awards rose slightly in June with new Mountain Goats GW6OVD, VK2IO and GI4ONL and Shack Sloths K0NR, WA6MM, GM6OVD, 2E0HTC, KX6A, W4ALE, VK3FLCS and N7LP. Martha, W0ERI, continues to amass high scores now reaching the 50k Chaser level. It is also good to see the continuing interest in the Summit to Summit and SOTA Complete awards.
With the announcement of the top stations in the 10m/6m Challenge I can now issue the certificates to these leading stations – just need to find a suitable design!
Trophies
Mountain Goat
GW6OVD Maldwyn Clee
VK2IO Gerard Hill
Shack Sloth
K0NR Bob Witte
WA6MM Brad Bylund
Certificates Issued
Activator
ON6ZQ Christophe David 1500 points
GW6OVD Maldwyn Clee 1000 points
GI4ONL Victor Mitchell 1000 points
VK2IO Gerard Hill 1000 points
IW2OBX Roberto Polvara 250 points
IW2OBX Roberto Polvara 100 points
Chaser
W0ERI Martha S Auchard 50000 points
KA5PVB Chuck Dobbins 5000 points
GW6OVD Maldwyn Clee 1000 points
2E0HTC Gary Carter 1000 points
KX6A Michael Geoghegan 1000 points
W4ALE Ron B. Fisher 1000 points
VK3FLCS Brett McAliece 1000 points
N7LP Lee Pemberton 1000 points
SP6NVB Bogdan Morawski 500 points
ZS5QI Mervyn Todd 100 points
ZS5AZH Brian Burger 100 points
Summit to Summit
VK3ARR Andrew Ryan Silver
ON6ZQ Christophe David Bronze
Mountain Explorer
VK3ARR Andrew Ryan Gold
ON6ZQ Christophe David Gold
VK3PF Peter Freeman Bronze
VK1AD Andrew Moseley Bronze
Mountain Hunter
VK3ARR Andrew Ryan Silver
SOTA Complete
ON6ZQ Christophe David 100 summits
Following requests for an update of the SOTA leaflet this is now completed and I will post it to the reflector as a pdf file so that anybody can download it and print it out for their use. I grabbed some images from the SOTA Flikr photostream to replace the images previously used in the older leaflet. I hope nobody objects to the use of their photos for this purpose.
Currently, our stock holder in the USA is on vacation so the shipment of small merchandise items normally shipped from North Carolina will be delayed until his return. Please bear with us.
I finally have a fixed telephone line and a decent broadband connection but only after intervention from the national press! Needless to say, I am not impressed with the performance of our UK monopoly telephone infrastructure supplier!
Summer is now in full swing in the Northern hemisphere but the propagation gods do not seem willing to help! Many of you will not have experienced SOTA during a solar minimum, don't worry the world does not end you just have to choose your operating bands more carefully – a real challenge when using qrp but NVIS may come to your rescue. Apologies to those of you in the Southern hemisphere, just received a photo from a niece in Brisbane – snow on the beach, lovely!
73
Barry GM4TOE
SOTA Awards Manager
========================================================
NORTH AMERICAN REPORT from Skip K6DGW
Hi all,
Summer has arrived, and our Summiteers and Chasers are really coming out in force despite the dearth of sunspots! The sunspot number has been exactly zero for most of June. You'll note the increase in 20, 30, and 40 meter QSO's accompanied by a marked decrease in 15, 12, and 10 meter contacts.
NORTH AMERICA TOTALS
Total Activations: 526 [396]
Nr Unique Activators: 185 [152]
Total Chaser QSOs: 4928 [2904]
Nr Unique Chasers: 249 [222]
Unique Summits: 393 [329]
2m: 222 (4%) [188]
6m: 4 (0%) [2]
10m: 9 (0%) [1]
12m: 0 (0%) [0]
15m: 32 (0%) [17]
17m: 135 (2%) [97]
20m: 3345 (67%) [1807]
30m: 430 (8%) [283]
40m: 745 (15%) [503]
60m: 1 (0%) [0]
80m: 0 (0%) [0]
160m: 1 (0%) [0]
Unk: 4
CW: 3362 (68%) [1827]
SSB: 1342 (27%) [887]
FM: 223 (4%) [186]
AM: 0 (0%) [0]
Data: 0 (0%) [1]
Other: 0 (0%) [1]
Unk: 4
AWARDS AND ACHIEVEMENTS:
Word has arrived that Alan, NM5S, has surpassed 4,000 activator points, a truly amazing achievement!. Congratulations Alan!
Stop press: Phil NS7P gained his 60,000th chaser point this morning (30th June). It was with Martha (W0ERI) and Gary (W0MNA). Congratulations Phil!
Ryan, K7ODX, and Bob, K0NR have just become North America's latest Shack Sloth, passing 1,000 chaser QSO's. And, on 21 Jun, Bob managed to also make All VHF Shack Sloth, a QSO from Mt Garfield (W0C/FR-040) with Steve, K7PX.I believe this is a first in North America. Nice double achievement, Bob!
Ian, VE6IXD provided a report from Canada:
"It seems Canadians are not great "Mountain Explorers", by which I mean that very few Canadian activators have gained a Mountain Explorer award."
"Indeed I had hoped to write and tell you that I was the first to achieve that status, but upon checking, I find the first Canadian to achieve this award was VA3OZI, Matt, on 11 Dec 2015. Matt had activated peaks in W0C, W7Y, W0D, VE2, and W1. He has since activated peaks in W4V, W3 and W8V. I recently managed to gain the bronze level award on 13 June, 2013 with peaks activated in VE7, VE6, VE2, GW and G."
"There are 2 people with activations in 4 associations, VA2VL and VA3SIE, and two people with activations in 3 associations, VA2IEI and VE2DDZ. It seems most Canadians like to stay close to their home Province when SOTA activating."
"By the way, VA3OZI, Matt is not a chaser, and so it was difficult to list his awards, the only place I can find the "Show Awards" function is at the top of the Chaser Log, and the function is not available if the person does not log any chases."
Incidentally, the RAC Canada Day contest takes place on 1 July ["The Real Date"]. Information at wp.rac.ca
NEWS:
Etienne, K7ATN advises that the current Pacific Northwest newsletter can be found at:
www.pnwsota.org/sites/pnwsota.org/files/downloads/K7ATN/PNW%20SOTA%20Newsletter%20Jul-Aug%202016.pdf
You can find back issues on the site too if you poke around a little.
From Ken, K6HPX [with editing by K6EL]:
"A few days ago, I went to Hawai'i to see one of my customers, Jupiter Research Foundation, and I combined that with a routine activation of the drive-up summit Mauna Kea (which means white mountain) at 13,795 feet elevation, followed by a far from routine activation of Mauna Loa (long mountain) at 13,677 feet… an active volcano and virgin Sota peak. For that one, I used a graphic contour map, plus Stuart Ball's Hikers Guide to Hawai'i, plus a route suggested by a National Parks ranger over there, plus an altimeter to confirm elevations at my waypoints."
"Before the trip, I went up Mt Evans in Colorado, a 14'er, to see if my old body could handle it. No problem, except for just a hint of a headache and a few minutes of visual disturbance each time I looked at the glare of anything white."
"I started my hike with a 36 pound pack, including overnight gear, 15 pounds of water, and 6 pounds of electronics (KX3, etc.). I drove to a point near the Mauna Loa Observatory trail head before dawn and started from that 11,000 foot TH just as the sun rose. I climbed for nine hours to reach "Jaggar's Pit" on the caldera rim and kept going as long as I could. The geological sights along the way were really something to behold… suitable for a National Geographic photographer. I bedded down for the night next to the trail and shivered instead of sleeping. Kay, my better half, warned me back in Tucson that my bag might not be insulated enough. When I woke up, everything was frozen. I continued to the summit and ran 12 watts into a horizontal end-fed half wave wire supported 14 feet up a fishing pole with a rock on the other end. Good thing about my decision to bring something more than QRP, because there was a minor geo-mag storm and really poor propagation. Notwithstanding that problem, I still made 13 contacts, all on 20 CW."
"There was no RBN hit, but I got a spot from NQ7R, my first contact. The others were regular chasers, plus two unfamiliar calls and ZL1BYZ. I also tried to copy my customer's off-shore Wave Glider, a floating device that can relay water temp, wave height and data from tagged sharks and whales, on PSK31. No luck."
"Total time from the TH was 14 hours up and 9 hours down. A young guy who is very fit could cut those times in half."
Kevin, K4KPK, posts articles of his activations. The current article [an interesting confession about what we've all done at one time or another] is at:
His full collection: Redirecting…
Curtis, KC5CW, who seems to get around a lot wrote:
"I just got back from an awesome NPOTA vacation to St Croix and St Thomas/John with over 650 QSOs on 4 national park sites. I saw a bunch of SOTA quality hills but alas it isn't an association yet. I did plant the seed at dinner with the local ham club president. If anyone else goes there or talks to any USVI hams, plug SOTA!" Here's a video of my trip: Virgin Islands Ham Radio - YouTube
Finally, for our Report of the Month, an adventure from Brad, WA6MM:
"I activated Grizzly Peak (W0C/PR-022 13,427 ft) here in Colorado last Sunday. A great way to spend part of Father's Day! This peak was first activated by our association manager, Matt (K0MOS), several year ago. What a fantastic peak to climb with a great operating position and amazing 360 degree views."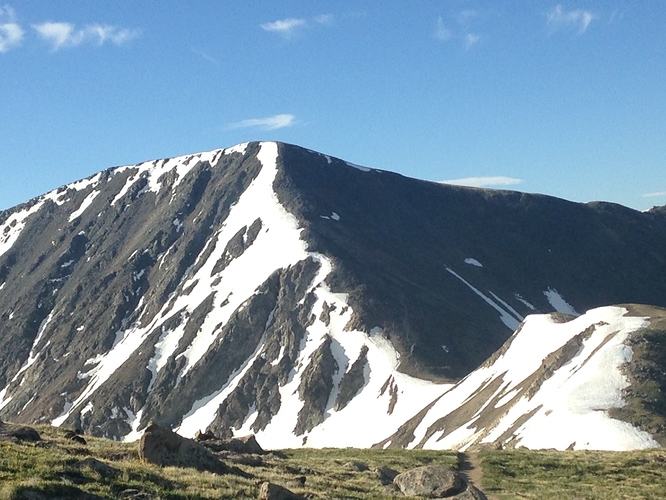 Grizzly Peak
"On the surface, this climb doesn't appear to be all that difficult. The trailhead is at 11,992 ft and the peak is only 1435 ft higher. However, you gain and lose elevation in many places along the ridge leading to the final climb to the summit. This amounts to ~2900 ft of climbing over the 6 mile round-trip hike. It took 2.25 hrs to summit and about 1.75 hrs to descend."
"The summit was very windy and cold, in contrast with the near record heat in Denver! I was lucky to be able to set up my operating position in a partial rock-walled shelter that effectively shielded me from the wind. I had great cellphone coverage and was able to send out spots on SOTAGOAT. Life was good!"
"I started my activation on 40M CW as usual and made 7 quick contacts. After that I moved to 20M phone. Band conditions didn't appear to be that great and there was a lot of QSB. My antenna mast collapsed after the first phone contact and I had to get it back up and stabilized. I wondered how much more wind this pole will take before it snaps in two!! I did squeak out 5 phone contacts before moving to 20M CW and making another 6 contacts. I contemplated trying 17M but thought the upper bands were probably not going to be fruitful due to conditions."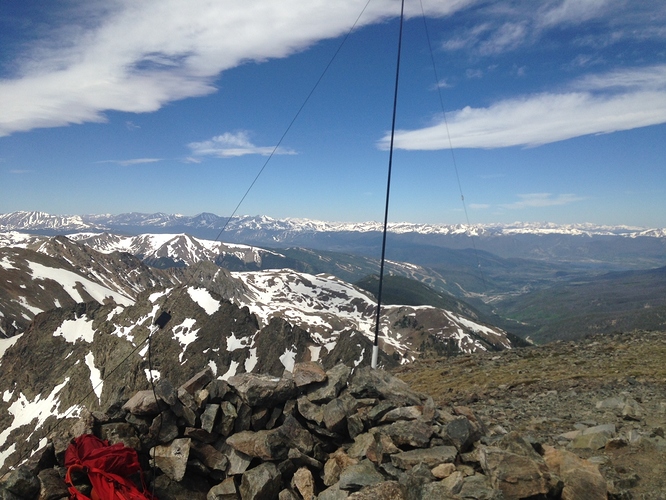 Antenna on Grizzly Peak
"So, I moved on to 2M FM. I called CQ on 146.52 Mhz for awhile but couldn't gather any attention. This peak is probably not the best VHF summit as there are some big mountains that block access to the more populated areas along the front range. I sometimes get lucky and make contact with mobile operators passing through the area but not this time. Then, to my surprise, KD0DPJ came back to me from 160 miles away in Nebraska! Awesome…made my day . Last week's surprise was the contact with Andy (UX1LW) on 20M phone from almost 6000 miles away in the Ukraine. These little surprises really help motivate me to keep activating peaks."
"I've now started looking for S2S contacts after I'm done with my usual run of spots and pileups. I saw Rob (AE7AP) spotted on a summit in Montana and was able to work him on 40M phone. And then, for my final contact of the day, I was able to work Ryan (K7ODX) on a summit in Utah on 40M CW. Ryan and I have been trying to do a S2S activation for a long time…we finally did it! Thanks Buddy!"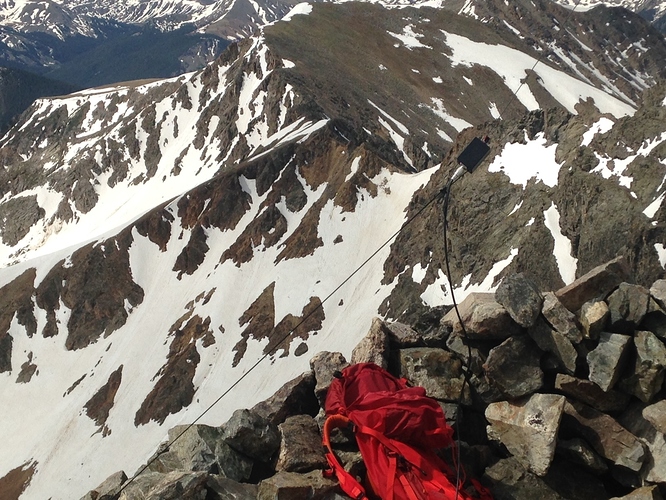 Operating position on Grizzly Peak
"I think I've finally got this activation stuff wired now (well mostly . It's best to operate on both high and low bands, and use both CW and phone. I'm also a chaser so that reinforces operating on several bands and modes. I know it can be frustrating when chasing and you can't hear the activator. Just changing bands or modes can make all the difference in the world! In any event, I'm interested in comments from chasers to help me improve my operating practices if there are things I could do to help improve the experience."
That's it from the New World for this month, I sure hope to get back into chasing before summer runs out. Might even manage an activation or two.
73,
Skip K6DGW
North American SOTA Reporter Dude
============================================================
SOTA NEW ZEALAND REPORT from Warren ZL2AJ
SOTA Activity Report for May / June 2016
List Summits activated
Date Summit Code Summit Name Activator
1-May-16 ZL1/WL-138 Lowry ZL2ATH
1-May-16 ZL3/CB-806 Coopers Knob ZL3CC
1-May-16 ZL3/MB-093 Altimarloch ZL/VK3ARR
1-May-16 ZL3/MB-093 Altimarloch ZL2AJ
1-May-16 ZL3/MB-278 Rahotia ZL2RE
5-May-16 ZL1/AK-023 Maungawhau / Mount Eden ZL/VK3ARR
7-May-16 ZL1/WK-134 Maungakawa ZL2AJ
7-May-16 ZL3/CB-822 Tauhinukorokio/Mount Pleasant ZL3CC
21-May-16 ZL1/WL-153 Mount Crawford ZL2ATH
5-Jun-16 ZL3/CB-822 Tauhinukorokio/Mount Pleasant ZL2AJ
5-Jun-16 ZL3/CB-822 Tauhinukorokio/Mount Pleasant ZL4KD
8-Jun-16 ZL1/WL-110 Belmont ZL2ATH
11-Jun-16 ZL1/WL-152 Mount Cameron ZL2ATH
11-Jun-16 ZL3/CB-746 Carews Peak ZL3CC
18-Jun-16 ZL3/OT-475 Mihiwaka ZL4OL
20-Jun-16 ZL1/MW-137 Tapuae ZL2AJ
25-Jun-16 ZL3/CB-737 Flag Peak ZL3CC
25-Jun-16 ZL3/CB-757 Lavericks ZL3CC
26-Jun-16 ZL1/BP-193 Otanewainuku ZL1SHP
27-Jun-16 ZL1/WL-116 Kaukau ZL2ATH
The cooler months would normally indicate a drop in SOTA activity. However with the addition of the ZL3 association, activity has increased. There are also more callsigns now showing in the activated summit listings which is good to see. Andrew ZL3CC has been busy collecting summits on Banks Peninsula in ZL3/CB Region. Wynne has been zipping around the hilltops in ZL1/WL region. Mike ZL4OL has kick started his adventures in ZL3/OT (He has already started filling my July spreadsheet).
After flying over ZL3 on a clear day it's not hard to see the sheer volume of summits you have to work with. Many will take some getting to, but if you wanted to be at the top of a summit log (by activating a virgin summit) there are plenty to choose from.
Some have been a bit overwhelmed with the amount of technology, apps and websites available for SOTA. My recommendation to those that aren't so tech savvy is to learn www.sotadata.org.uk first. It is the hub for all your contacts to go into as a log, if you want to collect points for the award. All the other websites and apps are tools to help you achieve a successful activation and be part of the SOTA community. Sotadata is the hub.
Within SOTA there are many different challenges and goals you can set yourself. Some activators and chasers are interested in unique summits, trying to work or activate different hilltops. Some like to collect summit to summit points. S2S contacts are very exciting to be a part of. You get to claim the summit points that you have activated (assuming you qualify it with 4 contacts), as well as the chaser points from the summit you chased from your summit. Both of these points are added together and are tallied in your S2S log. This can be found on sotadata under View Results, My Results, My Summit to Summit Log. Completing a summit is another challenge. How many summits have you both activated and chased? This log can be found on sotadata under View Results, My Results, My SOTA complete log. Set yourself some goals and make plans to achieve them.
Lastly it is important to remember that with changes to the Health and Safety legislation, some farmers are cautious to let us onto their worksite (farm) to activate summits on private land. It is important to seek permission before entering private land, and explain the activity you are wishing to do (radio experimentation from that hill there), hazards you may introduce to the farm, hazards that are on the farm already, and your methods of hazard mitigation (how to make sure you don't get hurt). Some farmers may just say no and we have to respect that. It is good to find out what we need to do to achieve a positive result in such circumstances, and if you need help forming a safety management plan (which may be asked for) let me know and I can draw one up.
Stay safe out there. Keep an eye on the weather reports. Hills will always be there another day.
Total Summits Activated for Period – 17
Total number of ZL summits - 5172
Total number of ZL summits activated – 48
Percentage of ZL summits activated – 0.93%
Total ZL Chaser contacts for period 314
Regards,
Warren Harris ZL2AJ
021 649284
============================================================
SOTA NEWS FROM JAPAN by Toru JH0CJH
June it is rainy season in Japan. But fortunately weekend was not so bad in June this year. However Kyushu area got damage due to torrential and endless rain. The area has got damaged by earthquake in April then land slide has happened some of the area. Really hope to be recovered soon.
SOTA activity also got affected by wet weather condition and decreased the number of activations compare with May. We got a visit of VK3ARR Andrew on the way his Biz trip to Korea and he made SOTA activations on Kyusyu JA6 and Honsyu Ibaragi JA. In this occasion, we Japan SOTA association celebrated SOTA Japan one year anniversary with Andrew.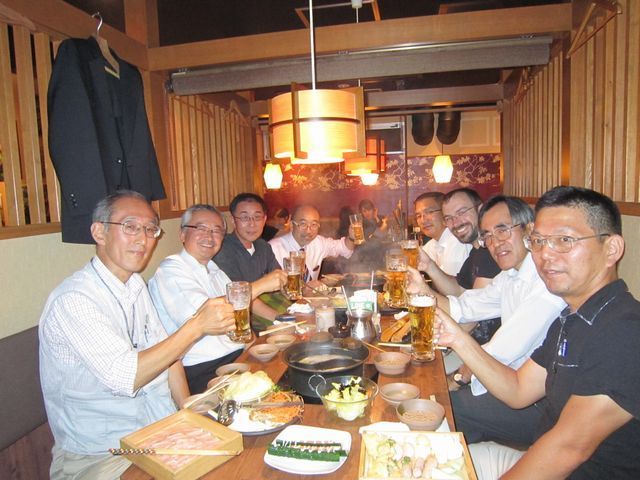 L-R: Nobi Hyakutake JA1JCF, Toru Kawauchi JH0CJH, Jun Hirai JI1IHV, Minoru Tomobe JL1NIE, Takeshi Abe JG1GPY, Andrew Ryan JI1GBE / VK3ARR, Junichi Susaki JI1TLL, Takeshi Saiki JS1UEH.
This photo has been taken just before the KANPAI (toast), then everyone looks quite sober but later… as usual, and it is global standard.
SOTA operation June 2016 in Japan
Total number of Expedition 158 with 1436 QSO as of 29th June 2016.
JA: 98 expeditions with 1337 QSO from Summits
JA5: 0 expeditions with 0 QSO from Summits
JA6: 3 expeditions with 32 QSO from Summits
JA8: 2 expeditions with 67 QSO from Summits
Personally I could make activation on JA, JA6 and JA8 regions in this month.
Regards
Toru Kawauchi
toru@kawauchi.homeip.mydns.jp
http://www.kawauchi.homeip.mydns.jp/jh0cjh/blog/
======================================================
THE VIEW FROM THE NORTH - 102 By Rob and Audrey G4RQJ
This looks like it will be a brief effort this month due to weather and inertia on our part. First outing was a trip up our most local summit LD-049 Kirby Moor on May 29th. The best approach to this hill is the old Slate Road that provides access to the wind farm that occupies the summit. Half of the area has been carted away in times past to provide roof material for the world but the quarries are all on the north side of the hill and avoidable. The Slate Road is surfaced and can be driven up with care and a reasonable ground clearance but the parking at the works building is very limited and we always park at the start of the Road and walk up. An alternative approach is from a disused quarry at Gawthwaite on the A5092 but we stopped using it as the road is frankly lethal to rejoin at a blind hillcrest. Only a couple of months ago an artic, (Semi for any transatlantic readers) doing the legal limit demolished a van with fatal consequences . HF conditions from the summit were truly awful with just one on 40m and 2 on 30m all of which happened in brief bursts when the band worked for a couple of minutes. 2M ssb was its usual silent and fm a longer chatty session. As we walked across the moor on the way down we spotted two people looking lost on the horizon. As we got closer one was seen to be wearing a work helmet and a T shirt tucked under it to keep the sun off his neck. He proved to be a rather eccentric friend of ours and his friend who were out looking for a cave in which to search for geological specimens. As they were mapless on the moor we were rather worried about sending them to the slate quarries but eventually they set off in that direction. No press reports since so guess they survived.
Next weekend on we visited a large local Garden Show and spent the whole day in the sun walking round albeit with proper sun protection but Sunday we were so "cream crackered" we spent the day recovering in the shade (advancing Years!) so no hill! Audrey is our gardener by the way, I waste my time in my "Evil Empire" restoring old WW2 radios, currently a basket case Hallicrafters SX-24
Sunday Jun 12th and a very patchy day weather wise with intense storms in places so we decide on Lambrigg Fell LD 046 another windmill infested top. This hill is easily reached from J37 of the M6 as it is clearly visible on the western side of the motorway. leave the motorway and head towards Kendal, Turn into Rowan Edge Quarry road where there is plenty of space beyond the Quarry entrance, leave room for large lorries turning in. Cross the Kendal road, head West and take the first gate on your right. From the gate a path takes you roughly along the line of a fence and after crossing a small service road continue to follow the line of the fence, now a wall, until reaching a cross wall with a gate… the previous section is often boggy but today is bone dry. At the cross wall there is a choice. On the far side is a bird reserve with lots of notices but the marked actual high point lies along the wall line and takes the form of what can best be described as a small out crop cum dune often in the centre of a marshy lake/bog. On the near side of the wall the ground rises over a couple of little hillocks until one is reached, opposite the afore mentioned dune 20 or so yards away on the other side and the same height, a much better option for activation. Best select you option before starting up this section as the wall is quite tall and there is no gate further along as confirmed by the farmer who had no objections to our activities. On the air things proved difficult, the reason for the repeat was mainly to check the resonance of the antenna on 14Mhz which we did but it did not improve things as there was no propagation! Loads of calling on 7MHz produced just two contacts, nothing on 5Mhz. We eventually managed a run of on 10MHz just ten contacts in difficult conditions thanks to a spot by IK2ILH, many thanks Mau. By now it was very clear that a major storm was closing on us and a quick shout on the 2M handheld produced no takers so we beat a hasty retreat arriving back at the car seconds before all hell broke loose outside so sorry any 2m chasers, staying was not an option.
Sunday 19th and we are up early, sarnies packed and we take a quick weather check before setting off up the coast. All the Isle of Man web cams are showing very heavy rainfall and mist down to sea level. This is a bad sign for the Lake District as under normal conditions what happens on the Island arrives here about an hour later but today it doesn't take that long and within ten minutes torrential rain sets in and carries on all day with some local flooding. We stay put!
And that's it for this month and almost time for our Isle of Man expedition. Assuming good weather we should do each of the five summits twice so plenty of time to earn our Worked all GD Summits 2016 Certificate, just work us once on all five and it will drop through your mail box in due time. Spots would be appreciated and hope to work lots of you.
For now take care out there.
73
Rob and Audrey
G4RQJ
========================================================
*********** SOTA NEWS PART 2 FOLLOWS BELOW ********