SOTA NEWS JANUARY 2018 - Part 1 of 2
Editorial - by Mark G0VOF
Welcome to the January 2018 edition of SOTA News. My sincere apologies for the delay in publication due to technical problems & illness. May I wish all activators & chasers a very happy & healthy 2018.
My thanks go to the following contributors:- Barry GM4TOE, Skip K6DGW, Roy G4SSH, Kevin G0NUP, Toru JH0CJH, Warren ZL2AJ, BOB F5HTR, Peter ON4UP, Geert PA7ZEE.
73, Mark G0VOF
========================================================
The December 2017 edition of SOTA News was viewed more than 1,036 times.
SOTA AWARDS DECEMBER 2017 from Barry GM4TOE - SOTA Awards Manager.
December was reasonably quiet on the Awards front (slightly up on November) but incredibly busy with merchandise orders! Congratulations to new Mountain Goats JF1NDT, DJ2FR and G3TQQ and to Sloths N9XG, ON5SWA, SQ9XSN, SV2RMR and W7KKM. NE4TN on 50k points and DJ9BX on 10k points join the ranks of the "addicted" SOTA Chasers!
Two other great achievements are EA2WX with the first Amethyst Mountain Hunter Award and 4X4-2238 achieving one of the very rarely claimed SWL awards. Well done everybody.
Finally – congratulations to Guru EA2IF on being awarded the Sherpa Award for 2017 in recognition of his contribution to the SOTA programme which included his assistance with translations for the MT, his documentation of his trials and tribulations with a move to a less than ideal qth and many other little things he has done to assist. All in the true spirit of helping others and helping promote SOTA. The MT had a number of people in mind for this award and the final decision, although not easy, was unanimous. Our thanks to Richard G3CWI at SOTAbeams for sponsoring this award.
Trophies Issued
Mountain Goat
JF1NDT Yukio Osada
Shack Sloth
N9XG Ian Offer
ON5SWA Francois Gorremans
Certificates Issued
Activator
JF1NDT Yukio Osada 1000 points
DJ2FR Frank Heidamke 1000 points
G3TQQ David Bottomley 1000 points
DD5LP Ed Durrant 500 points
YO6EVA Eva Kelemen Gajdo 500 points
YO6EVA Eva Kelemen Gajdo 250 points
YO6EVA Eva Kelemen Gajdo 100 points
LB8CG Mikhail Khelik 100 points
MW0XRT David Burt 100 points
Chaser
NE4TN Walter Beaton 50000 points
DJ9BX Michael Ahlgrimm 10000 points
AE7AP Robert Kingery 2500 points
N2GBR Richard Jones 2500 points
K1LIZ Elizabeth Burns 1500 points
SQ9SXN Darek Raczka 1000 points
SV2RMR Kostas Kousis 1000 points
W7KKM Michael Leed 1000 points
N9XG Ian Offer 1000 points
W3CDW Christopher Wilson 1000 points
YO8SST Tatiana Done 250 points
YO8SFF Catalin Doroftei 250 points
YO8SFF Catalin Doroftei 100 points
IZ1TTR Filippo Vilasi 100 points
Chaser Unique
W0MNA Gary Auchard 5000 summits
ON5SWA Francois Gorremans 2000 summits
DJ9BX Michael Ahlgrimm 1500 summits
YO8AZQ Adrian Done 250 summits
K1LIZ Elizabeth Burns 100 summits
Summit to Summit
KG7EJT Tim Nair Silver
HA1DTQ Gabor Donaczy Red
Mountain Hunter
EA2WX Marcial Vecilla Amethyst
K5QR Andrew Bonnot Platinum
K4MM Tom Colyard Gold
AE7AP Robert Kingery Gold
HA1DTQ Gabor Donaczy Bronze
SWL
4X4-2238 Eyran Millis 2500 points
My sincere thanks for all the donations received in December, and the really nice comments; your contributions help keep the awards programme alive and flourishing while the comments mean everything to those of us working to keep SOTA alive and growing.
This month's report is, of necessity, rather brief. I did not return from vacation until 18th December and there were an incredible number of award claims and merchandise orders to sort out; I did manage to get all orders submitted before 19th December finalised and posted so you should receive these in the post before the end of the first week in January – if not before.
Payment for awards has always been possible using Paypal and a number of other means including cheque payment. With the imminent closure of the Royal Bank of Scotland branch in Banff, and no viable alternative being provided in this town or nearby, I will be unable to pay cheques into our account at Natwest. Therefore, from 1 January 2018, I must cease to accept this form of payment; this will inconvenience a few people but I hope to have an alternative to Paypal available shortly. In future (or until I can find something else) I can only accept payment by Paypal, direct bank transfer or cash. This change is unlikely to have any severe effects but I am conscious that some people do not like Paypal or any form of internet banking. Finally, just for the record, all orders must be prepaid before I despatch them – we do not offer cash on delivery or invoiced payments.
I introduced a new system for ordering trophies which was designed to reduce the cost for a large number of claimants – priced as the trophy blank plus engraving at a cost per character. The vagaries of the SOTA community amaze me; in the short time this facility has been in place the average price for a trophy has risen. Not a problem but be aware that the cost of a basic trophy is within your control. When deciding on the date, and other engraving, please also be aware that there is limited space on the face of the glass blank and I am unable to engrave a full date (e.g. 31st December 2017) without obscuring the design and there is really only space at the bottom of the trophy for one line of script; the engraver will try their best to fit it but there are limits.
Last but not least, just a reminder that from early January to late March I have to travel to Aberdeen every weekday for medical treatment (around 6 hours a day) so there may be times when delays in sending out orders may occur. My XYL has agreed to help but she is not completely comfortable with how the system works so may take more time.
Best wishes for the coming year and be safe when out on the hills
73
Barry GM4TOE
SOTA Awards Manager
========================================================
SOTA End of Year totals 2017
As is customary at the end of the year the database has been interrogated to produce the following tables. My thanks go to Tom M1EYP for producing these tables & Andy MM0FMF for providing the data. Well done all activators & chasers!
Summits Activated – All Time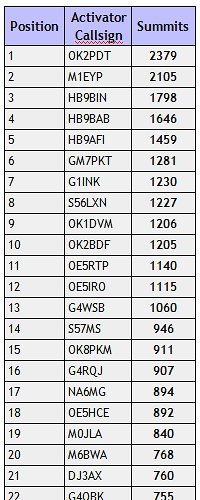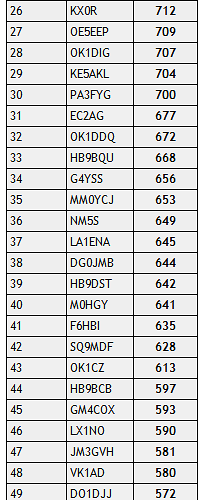 Summits Activated – 2017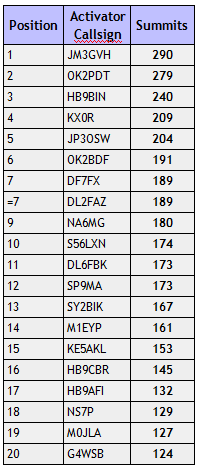 Activator QSO's – All Time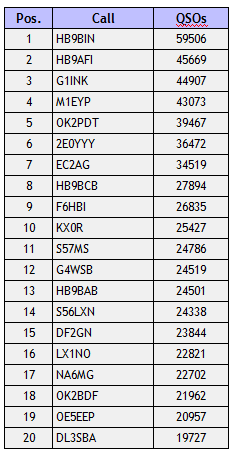 Activator QSO's – 2017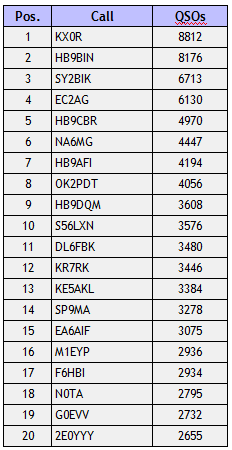 Chaser Regions chased - All Time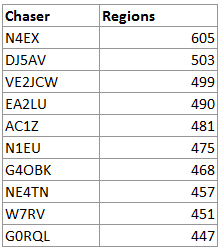 Chaser Regions Chased – 2017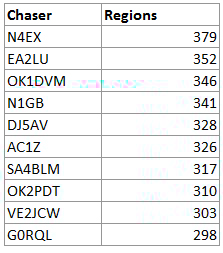 Chaser Continents chased – All Time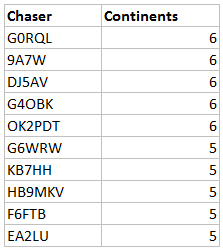 Chaser Continents chased – 2017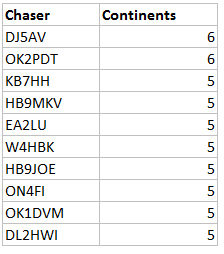 SOTA continues to expand across the globe thanks to the tireless work behind the scene of the summits team. The maps below should give some idea of the work done this year & that is still to be done courtesy of Simon G4TJC
All summits – New 2017 summits in Green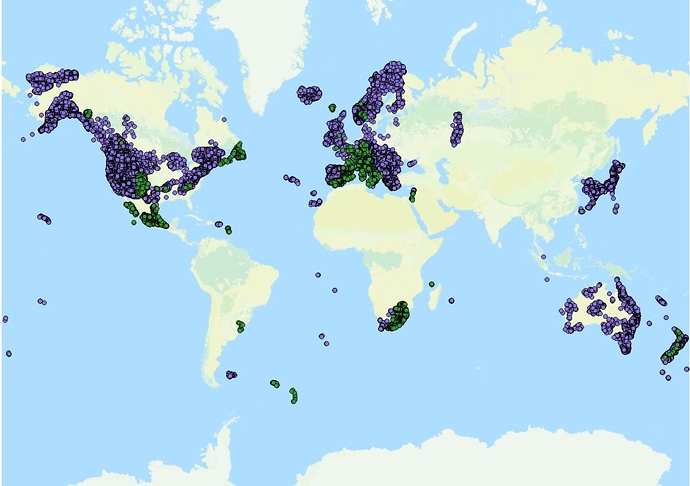 New summits only – 2017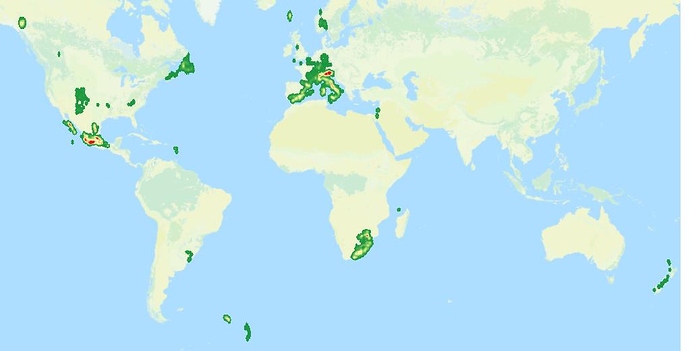 ========================================================
NORTH AMERICAN REPORT from Skip K6DGW
Greetings from North America. SOTA activity was down just a bit for the last month of the year, but was still fairly strong given the colder weather. That weather became seriously frigid in the latter weeks of the month over much of the continent.
NA Statistics for Dec
Produced: 12/30/2017 at: 18:00:17 UTC
  Total Activations:    468  [484]
   Total Activators:    170  [176]
 Total Chaser QSO's:   7060  [7275]
      Total Chasers:    295  [273]
     Unique Summits:    340  [354]

BAND     #               LAST MONTH

3.5MHz: 67 ( 0.9%) [ 42 ( 0.5%)]
5MHz: 166 ( 2.3%) [ 61 ( 0.8%)]
7MHz: 2008 ( 28.8%) [ 1887 ( 26.5%)]
10MHz: 903 ( 12.9%) [ 889 ( 12.4%)]
14MHz: 3395 ( 48.7%) [ 3524 ( 49.5%)]
18MHz: 146 ( 2.0%) [ 356 ( 5.0%)]
21MHz: 41 ( 0.5%) [ 133 ( 1.8%)]
28MHz: 17 ( 0.2%) [ 28 ( 0.3%)]
144MHz: 219 ( 3.1%) [ 188 ( 2.6%)]
433MHz: 3 ( 0.0%) [ 5 ( 0.0%)]
MODE # LAST MONTH:
CW: 4941 ( 70.9%) [ 4847 ( 67.8%)]
Data: 2 ( 0.0%) [ 2 ( 0.0%)]
FM: 221 ( 3.1%) [ 194 ( 2.7%)]
SSB: 1804 ( 25.8%) [ 2095 ( 29.3%)]
This will be a somewhat abbreviated report. News is a bit scarce with the holidays and all, and I haven't had much time to go scout out news items.
Etienne, K7ATN, offered a link to the Pacific Northwest SOTA Newsletter at:
www.pnwsota.org/sites/pnwsota.org/files/downloads/K7ATN/PNW%20SOTA%20Newsletter%20Jan-Feb%202018.pdf
with some stunning photographs including several fire lookouts.
Jeffrey, AA6XA, reported in with: "As a peak bagger, I like to find lists of peaks I can climb, then to go out and climb them. Last winter while waiting for drier weather I noticed that there were only six SOTA peaks in Pinnacles National Park, in central California. This seemed like a good list to tackle this year. I had activated two of the peaks last year, but my goal was to climb all six in 2017."
"Only one peak, North Chalone, has a maintained trail to the summit. Two more, South Chalone and Hawkins Peak, have trails that get you close to the summit. The other three are off trail, and require various amounts of bushwhacking. Most of the vegetation in the park is chaparral, and can be extremely hard to bushwhack through. Hawkins Peak and North Chalone had been previously activated, but I was able to do the first activations of the rest of the peaks."
"The highlight of all the peaks was on North Chalone, when two (critically endangered) California condors flew directly over my head, then landed a few meters away. In case you need more of my condor pictures for some reason, they're here."Trip reports, in the order I climbed them:
Peak 2540
Hawkins Peak
Peak 2236
Harris Benchmark
South Chalone Peak
North Chalone Peak
[Ed Note: The Pinnacles National Park in Central California is actually only one half of a park. It is directly on the west side of the San Andreas fault which runs from the Sea of Cortez in the south to the Pacific coast north of San Francisco. The western side of the fault is moving northwards. The other half of the park is on the east side of the fault and has been stationary in the general vicinity of Palm Springs in Southern California, where the central California part used to be, millions of years ago. There is a seismograph in the park headquarters which shows current slippage of the fault. One wonders as you stand astride the San Andreas if "The Big One" is going occur [

]
Fred, KT5X, reports on an activation in Valle Grande, NM, of a peak that has been off-limits, and was just opened: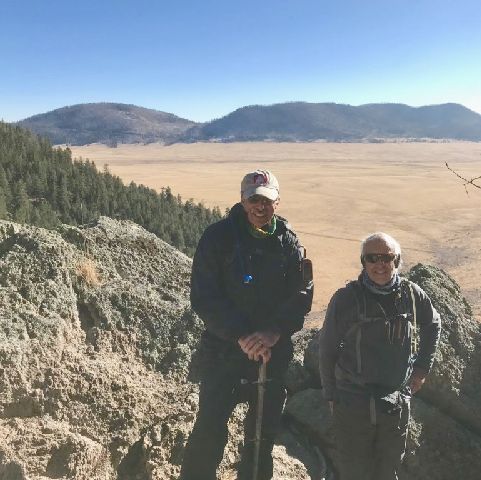 "The photo shows John, K1JD, on left and Fred, KT5X (aka WS0TA) on right, taken about 1/4th of the way up Medio Peak by Tom, K6TAA. You can see in the background, a small part of the meadow which is the bottom of the great caldera, a collapsed volcano. Medio is one of seven smaller volcanic remnants that are INSIDE the giant crater."
"We really lucked out. We weren't very confident we could do this remote and challenging ascent. When we got to the park headquarters and told the rangers what we intended, they responded, "wait… WHAT? You want to hike WHERE?" They looked these old timers up and down doubtfully. They decided to try and enable us. We WERE the only ones in the entire park, after all. The roads in the park are closed for winter. No problem, no snow yet, so they GAVE US A DRIVER and a VAN, and drove us to the nearest access point. We hadn't asked for a taxi service, but it's what we got!"
"As we began walking across the higher ground of the gigantic meadow in the crater, six coyotes popped up out of the tall grass, BIG coyotes, wolf sized coyotes, and they ran off in all different directions. Wow. Then several ravens took off and we realized they were all ravaging an elk kill in the meadow! We continued hiking across the meadow discovered some of the largest chunks of obsidian I have ever encountered, snowflake obsidian at that. Remarkable. Then we realized we were being circled from above. Really, quite low, was a great golden eagle checking us out. Probably the same one that circled us when we did South Mountain in the park on Wednesday."
"We entered the valley that we had hoped to ascend, found it to be quite a jumble of boulders, and deadfall, but alas, there was an "elk highway" going up the steep ridge. We followed it. Another hour of steep climbing, much deadfall the elk showed us how to get around, and we were on top. After the activation, we phoned the park rangers from the peak (cool!) told them a pick-up time, and the van met us two hours later, to the minute. What a day. Ggorgeous weather, ten degrees at the start, probably 35 at the end."
And, from Curtis, KC5CW, we have a harrowing account of Andrew's [KD5ZZK] activation. It came with the heart-stopping subject line, "Andrew is out of surgery …":
"I thought that might get your attention. So to follow up with the Turkey Trip report… I just got off the phone with Andrew, KD5ZZK, and he gave me permission to share what happened."
"Andrew and I activated Luera and S Luera Peak, which was an all day adventure that George and Randy now have to do since they wouldn't tell us about the trip up Baldy and the trail rash on my Jeep is in honor of them now… After we activated S Luera we split up with me heading North/home and him heading further SW. Andrew has a new 4wheeler and was coming down Fox Mountain, W5N/AP-006, to the gate where he had parked his ATV. it was very dark and he had to do a 7 point turn to get it facing back downhill. On his 2nd backup, he didn't see where the edge of the 30 degree treed cliff was and one of his rear tires went off and rolled the ATV over sideways, he either jumped off or was thrown clear of it and it rolled down the hill, side over side until it stopped at a tree with the headlight facing back up at him. He had rolled down the hill until he himself was stopped by a tree."
"Luckily, he always wears a helmet and goggles so he didn't crack anything there, but he started feeling his right arm/elbow that hurt REALLY bad and then he lost consciousness for an undetermined amount of time. When he regained consciousness, he got on his HT that was programmed for the New Mexico Megalink repeater system that has a repeater extremely close to where he was (just up the hill). Randy, K5RHD, was listening for him and was ready to head the 3.5hr drive to give assistance but Andrew figured he would try and see if he could get mobile again first."
"Andrew kept his helmet on to keep his noggin safer on his hike down to the ATV and found it with the engine off and it's wheels up in the air. When he bought it, they had a deal where you could pick an add-on and luckily Andrew picked the winch option, which they installed for him before he drove away with it. He was able to put the winch up over a branch and make a figure 4 to raise and twist the ATV to an upright position with it still facing uphill. The handlebars were bent, one really bad, the front fender cracked and both luggage racks bent."
"He was able to get it started on the second try and left it running to keep the battery from draining from use of the winch. He then walked the ATV uphill from tree to tree using the winch until he could tie to a tree on the other side of the road. The parking brake was able to hold it as he would test letting off on the winch cable and then he eventually got it back on the road. He was over 6 miles from his truck and with his pain in his right hand/arm/elbow and the throttle being on the bent right handle bar, he made slow time but told Randy he would check in again when he got back to his truck."
"All this time Randy was relaying status to a chat room for SOTA that some of us die-hards who eat, breath, and sleep SOTA were in. We were very concerned that he might have a concussion or a break/fracture. Dave, KG6EIU, and I were discussing the nearest hotel and Dave found one in Reserve. When Andrew got to the truck, Randy talked him into backtracking 50 miles [~80 km] to Reserve vs driving to Hobbs NM and staying at the inn. Dave has a friend that's a nurse and gave him some tests to perform and he passed those."
"He had a LOT of swelling in his arm but didn't think he needed an ER so he drove towards home, ending up sleeping in the back of his truck in a parking lot in Terrell TX before heading the rest of the way home to Baton Rouge LA. Soon after arriving home, he got an X-ray. I won't post the picture, but his elbow is a separate piece of bone a few inches away from where it's supposed to go."
"Which brings me to today, he had surgery with a pin and some of the bone frags washed out. They didn't have to put him completely under but they blocked the nerve from his shoulder down and put him into lala land enough that he doesn't remember hearing saws or drills. His wife was taking him home and she can't even utter the evil word "4-wheeler" but she is taking good care of him. He couldn't have typed all this out with his left hand on his phone so he asked me to relay the story of why there was an abrupt cancellation of his alerts on SOTAWATCH."
With that sobering report, we'll close and wish everyone a Happy and Peaceful New year! Remember to "Keep SOTA Safe."
73,
Skip, K6DGW
NA SOTA Reporter Dude
Sparks NV DM09dn
============================================================
SOTA NEWS FROM JAPAN by Toru JH0CJH
A happy new year to all SOTA lovers and wish prosperous new year 2018!
SOTA activities in December 2017 in Japan as of 31 December 2017.
Activation
Total 178 Activations with 1595 QSO have been made and reported.
JA: 173 activations with 1571 QSO from Summits
JA5: 2 activations with 8 QSO from Summits
JA6: 3 activation with 16 QSO from Summits
JA8: no activation
Chasing
Total 328 Chasing QSO have been made and reported.
JA: 314 chasing QSO
JA5: 0
JA6: 14 chasing QSO
JA8: 0
On 29 December SOTA JA team made a group activation from JA/KN-020 Mt.
Higashiyama (Nagamine).
A total of 11 SOTA activators are gathered on the summit and enjoyed QSO's and
chatting. Some people gathered on 28th Dec at river side camping space
near the summit, and enjoyed BBQ, drinking and star watching although their were
record breaking cold temps in this season.
JF1NDT
JG1GPY
JI1IHV
JI1IKC
JI1UPL
JJ1SWI
JL1NIE
JP1QEC
JS1UEH
JS2VVH
JA4RQO
Painted by JG1GPY

Photo of Camping and star watching

Summit Photo from Drone

---
============================================================
SOTA France – Bob F5HTR
So this this new year… and what have you done ?
2017 is over, 2018 is already here, mountains also….
2017 is ending the 10th year of SOTA in France, Here are some statistics :
· 6648 SOTA activities during those 10 years (F and FL association together)
· In 2017, we registred 1035 SOTA activities (F and FL association together) it is 15,5% ! it is a record for ever!
· 1194 summits have never been activated
· The most popular is F/CR-254 with 51 time activated, Cloud of F5LKW, then FL/VO-001 with 38 times and FL/NO-026 with 30 times
· The highest is F/AB-001, Mont Blanc, already activated 8 times
All the team of SOTA wish you a happy new year.
We hope to meet you soon on french summits.
F5HTR
Bob
========================================================
*********** SOTA NEWS PART 2 FOLLOWS BELOW ********