SOTA NEWS JANUARY 2017 - Part 1 of 2
Editorial - by Mark G0VOF
Welcome to the January 2017 edition of SOTA News.
My thanks go to the following contributors:- Barry GM4TOE, Skip K6DGW, Roy G4SSH, Kevin G0NUP, Rob and Audrey G4RQJ, Allen VK3ARH, Warren ZL2AJ, Toru JH0CJH, Geert PA7ZEE, Tonnie PA9CW, Peter ON4UP, Marco HB9ZCW.
May I take this opportunity to wish all activators, chasers & SWL's a Happy & Healthy 2017.
73, Mark G0VOF
========================================================
The December 2016 edition of SOTA News was viewed more than 920 times.
SOTA AWARDS December 2016 from Barry GM4TOE - SOTA Awards Manager.
Each year we recognise somebody who has made an outstanding contribution to the SOTA programme with the "Sherpa" award which is sponsored by SOTAbeams www.sotabeams.co.uk This year we had a number of candidates for the award but felt that Andrew VK1AD was the most outstanding; congratulations to him.
Notable award claimants this month include SQ6PLD for 1000 Activator points, NE4TN for 40k Chaser points, LZ3SM & K9OSC with 2500 Chaser points, W0MNA has now chased 4000 summits and DD5LP with the Silver summit to summit award. Congratulations to them and everyone else who achieved milestone awards.
This listing includes all claims made from 19 November when I went on vacation.
Sherpa Award 2016
VK1AD Andrew Moseley
Trophies Issued
Mountain Goat
NJ7V Charlie D Brown
Certificates Issued
Activator
SQ6PLD Tomasz Dominas 1000 points
G7HEM Mike Hartley 250 points
EA2EHX Joxe Bidal Ibarra Iriarte 100 points
KR7RK Keith Schlottman 100 points
WC9G Ron Burns 100 points
Chaser
NE4TN Walter Beaton 40000 points
LZ3SM Svetozar Gerashev 2500 points
K9OSC Robert Brock 2500 points
M0CQE Paul Hazell 1000 points
DK3DUA Thomas Rudolph 1000 points
K3JZD Jody Nelis 1000 points
WD7Y Ed Dybowski 1000 points
NZ7M Sidney Frissell 1000 points
HB9EIV Michael Rass 500 points
KC2FNE Robert L Krenzer 100 points
W5EEX John Leediker 100 points
KF4BY Stan Nafziger 100 points
N1FTP Harold Woering 100 points
Chaser Unique
W0MNA Gary Auchard 4000 summits
G4CFS Glyn Dodwell 1000 summits
M0CQE Paul Hazell 100 summits
Summit to Summit
DD5LP Ed Durrant Silver
HB9EIV Michael Rass Bronze
SOTA Complete
EA2WX Marcial Vecilla 100 summits
Mountain Explorer
HB9EIV Michael Rass Bronze
Mountain Hunter
AC0A Bill Freeland Platinum
HB9EIV Michael Rass Bronze
PE1PIC KeesJan Colmer Bronze
KC2FNE Robert L Krenzer Bronze
M0CQE Paul Hazell Bronze
EC1DD Bernardo Dominguez Barros Bronze
I have to thank everybody who has made a donation towards the costs of running SOTA during 2016. This is a very generous and much appreciated source of funds and certainly helps to keep the programme active and free of cost to every user. Thank you all.
Elsewhere in the monthly report you will find the annual analysis of activity so I have included a list of award claims during 2016:
Trophies
Mountain Goat 20
Shack Sloth 22
SWL 1
Certificates
Activator points
10k 1
2500 2
1500 1
1000 19
500 12
250 18
100 19
Chaser points
125k 1
100k 1
50k 4
40k 2
30k 3
25k 3
20k 3
15k 3
10000 6
5000 11
2500 5
1500 4
1000 38
500 21
250 17
100 42
Activator Unique (summits)
250 4
100 4
Chaser Unique (summits)
5000 3
4000 4
3000 1
2500 2
1500 1
1000 3
500 3
250 4
100 12
SOTA Complete
500 2
100 6
SWL (points)
1000 1
500 2
250 1
100 1
Summit to Summit
Amethyst 2
Platinum 3
Gold 2
Silver 10
Bronze 6
Red 6
Mountain Hunter
Platinum 8
Gold 11
Silver 1
Bronze 18
Mountain Explorer
Platinum 2
Gold 4
Silver 1
Bronze 10
Microwave Award 3
10m-6m Challenge
Activator 8
Chaser 5
There are a wealth of opportunities to fine tune your activating and/or chasing to gain awards as is demonstrated by the significant claims made for some awards. This does mean that I may have to introduce higher categories for some awards but this will be open for discussion during the coming year.
Finally a quick update on some merchandise items which will cease to be available once stocks are finished. I do have a number of the insulated mugs available but polo shirt stocks are rapidly becoming depleted; there are no Medium size left, I have limited stock of Large (but all colours available), I have two XL Burgundy and two XL Natural and finally two XXL Ash Grey, two XXL Royal Blue and one XXL Natural left. These are all knitted polyester with the SOTA logo embroidered on the left breast.
Finally may I wish the whole SOTA community a happy and prosperous 2017
Stay safe on the hills
73
Barry GM4TOE
SOTA Awards Manager
========================================================
SOTA End of Year totals 2016
As is customary at the end of the year the database has been interrogated to produce the following tables. My thanks go to Tom M1EYP for producing these tables & Andy MM0FMF for providing the data. Well done all activators & chasers!
Summits Activated – All Time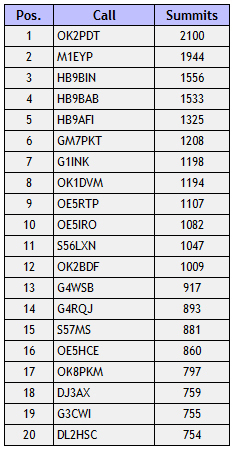 Summits Activated – 2016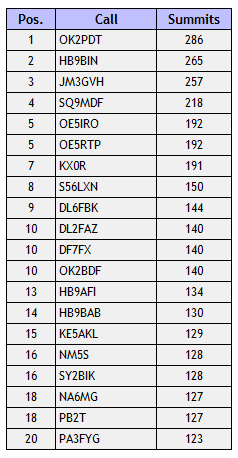 Activator QSO's – All Time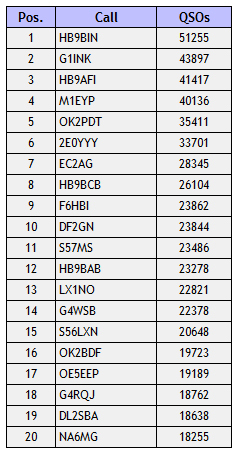 Activator QSO's – 2016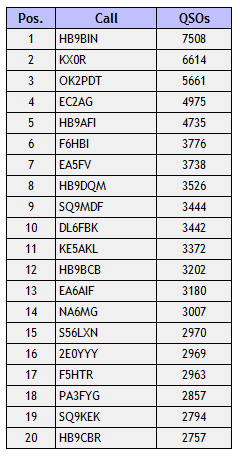 Chaser QSO's – All Time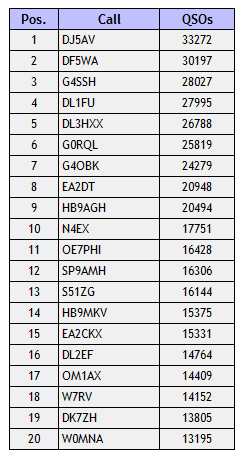 Chaser QSO's 2016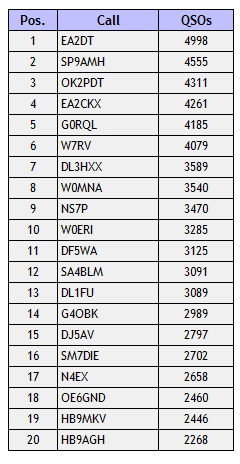 ========================================================
NORTH AMERICAN REPORT from Skip K6DGW
I received almost no news from the New World Summiteers, the processor on my desktop failed so I'm doing this on my laptop, and we've been, to quote our President-elect, "HUGELY" busy with family and the holidays. I believe [but do not know and can't get to the evidence to check] that the statistics below are correct as of 2000 UTC on 30 Dec. Your mileage may vary, getting the script to run on the laptop was a real drag.
Perhaps a fitting end to 2016 which has been filled with more drama than I'm used to.
STATISTICS [2000 UTC 30 Dec 2016]
NORTH AMERICA TOTALS
Total Activations: 358 [588]
Nr Unique Activators: 130 [167]
Total Chaser QSOs: 3824 [6165]
Nr Unique Chasers: 230 [263]
Unique Summits: 435 [588]
2m: 47 (1%) [127]
6m: 1 (0%) [0]
10m: 1 (0%) [0]
12m: 2 (0%) [1]
15m: 80 (2%) [64]
17m: 224 (5%) [194]
20m: 2106 (55%) [3731]
30m: 285 (7%) [581]
40m: 1075 (28%) [1458]
60m: 2 (0%) [1]
80m: 0 (0%) [0]
160m: 0 (0%) [0]
Unk: 1
CW: 2225 (58%) [4378]
SSB: 1549 (40%) [1653]
FM: 47 (1%) [133]
AM: 0 (0%) [0]
Data: 1 (0%) [1]
Other: 0 (0%) [0]
Unk: 1
It's been bitterly cold over much of Canada and the US which probably accounts for the decrease in activity. It is interesting that 40 meter activity was up a notch, probably given the absence of sunspots for most of the month.
AWARDS AND ACHIEVEMENTS:
Charlie, NJ7V, reports that he became Arizona Shack Sloth #19 on 26 Dec. Congratulations Charlie!
Ryan, KK4OSG reported that he made "1/2 Mountain Goat" this last month. Keep at it Ryan, possibly the weather will cooperate.
Incidentally, Elliott, K6EL, mentioned that there are now 40 Mountain Goats in the US and one, VA2VL, in Canada.
NEWS:
Etienne, K7ATN, provided the latest Pacific Northwest Newsletter link:
www.pnwsota.org/sites/pnwsota.org/files/downloads/K7ATN/PNW%20SOTA%20Newsletter%20Jan-Feb%202017_0.pdf
Back issues are at: www.pnwsota.org/content/pacific-northwest-sota-newsletters http://www.pnwsota.org/content/pacific-northwest-sota-newsletters.
Phillip, K5SSR, offered a link to the Yule Goat who goes door-to-door in Norway handing out gifts. This seems appropriate for SOTA, no? The Goat did not arrive here, but then we live in a gated community and he didn't have the gate code.
http://mylittlenorway.com/norwegian-christmas/julebukk/ http://mylittlenorway.com/norwegian-christmas/julebukk/
Now that 2016 is over, the US National Parks On-the Air [NPOTA] has also ended. There has been some discussion on the NA SOTA Yahoo group about recruiting some of the folks who participated in the NPOTA program into SOTA. We'll see how that develops.
REPORT OF THE MONTH:
Also known as the "Only Report of the Month, it appears that Ryan, K7ODX, [the "other" Ryan] is looking for a good head examiner:
"I think I need my head examined. Last weekend, when I left the house to activate W7U/JU-045 with K0ESX, it was -5 F. By the time we arrived at the trail head (what trail?), it had warmed up to about 7 F. So what do we do? We go anyway! There was a few inches of fresh snow on the ground, making the hike a little slippery in places, but the real killer was the wind that hit us once we got on the ridge to the summit. Only .75 miles ±, but 1000 feet of elevation gain. The wind chill on top had to be well below zero. My beard was frozen to my face! Still, we had a great activation."
"Today, once again, it was about -3 F. as I left my house to pick up Damon to go hit SM-051. As we parked to start hiking, the truck thermometer read 11 F. Nice and warm! And once again, the wind was our adversary. Even worse than last weekend. And to make matters worse, the snow was 24" - 28" deep (according to my trekking poles). We d idn't have snowshoes, so we just kept plowing our way up. It was exhausting work, made tougher by the wind and cold temps. Tough hike, but once again, we got to the top and completed the activation. More frozen facial hair…"
"So, this is what we do for fun? Go out in single digit temps, hike steep mountains in winter, and plop down in the snow with several hundred dollars of radio gear? Do these sound like the actions of a sane person? On the way back down, I pondered the sanity of the whole situation, while slogging through thigh-deep snow and trying not to fall. But here's the real crazy part: Am I miserable? Unhappy? No, I couldn't be happier! I'm really enjoying myself. Not only do I do this stuff on purpose, I actually like it! Something is definitely not right here."
"Anyway, I guess I'll continue doing this until I come to my senses. I love the mountains in winter, love ham radio, and SOTA is the best of both! Thanks to all the chasers who are there for us. It's great to work the usual suspects every summit, and also everyone else who stops by for some points or a casual contact."
"The highlight of today's trip was an awesome 7118 mile contact with ZL1BYZ (KX1 at abt 3 watts) on 20 meters!!! FB DX!!! The lowlight was the fact that my truck's heater didn't work on the ride home! That was cold. But, already planning the next one…"
EPILOGUE:
A good friend had an extra Intel i3-2100 processor which I will install in the desktop now that the holiday bruhaha has settled down. We'll do better in 2017. Happy New Year to all,
73,
Skip K6DGW
North American SOTA Reporter Dude
Sparks, NV
============================================================
ON SOTA Association 10th Anniversary award - Peter ON4UP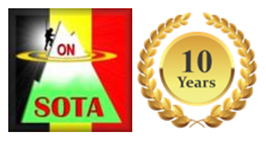 On the 1st of July 2007 the ON SOTA association was started by Johan ON5EX. In 2017, 10 years later, the ON association will be celebrating its anniversary with 3 special awards.
10 years ON association celebration chaser award
for those who have chased at least 10 different ON SOTA summits in 2017
10 years ON association celebration activator award
for those who have activated at least 10 different ON SOTA summits in 2017
10 years ON association celebration complete award
for those who have activated AND chased at least 10 different pairs of ON SOTA summits in 2017.
The award will be available in electronic format only (PDF-file) and will be completely free of charge.
To request one of more of these awards, simply send an e-mail to the ON association manager Peter Preud'homme ON4UP via on4up@skynet.be including the list of chased and/or activated dates of your ON summits.
The latest date a reward can be requested is the 31st of March 2018.
Please distribute this information as much as possible to make 2017 a big ON SOTA celebration year!
73, Peter – ON4UP
ON Association manager
============================================================
Las Islas Afortunadas - Geert PA7ZEE
Already many years we escape from the cold and dark winter in the Netherlands.
Also this winter we stay for a longer time on the island of Gran Canaria, one of the islands of the Everlasting Spring. Winter temperatures in the day time range between 20 C and 25 C and around 12 C in the night. However there can be a blizzard in the mountains while at the same time it is 23 C on the beach in the south of the island.
On EA8/GC there are not less than 27 summits to activate; a SOTA Paradise.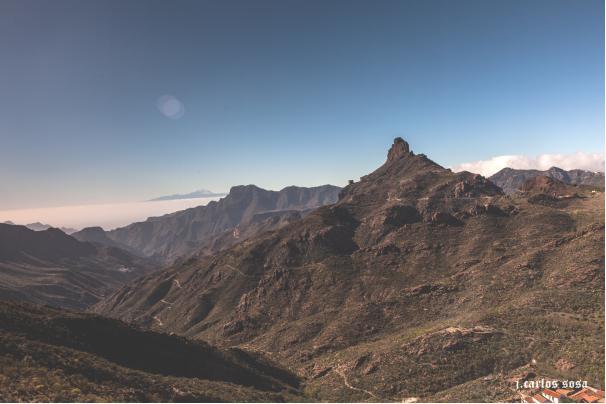 EA8/GC-008 Roque Ventaiga with on the back ground El Teide on Tenerife
One summit has a restriction; EA8/GC-027 is in a military zone. However I will try to get permission for an activation of a few hours. Another 'no go' summit for me is EA8/GC-002 El Nublo. This is a 60 m high monolith only accessible for mountaineers with climbing skills and proper equipment.
My plan is to activate at least ones a week summits where I have been last year but also some virgin summits. I will put Alerts the day before the activation on SOTAwatch.
My rig is the KX1 with 3 W output into a W3EDP antenna. Last year I worked with this equipment the whole of Europe and several US stations. I hope that my SOTA Friends will listen out for me and when worked, that they will put a Spot on SOTAwatch. Thanks in advance!
Besides of activating summits, I will chase from the bungalow park where we stay. Equipment there is a 2 x 20 m inverted vee on a 15 m mast and my FT-857 with 100 W output. All QSO's will be confirmed with a QSL card.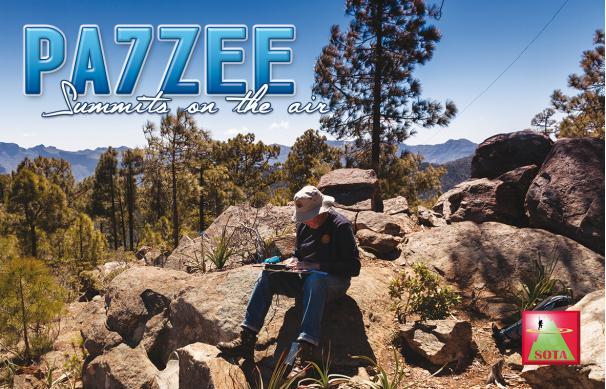 HNY es 73 de Geert PA7ZEE
============================================================
Six Belgian Summits in one day – Tonnie PA9CW
On 4 december, PA9CW Tonnie, activated 6 summits in Belgium in one day. At 07:00z He drove from home to the first summit in the south of Belgium. After about 300 km he arrived at 10:00z and activated, ON/ON-016, Les Aisances. It was very cold, so CW was not at its best. After that he activated ON/ON-010, ON/ON-004, ON/ON-011, ON/ON-013.
At last he activated ON/ON-001, Signal de Botrange. At that moment it was almost dark & with no contacts on 30 meters, he tried 40 meter and made some QSO's. After these 6 summits he went home and arrived at about 20:00z after a very nice day. It was about 4 degrees and sunny with some wind. All contacts were made with KX3, 5 W and a 30 mtr HyEndFed.
My video report is here https://www.youtube.com/watch?v=V15EXrRk3co
Thanks all chasers, for the contacts.
73, PA9CW Tonnie
============================================================
SOTA NEWS FROM JAPAN by Toru JH0CJH
Hi Mark and all
Please find the following SOTA News from Japan.
A Happy new year and wish all of SOTA lover's prosperous new year 2017.
In December, the biggest news in the Japan association is the approval and release of an additional 1200+ summits in all JA regions. Thanks again for all of your work who made a lot of effort and swift approval in SOTA HQ. By this new summits release SOTA activities are very high in December.
SOTA activities in December 2016 in Japan as of 30 Dec 2016.
Activation
Total 159 Activations with 1839 QSO have been made and reported.
JA: 157 expeditions with 1822 QSO from Summits
JA5: 0
JA6: 2 expedition with 17 QSO from Summits
JA8: 0
Chasing
Total 264 Chasing QSO have been made and reported.
JA: 235 chasing QSO
JA5: 2 chasing QSO
JA6: 27 chasing QSO
JA8: 0
S2S
Total 161 S2S QSO have been made and reported.
JA: 157 S2S QSO
JA5: 0
JA6: 2 S2S QSO
JA8: 0
Just after the release of the new summits in JA region, Yama to Musen (Mountain and Radio) Group had an annual gathering in Chichibu area in Saitama prefecture. Total 15 members have enjoyed the radio expedition and drinking in the night.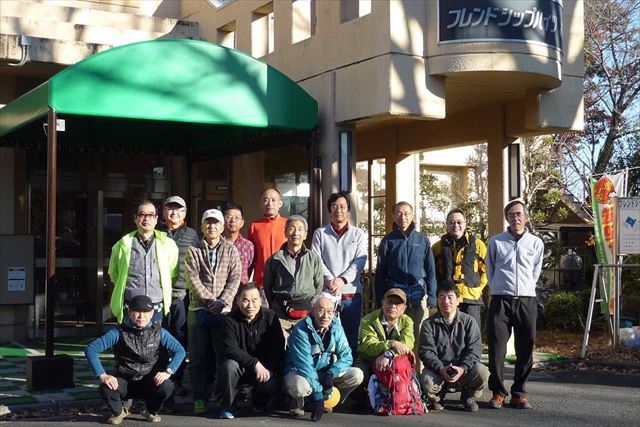 Yama to Musen radio group gathering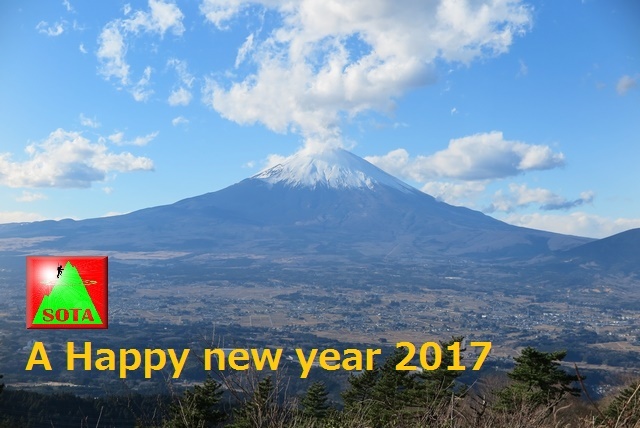 Also above is my favourite photo this month - the veiw of Mt Fujiyama from Ashigara.
Toru Kawauchi
toru@kawauchi.homeip.mydns.jp

============================================================
THE VIEW FROM THE NORTH - 108 By Rob and Audrey G4RQJ
So here we are, end of the year again and a quiet month for us with poor weather on the hills dominating our activities. On the 11th the cloud was low but we wanted a run out but we are beset with road closures in the south of the county. At times near Ulverston it has been taking an hour and a half to travel three miles and near Lindal the same road has been totally closed for several nights. These are both on the A590, the main road in and out of the south of the county and are continuing into the new year, also the A592 and the A593 have their own problems, see recent Pre Planning post for details. We managed to drive up to the foot of the Slate Road, the track that leads up onto the moor, which is quite steep in parts and more or less surfaced. Many folk drive up to the top of the surfaced track, we usually walk, cars cost more than boots! Today the cloud is right down to our start point and gets thicker as we climb and we cross the moor to the little mound that is the summit via the service track past three of the windmills that infest the area. As is normal nowadays the 2m activation is slow due to the shortage of chasers but we decide on no HF today due to the mist and failing light, We have quite a long chat with M6TUE, a new starter from our recent club exam course. He is interested in SOTA but he is a keen fell runner and wonders what sort of kit could be fitted into a bum bag and used from several summits in quick succession. This is a bit outside of our experience being heavy rucksack plodders so wonder if we have any runners who could come up a few tips for him. A small light h/held looks possible but an antenna that fits in a bum bag with no pole to support it looks quite a problem. We also have a quick QSO with G4TJC/P on Kinder Scout, Simon is very cold but held on to catch us, thanks OM.
Been a lot of chat lately about data modes but just can't come to like them. We tried PSK from summits on the Isle of Wight about ten years ago, what a disaster, the weather was unseasonably warm and in the sunshine the laptop screen was un-viewable. We managed a few contacts with a fleece over the head as cover which was unbearably hot and not a lot of fun. Things have moved on some and we have the capability in the shack but just can't come to grips with the impersonal nature of it all. On cw I don't like auto calling etc Just send it by hand and it goes out warts and all. I make mistakes that I try to correct but it's me and personal. Same is true of the receive side but it's live. Enough preaching.
What may turn out to be our last summit of the year was a quick trip up Arnside Knott on the 18th of the month. A nice activation with quite a few interested visitors, mostly older couples out for a walk. Once again the response on 2fm was poor with just six contacts in over half an hour but for once lately 5Mhz and 7Mhz played quite nicely.
Today 28th we had the pleasure of working another of our recent trainees Mark M6VMS out on his first SOTA summit Red Screes. He is very keen on SOTA and was using a home brewed ground plane. We heard him work quite a few of the regulars, sure it will not be long before his next outing, it's addictive.
So that brings us to the end of this years efforts, a strange year weather and conditions wise. Let's hope for better in the New Year. Thanks to everyone for their support during 2016 we will try to get more activations done during 2017.
So take care out there and A HAPPY NEW YEAR from us both.
Rob and Audrey
G4RQJ
========================================================
*********** SOTA NEWS PART 2 FOLLOWS BELOW ********