SOTA NEWS JANUARY 2016 - Part 1
Editorial - by Roy G4SSH
Welcome to the January 2016 edition of SOTA News. My thanks go to the following contributors:- Barry GM4TOE, Skip K6DGW, Mark G0VOF, Kevin G0NUP, Rob and Audrey G4RQJ, Geert PA7ZEE, Karl M3FEH, Phil G4OBK, Toru JH0CJH, Warren ZL2AJ, Andrew VK3ARR.
========================================================
Commencing with this issue we are attempting to present SOTA News parts 1 and 2
as one report. We must still keep under the 32000 character limit for each part
but both parts should be readable in one post.
========================================================
The December 2015 edition of SOTA News was viewed 935 times.
SOTA AWARDS - DECEMBER 2015 - from Barry GM4TOE
Just a quick update on the issuing of SOTA awards. I will re-enable the facility to obtain certain awards and merchandise by the beginning of January but there will be limits applied until my internet access is provided via broadband on a telephone line rather than by tethering to my mobile phone. In addition I will not be able to issue certain awards until my workshop is up and running (probably late January)
The limitations I will need to apply are as follows:
Certificates – available as a printed version as usual but the ones transmitted as a pdf file may be delayed until I get unlimited bandwidth on my connection. I will advise if I have to impose a limit here
Trophies – will not be available until my workshop is up and running
Merchandise – I think I have found all the boxes with the merchandise in them so I will make every effort to supply as normal; once again, if there are problems I will let you know.
My apologies for having to shut this facility down for two months but the house move has left me with piles of boxes many of which contain items that my xyl decided to bring from our previous home and then "recycle" which has resulted in every room in the house being cluttered with treasure!
Several folks have made some very generous donations which I will acknowledge as soon as I can access my email account from my computer.
My best wishes to all people in the SOTA community worldwide in the coming year and hopefully we will make radio contact in the near future.
Please take care when out and about on the hills
73
Barry GM4TOE
SOTA Awards Manager
The following e-mail was received from Barry as we went to press;-
"Minor setback – half the shingles on the new workshop blew off in the high winds last night. Guess I know what I am doing next week then!!"
=============================================================
Phil G4OBK hopes to be active from Portugal on 11th and 12th January from a location near Lisbon in the ES region.
He will be active on 20 and 30m CW and SSB plus a handheld 2m FM.
============================================================
ACTIVATING EA8/GC SUMMITS by Geert PA7ZEE
In the coming weeks I have a long stay on Gran Canaria. The number of SOTA summits on this wonderful Island has expanded since last August, from 1 to 27, hence there are a lot of Virgin Summits.
Concerning the weather on Gran Canaria at this time of the year; this depends very much where you are on the island; if you are on the beaches in the south of the island it will be well over 20 C, while on the same day in the mountains it can be around freezing point, with high winds, rain and even snow. When there is snow on the roads in the mountains, these are often closed by the police.
I will try to activate one or two summits at least once a week, so please look out for me in the Alerts.
I will be working with my KX1 with an external power supply, resulting in about 3 W into my W3EDP antenna. Last year the RBN did not pick up my signals from EA8 but after I was spotted by Hans PB2T, I had plenty of QSO's with SOTA friends from countries in Europe on 20 m. I hope that when somebody hears my 'CQ SOTA', they will put me on the spot list.
I will work on or around 7.032-, 10.118- and 14.062 kHz.
I hope to work you from EA8/GC !
73 de Geert PA7ZEE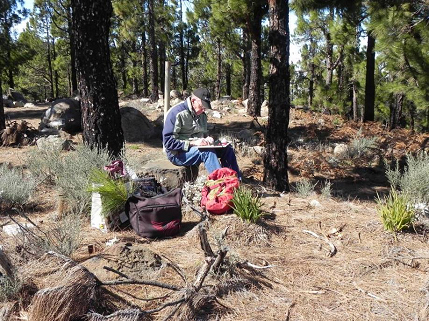 Geert EA8/PA7ZEE/P activating EA8/GC-001 on 31/1/2015
==============================================================
From a land, far, far away, somewhere on the planet earth- by Karl M3FEH
A foundation licence holder discovers SOTA and was warned not to approach the dark side for the dangers of addiction to SOTA chasing back in the depths of 2014 in September of that year.
I had returned to Ham radio after some years away, after moving down to Cornwall from Suffolk to look after my other half and I decided to break out the radio from its dust cover and throw up the old G5RV that I had in Suffolk, and reapply for my licence. Doing the usual thing and challenges of chasing DXCC IOTA and LOTA became a bit stale. After one month after my return I worked a station with a strange reference along with his call.
OK/SQPLD/p from OK/KR-064.
This left me in wondering, then I heard another station doing same so I looked up the word SOTA on the web and found the SOTA watch page. After many a cock-up I finally got the hang of it and was warned that "It's addictive". They were not far wrong and my road towards 10k Super Sloth commenced. I reached my first 1k Shack sloth in Nov 2014 and the addiction was set.
Since then, my taste for building home brew antenna's came back to me and I started to construct portable antennas, firstly the G5RV half size, a good antenna, but the way I had it set up was no good for SOTA activations, due to the heavy support pole etc. It was just not portable enough.
Then silly ideas entered head and I ended up building a 1/4 wave 40m vertical onto an 8m squid pole, and then had a further idea to have second antenna that could be a bit bigger and be a 1/2w 40m inverted L, Both fed via a 9:1 UNUN and also develop the counterpoises better. Then followed a portable 6m Moxon beam to go put up during 2015.
But SOTA-chasing wise, I became little stale at home; I felt the G5RV was not doing it for me and so decided to build a 40m Loop which enhanced my ears by far, and was sending my signals out further, especially on 40m during daylight hours, still using just the 10w I am allowed at present.
But other things helped, such as learning when to call, timing it right, listening to the activator and their style of how they are listening / calling and when to shout. Tactics are required when many others are calling in at the same time. Sometimes it's best to wait towards end of the pile up, or just call in, because the signals are strong to me, showing a good path between us. Recently, I have noted an amount of stations appearing on bands that would normally think "Nah this is not going to happen - the propagation is bad or the forecast is poor" so they do not even switch on the radio.
My policy is that if an activator is spotted on SOTAwatch, I tune in and have a listen, if I neither activator or chaser I put a couple of calls out, because he or she may just be listening. I have done this few times on 10m and 15m and got a reply. For example, on 16th December 2015 an S5 was spotted on 10m, so I tuned in as he was large as life and I worked him no problem, yet no one else came on and he called CQ for further 10 minutes with no replies. I hunt them down as a chaser - How's that for addiction! Plus, I note of late that if there are no activation's going on more people are leaving their radio on 14.285 MHz and is it surprising just how many stations pop up that are not Alerted on SOTAwatch. Best to get in there first and then spot them. There have been quite a few more people doing this that I have noted of late, besides myself, and this gets the activation spotted and results in them pouring onto freq. Job done

So, to all you newbies, coming into this part of the hobby, it's not hard; You don't need a fancy set up. I run a humble 10w through various wire home brew antennas and portable ones too, as my portable side has come along the way, and been made better by experience, teaching me to become more efficient. It is a fun side to Ham radio in general and I have met a lot of people on the air, and exchanged my views with via the reflector and Face Book pages, yet have never met anyone in person as yet. SOTA is a small family and one I enjoy being with. And I must also thank all those activators for their time and air-time for me to chase to reach the 10k level. My achievement has not been verified as yet, but I suspect that I may be the first UK Foundation licence holder to reach Super shack sloth. It will certainly be interesting to find out especially as this was achieved only on HF SSB mode, (no WARC modes) but all on 80, 40, 20, 15 and 10m on my trusty Trio 120V radio.
My location seems to help too, being in the open in this small town and on top of one of the highest points in the area, with the English Channel about 1 mile south of me.
Karl M3FEH
Super Sloth
===============================================================
SOTA ON TOP BAND - Mark G0VOF
Hello everyone & welcome to this month's edition of SOTA on Top Band.
One activator gave 160m a try during December from two summits. On 10th December Heinz HB9BCB/P dropped onto 160m part way through a morning activation of HB/BE-119 Bütschelegg. Heinz had already made two successful contacts on 80m CW when he called on 160m but sadly could not raise anyone. Heinz then moved to 40m where he continued his very successful activation with 79 QSO's across 5 bands.
Heinz again gave Top Band a try during the afternoon of 18th December from HB/FR-033 Niremont. Daytime always presents the most difficulty on 160m & Heinz did not manage to make any contacts on the band, however the activation as a whole was very productive, yielding 96 QSO's across 5 bands.
Thanks & well done Heinz for giving 160m a try!
There are many ways of gauging the success of an activation, from points gained, number of QSO's or S2S's made, or simply having an enjoyable or memorable time on the summit. Often an activator may fail in what they set out to do, and with the challenge that activating on 160m is itself, quite often things may not go as planned. A failed activation on 160m should not be treated as a total failure though, as one thing an activator will gain from that; is experience, which will increase the chances of success on future activations. Amateur Radio is an experimental hobby & as experimentation in itself will likely bring more failure than success, especially if you have a particular goal in mind, activators (or chasers) should not be disheartened if things don't go right first time. You will have gained useful experience!
As this is the final Top Band report of 2015 I thought I'd take a look back at the year. A total of 12 (10 in 2014) activators were QRV from 22 (24 in 2014) unique summits making a grand total of 103 QSO's (176 in 2014). Unsurprisingly CW was the most popular mode with 59 QSO,s although SSB was not far behind with 43. Also this year 1 QSO was made using PSK31, more on that later.
The greatest number of summits activated on 160m by a single activator this year was 10, aired by the worlds leading Top Band SOTA activator John G4YSS. As regular readers will know John most often uses his permanent Scarborough Special Events Group (SSEG) callsign GX0OOO/P or its regional variations. This year John was active from CT3 Madeira so he also used CT9/M1NNN/P along with GM4YSS/P during a trip to Northern Scotland. In pure terms of summits offered on 160m, next is Heinz HB9BCB who has called on the band from 3 summits. Despite no success on the band so far I feel Heinz's efforts will be rewarded in the not too distant future. All other activators activated one summit each.
Of the 103 QSO's made this year, unsurprisingly the greatest number were made by John G4YSS with 43 across his total of 10 summits where Top Band was used. Next with a fine total of 16 QSO's was Gyula HA6QR who made all of these during a single activation in January when he gave the special call celebrating the 10th Anniversary of SOTA in Hungary (HA10SOTA) an airing from HA/EM-012 Karancs.
You may remember that back in March a Solar Eclipse took place across the Northern Atlantic with a partial eclipse visible from much of the UK & Scandinavia. With this in mind the propagation studies committee of the Radio Society of Great Britain organised an experiment to see if the Eclipse would affect LF/MF propagation. Despite my early worries that it may fill the band like a CQWW weekend, it actually worked out to be one of the best days to be active from a UK summit on Top Band with John GX0OOO/P, Carolyn G6WRW/P, Adrian G4AZS/P & Mark G0VOF/P all active during the eclipse.
In June Tomek SQ9HT/P became the first Polish Top Band activator when he activated SP/BS-008 Wielki Bukowiec (Pasika). With 5 QSO's made using SSB Tomek then made a further QSO using PSK31, which although fairly common in SOTA is rarely used on 160m.
In July three activators took to the band; Nick K1MAZ, Hans HB9BQU/P & John GX0OOO/P. John again spent the night on G/NP-008 Great Whernside with QSO's made on the band made in the evening & the following morning meaning double points for chasers. John had a busy year with trips to Northern Scotland, The Lake District along with several summits in his nearest region the Northern Pennines as well as the previously mentioned trip to Madeira.
October again saw three activators on the band, John GX0OOO/P who activated G/NP-002 Mickle Fell, Jack W4TJE from W4V/WV-005 Point Lookout Mountain & Jim K9JWV from W7U/WS-109 Snow Benchmark. November saw Miro OK1DVM/P active from OK/ST-074 Cukrák whilst December saw Top Band tried from two summits by Heinz HB9BCB/P.
Thank you & well done to all activators who tried the band this year & I would like to wish all activators & chasers a Merry Christmas & Happy, Healthy 2016.
As always, If you do have any suggestions on things that you think should be included, or if you wish to contribute tips, ideas or anything else that you think may help others on the band please email them to me at mark@brownhill.demon.co.uk
Until next month,
Best 73,
Mark G0VOF
============================================================
THE VIEW FROM THE NORTH - 96 - from Rob and Audrey G4RQJ
This month's effort starts with an apology for a complete lack of activations so far (Christmas Eve). This is the longest spell of inactivity for us since the start of SOTA and is entirely due to the current spell of wet weather. Wet weather is something we are used to but the sheer quantities of water falling from the sky is unprecedented and as one who has lived here for the best part of 75 years (Rob) I have never ever seen the like of it. As we write, the forecast for the two festive days to come is for six more inches of the stuff on fells that are already beyond saturation point. Here on Walney Island we have so far avoided the worst excesses of things apart from a couple of power cuts, the two main rivers having already arrived at the sea before they reach us but the main roads from Barrow have all been affected quite badly and this is not a great encouragement for travelling to activate waterlogged hills. We assume all this stuff should be falling as snow on the high hills of mainland Europe where there seems to be a shortage, the family are off there skiing, on Boxing Day!
We know a local walker, not SOTA, who boasts of his prowess on the tops in the present conditions. We think that with the emergency services so seriously stretched at this time it is rather foolish to risk an accident that results in an extra callout for them to rescue an idiot or an old fool. If you're that good join them!
We have deliberately left the completion of this months piece as long as possible so we can report on any activations and so that we can bring folk up to date on local conditions. The first bit is easy, we have been sat in the house watching the rain for the bulk of the Christmas break, the only walking being a quick walk along the beach on Sunday. The tide was high and the view to our north was of Lakeland in thick cloud so guess we were in our local bubble as is often the case here on the coast. Road wise the situation is fluid, no pun intended but there has been a good deal of structural damage.
The A591 over Dunmail Raise joining Grasmere with Keswick is impassable for the foreseeable future. The steep hillside that boarders the road along the eastern side of Thirlmere has shifted and what is left of the road is unusable until the rock face is pinned back. The track around the western shore of the lake is being made useable for pedestrians and cycles but shuttle busses will carry folks from Grasmere to the southern end of Thirlmere and from the north end of the lake to Keswick. Quite what is happening in between is anybodies guess as the service is really for school children etc but it's a long walk in the rain. Pooley bridge has gone involving long diversions for vehicles. As for the minor roads and bridges best try to get more local knowledge because diversions can be huge. Added to this another band of heavy rain is scheduled for Wednesday, Radio Cumbria stays on the air 24 hours a day during heavy flood risk periods with up to date reports.
On a brighter note, Santa brought an MT-270M and once the programming is sorted it should give us 25w of VHF/UHF in the car, nice for chasing and a lovely compact little rig.
Well that's all for a rain sodden end to the year, we hope for better in the next one. Just like to thank everyone for their support and to wish you all a
                                 VERY HAPPY NEW YEAR

Take care out there
73 Rob and Audrey
G4RQJ
==============================================================
SOTA NEWS FROM AUSTRALIA by Allen VK3HRA
Hi all,
It was a full year for SOTA in VK. 2015 saw 6 more Goats added to the tally - VK3KAB Kevin, VK3EQ (KAN) Rick, VK1AD (NAM) Andrew, VK3YY Glenn, VK3MCD Brian and VK2QR Rob.
With all of VK now active, new associations in the district including JA and ZL have been added. Thanks to those who exploit technology (VK3ARR Andrew) to support the mapping process for adding associations as well as those who feed information for corrections based on local knowledge for the annual association reviews.
SOTA and National park activations go together. VK5PAS (Paul) has been busy adding new sites into the WWFF program. The relationships between WWFF Parks and SOTA Peaks are being refined. These relationships are improving the number of contacts ensuring valid activations for both schemas. It has to be stated that ultimately the WWFF status of any activation needs to be verified by the activator.
The weather continued to provide challenges this year. Fires during Jan
2015 placed some popular summits temporally out of reach (VK5/SE-013 - Mt Gawler) as well as placing some remote (VK3/VW-008 & VK3/VW-010) summits off the table entirely. As we head onto the 2016 fire season many are carefully watching and calculating risks.
Even with perfect weather seamless activations are not guaranteed. The solar cycle continues to wind down towards minimum. Propagation through the year has been atrocious. Poor local skywave ensuring 40m and 20m had been useless several times this year. The impact is it takes longer to qualify each summit than expected. It was not that long ago activations took an hour just to find 4 contacts, and failed activations that failed to qualify the activation. When conditions are right it can take at least 20 minutes to work through the long list of Chasers! It is hard work, but of a different type these days.
The avid DX'ers have not let minor inconveniences like solar storms or poor weather get in their way. Exploiting the higher bands with SOTA 6m/ 10m challenge. We are all going to have to do things a little differently until the sunspot count starts to rise again. This includes being cannier in choosing time, frequencies and improving activation skills.
Paying attention to different bands and developing efficient portable antennas to support the lower bands (80m / 160m) or higher bands (6m, 2m or 70cm) together with the use of directional antennas and a bit of power might be the way to go.
Or are CW activations the direction? CW in VK has reached new heights.
This has been fuelled by the desire of several activators of going deeper into the bush whilst reducing weight and well supported with many dusting off their CW skills and others picking up the skill for the first time.
It has been terrific to see the activity in VK. Thanks to everyone who is involved as regular participants. Biggest thanks have to go to those who have give up so much their time to put and keep SOTA together - not just the activators and chasers but those involved in the mapping process, and to the MT who ensure that everything continues to work and finally to the partners who tolerate our behaviour and makes SOTA the dynamic activity it is today.
Finally all not good news, we lost two participates this year.
RIP VK3TCX - Ian & VK5LY - Larry.
Allen
VK3HRA
============================================================
SOTA News is fortunate to have two new association managers joining the news team.
First from Japan. JH0CJH Toru Kawauchi (First report below)
Second from New Zealand. ZL2AJ Warren Harris
Both representing countries who have recently joined SOTA.
SOTA NEWS FROM JAPAN - DECEMBER 2015 - from Toru JH0CJH
The year 2015 was a memorial year for SOTA lovers in Japan. SOTA Japan association consists of 4 associations and was successfully approved by SOTA MT on 1st July 2015, and launched on the air. The association was established by great contribution of VK3ARR, Andrew. Without having his ability of map reading we would not have reached this state. Right after the announcement of SOTA Japan association, the news spread to Mountain & Radio lovers in Japan. First JA expedition was carried out by JS1UEH Takeshi from Mt. Fuji. Fuji yama is one of Japan icon and famous with its symmetrical beauty of shape, then his first activation was really a celebration of the commencement of SOTA JA associations.
After this successful SOTA Japan inauguration, many of Mountain & Radio lovers devote oneself into the SOTA program. SOTA Japan's start has been announced in various media such as Internet web sites, CQ magazine, Local FM radio broadcasting program, pod casting, etc., including "2015 Japan Ham Fair". The Japan Ham Fair is the biggest Ham radio lover's event in Japan and was carried out on 22 and 23 August with 36,000 visitors in this year. SOTA Japan has been promoted with collaboration from "Yama to Musen Group" (Mountain and radio group) and got many visitors who were interested in this program.
With having those contributors great efforts, SOTA program has been warmly welcomed in Japan ham radio society and received many thankful message of SOTA establishment in Japan. They are all saying that they have known about SOTA worldwide program before commencement in Japan but no way to join as SOTA program was not been established in Japan. Also they all felt that it is very difficult to establish SOTA association in Japan because of its huge number of summits.
The other side of anticipation about the establishment of SOTA Japan association was the location of Japan in the Far East. It seems that a big level of transmission power is required to have QSO with abroad stations. However, QRP less than 10W is the normal style of operation on summits. Therefore most of operations on summits have been done only in VHF and UHF frequency in Japan. In this sense SOTAWatch made a great contribution to motivate SOTA lovers into HF operation. 5W plus Longwire with ATU made DX QSO such as W-JA, VK-JA, etc.
From this year 2016, 11 August, is introduced as new national holiday, "Mountain Day" in Japan. It will surely motivate a number of Ham radio to make aware a joy of SOTA with hiking trail and trekking. We all believe Year 2016 will be a big fly for SOTA Japan and SOTA worldwide program.
SOTA operation December in Japan
This winter is very warm in Japan and this also pushes the SOTA lovers toward summits.
Total number of Expedition
JA: 48 expeditions with 634 QSO from Summits
JA4: 4 expeditions with 22 QSO from Summits
JA6: 2 expeditions with 10 QSO from Summits
JA8: 0 expeditions
The following activators have been made database entry as a major part. Other many stations not listed here have also made less than 3 summits activations.
JM3GVH: 8 expeditions
JP1QEC: 7 expeditions
JS1UEH: 6 expeditions
JG5JXW: 4 expeditions
As for Chaser, JM3GVH achieved first Japan "Shack Sloth". Congratulations.
Toru Kawauchi JH0CJH
=========================================================
SOTA NEWS PART 2 FOLLOWS BELOW