SOTA NEWS FEBRUARY 2017 - Part 1 of 2
Editorial - by Mark G0VOF
Welcome to the February 2017 edition of SOTA News. My thanks go to the following contributors:- Barry GM4TOE, Skip K6DGW, Roy G4SSH, Kevin G0NUP, Rob and Audrey G4RQJ, Allen VK3ARH, Warren ZL2AJ, Toru JH0CJH, Geert PA7ZEE, Heinz HB9BCB, Peter ON4UP, Paulo CT2IWW.
73, Mark G0VOF
========================================================
The January 2017 edition of SOTA News was viewed more than 1200 times.
========================================================
SOTA AWARDS January 2017 from Barry GM4TOE - SOTA Awards Manager.
A Happy New Year to all associated with SOTA; with ever more Associations around the World hopefully this will be a bumper year for the awards programme (despite the parlous state of the Ionosphere!).
2017 started with an enormous number of claims which managed to keep me very busy. Congratulations to Mountain Goats VK1DI, VK1MBE, K2JB and VK2BJP – notice the trend! Recent Shack Sloths include GI0AZA, KR7RK, VK2VW and AE4BL but very notable is ON6ZQ at 30k points and W6JP at 2500 points. VK3ARR has claimed the first ever Mountain Explorer award for solely VHF contacts, that is making life hard for himself! Finally a mention for SV1QED with a Platinum Mountain Hunter award.
Well done to all claimants – and for everybody else who has achieved a personal goal whether marked by an award or not.
Trophies Issued
Mountain Goat
VK1DI Ian Sinclair
VK1MBE Andrew Belton
K2JB Dean Blair
Shack Sloth
GI0AZA Esther Harper
KR7RK Keith Schlottman
VK2VW Brett Churchyard
Certificates Issued
Activator
VK1DI Ian Sinclair 1000 points
VK1MBE Andrew Belton 1000 points
VK2BJP Russ Jacob 1000 points
AE4BL Buddy Lique 500 points
AE9Q David S. Dostie 500 points
VK3ZPF Peter Fraser 250 points
N4SFR Ron LaGrone 250 points
VK2GEL Grant E. La Delle 100 points
Chaser
ON6ZQ Christophe David 30000 points
W6JP Jeffrey Philpott 2500 points
AE4BL Buddy Lique 1000 points
GI0AZA Esther Harper 1000 points
VK2VW Brett Churchyard 1000 points
KF4BY Stan Nafziger 250 points
KC2FNE Robert L Krenzer 250 points
VK5FMAZ Marija Simmonds 250 points
WC9G Ron Burns 250 points
ZL2ATH Wynne Morgan 250 points
G7HEM Mike Hartley 250 points
VK5FMAZ Marija Simmonds 100 points
WC9G Ron Burns 100 points
M0VCZ Paul Ferris 100 points
M6HMK Helen Melhuish 100 points
WN8Y Kenny R. Johns 100 points
2E0DIJ Duane Yates 100 points
Chaser Unique
W0ERI Martha S Auchard 4000 summits
GI0AZA Esther Harper 250 summits
VK2VW Brett Churchyard 100 summits
Summit to Summit
VK3ZPF Peter Fraser Silver
AE4BL Buddy Lique Silver
G4TJC Simon Melhuish Silver
HB9FPM Eva Thiemann Bronze
HB9JOE Andreas Thiemann Bronze
VK5FMAZ Marija Simmonds Red
G7HEM Mike Hartley Red
Mountain Explorer
HB9FPM Eva Thiemann Gold
HB9JOE Andreas Thiemann Gold
HB9JOE Andreas Thiemann Silver
GI0AZA Esther Harper Bronze
VK3ARR Andrew Ryan Bronze (VHF)
Mountain Hunter
SV1QED Michael Panagiotopoulos Platinum
KC2FNE Robert L Krenzer Silver
KF4BY Stan Nafziger Bronze
DL1TSC Thomas Schardt Bronze
W3AAX Jason Johnston Bronze
VK2VW Brett Churchyard Bronze
10m – 6m Challenge
AE4BL Buddy Lique Activator
Occasionally I am asked if a specific variation on an established award can be produced. There is not a problem with this provided the back-up data is readily available (or you supply me with the back-up information) and that the request fits within the normal scope of the awards programme. Remember, I have not only to be able to verify your claim it must also fit within the normal awards scheme structure. Producing specials will always take longer than normal as I already spend several whole days a month processing SOTA awards and merchandise purchases and would like, just now and then, to get on the air or do something else!
There was a surge in merchandise purchases in January, perhaps helped by the reminder that the stock of polo shirts is becoming rapidly depleted, but I was caught unawares yet again by flag purchases and they are now out of stock. I allow the site to accept back orders for flags but it is unlikely that I will have any new stock until late February. I conducted my regular stock check in mid January and now have a rather lengthy shopping list to bring stocks back to acceptable levels.
Could I remind folks that it is imperative to check out from the shopping site correctly otherwise your order may disappear as the site deletes incomplete orders after 3 days and I will not be notified. Paypal is the preferred checkout mechanism but if you wish to pay by Bank Transfer or more traditional methods please be aware that your order will not be processed until I receive payment. I have had several orders where the purchaser has checked out using the alternative payment method and has failed to send payment; if you are waiting on an order and it has not arrived within a sensible time period please contact me and I will try to find out what has happened.
Finally may I ask everybody claiming certificates to make the award claim via the shopping site. It ensures that I have all the data necessary to process your claim and despatch it in timely fashion. I am happy to receive requests by other means (mail, email etc.) but if I do not have access to all the information, or your wishes are not completely clear (or I cannot read your handwriting – it does happen) then delays are inevitable.
I keep saying it but I will get up a hill or two this year to play SOTA!
Stay safe on the hills
73
Barry GM4TOE
SOTA Awards Manager
========================================================
NORTH AMERICAN REPORT from Skip K6DGW
Greetings from North America!
Our nearest and dearest star was very quiet in Jan, as it is prone to do at cycle minima, which has pretty much taken out 10 and 12 meters and made 15 somewhat hit or miss. Canada is cold, the US has a new president and we've already picked a fight with Mexico, and still no word on XE-SOTA. There's about 8 cm [3 in] of snow on our front yard here in NW Nevada. I didn't see any KL activations which doesn't surprise me. Thus encouraged, we go to the
STATISTICS: as of 1900 28 Jan UTC
Total Activations: 338 [358]
Nr Unique Activators: 123 [130]
Total Chaser QSOs: 4560 [3824]
Nr Unique Chasers: 254 [230]
Unique Summits: 233 [435]
2m: 144 (3%) [47]
6m: 4 (0%) [1]
10m: 10 (0%) [1]
12m: 0 (0%) [2]
15m: 57 (1%) [80]
17m: 123 (2%) [224]
20m: 2322 (50%) [2106]
30m: 621 (13%) [285]
40m: 1264 (27%) [1075]
60m: 9 (0%) [2]
80m: 0 (0%) [0]
160m: 0 (0%) [0]
Unk: 6
CW: 3058 (67%) [2225]
SSB: 1351 (29%) [1549]
FM: 144 (3%) [47]
AM: 2 (0%) [0]
Data: 0 (0%) [1]
Other: 2 (0%) [0]
Unk: 6
AWARDS AND ACHIEVEMENTS: Dean, K2JB, activated W4C/CM-011 in the middle of Jan to become North America's latest Mountain Goat. Congratulations Dean!
Given the temperatures across North America in Jan, I'm going to put declare this an "Achievement." From Bob, K0NR:
"Although Steve, WG0AT, just lives a few miles from my house and I've
worked him 40 times on various summits, I never have done a SOTA
activation with him. Until Saturday…actually four of us [Bob, Steve/WG0AT, Caleb/W4XEN, and Joyce/K0JJW] activated Mt Herman (W0C/FR-063)
coincident with the ARRL January VHF contest. Kind of cold up there but
a good time was had by all."
The complete story can be found at:
http://www.k0nr.com/wordpress/2017/01/2017-mt-herman-winter-activation/
Bob mentioned that Mt. Herman is the "Most Radio Active" mountain in Colorado at 136 activations. I think the NA record in Radio Activity is Mt. Davidson, W6/NC-423 at 269 activations. It, of course, is the mandatory activation for all visitors to the San Francisco Bay area, and, at 286 meters and no snow, is a somewhat easier climb than Mt. Herman.
Paul, W6PNG [W6 Association Manager], noted that he gave presentations to the Yucaipa ARC and the South Orange County ARA in Jan and has been invited to give two more in Santa Ana and Hemet. This is the way to grow SOTA, and from my own experience, every presentation I've given or attended has resulted in new activators/chasers.
ANNOUNCEMENTS: Should you find yourself in the Palm Springs area of Southern California on 4 Feb … Don, NK6A reports:
"You might mention in the Feb news that I will be speaking on SOTA and Wayne will talk about the KX2 for portable ops in my program at the Palm Springs Hamfest, Feb 4, noon."
http://palmspringshamfest.com/speakers/
The "Wayne" above is Wayne Burdick, N6NR, one of the Elecraft owners and designer of a few well-known ham radios.
NEWS: I had the need to replace a couple of incidental parts in my computer in Jan [processor and one disk drive], and in transferring email from the laptop back to this one, I have lost track of who sent these statistics to me. But, they are impressive…
Several NA folks have made the "Top 20 for 2016" in several categories:
SUMMITS ACTIVATED 2016:
KX0R-#7 [191]
KE5AKL-#15 [129]
NM5S-#16 [128]
NA6MG-#18 [127]
ACTIVATOR QSOs-ALL TIME:
NA5MG-#20 [18,255]
ACTIVATOR QSO's 2016:
KX0R-#2 [6614]
KE6AKL-#11 [3,372]
NA6MG-#14 [3,007]
CHASER QSO's-ALL TIME:
N4EX-#10 [17,751]
W7RV-#18 [14,152]
W0MNA-#20 [13,195]
CHASER QSO's-2016:
W7RV-#6 [4,079]
W0MNA-#8 [3,540]
NS7P-#9 [3,470]
W0ERI-#10 [3,285]
N4EX-#17 [2,658]
And finally, Guy, N7UN provided the following plan for SOTA activities for 2017:
"I updated the proposed major SOTA dates for 2017. This also sets a stake in the ground for the NA SOTA Spring Activity Weekend. Also note a unique, once in a SOTA-lifetime, SOTA operating event for the Aug 21st Great American Total Solar Eclipse ("SOTA GATSE?")."
Apr 22-23: North America SOTA Spring Activity Weekend + QRPTTF
Spring Event (Apr 22)

Jun 10-11: NA SOTA Summer Activity Weekend + ARRL June VHF Contest

Jul 16-17: SOTA optional date + CQ WW VHF Contest

Aug 5-6: NA SOTA Rocky Mtn Rendezvous + Colorado 14er Event + W7
SOTA Activity Weekend + ARRL UHF (222MHz+) Contest

Aug 21: SOTA and the Great American Total Solar Eclipse of 2017. See Total Solar Eclipse 2017 - Path Through the United States for details.

Sept 9-10: NA SOTA Fall Activity Weekend + ARRL Sept VHF Contest
"These SOTA events were the same for 2016 and seemed to work for folks and does NOT preclude other Association events that can be planned. If there are questions, let's discuss."
REPORT OF THE MONTH: QRU … however point your browser at aprs.fi and search on WB8ELK-2. It appears to be a balloon, it was just south of Cape Verde as I wrote this, and is on it's eighth circumnavigation of the planet. Bill, WB8ELK, told me that it is solar powered [no battery], and transmits on 20 meter WSPR when it has sunlight. He transfers the reported positions to APRS. It seems to float between FL390 and FL420 and has been over P5 twice. They didn't shoot it down. If this keeps up, at some point it should make the news.
That's it for January 2017. Thanks to all my contributors. I note that the sun is higher in the sky at my noon position observation, warmer weather can't be too far off.
73,
Skip K6DGW
NA SOTA Reporter Dude
Sparks NV DM09dn
============================================================
ON SOTA Association 10th Anniversary award - Peter ON4UP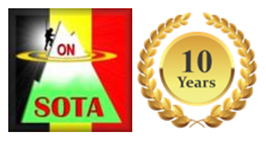 On the 1st of July 2007 the ON SOTA association was started by Johan ON5EX. In 2017, 10 years later, the ON association will be celebrating its anniversary with 3 special awards.
10 years ON association celebration chaser award
for those who have chased at least 10 different ON SOTA summits in 2017
10 years ON association celebration activator award
for those who have activated at least 10 different ON SOTA summits in 2017
10 years ON association celebration complete award
for those who have activated AND chased at least 10 different pairs of ON SOTA summits in 2017.
The award will be available in electronic format only (PDF-file) and will be completely free of charge.
To request one of more of these awards, simply send an e-mail to the ON association manager Peter Preud'homme ON4UP via on4up@skynet.be including the list of chased and/or activated dates of your ON summits.
The latest date a reward can be requested is the 31st of March 2018.
Please distribute this information as much as possible to make 2017 a big ON SOTA celebration year!
73, Peter – ON4UP
ON Association manager
============================================================
Island in the Sun - Geert EA8/PA7ZEE
Now by the end of January I have activated three summits on the island of Gran Canaria. All three successful activations thanks to the members of the SOTA family who have put Spots for me on SOTAwatch. Many thanks to: Lars SA4BLM, Frans PA0INA and Roy G4SSH.
The weather in the mountains is different from that on the beaches in the south of the island. Precipitation and strong winds in the mountains while on the beaches it is well over 20 C with calm winds. So you have to watch the mountain weather forecast in combination with the local weather forecast.
I really enjoy our stay here and we feel very lucky that we still have some weeks in front of us. In that weeks I hope to activate more summits. My friend Frank PC7C will be here next week and he will work in SSB as EA8/PC7C/P.
We hope to make many QSO's from this island in the sun.
73 de Geert EA8/PA7ZEE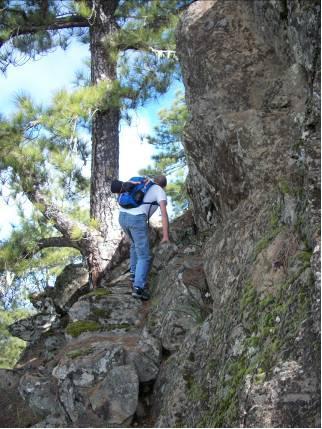 Not always an easy footpath
============================================================
Retreat as a SOTA activator at the end of 2016 – Heinz HB9BCB
My renunciation of further activations is not entirely voluntary. The decision was due to problems I had with my knees in recent years (Gonarthrosis, worsened by 2 accidents in rocky terrain). I hope to prevent/postpone this way a medical intervention.
Nevertheless, I hope to be able to participate in the joint annual SOTA events with Kurt HB9AFI and Daniel HB9IIO.
Back to the roots, I will be QRV again as low-power station HB9BCB/P on the nearby lovely grassy hills, as I did before SOTA.
73 gl, Heinz HB9BCB
============================================================
SOTA NEWS FROM JAPAN by Toru JH0CJH
Hi Mark and all
Please find the following SOTA News from Japan.
In January, JARL, Japan Amateur Radio League carries out New Year QSO party
on 2 and 3 Jan every year. There are a lot of stations which are only QRV on
this new year QSO party. To be QRV on these two days would work very
efficiently for all JA stations. Especially being QRV from summits on these two
days makes it a lot of fun for activators. I was QRV from JA/KN-006 Mt
Ooyama in Kanagawa, and only activated on 50MHz. I started at 8:30 AM
from the summit and closed at 14:40 with 30 minutes of lunch time. The
callers never ended during this 5 and half hours only on 50MHz. You can
imagine how much fun it was for a Radio Ham.
SOTA activities in January 2017 in Japan as of 30 Jan 2017.
Activation
Total 148 Activations with 1772 QSO have been made and reported.
JA: 140 expeditions with 1649 QSO from Summits
JA5: 6 expedition with 98 QSO from Summits
JA6: 2 expedition with 25 QSO from Summits
JA8: 0
Chasing
Total 149 Chasing QSO have been made and reported.
JA: 129 chasing QSO
JA5: 1 chasing QSO
JA6: 19 chasing QSO
JA8: 0
S2S
Total 145 S2S QSO have been made and reported.
JA: 134 S2S QSO
JA5: 6 S2S QSO
JA6: 5 S2S QSO
JA8: 0
Toru Kawauchi
toru@kawauchi.homeip.mydns.jp
JH0CJH / JA1CTV業務日誌 Just call me!
============================================================
THE VIEW FROM THE NORTH - 109 By Rob and Audrey G4RQJ
Sota wise this month has been a none event due to a combination of weather, road closures and the odd heavy cold so it was Sunday 22nd before we made our first excursion of the year and that to a little local one pointer, Hutton Roof Crag. This is a hill we really like, ideal as a leg stretcher with easy parking, a nice woodland walk and an open country stroll to an almost moorland trig close to limestone pavement with deep fissures. It can be difficult to find space to operate without having wires across numerous paths or becoming involved with spiky bushes and or limestone pavement. We use a spot alongside a rock about 15yds to the north of the trig. This allows one leg of the 5MHz dipole to cross a path above head height and to be tied to a branch of one of the higher bushes, the other end goes off into the wilderness. The snag is that the ground here is very broken with hidden ankle traps not helped by the hoof prints of a herd of cows. Today we did 2m FM first, fm was not over productive but we did pick up a spot for ssb which produced some welcome activity for a change. A few long chatty qso's resulted in us being rather late on to hf but once again a spot brought in a good number of 5MHz ssb contacts, 7MHz cw was plagued with QSB and became difficult when a higher power station arrived without a QRL? called CQ and went into QSO on the frequency. Dusk was coming, we apologised to any chasers still there and departed.
And that was it for activations for the month, next weekend will be too close to the news deadline so will have to open next month. In the mean time some interesting topics have turned up on the reflector. Regarding SOTA contests reminded us of the early days of the program. We became disillusioned with constantly loosing frequencies on 40m to higher powered SSB stations intent on a long chat with their mate on their regular frequency so we switched to cw where the problems are less. During contests we hid on 10MHz and when we called CQ SOTA refugees from contests would send NO CONTESTS THIS BAND at which others would send NOT CONTEST SOTA which eventually stuck, it might be an idea to keep it that way.
Brian G8ADD raised an interesting point about the use of the old FE channel very much as a sota and qrp preserve and its recent adoption by high power rag chewers. More bad news Brian. We were informed firmly on air that nothing less than the RSGB NEWS had been moved to this channel and would be in forty minutes at 1500 hours on Sundays.
Been some discussion on seats for activators. We use inflatable camping pillows, not the curved neck cushion type though. Ours are rather larger than the usual sit mat but fold down as small and weigh no more. When inflated they provide a excellent layer of insulation from the ground but you need to control how much you inflate yours depending on your weight or you will sit somewhat unstably! Ours came from Poundstretcher.
That brings us to the end for this month, we will be out on Sunday the 29th but that will have to wait for the next edition. Just hope that conditions are better on 40m than today when we were on with our club station for our stint on the Lifeboats Charity event and managed to raise just four stations in an hour of calling! Hope to catch lots of you.
Take care out there.
73
Rob and Audrey
G4RQJ
========================================================
*********** SOTA NEWS PART 2 FOLLOWS BELOW ********