SOTA NEWS DECEMBER 2016 - Part 1 of 2
Editorial - by Mark G0VOF
Welcome to the December 2016 edition of SOTA News. My thanks go to the following contributors:- Barry GM4TOE, Skip K6DGW, Roy G4SSH, Kevin G0NUP, Rob and Audrey G4RQJ, Allen VK3ARH, Warren ZL2AJ, Toru JH0CJH, Geert PA7ZEE, Jürg HB9BIN, Ken G0FEX, Phil G4OBK, Colin M1BUU, Paulo CT2IWW.
Apologies for the slight delay in publication this month, I have been otherwise engaged in our annual stock take which means a few long days at the salt mine!
The second S2S QSO party took place on 19th November, this time aimed at NA<>EU and was very successful with activators from three continents taking part. We also have a report from a first time activator as well as all your regular reporters.
As this will be the final edition of SOTA News before Christmas may I take the opportunity to wish all activators, chasers & SWL's a very Happy Christmas.
73, Mark G0VOF
========================================================
The November 2016 edition of SOTA News was viewed more than 1023 times.
SOTA AWARDS November 2016 from Barry GM4TOE - SOTA Awards Manager.
November is a "short" month for awards as I am preparing this report on 18 November prior to going on vacation. Any claims made after today will appear in my December report.
Congratulations to Mountain Goats M0YDH, VK3BYD and Shack Sloth AB4WL. Victor GI4ONL has achieved several "Firsts" in GI and now he is the first to Chase 3000 Unique summits as well as gaining his Silver Summit to Summit award – and various others too! I will let the tables show what has been claimed this month.
Trophies Issued
Mountain Goat
M0YDH David Holman
VK3BYD Warren Brown
Shack Sloth
AB4WL Ken Moore
Certificates Issued
Activator
M0YDH David Holman 1000 points
VK3BYD Warren Brown 1000 points
Chaser
AB4WL Ken Moore 1000 points
EA3HUX Jordi Remis 500 points
KR7RK Keith Schlottman 500 points
IS0LYN Mario Lumbau 250 points
WX7EMT Chris Caviezel 250 points
EA3HUX Jordi Remis 250 points
EA3HUX Jordi Remis 100 points
KF7AXB Andy Peltola 100 points
Activator Unique
GI4ONL Victor Mitchell 100 summits
Chaser Unique
GI4ONL Victor Mitchell 3000 summits
K6EL Elliott M Pisor 2500 summits
KD8DEU Allan J. Van Brocklin 250 summits
Summit to Summit
GI4ONL Victor Mitchell Silver
SOTA Complete
GI4ONL Victor Mitchell 100 summits
Mountain Explorer
GI4ONL Victor Mitchell Silver
M0YDH David Holman Bronze
WC0Y Edward Hall Bronze
Mountain Hunter
GI4ONL Victor Mitchell Platinum
M0YDH David Holman Gold
EC2AG Antonio Garcia Gold
VK1MBE Andrew Belton Gold
MI0RTY Martin Strawbridge Bronze
GI4ONL Victor Mitchell VHF Silver
I have been reviewing the merchandise that I stock and it is apparent that Polo Shirts have little attraction. Consequently I will run down the stock of these but they will not be replaced once all are sold. Stocks of T Shirts are back to a good level so these will remain available. We have a similar situation with insulated mugs; I have reduced their price and they are now on offer at almost cost price. These are excellent for keeping tea or coffee hot (and beer cold) when you are in the shack!
The trophies are individually engraved for every application, I just hold blanks with the SOTA logo and the Goat or Sloth image. Your callsign and year of award (and any other information) is engraved on demand. In the past I have infilled the engraving with a special red paint but it is possible to offer other colours so I will update the shopping pages so that other infill colours may be chosen when you purchase the trophy.
I hope to activate a summit or two while in CT3 but this is a holiday and that will take priority over amateur radio. Any activation will be announced on the SOTA alerts page.
Stay safe on the hills
73
Barry GM4TOE
SOTA Awards Manager
========================================================
NORTH AMERICAN REPORT from Skip K6DGW
Well, way down in all categories, however it's the end of Nov, and that's not at all surprising. With the decline in conditions, 20 and 40 meters rule, not unexpected either. A little surprising that 30 meters isn't more popular among the CW folks, but then not all mountain top rigs hit 30.
STATISTICS: As of 0300 UTC 28 Nov 2016
Total Activations: 358 [588]
Nr Unique Activators: 130 [167]
Total Chaser QSOs: 3824 [6165]
Nr Unique Chasers: 230 [263]
Unique Summits: 435 [588]
2m: 47 (1%) [127]
6m: 1 (0%) [0]
10m: 1 (0%) [0]
12m: 2 (0%) [1]
15m: 80 (2%) [64]
17m: 224 (5%) [194]
20m: 2106 (55%) [3731]
30m: 285 (7%) [581]
40m: 1075 (28%) [1458]
60m: 2 (0%) [1]
80m: 0 (0%) [0]
160m: 0 (0%) [0]
Unk: 1
CW: 2225 (58%) [4378]
SSB: 1549 (40%) [1653]
FM: 47 (1%) [133]
AM: 0 (0%) [0]
Data: 1 (0%) [1]
Other: 0 (0%) [0]
Unk: 1
AWARDS AND ACCOMPLISHMENTS:
Charlie, NJ7V, has made it to Goatdom! He actually achieved it in mid-October, word just didn't make it to theWwestern Frontier until now. Congratulations!!
Ryan, K7ODX, reports: "I don't know what use half of a Goat is, but I am one now. Thanks to all the chasers who are always there, for helping me pass my 500 point mark today on my activation of W7U/ UT-019. It was a beautiful warm day, partly cloudy with a little breeze. Very fun activation with 42 contacts and 2 S2S. Contacts coast to coast from UT. 30 meters was good today. I'll try to get the second 500 quicker than the first, but in reality, the fun isn't in the destination, it's in the journey! So here's looking forward to the next 500."
Phil, NS7P, checked in with: "With a lot of discussion of DX S2S contacts recently, I figured that there were would be some newsletter reporting. I thought that I should mention an event of a couple of months ago that didn't get much discussion at the time. On Sept 10, 2016 at 2347z, I had an S2S contact with JF1NDT/0. He was on JA/NN-081 and I was on W7O/WV-014. The 15 meter QSO was 339 on both ends. This was the first NA to JA S2S contact. SOTAdata lists the distance as 7968 km. It was a thrill at the time."
Thanks Phil, assuming 5 watts, that's 1,594 km/watt. Nice going! And on the same subject, Paul, W6PNG on W6/SC-369 reports an S2S with Andrew, VK1/AC-307 near Canberra. Paul's post is at w6png.wordpress.com ["Magic Happens…Australia calling"], and the view from Andrew's end is on the SOTA Reflector ["Seeking NA Chasers - 26 Nov 16"].
NEWS:
Guy, N7UN [SOTA MT Summits Team], reported: "I'm pleased to announce that Ryan/K7ODX will assume the Association Manager responsibilities for W7U-Utah on 1 Dec 2016. Ryan has been one of our more engaged Activators in Utah over the past 3 years. Recently he has achieved ½-Mountain Goat which is an indication of his dedication to the SOTA experience. He is an active promoter of SOTA at local hamfests. Please welcome Ryan as the new Association Manager in Utah. The W7U Association Reference Manual and the SOTA UK database will be updated with this information. In the meantime, congrats Ryan!"
Guy also reports: "I'm pleased to announce that Walt, NE4TN, will assume the Association Manager responsibilities for W4T-Tennessee on 1 Dec 2016. Walt will replace Todd/N4SR who was the first AM for W4T. Thanks Todd for your contributions. Likewise please welcome Dave, AE9Q, as the new Association Manager for W4A-Alabama. And our thanks to Joel/W4JBB for his contributions. Both AE9Q and NE4TN are familiar calls as both Activators and Chasers. The respective Association Reference Manual and the SOTA UK database will be updated with this information. In the meantime, congrats Walt and Dave!"
From Charlie, NJ7V: "The Arizona Association W7A had a meet-up on Saturday 12 Nov at our favorite watering hole, Duke's Sports Bar in Scottsdale, AZ. We usually get together once or twice a year, commonly to celebrate somebody getting an award. For this meet-up we celebrated me achieving Mountain Goat, which I accomplished on Goat Hill W7A/MS-065 on October 15th with 100% unique activations."
In the group picture going clockwise from the bottom-left:
Ken, K6HPX; Katherine, KE7BGM; Sandy, YL (NJ7V); Tom, N7AMA; Chris, K7TAB; Jim, K7JFD; Pete, WA7JTM; Brian, W7JET; Dave, N7QNG (behind Pete and Brian); Attila, W7AMR; Dennis, AA7DK. Charlie, NJ7V took the photograph. W7A's four Mountain Goats, who were all in attendance are pictured from left to right, Charlie, NJ7V; Brian, W7JET; Pete, WA7JTM; and Ken, K6HPX.
Steve, WG0AT, has edited a great video of the KU6J Memorial Activation and placement of the medallion on W6/NS-204 in Eric's memory. It is on YouTube at https://youtu.be/jxAYZGc0gno
John K1JD & Justin VK7TW
John, K1JD, continues his travels in VK-land: "Was pleased to meet Justin, VK7TW, Tasmania's SOTA AM, at the Hamfest. Held every 2 years, it happily coincided with our visit. Will attempt to upload a photo."
EVENTS: Mark this as a 'Potential Event' from Rob, AE7AP: "Barb-AE7AQ and myself are going to be in Colorado for Christmas this year. We are thinking that Dec. 27 would be a good day for a morning SOTA outing before we head back north early on the 28th. We are considering activating Green Mountain (W0C/FR-107) that morning, perhaps leaving the trailhead about 7:30. I would most particularly enjoy meeting some Front Range SOTA people. Let me know if you are interested in accompanying us, or perhaps meeting us for coffee afterwards."
TRIVIA/FACTOIDS:
If I read the SOTA Database correctly [questionable], we have 41 Mountain Goats in North America. W5N leads the Herd with 9 followed by W0C with 5, W4C and W7A with 4 each, W1 and W6 with 3 each, W5T with 2, and VE2, W4G, W4T, W4V, W5A, W7I, W7O, W7W, and W9 each with 1.
I got curious about the number of regions and summits currently cataloged for North America, and Bill, KC4ATU, kindly obliged me with 335 Regions and 30,270 summits, spread across 34 Associations. Elliott, K6EL, commented to me that over 60% of the summits are in Alaska, and AK isn't complete yet. Could be a long time before we run out of virgin summits.
REPORT OF THE MONTH:
We'll go to W0C and catch up with Curtis, KC5CW, who has just moved from W5T: "Yes, I'm still around but have been very busy getting all the rat killin' done since moving to Colorado. New house, new job, new SOTA summits! Last weekend I went out and tried to activate Flat Top Mountain and/or Evergreen Mountain but was stopped by private roads with gates/no trespassing signs. There might be a way to get to them but I couldn't find an easy way … Sooooo, yesterday I went to a sure thing. My first SOTA since moving to W0C. Special thanks to K6EL for getting a text through my spotty cell reception and getting me spotted on 20m and to Phil NS7P for my 40m spot (I asked him to hold on while I looked on 40m for a clear freq.) which was the hot band for me that I almost didn't do because I was getting cold but am REALLY glad I did."
Curtis' report is at kc5cw.tumblr.com as Devil's Head Hike.
That's it from the New World for November. It may be summer in Tasmania but it's winter in North America, snow again last night … more tomorrow morning. Activate Safely.
73,
Skip K6DGW
North American SOTA Reporter Dude
Sparks, NV
============================================================
Summit to Summit super activation November 19th 2016 – Ed DD5LP
The Summits on the Air "Summit to Summit" event between Europe and North America on Saturday the 19th of November was a great success. Despite cold and rainy weather across several parts of Europe, band conditions being average and interference from contestants in the LZ-DX contest, all activators who were out reported a successful and enjoyable day.
Some stations racked up multiple S2S (Summit to Summit) contacts across the three continents involved – as well as Europe and North America – there was one activator on holiday in the Canary Islands, which counts geographically as Africa. The event was also an opportunity for others to try out new rigs and other equipment, especially antennas. Several activators had their first-ever inter-continental summit-to-summit contact and were really happy about that. Others went in small teams and enjoyed working together. Some had tents to protect them from the weather. Others were really lucky with the weather, while others got soaked.
Three bands were used for inter-continental contacts – 21, 18 and 14MHz. Most contacts were made on 20 metres; however those with multiple band capability moved away from the contest traffic on 20 metres to the more peaceful 17 and 15 metres. The consensus seems to be that from a propagation point of view, 17 metres was the best; however inter-continental QSOs were made on all three bands.
We even have some reports of chasers from VK catching some of the EU activators via short path in the very early hours of the Australian Sunday morning!
Sixty-six summits had been announced, but 77 were actually activated, an increase on the 51 summits alerted and 73 stations taking part in the VK-EU event a month earlier. It'll be interesting to see what the numbers are for the North America-VK event. This may only now take place in 2017 when the weather in the Northern Hemisphere improves.
The general feeling around the SOTA community is that having these S2S events is both enjoyable and useful and many are looking forward to more of them.
Ed DD5LP
============================================================
2nd HB9SOTA group snowshoe excursion, 2017 edition, on the Chasseral – Jürg HB9BIN
The second HB9SOTA winter snowshoe excursion, being held on Saturday January 14, 2017, takes us to Chasseral (HB/BE-104) at 1607 meters ASL. The backup dates are January 21 and 28, 2017.
In the hope that in 2017 more participants will join us for the group snowshoe excursion than in 2016, I have intentionally selected a simple summit that does not require an overnight stay.
For this event, everybody will make their way to the summit by themselves or in self-organized groups. We will meet in the Hotel Chasseral for a group lunch at approximately noon. The dining room of the self-service restaurant is large and can be quite busy when the weather is good. I will attempt to make sure we have a place to gather by placing a SOTA pennant on a table. Every participant decides for themselves if they would like to make their way to the highest point near the transmitter tower before or after the group meal.
From the town of Nods there are three snowshoe trails you can choose from: First, you can hike along the mountain pass road, which is closed to traffic at this time of year; this option is the longest but is the least steep. Second, you can hike past the ski lift to the summit. For the third option, you start at the parking lot (N47 07.242 E7 05.069) and instead of taking the left turn you start ascending directly through the forest. Along the ridge from the transmitter tower to the Hotel Chasseral there is a series of tall trail markers so you can't get lost even in a blizzard with low visibility. Depending on the option you choose, the distance is between 8.4 and 13.2 km, and the ascent is 832 meters. Because of the gentle slope and the forest there is absolutely no danger of avalanches.
If traveling to Nods by public transport, you get off the train at La Neuville. There you pick up Bus 132 at 08:00 or 09:00 and arrive in Nods roughly half an hour later.
If going by car, coming from Zurich, Lucerne or Bern, you get to Biel going across the first chain of Jura mountains, leave the motorway at the Frinviller exit and continue along through the towns of Orvin, Disse and Lamboin to get to Nods. Once there you make a left turn towards Chasseral. The transmission tower that can be seen from afar serves as a point of reference.
I hope to meet many of you there!
73 de HB9BIN, Jürg Regli
Association Manager Switzerland
============================================================
SOTA Portugal Lisbon meet up – Paulo CT2IWW
SOTA Portugal activators and chasers met informally at the country´s largest amateur radio fair, in Lisbon, on Sunday, November 27th. Although no stand was installed, most of Summits on the Air ops made their presence obvious by their "swag" and managed to make several impromptu meetings at vendors stands (at least two were active SOTA activators), namely where QRP gear was to be found.
Gear and activation/chasing techniques dominated most of the talks and some early plans for next year´s SOTA annual meet were discussed. As it stands, the city of Viana do Castelo, in Portugal´s summit rich upper northwest, will host the fourth edition of the event.
In the name of all Portuguese activators and chasers, I´d like to take the opportunity to wish all amateur radio operators and their families Happy Holidays and a Happy New Year 2017!
Paulo Teixeira, CT2IWW
Image legend (left to right):
CT1BHG, João Cardoso; CT2JLS, Sérgio Domingos; CT2IWW, Paulo Teixeira; CT1DBS/CU3HF, Pedro Carvalho; CT7ABG, José Gomes; CT2GSN, João Cunha. Not in the picture but also at the meet were: CT7AGR, Paulus Schulink; CT1GZB, José Luís; CT1END, Carlos Nora; CT1DYH Carlos Ferreira and CT1BWU João Coelho.
============================================================
SOTA NEWS FROM JAPAN by Toru JH0CJH
Hi Mark and all
Please find the following SOTA News from Japan.
Merry Christmas and happy holiday seasons to all SOTA lovers.
Times flies so fast, its last month of 2016. In November, the weather in Japan was stable and cooled down then so many SOTA activation have been carried out.
It could be a cold winter in this year. In Tokyo, snow fell on 24 November and it is a 54 year record of November snow fall and first record of snow accumulation in November, but it has not discouraged SOTA activations. This months had the greatest number of QSO's since the launching of SOTA JA association!
SOTA operation in November 2016 in Japan as of 30 Nov 2016.
Activation
Total 131 Activations with 1499 QSO have been made and reported.
JA: 125 expeditions with 1417 QSO from Summits
JA5: 5 expeditions with 61 QSO from Summits
JA6: 1 expedition with 21 QSO from Summits
JA8: 0
Chasing
Total 207 Chasing QSO have been made and reported.
JA: 188 chasing QSO
JA5: 4 chasing QSO
JA6: 15 chasing QSO
JA8: 0
S2S
Total 134 S2S QSO have been made and reported.
JA: 124 S2S QSO
JA5: 6 S2S QSO
JA6: 4 S2S QSO
JA8: 0
In JA region, approx 1200 new summits candidates have been named in JA
region and waiting SOTA MT approval. Once they have been approved
Attached my favorite photo in this month.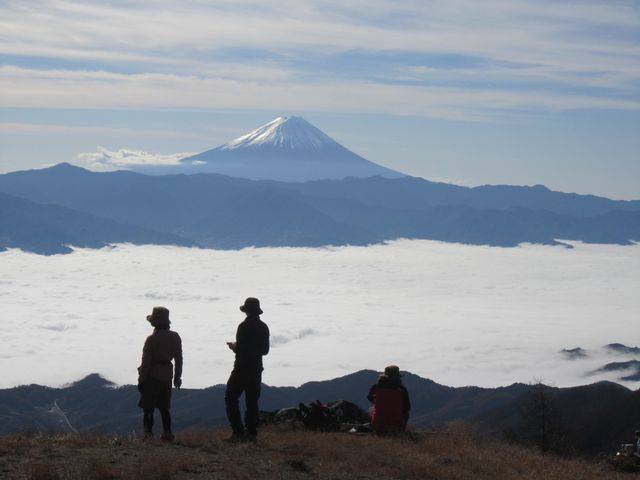 The veiw of Mt Fujiyama from the summit of Mt Konarayama JA/YN-037
Toru Kawauchi
toru@kawauchi.homeip.mydns.jp

============================================================
THE VIEW FROM THE NORTH - 107 By Rob and Audrey G4RQJ
Off we go on this month's effort, which really isn't much of one due to a lack of activations on our part. This was due to heavy colds for both of us, one after the other that took care of two Sundays; the third was Armistice Day and our annual visit to the Cenotaph. The fourth Sunday of the month and the forecast was dire so we decided not to go out as did other walkers we know. In the event the local weather was excellent here although the south of the country did get a real battering.
We thoroughly enjoyed seeing David M0YDH make Mountain Goat and the crowd of folks we meet so many times both on the air and at Rallies there to cheer him on, wish we had that level of support in the Lake District but the bordering countryside is very sparsely populated. David is a frequent voice on our local fells and John his dad seems to like an upcoming weather report from the far west. (Lake District weather comes mainly from the west and we are about as far west as you can go so a quick look out to sea from the shack window generally gives us two hours or so advanced warning).
On the subject of summits with access for the less mobile amongst us the Lake District really has none to offer, we have thought a lot about this, as you get older this becomes more relevant but we cannot come up with even one. We often wish we had Gun or something similar close to hand for quick trips out on nice evenings. Where we stay in the Isle of Man is quite close to Mull Hill and we often spend time on extra little trips there. Incidentally you can drive up to the summit but the track although concrete and tarmac is a little rough in places and good ground clearance is needed. We only drove up it once!
This week we have had plumbers fitting new boiler and piping, all doors open, next week it's replacement windows all round so a few more gales to put up with yet but in the middle, this weekend we are hoping to get out on something local if only for a quick activation so hope the month is not a total loss SOTA wise, meanwhile Christmas is on the horizon and by the time of the next News will be a memory so time for us to wish every one .
A Very Happy Christmas from both of us.
Take care out there,
73
Rob and Audrey
G4RQJ
PS Sorry no activation, too busy preparing for window men!
========================================================
*********** SOTA NEWS PART 2 FOLLOWS BELOW ********