SOTA NEWS - APRIL 2015. Part one of two
EDITORIAL – by Roy G4SSH
Welcome to the April 2015 edition of SOTA News. My thanks go to the following contributors:- Andy MM0FMF, Barry GM4TOE, Skip K6GDW, Allen VK3HRA, Dennis ZS4BS, Mark G0VOF, Kevin G0NUP, Rob and Audrey G4RQJ, Jürg HB9BIN, Heinz OE5EEP, John G4YSS, Maurice F5NQL, Tom M1EYP, Phil G4OBK, Nick G4OOE,
======================================================
The March edition of SOTA News was viewed 675 times.
6m / 10m CHALLENGE - from Andy MM0FMF - Database Manager
The database has been updated to support the scoring for the up and coming 6m / 10m Challenge. This is available from the Challenges sub-menu. The code implements the rules as laid out when the challenge was announced. Some countries do not have 6m privileges or limited availability and so the option exists to score using the 10m QSOs only.
You don't have to do anything special other than enter all you 6m and 10m QSOs as normal. The code will find which QSOs took place during the two challenge windows and will score accordingly.
If you are not sure how scoring will work you can select Demo Mode for the challenge. In this case the code is run against 6m / 10m QSOs from
2013/2014 instead of 2015/2016.
Band and Mode analysis
Both the activator and chaser Rolls of Honour displays have been updated to show which bands and modes you have used. Only the most common bands and modes are supported, 160m-23cms inclusive and SSB/FM/CW. From looking at any activator or chaser log you can select Show Analysis and click Show to breakdown the bands and modes used. You can view the breakdown for activators without being logged in but for chaser analysis (of any chaser not just yourself) you must be logged in.
Andy, MM0FMF
Database Manager
========================================================
SOTA AWARDS FOR MARCH 2015 from Barry GM4TOE - SOTA Awards Manager
This month brought quite a number of high scoring claims particularly from Chasers but also there are high scores in the Summit to Summit award category. Congratulations to Mountain Goats AD5A and OE6MGG and Shack Sloths G8TMV, HG7WAV, DK1WI, ON4VT, AE0P and DL8WJM on reaching the first major milestone in the SOTA awards scheme. Honourable mention to all of those at "Supersloth" and above: G4OBK, DL2EF, ON4FI, M0BKV, G4ZIB and VK2IO, this shows an amazing level of dedication. Finally a quick mention of dedicated Activators HB9BIN and OK8PKM on reaching Platinum in the S2S awards.
Trophies
Mountain Goat
AD5A Mike Crownover
OE6MGG Gerard Meister
Shack Sloth
G8TMV Colin Tuckley
HG7WAV Szota Viktor
DK1WI Erhard Hauptmann
Certificates claimed
Activator
VK3PIF Peter Freeman 1500 points
AD5A Mike Crownover 1000 points
OE6MGG Gerard Meister 1000 points
F8FEO Le Drezen 500 points
M0JCQ James Stevens 100 points
OE6END Andreas Grubler 100 points
Chaser
G4OBK Philip Catterall 75000 points
DL2EF Frank Muennemann 50000 points
ON4FI Naessens Karel 40000 points
M0BKV Damian Kamm 25000 points
G4ZIB Tony Roberts 20000 points
VK2IO Gerard Hill 10000 points
EA2CW Mikel Berrocal 5000 points
ON5SWA Francois Gorremans 5000 points
HG7WAV Szota Viktor 1000 points
ON4VT Danny van Tricht 1000 points
AE0P Brian Adam 1000 points
DL8WJM Lars Goepfert 1000 points
ON4VT Danny van Tricht 500 points
AE7AP Robert Kingery 500 points
WA9HED Lee Lansinger 500 points
VK3CRG Craig Meddings 250 points
ON4VT Danny van Tricht 250 points
OE6END Andreas Grubler 250 points
MM6BJJ Mark Batchelor 250 points
K4HYJ Hank Blackwood 100 points
AF5SB George "Clifton" Smith 100 points
Activator Unique
DL6AP Andreas Puttich 100 summits
EA2BDS Marcial Vecilla 100 summits
Chaser Unique
DL2EF Frank Muennemann 5000 summits
G4ZIB Tony Roberts 3000 summits
W0ERI Martha Auchard 2500 summits
M1CNL Peter Tew 1000 summits
ON5SWA Francois Gorremans 1000 summits
ON4VT Danny van Tricht 250 summits
ON4VT Danny van Tricht 100 summits
AE7AP Robert Kingery 100 summits
Summit to Summit
HB9BIN Dr. Jurg Regli Platinum
OK8PKM Boguslaw Kucza Platinum
G4ASA Dave Wright Silver
OE6BID Barbara Schantl Silver
OE6PID Peter Schantl Silver
OM7SM Mirko Skunda Silver
Mountain Hunter
G4ASA Dave Wright Platinum
ON4VT Danny van Tricht Platinum
AE0P Brian Adam Platinum
ON4VT Danny van Tricht Bronze
Mountain Explorer
DL6AP Andreas Puttich Silver
12m Challenge
G4OBK Philip Catterall 12m Challenge Chaser
HB9BCB Heinz Baertschi 12m Challenge Activator
It seems that every year since the UK postal service was privatised we face increasing costs for sending out certificates and merchandise and 2015 is no different. From 30 March 2015 all postal prices have increased across the globe and the website has been updated to reflect this. However there is a little good news; Royal Mail have introduced a Large Letter rate for all countries which means that certificates attract a slightly cheaper postal rate than previously (not UK, costs have gone up here regardless!). In addition packages which are at the heavy end of our shipping are now cheaper, especially to Australia where the top rates have been reduced by around £2.
I regularly download orders from the server which, for whatever reason, the purchaser has chosen not to complete or has chosen a payment method other than Paypal. Previously I have sent out an email to these people asking if there was a problem and trying to find a way they can pay if they don't like Paypal. However, in the vast majority of cases I don't receive a response at all so in future I will not be sending out emails asking about uncompleted orders. If you have placed an order and have not received it then please email me and I will try to establish what has happened but first check whether you actually paid for the order. One customer decided to pay via the international banking system and, as usual, I asked them to prepay the banking fees (our bank charges for conversion from the payment currency and to bank the funds) including their own bank's charges; this customer was absolutely horrified at the fees he was charged which almost doubled the cost of his purchase. Paypal is simple and cheap to use but we can accept payment in Euros or US$ if you wish to send cash or a cheque drawn in £ Sterling on a UK bank.
SOTA will have a stand at the Norbreck Rally in April and the Scottish Highland Rally (Aviemore) in May and a limited range of SOTA branded merchandise will be available at both events. Look for the SOTA banner and come along for a chat with those folks you may have met on the air but have never had an eyeball QSO.
Summertime is here (it must be, it's snowing) and the hope is that activations can take place in more pleasant conditions – apologies to those of you standing on your heads, winter must be on the way there!
Take care on the hills
73
Barry GM4TOE
SOTA Awards Manager
=============================================================
BLACKPOOL (NORBRECK) RALLY - SUNDAY 12th APRIL - from Tom M1EYP
…and of course SOTA will have a stand there as usual.
(Check out the latest news on the Reflector)
(Can I please make a suggestion that volunteers on the SOTA stand wear a callsign badge? It is really helpful to the many visiting SOTA enthusiasts - Editor)
=========================================================
EXPEDITION TO MADEIRA - by John G4YSS
CT3-SOTA Operation using CT9/ M1NNN/P 2nd - 12th April 2015.
We are having a family holiday in Madeira, so GX0OOO/P will be put on hold for the next two weeks.
Instead, using the callsign CT9/ M1NNN/P (or alternatively CT9/ G4YSS/P) I hope to be active on SOTA's from Madeira Island on a few occasions between 1st or 2nd April and 12th April 2015. As this is a family holiday I shall not be active every day.
A full range of frequencies is listed below for guidance only. The most likely bands will be 17m, 15m and 12m (CW & SSB) depending on band/ WX conditions. Once again Roy G4SSH has kindly offered his support via spotting and possible alerting with Phil G0UUU as alternative. Direct internet access capability is unknown until arrival.
There is no dark operation planned but one summit (MI4) has close vehicular access and could be used for the bands below 20m on one evening?
Local sun times are 07:00 and 19:30 UTC. Local CT3 time is UTC+1 from 29th March, as per the UK.
Working conditions will be 30 (to 50) Watts (or possibly 5 Watts for more remote mountains) to an inverted-vee dipole with 5m centre height. This was successful from EA8 in 2014. However conditions were exceptionally good 12 months ago.
Link Dipoles:
Primary: 20-17-15-12-10m.
Reserve: (160)-80-40-20-15-10m
Hotel to SOTA driving distances vary between about 45 and 90 minutes one way and the back roads have many hairpins and are subject to closure due to landslips etc. At least two SOTA's look difficult: MI3 & MI7. One or both may not be possible for the ordinary walker? According to scan internet info, "a mountain guide and/ or climbing skills/ equipment may be needed" for MI3? ( I won't have any of these).
Weather: According to a standard (non-mountain) 14 day forecast windspeed will range between 8 and 31 mph! If so, volcanic dust may be a problem. Temperatures 17C to 22C. Mainly overcast throughout with chance of showers or light rain from 6th to 10th April. The WX may adversely affect radio operations and or decrease the number of opportunities. Overcast often indicates low-cloud on CT3.
Frequencies + / - occupancy:
Likely Daytime: 14.052; 14.265; 18.090; 18.132; 21.052; 21.320; 24.907; 24.969.
(1.832; 1.843; 3.557; 3.724; 7.033; 7.133; 10.118)
(28.032; 28.665; 29.600FM (Call); 29.200FM (QSY))
I hope that the weather, band conditions and the absence of solar flares allow lots of contacts.
73, John G4YSS.
(CT9 / M1NNN/P)
===========================================================
EXPEDITION TO BALEARIC ISLANDS (Mallorca) - from Jürg HB9BIN
Between 8th and 16th April 2015 I will be QRV in CW with a KX3 and an end-fed dipole from EA6 (Mallorca).
I will try to activate:-
EA6/MA-018,
EA6/MA-028,
EA6/MA-048,
EA6/MA-052.
and some easy first activations.
I will be accompanied by my XYL so I have to do a "lady-program" as well!
TNX to Martin DF3MC and Franz OE5FSM for their help!
See you in the pileups
73 de HB9BIN, Jürg
===========================================================
ANOTHER EXPEDITION TO EA6 / MALLORCA - from Phil G4OBK
From April 21 until April 29 Phil G4OBK, Nick G4OOE and relatively new activator Dave G3TQQ, will be taking a walking holiday based in Porto Pollensa, Mallorca. We hope to on the air on 17m, 20m and 30m from between five and ten of the 66 Mallorcan summits over that period.
G4OOE and G4OBK will operate mostly on CW listening up, with G3TQQ concentrating on 20m SSB. This will be a QRP operation using the Yaesu FT-817. SOTA operation will have to fit in with the walking programme and the other 12 people in our walking club on the holiday, but we will activate as many summits as we can. Chasers should expect one or two early morning activations, and (we hope) two full SOTA days.
We have not yet planned out the itinerary but we are having a meeting to discuss this in about 10 days time having already obtained maps of the Island and the necessary resources to assist in planning our trip.
73 Phil G4OBK
===========================================================
SOTA REPORT FROM SPAIN from Heinz OE5EEP
I am back from Barcelona and have just uploaded my log from EA3/BC-012 Sant Jeroni.
Sant Jeroni is a nice trip from Barcelona center with public transportation. A summary will follow sometime next week. I had problems with s5 to s9 background noise on all bands, but not sure if this was sun activity (?) or from the nearby transmitter tower. I suspect the later, but did not bother to clarify. I should have set up next to the mast to confirm if this is indeed the noise source, but there were other summits with nice vistas and beautiful weather…
With this elevated back ground noise I could work only the strongest stations, thus only 39 QSO's in the log after almost 2 hrs at the summit!
73 Heinz, OE5EEP
====================================================================
BENELUX TOUR REPORT - March 2015 - G4OBK & G4OOE
Our visit to Benelux last week was very successful and went better than planned, allowing us the time to head north on the last day and complete the two northerly summits we needed in the Netherlands. We also found time to add ON/ON-010 Baraque Fraiture to our list of planned summits - stopping as we passed over it on our way to ON/ON-018, one of the unique summits we needed to activate. We previously visited ON-010 last June, however it would have been a waste to drive over it again without claiming the 8 points available. So we set up two 40m stations about 300m apart and spent 30 minutes there on CW and SSB.
Twenty ON/F/LX/PA summits were activated over a five day period with Nick driving 980 miles on the round trip in an anticlockwise circuit of Belgium, France (Briefly for F/NO-047 border SOTA), Luxembourg and The Netherlands. 100 miles of the total were in England with 880 miles on the continent.
Two stations were set up on 18 out of 20 summits allowing operation on 40m CW and SSB (mostly by Nick G4OOE) and on 30m CW and 20m CW and SSB (mostly by Phil G4OBK) 1263 SOTA QSOs were completed in total. Our stations were usually sited around 100m apart and we could operate at a power level of 30 watts without noticeable co-interference. On two summits we operated on 40m in CW and in SSB simultaneously without the proximity of the two stations causing a problem. The only breakage all week on the final summit was the loss of the top two sections of my 6m travel pole, turning it into a "heavy duty 5m travel pole" which is still quite usable. We both ran our Yaesu FT-857 transceivers at 30 watts output with a 40m inverted vee dipole and a 20m/30m/40m link dipole. Nick used LiPO 11.1V 3S1P batteries and I used two new 7 AH LifePo4 batteries. I was delighted to be able to get five activations out of one 7 AH battery thanks to the brevity and speed of the chasers. I thought the standard of operating in the pile ups had improved since we undertook a similar tour last June. We both used split frequency when large numbers of stations were calling us on 40m and 30m CW and this proved very effective. On 20m this wasn't necessary as it was rare to get more than three stations calling at the same time as propagation shifted.
From home we drove to the port of Hull, which is around 45 miles from where we live in the north east of England and took the P&O Ferry to Zeebrugge in Belgium where we had an overnight cabin, leaving the ship at 9.30am local time. From Zeebrugge we had a 90 minute drive to the first summit of Pottelberg, ON/ON-027 where we set up on a football pitch. We stayed overnight in Rochefort, Bastogne, Verviers and Valkenburg, rejoining the ferry at Europoort near Rotterdam in the evening for the overnight crossing back to Hull.
Out of the 20 summits activated 12 were accessible by car into the activation zone, with usually just a short walk of less than 200m to where our stations could be set up.
We met up with several ham friends on summits and in a restaurant. Christophe ON6ZQ was worked on 2m on his approach to ON/ON-006 / F/NO-047 and we spent an hour chatting in the midst of our operation there on the border with France. The next day Peter ON4UP (ON Association Manager) and Franz ON9CBQ were also activating Belgium summits, and that night met us in the restaurant at our hotel in Bastogne to talk SOTA. We had a great night… Then on our penultimate day Lutz DL3SBA and his dog Noah were waiting for us when we arrived on ON/ON-028 around midday. Lutz allowed us in turn to operate his station on 40m, with me doing the CW and Nick SSB. We then went on separately to PA/PA-002 with Lutz arriving towards the end of our activation with two bottles of fine German beer for us to drink!
On our final and only wet day we opted to drive north to activate PA/PA-005 and PA/PA-004. Operating in a wood around 50m off the main road which runs over the PA-004 summit near Apeldoorn we were first approached by a government security official who requested sight of our passports and wanted an explanation of what we were doing. He went away satisfied, however 20 minutes later a policeman appeared and spoke to Nick. After enquiring how many countries we had worked he then left us to complete our activation!
We arrived at Europoort which serves Rotterdam for the ferry at 4.00pm, in good time for the 5.00pm embarkation. The ship this time was the Pride of Hull, a far superior craft than the one we travelled out on, The Pride of York. We enjoyed a smooth crossing. This encouraged us to enjoy plenty of beer to celebrate our tour and enjoy the entertainment from a live 1960s band on board. We hope we get another opportunity to do another cross channel tour again soon.
Phil G4OOE & Nick G4OOE
===========================================================
Second "Completed ON Summits Award" from Peter ON4UP
---
Congratulations to Phil G4OBK on achieving the first "Completed ON Summits Award" awarded to a non-ON operator. Phil chased AND activated all the 17 valid ON summits.
This award is an ON association sponsored award which started last year on June 15, 2013 with ON ARM version 5.1. To achieve this award, a SOTA participant must have successfully activated AND chased all valid ON summits at the time of claiming the award.
This electronic award is free of charge!
All info on the Completed ON Summits Award can be found in the ON ARM or via undersigned. See also Summits on the Air
73, Peter – ON4UP
ON association manager
=======================================================
SPECIAL CALLSIGN FOR UFT - from Maurice F5NQL
Each year, around the Annual Meeting of the Union Francaise des Telegraphistes UFT, The French CW op's club, some members appear behind the special callsign TMxxUFT.
This year , it's the 30th anniversary of the UFT and the special callsign TM30UFT (Tango Mike Thirty Uniform Fox-Trot Tango) , will be aired from April 12 to 26th.
73 de F5NQL, one of the operators.
=========================================================
SOTA ON TOP BAND - by Mark G0VOF
Hello everyone & welcome to this month's edition of SOTA on Top Band.
There is plenty of activity to report this month, with four activators taking to the band from six summits during March.
First on the band this month was John G4YSS, operating as GX0OOO/P at the end of a day activating no fewer than six Northern Pennine summits on Tuesday 10th March. This was primarily to add to his tally of Winter Bonus points, taking him nearer to the magic 1000. After a day concentrating on 145MHz FM, as it would be going dark, John decided to use 160m on his final summit of the day, G/NP-024 Hoove.
Owing to the improved propagation that darkness brings I was fortunate enough to work John on CW, despite my very high noise level on 160m although it was a struggle. Thankfully, There were a few other chasers around & John made a further 4 QSO's using CW before moving up the band a little & changing to SSB. I listened for John but my noise level was just too high to be able to pick out his signal so as I had already worked John on CW I utilised one of the Web based SDR's to listen to the rest of his activation. This turned out to be a good thing as I heard Brian G8ADD calling just as John was about to close down. This final QSO brought John's tally for the activation to 5 QSO's using CW & no fewer than 8 using SSB.
More importantly for John, this took him to 999 Winter bonus points!
An excellent two-part activation report can be found at the links below:
Part one:
G4YSS: Six G/NP's - NP10, NP17, NP4, NP13, NP19 & NP24, 10-03-15 (Part-1)
Part two:
G4YSS: Six G/NP's - NP10, NP17, NP4, NP13, NP19 & NP24, 10-03-15 (Part-2)
With only 1 more Winter Bonus point required to reach 1000, John took the opportunity to use the last day of seasonal bonus in the UK, 15th March, to re-visit the Lake District. His original intention had been to tackle G/LD-001 Scafell Pike but weather conditions meant a change of plan was in order & G/LD-004 Skiddaw was selected instead.
Another change would be that only one summit was planned with HF being utilised, as well as including 160m. After a spell on 40m CW & SSB John announced he was going to give Top Band a try. I did not expect to hear much at my location as daytime conditions were fully established & my local noise was worse than ever. Despite my best efforts I could not hear John through the noise so resorted to using a Web SDR to receive him; at least that way he would get a valid activator QSO for his efforts, even though I will not be claiming the chase. Fortunately, Geoff GM4WHA could hear John & worked him using SSB. So only two QSO's on 160m, but this was followed by a very successful run on 30m CW & a short run on 20m SSB before John's battery finally gave out.
Another very detailed report, with photos can be found here:
G4YSS: G/LD-004 & 1000-WB. 160m, 40m, 30m & 20m on 15-03-15
If you remember, in last Month's Top Band news I mentioned that there would be a partial eclipse on Friday 20th March affecting much of the UK, with the Faroe islands & Svalbard due to experience totality.
This raised the possibility of improved conditions on the MF & lower HF bands due to a reduction in D-Layer absorption, the reason these bands are poor during daylight. The RSGB propagation studies committee organised an experiment to coincide with the eclipse in the form of a QSO party. This led to fears that any SOTA activators on the low bands could well be swamped by contest-like traffic. As it turned out activity levels were quite reasonable & those who did venture onto 160m that morning were very much rewarded.
Carolyn G6WRW/P gave 160m a try from G/CE-002 Walton Hill & was very surprised at how well her "lash-up" antenna worked. She made a fine total of 5 QSO's including 2 S2S's,all using SSB to qualify the summit on 160m. The first time Walton Hill has been activated on Top Band!
Carolyn has provided a detailed report here:
First Top Band activation
Also out & activating on 160m for the first time was Adrian G4AZS/P on G/WB-015 Callow Hill. He had made an antenna especially for Top Band & did extremely well with only 5 Watts making a total of 6 QSO's, 4CW & 2SSB, including 2 QSO's with G0VOF/P (CW & SSB) & no fewer than 3 Summit to Summit's! Adrian becomes the first to activate Callow Hill on 160m!
Adrian's report & photos can be found here:
Solar eclipse - #19 by G4AZS
Activating on Top Band for the third time this month was John G4YSS, using GX0OOO/P. After his exertion earlier in the month John was taking it easy this time, activating a relatively local hill for him, G/TW-004 Bishop Wilton Wold. John made 5 QSO's, 4CW & 1 SSB, including 2 Summit to Summit's.
As usual, John has provided a detailed report, which can be found here:
G4YSS: G/TW-004 on 160m for the Solar Eclipse, 20-03-15
For the first time in a while I decided to activate a summit myself during the eclipse & as I intended to take my FT897D & a 12Ah SLAB it had to be something easy. I settled for G/SP-012 Easington Fell as it is local, has a large flat area at the top, & does not get very busy. This makes it ideal for erecting a full size 160m inverted V, which I managed to do fairly quickly this time, utilising the wall at the summit to support the ends of the dipole.
Once I had the radio connected I listened for the beacon from G3RAU that had been set up for the experiment. This was a good S9 with slight fluctuation in strength so there was some propagation around. After an S2S on 80m SSB with Carolyn G6WRW/P on G/CE-002 Walton Hill, I dropped back to 160m & worked GW0ETF in the QSO party. A short time later I called CQ SOTA on 1832KHz & my first call was answered by John, GX0OOO/P on G/TW-004 Bishop Wilton Wold. John was a stable 599 on Easington Fell, whilst he sent me 589/599 with QSB. Towards the end of our QSO he mentioned that I was now 539, so the QSB only seemed to be working one way. John was immediately followed by Phil G4OBK, 599/589 but after a couple of further calls brought no reply I decided to see if I could find Carolyn G6WRW/P on G/CE-002 Walton Hill, who by know had dropped to 160m SSB. It didn't take long to find her & we exchanged 57to 52/52 reports with QSB apparent in both directions. A short time later I found Adrian G4AZS/P also calling CQ SOTA on SSB from G/WB-015 Callow Hill & we worked at 55/58. I also came across Adrian later on CW so called him again for a S2S on a second mode.
I later found a space & called CQ on SSB myself, making a further two QSO's with Nick G8VNW & Peter G4UMB, just down the hill in Waddington. In total I managed 10 QSO's, 6 using CW & 4 using SSB, my best tally ever. Whatever enhancement in propagation there was during the eclipse, it wasn't very pronounced, although the presence of several well-equipped stations on the band certainly helped those of us active to qualify our summits.
I have uploaded some video taken during my activation which does include the Summit to Summit QSO's with John, Carolyn & Adrian along with other observations. Please be aware that it does contain a fair bit of CW, so click wisely now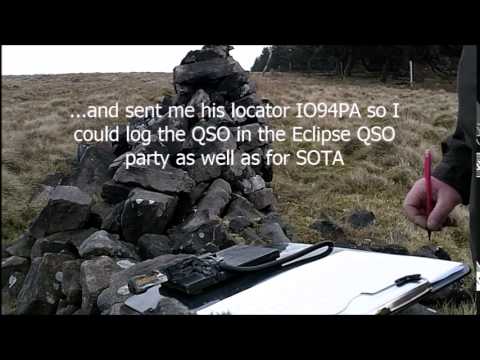 Thanks everyone for the reports & very well done!
At the time of writing, those were the only Top band activations during March that I am aware of, if I have missed any others please let me know.
On 10 March, John GX0OOO/P (G4YSS) Activated G/NP-024 Hoove & made 13 QSO's (5 CW / 8 SSB)
On 15 March, John GX0OOO/P (G4YSS) Activated G/LD-004 Skiddaw & made 2 QSO's (1 CW / 1 SSB)
On 20 March, Adrian G4AZS/P Activated G/WB-015 Callow Hill & made 6 QSO's (4 CW / 2 SSB)
On 20 March, Mark G0VOF/P Activated G/SP-012 Easington Fell & made 10 QSO's (6 CW / 4 SSB)
On 20 March, Carolyn G6WRW/P Activated G/CE-002 Walton Hill & made 5 QSO's (0 CW / 5 SSB)
On 20 March, John GX0OOO/P (G4YSS) Activated G/TW-004 Bishop Wilton Wold & made 5 QSO's (4 CW / 1 SSB)
As always, If you do have any suggestions on things that you think should be included, or if you wish to contribute tips, ideas or anything else that you think may help others on the band please email them to me at mark@brownhill.demon.co.uk
Until next month,
Best 73,
Mark G0VOF
========================================================
Note from the editor
I had the misfortune to be located in central London at the time of the Solar Eclipse. Sadly the low cloud obscured any glimpse of the sun. In fact the cloud was so low that it was half way down the "Shard" as I made my way to Kings Cross station to catch the 0930 train north.
It was disappointing to see gatherings of school children in school playgrounds each clutching a pair of special viewing glasses with the teachers ushering them inside to watch it on TV.
Never mind, there is always next time… (Roy)
==========================================================
******************** Continued in Part 2 *****************************
SOTA Report North America
SOTA Report Australia
SOTA Report UK (View from the North)
SOTA CW Report
SOTA Statistics from data base for March
SOTA News contacts