Hi all,
After a long battle with GoPro concerning the Hero9 audio "crackling" problem, my case got publicized by the well known Swiss consumer magazine K-Tipp.
When I went for the photo shooting in the nearby park, I wore my SOTA T-shirt on purpose, in the hope to get some publicity for SOTA. After the photo shooting, I explained the photographer about this special hobby. When he was a child, he was impressed by the amateur radio station of his neighbor and he thought that you need a huge installation to communicate so far.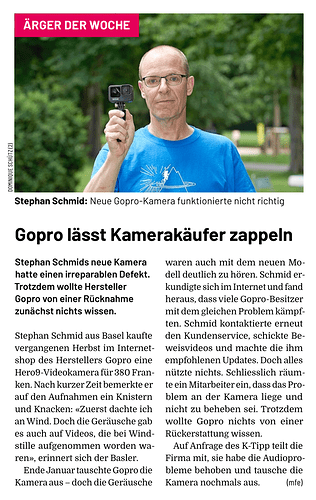 This problem of the Hero9 model is well known by GoPro and is a hardware defect that can't be fixed (their own statement). Their "solution" is to start the action cam 2-3 minutes before the action happens

After the photo shooting about ten days ago, I sent the camera the third time to GoPro, but didn't hear anything since then. Let's hope that they somehow manage to return me a working camera, because that's what they promised me after they got a call from the consumer magazine.
73 Stephan
BTW: The magazine granted me explicitly the right to publish their article.