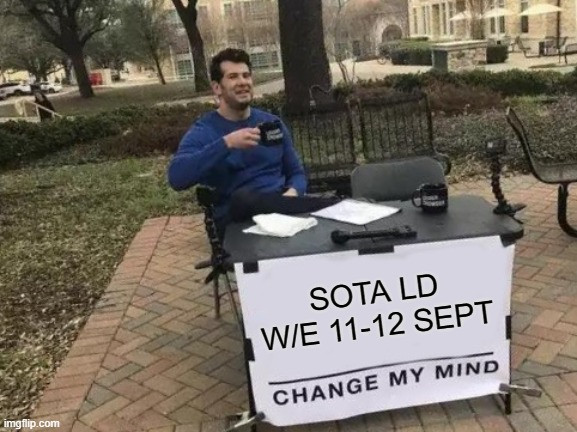 We live in uncertain times but lots of people are already booking post-lockdown holidays so why not try to fix a date. We need something to look forward to.
Assuming no big upturn in infection rate [due to … a new deadly strain?, vaccine hesitancy in the under 40's?, vaccine export wars?] causing a new lockdown, September looks fine. It's after peak holidays but before schools start, and the weather can still be good.
As for that particular weekend [11-12th], it's fine with me but I know we will get the 'herding cats' problem as happened for the 2019 SOTA Lake District weekend.
It's as good as any other date and is suitably far ahead to be feasible . In fact it feels significantly more feasible than Friedrichshafen.
One important point, if the dates are changed for what ever reason, please post a new message with the new dates and don't edit an existing message as nobody will get notified of changes in the thread. I missed the change for the 2020 dates because of this. Not that it mattered as it wasn't held.
Hope to provide the other end for some s2s from S Scotland that weekend. Here's hoping


73,
Rod
Andy - At the moment - announced last week - still planned to happen but because of the inability of the German government to put together an effective vaccination program, most likely now as a hybrid. Those living in Germany attending in person while those not allowed into the country (or out of their country) able to watch the talks and presentations via streaming links. Likely a very much smaller event this year but the expo centre are really pushing to make it happen, even in a limited form. Ham Radio will be the third event in the halls - so the two weekends prior are good tests for the event.
As regards your LD weekend Mark - I REALLY HOPE things are better by September!!
73 Ed.
In anticipation of better times, last month I booked an apartment in Windermere from 17 to 27 Sept. By jumping in early I got a great price, and I hear prices are starting to skyrocket. I was hoping that one of those weekends would match up with your LD Weekend plans. Oh well… Whatever happens, I hope to see at least a few of you during my stay and possibly do some joint activations. Paul HB9DST
I'd be up for it

I'll be happy to come down again sometime during those dates to go and play SOTA with you Paul even if I'm down the other weekend. I still expect to have plenty of vacation days to use by then.
Andy, look forward to seeing you again!
I will join in by polluting the airwaves with my unique brand of CW. There are extra points if you can read what I sent! (subject to adjudication and written consent from the MT of course).
Failing that I'll use the voice modes.
Paul, Andy,
And there are locals like myself who will be happy to use your visit as an excuse to go onto the hills to work you S2S.
P.S. perhaps Andy, you will bring your 23cm.
I have so much pent up SOTA demand after the last 15months I'll probably bring every bit of portable gear I own

I can be persuaded to move the date by a week on two conditions.
You bring more chocolate.
If the wx is glorious on the weekend before you buy the drinks.
How does that sound Paul?

On a serious note the reason to open this up is to give folk a chance to indicate some glaring omission on my part or as Paul has done give me a reason to pick a close date. Being in the Lakes I have the least to loose if things don't work out so it only seems fair.
Regards Mark
I note that the Fred Whitton is scheduled for Sunday 19th September 2021. The biggest impact would be if they close Hard Knott and Wrynose pass which would affect access to a few SOTA summits, and traffic will be heavier and accommodation will generally be harder to come by that weekend.
This would be a reason to keep the date as is for example.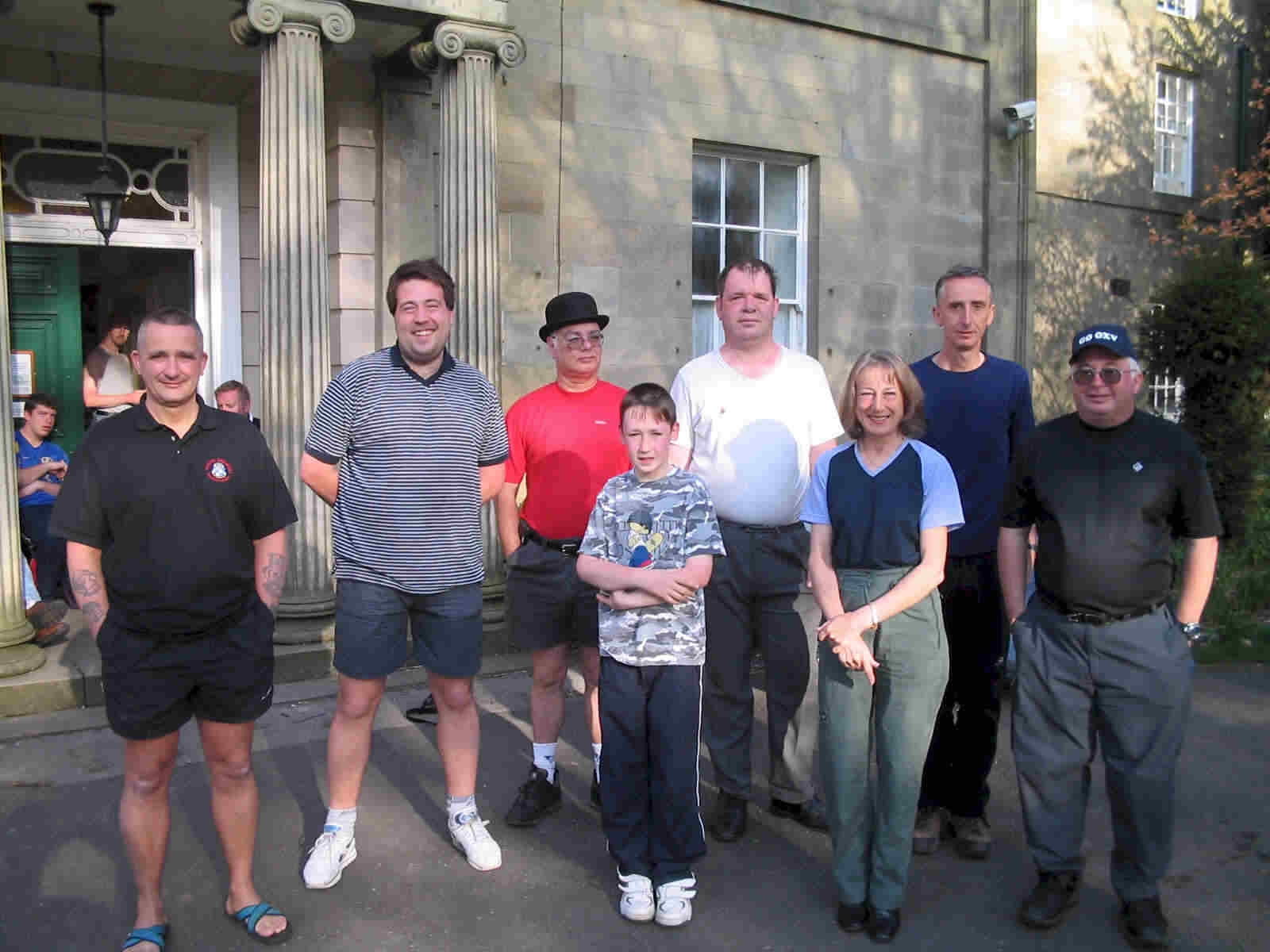 More or less the last time us in the uk had a gathering sleep overs in youth hostels was many years ago,
As the photo shows,
g1ink (Steve Green) m1eyp (Tom Read) g6ddq (Myke) m0hgy (little Jimmy Read) g7god (Silent Key) mw0yls (Shirley Silent Key) m1eyo (Alan) g0oxv (Keith) and m0sgb (Steve taking photo) this was just after doing G/NP-015, Great Knoutberry Hill, 07-04-2005.
below was my log
Date:
17/04/2005 |
Summit:
G/NP-015 (Great Knoutberry Hill) |
Call Used:
M0SGB/P |
Points:
4 |
Bonus:
0 |
Delete
Time Callsign Band Mode Notes
10:35 M1AVV 144MHZ FM
10:36 2EONHM/M 144MHZ FM
10:38 G6DDQ/M 144MHZ FM
10:39 M0YLS/M 144MHZ FM
10:40 2E0LMP/ 144MHZ FM
10:41 M3HJD/M 144MHZ FM
10:42 G4BLH 144MHZ FM
10:43 GX4BJC/M 144MHZ FM
10:45 M3DNC/M 144MHZ FM
10:47 G1INK/P 144MHZ FM Steve on NP/004
10:48 M1EYO/M 144MHZ FM
Completely understandable. But I'll still bring chocolate for my dates in return for company on some summits!
I had to look this up as the name means nothing. Google returns " The Fred Whitton Challenge consists of a 113 mile sportive around the Lake District" in the blurb for the link. Still none the wiser what a sportive may be, click the link and it's a bike ride. It required some effort to find a definition of sportive as applied to cyling viz. a long distance cycling event.
At present I have nothing booked for September any/all dates are as good as each other. I'd guess most people are in the same position, Paul excepted.
Hopefully if the our Government Road Map goes according to plan, most if not all COVID19 restrictions should be lifted from the 21st June onwards. However given that our previous Government Road Maps haven't gone according to plan, there's no guarantee that this Government Road Map will go according to plan.
This is just one of the great memories from the early days of SOTA and hopefully SOTA weekends like this will be fully possible once again after all COVID19 restrictions have been lifted. I was the little boy on that photo would you believe and back then I didn't even have my foundation licence. I was 11 years old back then and now I am 28 years old.
Jimmy M0HGY
A sportive is a clever way of monetising a bicycle ride that's usually free.
Done it a couple of times and it is disruptive if you're not in it. Excellent day out if you are. Around 2000 on bikes but the start is generally early withe a cut off around noon at Whinlatter. It takes up a lot of extra car parking with supporters etc at Honister and Buttermere. Route is Kirkstone, Honister, Newlands, Whinlatter, Hardknott (via cold fell) then Wyrnose.
That said there is always a lot more traffic in the early morning and late afternoon. Not just people on bikes.
Generally avoid unless its too hard to do otherwise.