The long-neglected, oft-requested, headlining feature of SOTA Goat has finally returned with way more customization.
Update to v1.5.0 from the App Store to get it.
New Features
Push notifications (way more details below!)
Create a new spot from an existing alert (thanks VK1DA)
Bug Fixes
Fixed summit activation dates being off by one day (I think… DK7MG, please confirm)
Fixed crash that occurred when refreshing spots/alerts after settings changes (thanks Eric)
Fixed font color for map options
Push Notifications - all the details
A screenshot is worth a thousand pixels, so let's go through it.
Main settings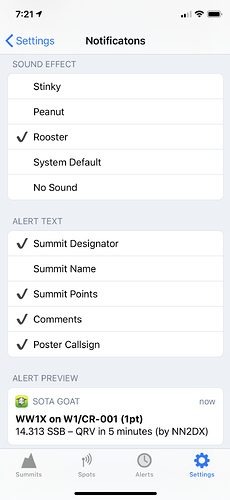 The infamous Stinky alert makes a comeback, joined by his friends Rooster and Peanut. These new audio files files were actually sent to me by Steve WG0AT back in 2013 when he requested custom sounds. Now, they are immortalized in the app forever.
You can also decide how much text to cram into each notification, and preview exactly how it will look.
Filter customization
Choose to be notified of new spots on particular bands or modes. You can also filter by SOTA Association, to avoid spots from far-off geographic regions.
You can also filter by the activator callsign. Why would you want this? The beauty of the new system is that you can create multiple filters at once. For example, you might have three separate filters for:
HF activations in the USA
VHF activations in your home association
Any time your friend activates, anywhere
You'll be notified if any of these conditions are met.
Many folks wanted to be notified of the initial activation spot, and also band changes, so there you go. If you want the firehose, select All Spots.
Synced across devices
You don't need a SOTAwatch account to use this feature, but if you are logged in on multiple devices, alerts will be sent to all of them.
I'm really happy with how the new notification system has turned out. Please let me know how it's working out for you – either in this thread, PM, @WW1X on Twitter, or via my e-mail address on the About screen.