Well, I finally made it up Great Gable, having wanted to do this summit pretty much since I first started SOTA two years ago!
There was only one day that looked suitable during my Christmas break (with the forecast I had), and as you can see from the photos it was a stunning day from start to finish. I minimised pack weight by taking the MCHF although I did decide to include the MiniPA50 amp.
Honister Pass was a bit dodgy given the -3 degC temperature - fortunately there were only a couple of slippy places - I had assumed it would be gritted given it is a bus route but I suspect that doesn't run in the winter as the slate mine was closed.
The plan was to head straight for Great Gable on the outward leg and then hopefully take in the three Wainwrights of Green Gable, Brandreth and Grey Knotts on the way back for WOTA. Having been inspired by Rob's @DM1CM excellent mapping for SOTA I am now trying (with small steps) to improve the WOTA mapping.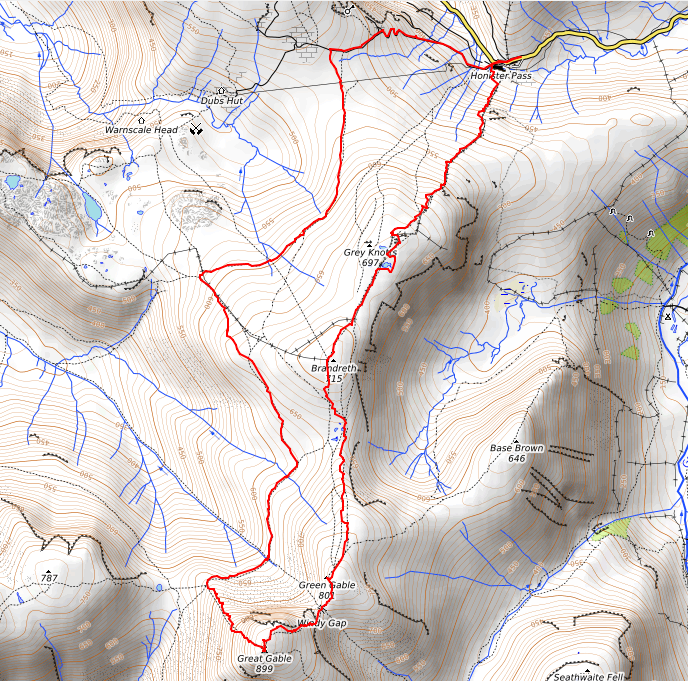 Start was at 8:20am having set off from home at 7am. The moon was peeking over the hill at Honister.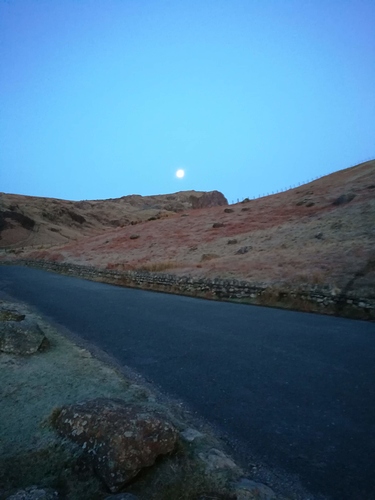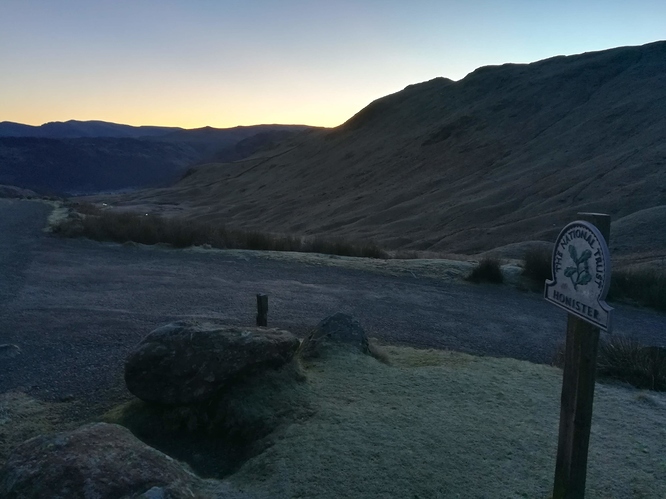 Following the mining track initially, I then cut across on the well defined path that takes you to Great Gable via Moses Trodd. It was a very pleasant walk with the sun rising and crisp underfoot (which helped immensely with footing given the rain we've had). You can't seen Great Gable for quite a while - I tried not to get disoriented.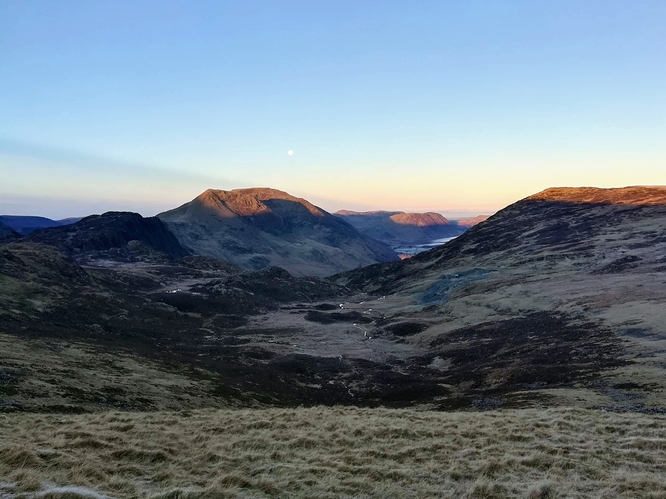 Then it comes into view, and what a sight! The Northern side rises quickly from the surrounding area and is covered in scree and boulders. I decided I would take the North-Westerly route instead of tackling Windy Gap - with the plan to descend that way on route to Green Gable.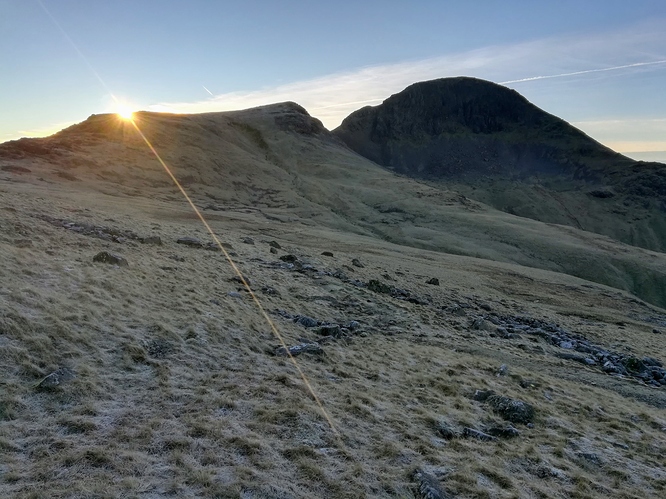 As can be seen from the GPS track I didn't follow the main path up to the summit very well and this resulted in several quite scary traverses across the ice covered boulder fields.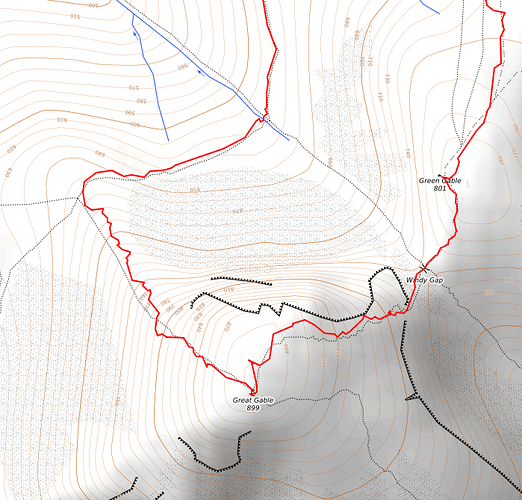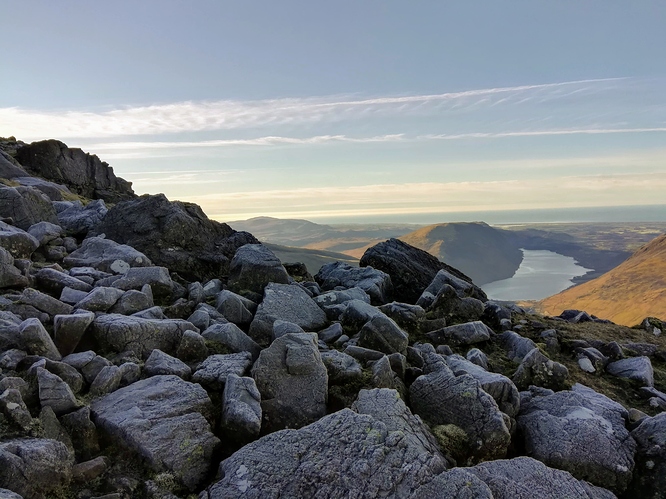 Then finally as the ascent shallows you crest onto the rock covered summit with magnificent 360 degree views including the imposing Scafell Pike. Wind was thankfully light and it was really quite pleasant in the sun and a pleasure to activate.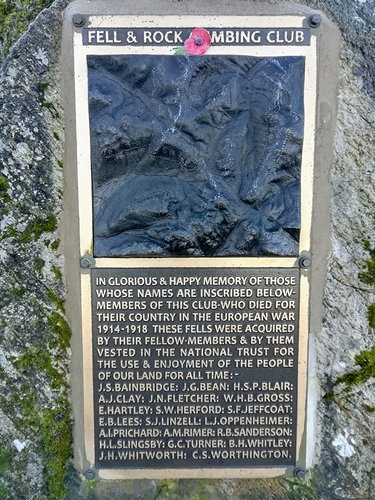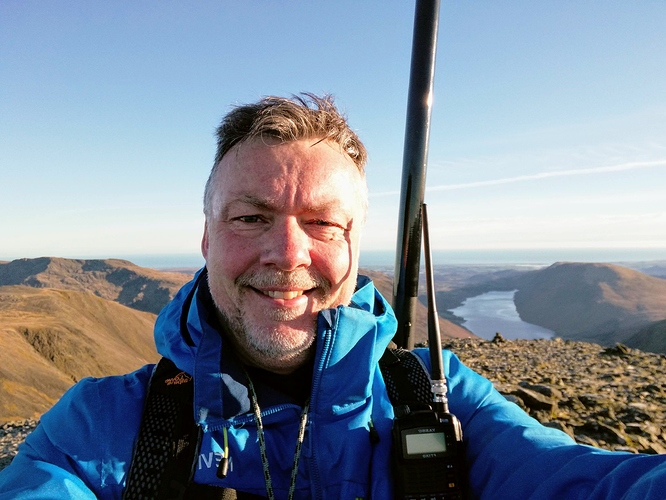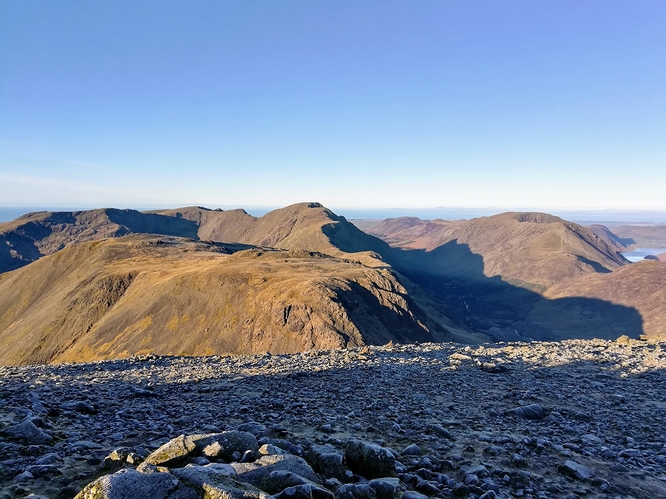 Radio was brisk - with 2m initially followed by 80m, 40m then 20m. The MCHF was working nicely which was a relief as it hadn't been on an outing for a while. One S2S was worked with Roberto @IW2OBX on Mt Poieto. The other surprise was being chased by @KD1CT Bob and Bob @AC1Z in New Hampshire - AC1Z is one of the few transatlantic activators that I have chased whilst out portable!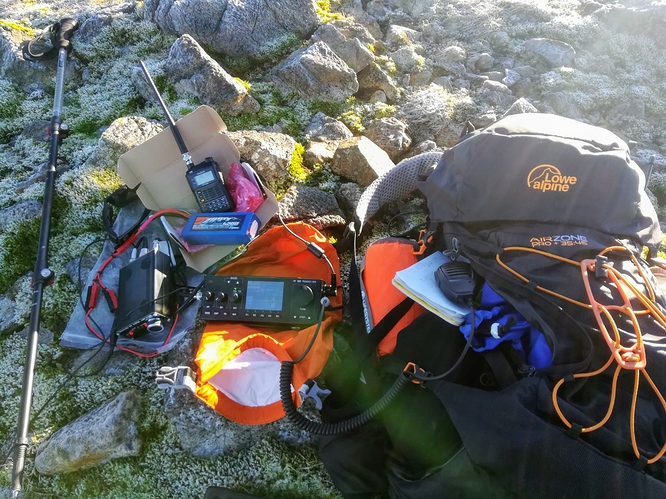 With no time to lose I packed up and ate my sarnies on the move (first time I've packed a proper lunch for SOTA!) and headed off the somewhat easier Easterly descent (given that it was now in the sun) for Windy Gap which true to its' name was quite a bit windier than the summit. Two guys hunkering out of the wind on Green Gable in the horseshoe weren't really getting much protection given that the wind was Easterly as opposed to the more normal Westerly's.
I then activated Green Gable, Brandreth and Grey Knotts for Wainwrights on the Air using the FT1XD and noted that my Spectrum Communications 2m 1/4 wave unloaded whip did work maybe 1 S-Point better than the stock antenna.
When I got back to the car at around 3pm the road at the top of Honister Pass was getting very slippery, and looked like it was getting worse, so I got going quickly and had to take it real careful back down.
A real Christmas treat this activation! Thanks to all the chasers, 73!
More photos here.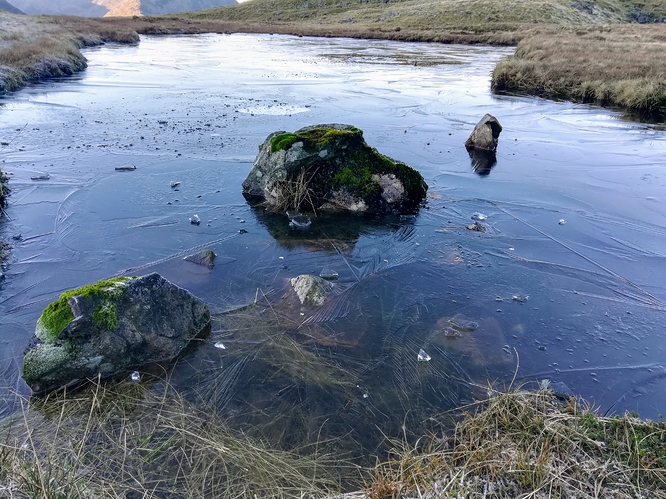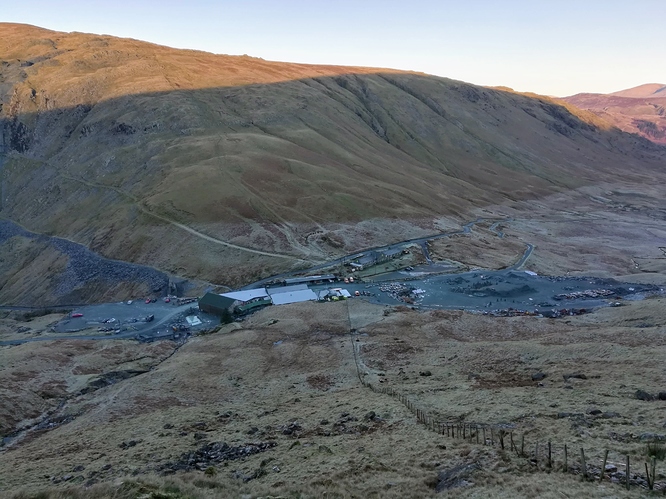 Date: 24/Dec/2018 Summit: G/LD-005 (Great Gable) Call Used: M0NOM/P Points: 8 Bonus: 3
| Time | Call | Band | Mode | Notes |
| --- | --- | --- | --- | --- |
| 11:01z | 2E0MIX | 144MHz | FM | |
| 11:03z | G6LKB | 144MHz | FM | |
| 11:04z | M0LKB | 144MHz | FM | |
| 11:05z | G1OHH | 144MHz | FM | |
| 11:05z | M6LKB | 144MHz | FM | |
| 11:06z | G7CDA | 144MHz | FM | |
| 11:08z | G6NHW/A | 144MHz | FM | |
| 11:11z | 2E0CBB | 144MHz | FM | Brian Egremont |
| 11:35z | G4OBK | 3.5MHz | SSB | |
| 11:37z | G0RQL | 3.5MHz | SSB | |
| 11:37z | GI0AZB | 3.5MHz | SSB | |
| 11:38z | GI0AZA | 3.5MHz | SSB | |
| 11:39z | G0SLR | 3.5MHz | SSB | Roy |
| 11:40z | G0FEX | 3.5MHz | SSB | |
| 11:41z | G4WSB | 3.5MHz | SSB | |
| 11:42z | DG1NPM | 3.5MHz | SSB | |
| 11:42z | GI4TAJ | 3.5MHz | SSB | Joe |
| 11:43z | GM6ZAK | 3.5MHz | SSB | Andy NE Fife |
| 11:45z | G4OOE | 3.5MHz | SSB | Nick |
| 11:45z | G4RQJ | 3.5MHz | SSB | Rob |
| 11:46z | M0MDA | 3.5MHz | SSB | |
| 11:47z | MM0XPZ | 3.5MHz | SSB | |
| 11:47z | PA1BR | 3.5MHz | SSB | |
| 11:48z | M3FEH | 3.5MHz | SSB | |
| 11:52z | PA1BR | 7MHz | SSB | |
| 11:53z | EA2DT | 7MHz | SSB | |
| 11:53z | IK2LEY | 7MHz | SSB | |
| 11:54z | F5JKK | 7MHz | SSB | |
| 11:55z | HB9AGH | 7MHz | SSB | |
| 11:55z | ON7LO | 7MHz | SSB | |
| 11:56z | DJ5AV | 7MHz | SSB | |
| 11:56z | EA2IF | 7MHz | SSB | |
| 11:56z | SA4BLM | 7MHz | SSB | |
| 11:57z | M0WPJ | 7MHz | SSB | |
| 11:58z | DF1WH | 7MHz | SSB | |
| 11:59z | DL3DXL | 7MHz | SSB | |
| 11:59z | DL3HXX | 7MHz | SSB | |
| 12:00z | F1ADG | 7MHz | SSB | |
| 12:00z | HB9DHA | 7MHz | SSB | |
| 12:01z | HB9DQM | 7MHz | SSB | |
| 12:02z | M3FEH | 7MHz | SSB | |
| 12:02z | S5RPJ | 7MHz | SSB | |
| 12:06z | OK1SDE | 14MHz | SSB | |
| 12:07z | KD1CT | 14MHz | SSB | New Hampshire |
| 12:07z | SP9AMH | 14MHz | SSB | |
| 12:08z | AC1Z | 14MHz | SSB | New Hampshire |
| 12:09z | SV2HSY | 14MHz | SSB | |
| 12:16z | IW2OBX/P | 7MHz | SSB | |