In the following a joint report of SOTA activations from Jean-Sébastien, F4CPJ, and me is given.
How does it come about, that two SOTA activators contribute to the same activation report?
That's really a interesting story. Just read on…
F/AB-001, better known by its common name "Mont Blanc", or "Monte Bianco", is a summit with many facets: For some it is just a snowy hump, that hasn't even deserved a decorating summit cross, and for the others it is the highlight of their mountaineering career.
Nevertheless, with a prominence of nearly 4700 m, this summit makes also an interesting destination for a SOTA activation. At the other hand, since the foundation of the French SOTA association in the year 2007, only two activations can be found in the history of this summit: In the year 2009 F/SQ9MDF made the first two SOTA-contacts by using a VHF hand-held, and in the year 2011 F/S56CW/P accomplished the first successful SOTA activation by using HF on the 20m band.
Jean-Sébastien attempted his first SOTA activation of F/AB-001 last year (i.e. 2015), but unfortunately experienced the more unpleasant facet of the Mont Blanc F/AB-001 summit but not txing . Being a very experienced mountaineer, he made the only reasonable decision and left his SOTA radio equipment some hundreds meters below the summit and succeeded his final ascent to the summit with a lighter backpack.
After such a long period of no SOTA activation, it was really an interesting coincidence that now two SOTA activators, that's Jean-Sébastien and me, came independently to the conclusion to activate F/AB-001 at the same day

Funnily, both of us spent our night in the Refugee Gouter without knowing each other. And I even cannot remember whether I did encounter Jean-Sébastien in this hut: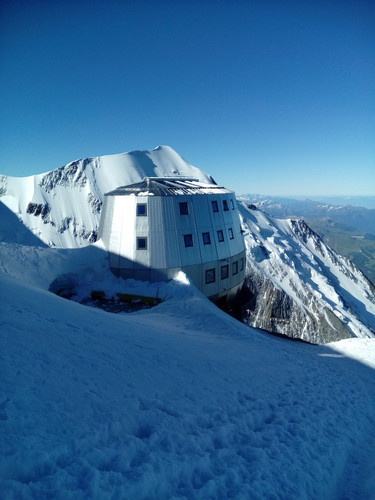 I was sleeping until 00:00 UTC and left the hut at abt. 01.00 UTC in order to enjoy the dawn while accessing the Bosses Ridge up to the summit: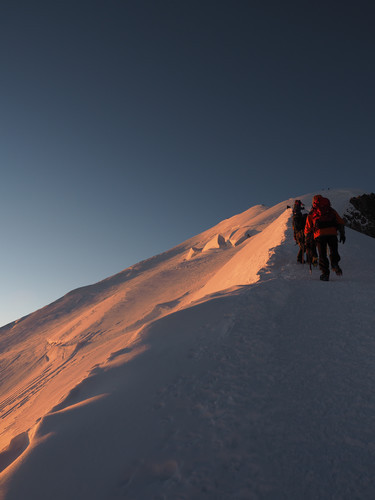 At this time I was not aware that Jean-Sébastien finished his ascent to the summit already in the darkness: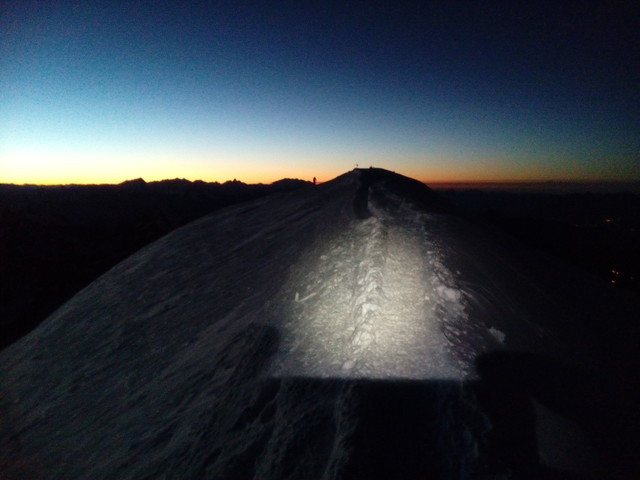 After finally reaching the top of the Mont Blanc of course a splendid panorama opened up: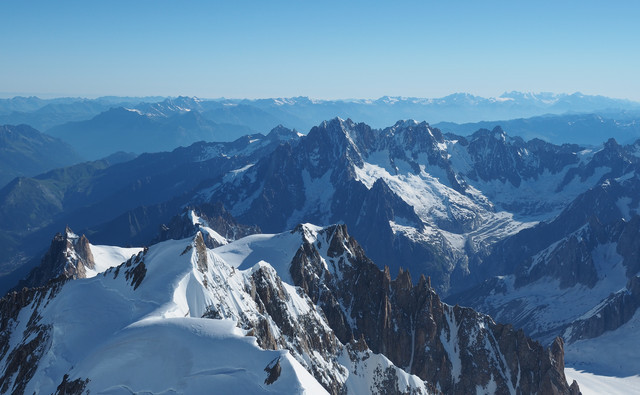 But at a second glance I also spotted a rather familiar object. Wasn't there somebody sitting in the snow having set up an antenna beside him?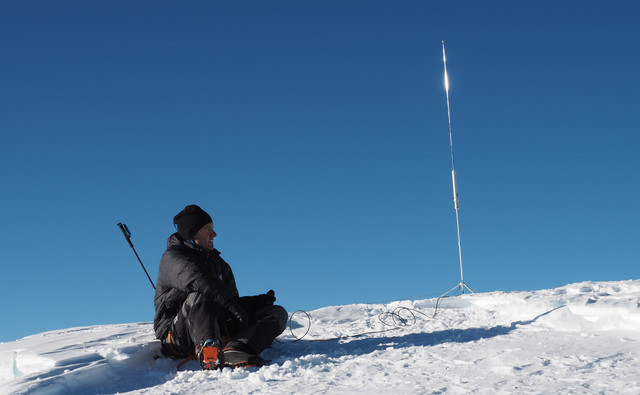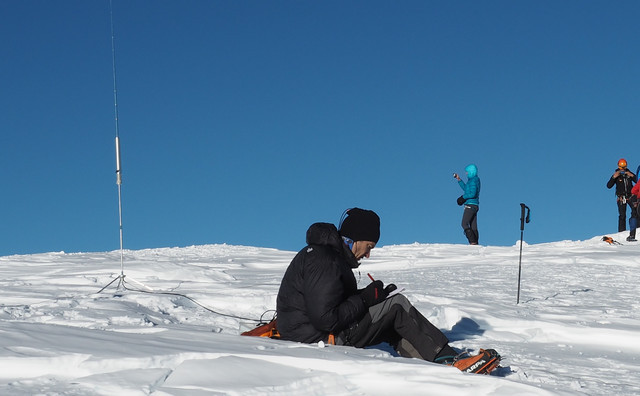 So I quickly ran over to his place and asked him whether he is doing a SOTA activation. Of course Jean-Sébastien confirmed that he was already calling CQ for some time in SSB on 20m.
That was for both of us really an astonishing moment!
After a quick smalltalk, where we introduced to each other, I let Jean-Sébastien proceed with his activation and set up my SOTA equipment a couple of meters away.
While Jean-Sébastien continued to call on 20 meters, I decided, in order not to disturb him, to start my activation with CW on the 30m band.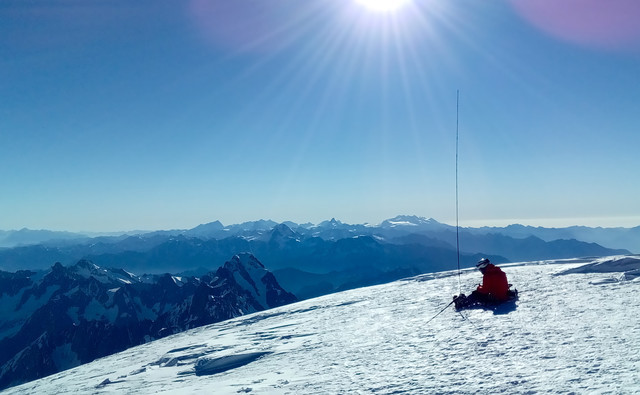 The SOTA activation turned out to be a very hard one.
Chasers seemed to live up to their name as shack sloths: It seemed that complete Europe was still sleeping.
Despite of plenty of RBN-catches (with W3UA being the farthest of them) even RBNHOLE did not even spot me a single time on SOTAwatch. After spending more than 30 minutes CQing on 30 meters without any contact I finally gave up on this band.
In the meantime Jean-Sébastien got already quite a number of SSB contacts and dismounted his SOTA station. Because he stayed already a longer time before me on this summit, he got cold and therefore started his long descent down to the valley. After exchange of some final friendly words, I made use of the now free 20m band and started calling with CW.
But even here on the 20m band it took nearly 20 minutes until a chaser spotted me on SOTAwatch. Thank you very much Lars SA4BLM, you are a hero

After being spotted on SOTAwatch some more contacts made it into my log.
Finally after quite a long time activating on the summit I also got cold and headed down for the 2500 hm long descent down to the beautiful valley of Chamonix.
All in all, this activation was something extraordinary for me because I did not expect to meet another SOTA activator at the same time on this summit.
And of course it was a great pleasure for me to meet on this occasion Jean-Sébastien, such an experienced and pleasant mountaineer and SOTA activator.
Finally a picture from the Mont Blanc, that I took the next day from Le Brévent, to see this summit with its full magnitude: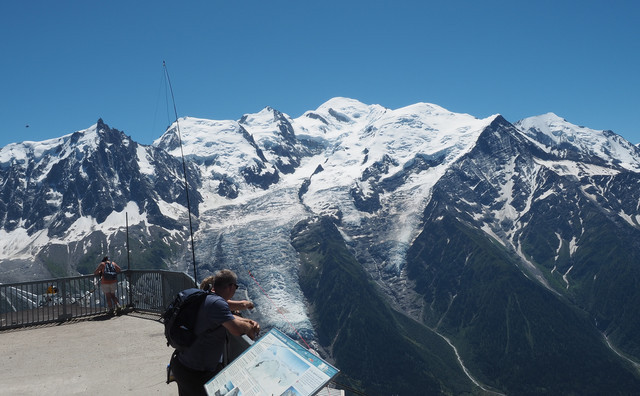 vy 73 from
Jean-Sébastien, F4CPJ
& Stephan, F/DM1LE