We planned a trip to the Lake District before the "Beast from the East" bit the country. This turned our planning from working out which summits to do on the journey to working out whether what route to drive to get there safely. So hoped for activations of Shining Tor and the new Muncaster Fell were lost to roads closed by snow, but we safely got to our accommodation in Keswick.
Saturday 3rd March 2018: G/LD-059 Muncaster Fell
We still wanted to do the new Muncaster Fell summit, even though it doesn't attract winter bonus. There had been some more snow overnight and it was freezing outside. The forecast was for it to warm up slightly later with better weather coming up from the south and west later. It wasn't clear whether the roads would be suitable for the relatively long journey back south past Ravenglass. Muncaster was south and west of us and the parking was on a main road so we stood a reasonable chance.
There were no problems on A66, the twisty A5086 was mostly clear of snow, with just a few places where it was narrowed by snowdrifts. Our target was the large Muncaster Castle car park on the A595, which had some icy areas but plenty of clear space to park. It was dry as set off along the track up the hill, it was snowy in places with some icy bits but no serious problems. We headed past the old SOTA summit and trig point on Hooker Crag old where we saw only the only other walkers on whole walk. We left the main footpath to find the true summit. There were hazy views from the summit. After taking photos we looked for somewhere to setup.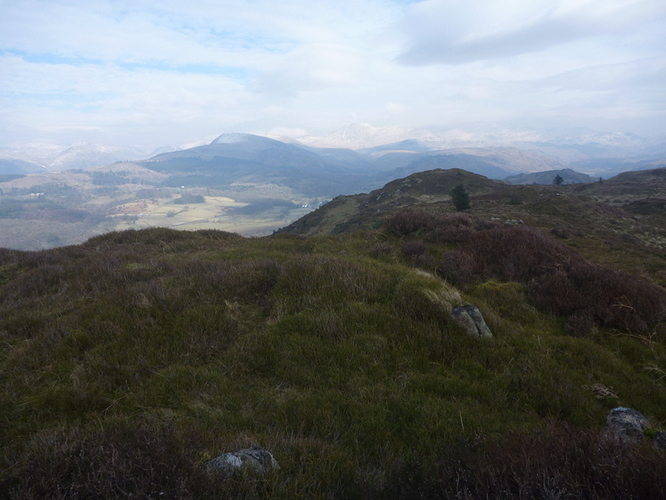 The wind was unhelpfully blowing along the summit ridge, but we managed to find an area on the south side with a little shelter. Caroline was near the ridge for VHF: a more exposed position and she only managed one contact despite lots of calling. Martyn was doing better on 5MHz with 21 contacts in his more sheltered slightly lower HF position. Caroline then moved to 40m for 8 contacts to qualify the summit and then got another 7 on 80m. While Caroline finished her belated lunch, Martyn tried 17m, avoiding a contest on 20m: he only managed two contacts, but they were on 2 different continents – Canary Islands and USA. There was no snow on Muncaster summit itself, but there were some areas of drift lower down. The mist never cleared from the more distant hills and the snowy higher hills remained cloud topped, but at least we had some views.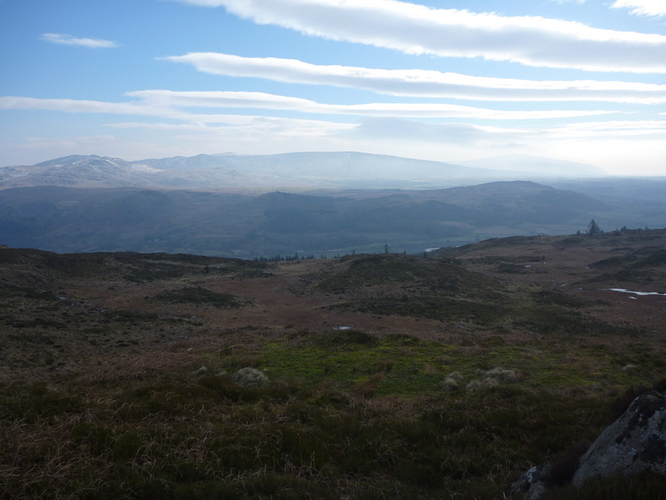 Towards Black Combe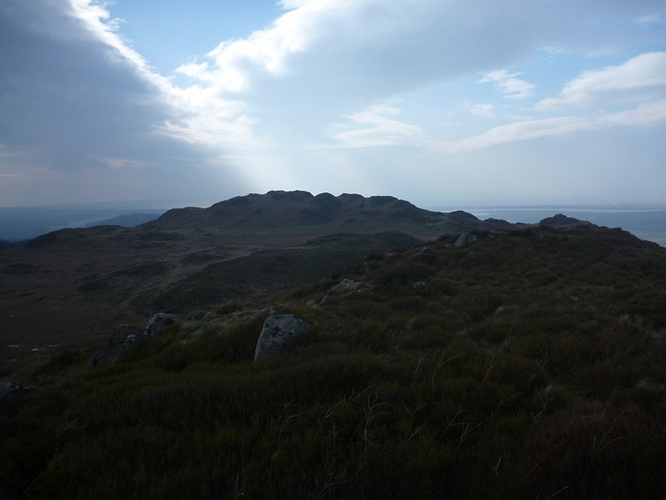 The old Hooker Crag summit from the new one.
We had got quite cold on the summit, and decided we had time to do the longer circular walk back via Muncaster Head. This helped to warm us up but took longer than expected as path west on hill less well defined and in paces awkward from either icy or melt. We needed to push on as the light was fading as we headed west on the low-level track along the bottom of the trees. We left the low-level track to climb back up on an angled path to meet our outbound track. Unfortunately, we were further delayed by needing to negotiate several fallen trees across the track – awkward in failing light. Once we were finally regained on our outbound track the visibility was slightly better, and we got back down to the road and back to the car without having to deploy the head torches – but they were needed for packing up the car. There had clearly been some melt as there was less snow on the descent than the ascent, but it was icy in places.