Sotamaps Christmas Prize Crossword Puzzle 2018
This year, Sotamaps is offering something to while away a lazy hour or three over the holiday period: the Sotamaps Christmas Prize Crossword Puzzle, which is open to all SOTA registrants(*). The puzzle clues will be made live on December 24th 00:00z - just refresh the page after that time to pull the live clues. In the meantime, puzzlers can play with the page with random clues.
Prizes are offered for the first three (3) correct entries drawn after the close of the competition, which is January 6 2019 23:59z.
The puzzle is of the cryptic type - in other words, the clues don't just point to a simple substitution of one word for another, but require the user to analyze a clue to find hints as to how he/she might arrive at the solution to the clue.
The puzzle is available in an interactive form in the https://mapping.sota.org.uk/xword page.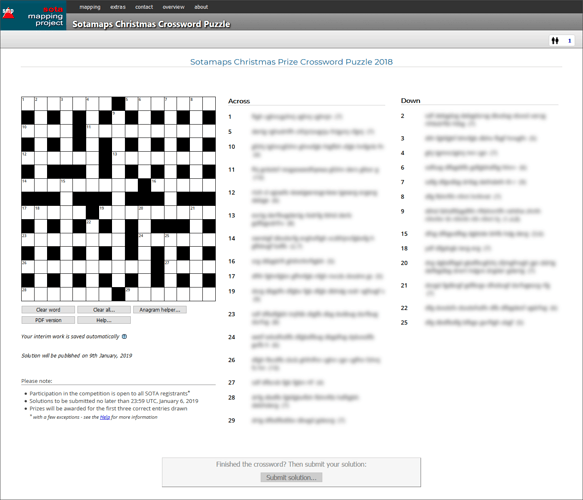 Users can also download a PDF version to print out and fill in with pen or pencil. A short guide to the puzzle, with links to online tips, can be read by clicking the "Help…" button.
When (if!) you have completed the puzzle, you can upload it to the server by using the "Submit solution…" button. You may upload your solution as many times as you wish, over-writing any previous solution you may have uploaded.
Please read the puzzle Help for competition rules and further information.
Good luck,
Rob DM1CM
(*) with a few exceptions - please consult the crossword Help window for more details.