Saturday 14th and Sunday 15th I am going to activate three summits in Sweden close Falun. My targets are on Saturday summits SM/DA-045 and SM/DA-050, and on Sunday summit SM/DA-047. The number depends on weather which just now is a bit challenge especially in Saturday, but let's see. I will use 1W power with internal battery but if I get my external 7 Ah battery with then 5 W.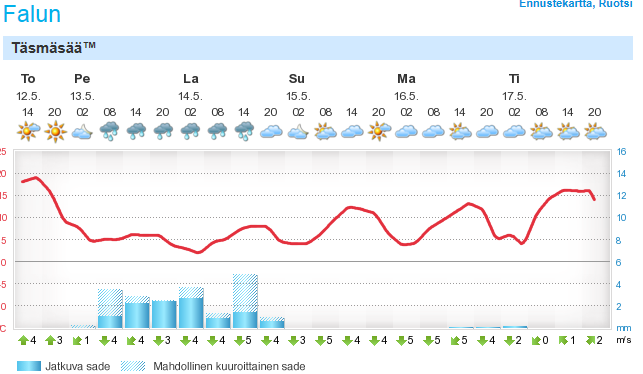 This visit is "two in one" trip. First, several Swedish summits and second, following Tiomila orienteering relay competition. I have visited in Tiomila since 1975. First as audience, then as runner, then as coach and at least as audience again. In one team is ten runner. In corresponding Finnish orienteering relay, Jukola ( http://www.jukola.com/2016/en/ ), the number of runner is seven. Competition starts at 20.30 local time and continues until next morning and the winner team is expected to be in the finish at 7.00 local time.
For those who are interesting to follow Tiomila I share web link: http://www.10mila.se/index.php/en/
My both sons are running there too. Younger runs for Team Lynx (number 29) and older for Team Kalevan Rasti (number 3). If everything goes well Lynx could be in position 20 to 40 and Kalevan Rasti in position 1 to 5. Kalevan Rasti won the competition two years ago and has been the winner most during last ten years. Lynx is pure Finnish team but Kalevan Rasti is very international - in SOTA meaning European. This year there is five OH runners, one LZ runner, two OK runners, one HB9 runner and one F runner.
All they are very successful orienteer but the last runner, Thierry Gueorgiou ( https://en.wikipedia.org/wiki/Thierry_Gueorgiou ), is World best orienteer today. Last year he was leading 200 m before Finish but at least two guys past him. Coming weekend will be exciting!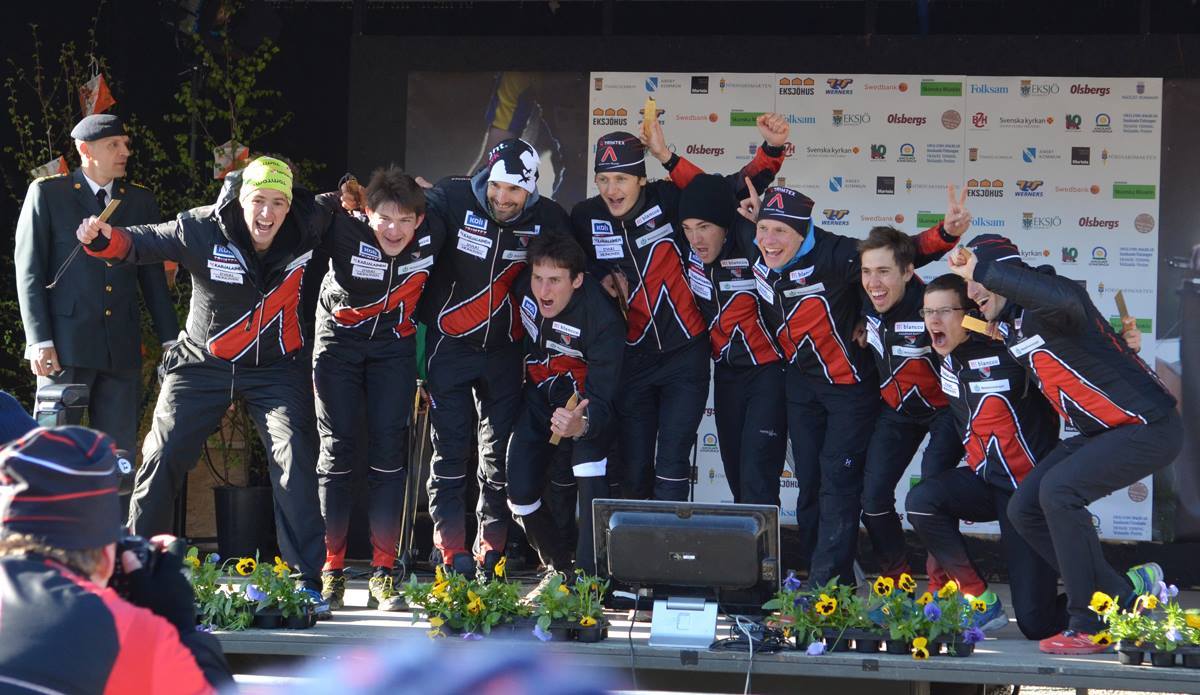 Kalevan Rasti in podium 2014 (four OH, two OK, two F, one HB9 and one LZ runner).
73, Saku SM/OH2NOS/p