I have managed to get a couple of activations since getting into SOTA this summer so I thought I would finally say hello and share my first activation report. I am lucky to be in an area where the restrictions still allow me to go out and hope that everyone soon will be able to get out again and activate.
SM/JL-132 Saxvallsklumpen (Vajkese) is about an hour drive away and I was cautiously pessimistic in the morning that I might have to turn back but the weather turned out to be very good, with a fair wind on the summit. The access road to the base of the peak is not cleared during the winter so it was a gentle ascent on touring skis over 5km, under the tree line. The final section around 1.25km is the only part not on the track and a bit more of a vertical climb.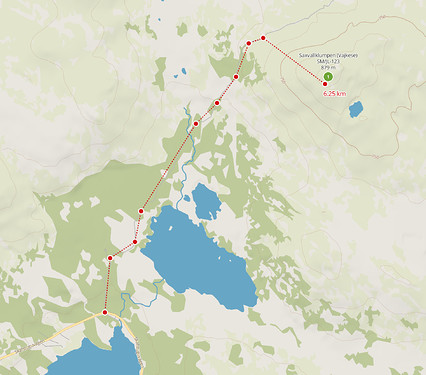 Although the ground has frozen it was still possible to secure a wind shelter (or so I thought!) and set up a comfortable station. I recently got hold of an Elecraft K1 with a built in tuner so I have been using a 30awg random length wire fed up and through the top of a 7m pole and tied off near the ground. The strength of the 30 guage wire and its connector was really tested in the wind, but luckily it held out.
There was a contest on but I found a quiet spot on 20m and thankfully there were some activators out there who picked me up straight away. Thanks go in particular to the chaser with the patience to wait as I reattached one of the corners of the shelter. Apparently the frozen ground did not hold tent pegs as well as I had assumed.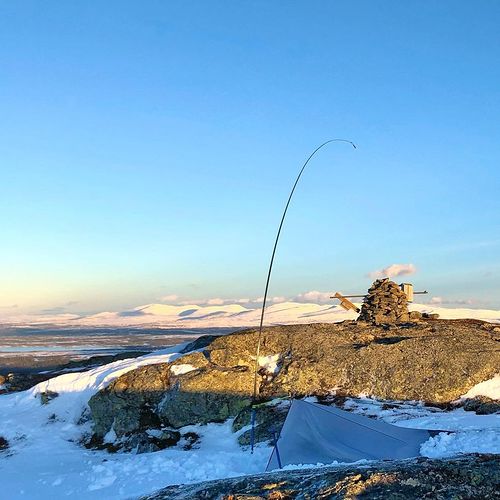 In total 10 QSOs including one S2S before I had to pack up and head down. There is not a lot of time for me to hang about as I like to get back down before it gets dark, but the winter solstice was yesterday so the days are just going to get longer, which means more QSO time.
Working on my CW each day and stumbling through just now with at least the callsigns and an RST. So if you have sent some special message or query and I have replied with "FB TU 73" then know I am working on it! I am learning something(s) new with each activation on both operating and equipment. Thanks to all the chasers for bearing with me on this, and previous activations, and I hope to hear you on the bands again soon!
73 de SA3IEI/P