During my morning internet testing at work, I noticed that the winter bonus period ends on 15th March, so I took the opportunity to finish work early on Wednesday and head over to Shining Tor to see if I could grab some bonus points.
The weather forecast wasn't too bad; some wind was expected, but at home near Nottingham it was calm with clear skies… The Cat & Fiddle webcam showed clear roads and skies still at 5:30pm.
Feeling happy about the weather, I decided to take the Icom 706G and an 'appropriate' power supply for an hour or two of operation at 100w. I packed the Vertex VX459 for 2m, just in case. I popped a quick alert on and assumed I'd be able to give HF a go, as well as my usual V/UHF. It took about an hour or so to get over the Peak to the parking space, just along from the Cat & Fiddle pub.
My route up to Shining Tor looked like this (light blue is route taken):
©Crown copyright 2018 Ordnance Survey. Media 032/18
About 1km up from the car I was starting to doubt my choice of power supply, but I persevered and eventually, after a good 45 minutes, managed to plonk myself down on a very welcome rock near to the trig point.
At the summit the wind was seriously breezy, so I gave HF a miss and attached the 2m/70cm co-linear to the useful footpath sign beside the wall:
Not a great view North - the phone camera doesn't really show how wintry the sky looked!
Somewhere out there is Macclesfield and Stockport

:
Anyway, here's the portable setup I took:
I initially set the Icom to its full 50w on 2m, but found fairly quickly I could actually use less, so ended up on about 25w for the time I operated.
I was really pleased to get a good number of contacts in just 40 minutes, helped no doubt by the useful SOTA-Spot put on by @G0SLR (thanks Roy).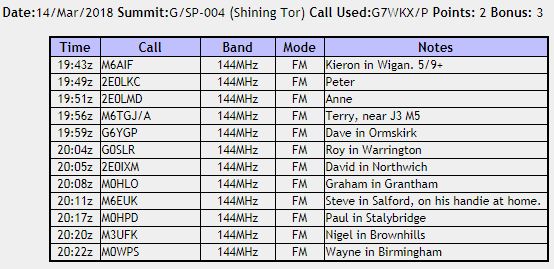 It was really windy towards the end of the hour, so although Wayne M0WPS almost convinced me to give 60m a go, I decided against it this time. Later in the year I'll try again, as I haven't used 60m yet since modifying the '706.
A few minutes was all it took to pack up and make sure I hadn't left any trace of being there and I was off for the speedy walk back down. This was much quicker than the ascent, helped in no small part by the worrying thought the 'headless horseman of Shining Tor' might be out - thanks to Peter @2E0LKC for telling me all about that early on in the activation. Really helped my mindset up there…in the dark… all alone…
Anyway, I got back to the car safely and vowed never to try carrying my girlfriends' Renault Clio battery up a mountain again!
Thanks ever so much to all the chasers, I had some good conversations, not just basic signal reports and onto the next person ASAP, like in the 70cm contest the night before ha ha

.
It was great to catch up with @2E0LKC and @2E0LMD and I think my best DX was M0HLO in Grantham and M6TGJ/A South of Birmingham.
Looking forward to the next adventure.
73,
Simon