Shining Tor has been on my to-do list for some time, one of the things that have always put me off doing it was having to use the Cat and Fiddle road and parking. I decided to tackle it from an entirely different direction.
I set off with my 7-year-old daughter aka "The Monkey of Signals" (MoS) from North West Leicestershire, in 26° C heat, unfortunately, my sat nav messed up a bit and for some strange reason it was sending me towards Leek in Staffordshire, I reset it whilst parked in Leek, as we passed the Winking Man stone on the Roaches on the Buxton Road it started to rain.
The rain stopped by the time we drove into the outskirts of Buxton and we were literally then heading up a hill into moorland, the roads started getting extremely narrow and I was wondering if the postcode was going to take me to some obscure Farm, but we soon arrived at the Pym Chair car park, one of a series in the area that belongs to United Utilities as they have reservoirs in the area. The car park was busy but not full.
We walked along the road and through the gate next to a cattle grid, just up from here is where the footpath starts however the banking is very eroded and care has to be taken not so that you don't take a tumble, there is a gate further along the road which may be a better alternative, We immediately started the climb up Oldgate Nick, walking was fairly easy as stone slabs form a path which continues to the next summit of Cats Tor, from here you get a good look at the side of Shining Tor which looks almost cliff-like on its north face.
Again the walk was fairly easy and not that strenuous despite the assent. We passed a group of OAPs who were on their way down so that should tell you that this route is fairly easy. The final push-up Shining Tor wasn't that taxing and we arrived to find we had the summit to ourselves. Rather blustery and the temp was down to a more comfortable 16° C
For this activation, I had only bought three handheld radios, an Alinco DJ175E 2M FM, Icom ID-51E Dstar/FM dual-band, and finally an Anytone-D878UVII +, I was intending to use my Hawkins Viper 7/8 wave portable antenna, but that has gone missing. The main reason for this light loadout was at the end of my last activation on Gun Moor G/SP-013 I managed to strain my back carrying an HF load out.
I spotted myself and immediately was called by Ben GW4BML, followed by Tony GJPV, I then had two very weak stations in the Bradford area, and with great difficulty, we were able to exchange reports, these types of calls I always find well worth seeing through, if someone has bothered to call them then it is only courtesy to make sure you go back to them!
It was about then that a couple walking three Bedlington Terrier crosses arrived on the summit, much to the delight of the Monkey of Signals! We exchanged the normal formalities and the gentleman mentioned something about activation points, it was then I realised he was another Ham (Steve G4TCU), I was just about to have a late lunch so said it was ok if he wanted to set up and get on with his activation, from a very small pack he produced a small Yaesu HT, a Caperlan pole, and a homebrew antenna made out of co-ax. Steve only wanted four contacts which he did with ease, and then they were off leaving the summit again to ourselves.
The first S2S was Rick, M5RJC/P who was on Cleeve Hill G/CE-001 at a distance of 91 miles, I wasn't expecting a call from someone that far south! After a few more calls I noticed that John M0VCM had just spotted himself on Birks Fell G/NP-031, whilst waiting for an opportunity to go for a S2S, it then became apparent that John's XYL Judith 2E0MDY was activating Pen-y-Ghent G/NP-010, so two further S2S added to the collection. It was then time to leave and the journey back was easy and fairly fast.
Fairly pleased with Shining Tor and I will be back possibly in the winter with a portable antenna.
We left Buxton via the A515 to Ashbourne for home.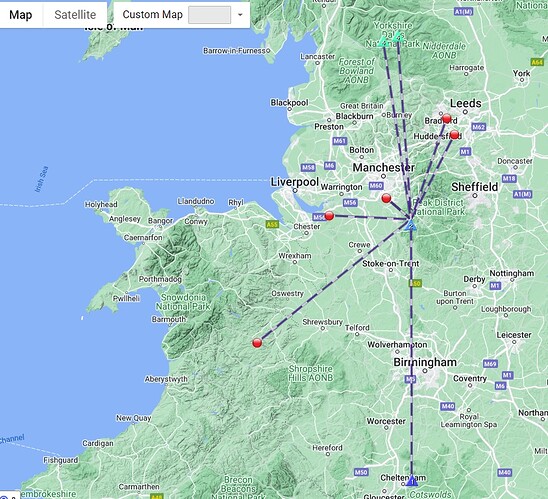 Elevation of the walk from Shining Tor to Pym Chair car park