No, not yet another award scheme. Just a short write-up of my latest SOTA activation that was accompanied by the weather phenomenon of Saharan dust
A nice introductional video to this phenomenon can also be found here: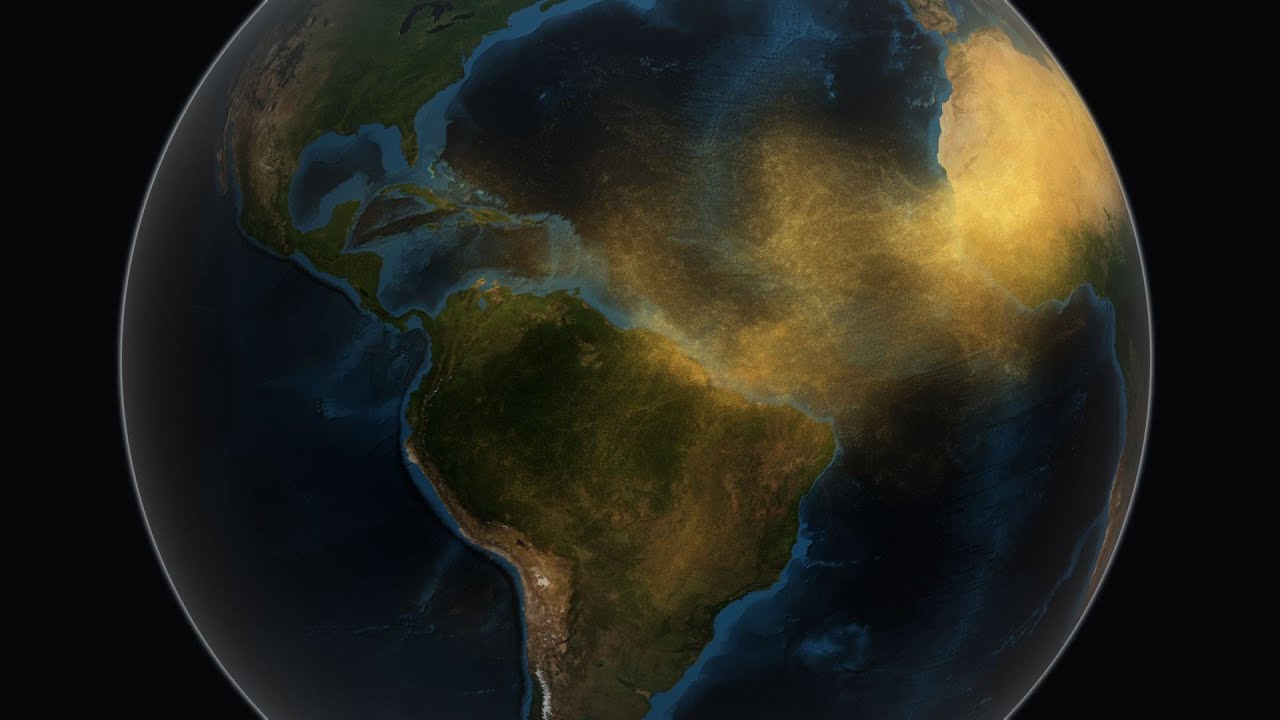 But let's start at the beginning. Already on Easter Sunday, i.e. one week before, I've been fooled by the same summit "Winnebacher Weißkogel" OE/TI-766.
My first attempt could have been such a pleasant trip: A brilliant weather forecast with a bright blue sky, warm temperature and only a small breeze. And a ten point SOTA summit within just one mile hiking.
Here you can see a photo taken during my hiking tour. Isn't nature beautiful? Keep this photo in your mind, because at the end of this report you will see another photo that has been shot a week later.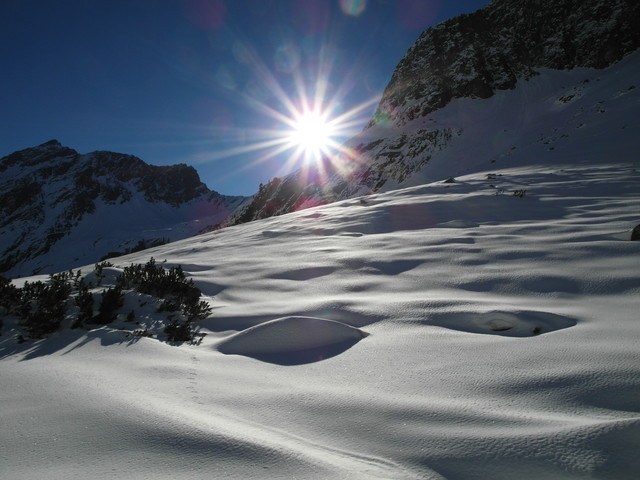 But as so many times, such cheap and easy plans do have a snag.
And this plan even had two snags: One obvious snag, because the alignment of the "just one mile" turned out to be wrong, as it wasn't a horizontal mile but a vertical mile.
Indeed the horizontal distance was abt. 6 miles


Next time I should better rotate my map 90° in order to get the orientation right

The second snag was a hard one: After a longsome climb, the height of snow significantly cumulated and in combination with the increasing steepness of the trail, the risk of avalanches caused such a bad feeling that I had to turn back just abt. 30 meters below the summit. Happy Easter

Last Saturday I got a second chance. This time also the weather forecast predicted sunny weather with bright blue sky but with more wind. But it turned out that the panorama wasn't such brilliant because the Saharan dust that came over the Mediterranean to the Alps made for a milky atmosphere with a somewhat dirty colour tone. Unfortunately this strange impression isn't apparent in the photos: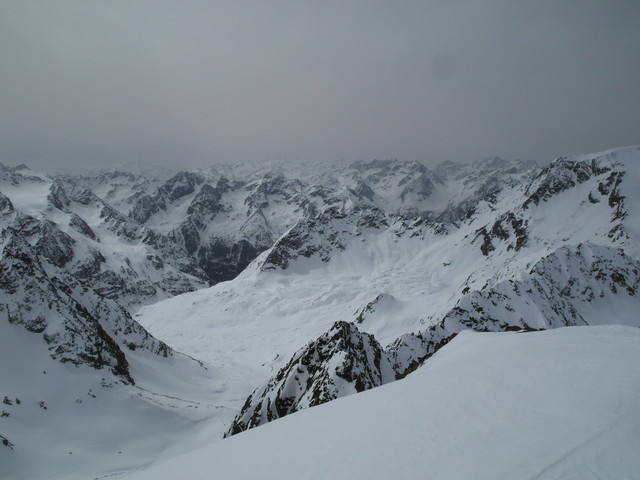 All the time there was the illusion that an abrupt change of weather will be immanent, which fortunately not happened.
Nevertheless snow conditions were much better this time. So, nothing kept me from climbing up this summit. Here you can see the last meters up to the summit, which I faint-hearted avoided the weekend before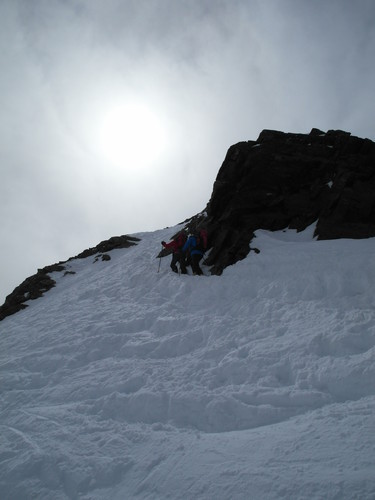 The SOTA activation was really a nice one. Despite of my weak signal, this time with less than 2 watts transmitting power, Roy G4SSH came back just after my first or second CQ call. 12 contacts followed on the 30m band. Two of them summit to summit contacts with Marcial EA2WX/P on EA2/BI-055 and with Ignacio EA2BD/P on EA2/NV-115.
The 20m band brought another 8 contacts before I had to shut down my station and set out for the longsome way down the summit.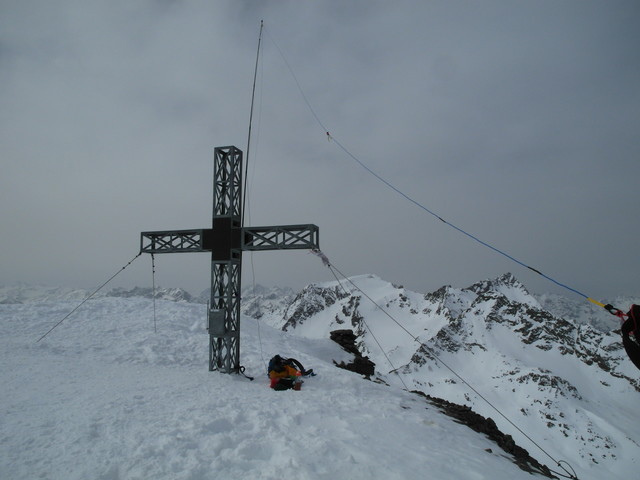 Do you remember the nice photo at the beginning of this report? In the following you can see a photo taken nearly from the same point of view. This time I didn't want to approach to near to the massive avalanche. Nature can really be rude!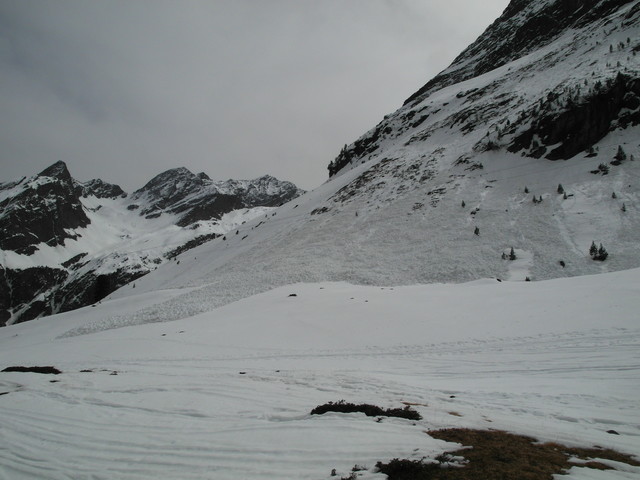 It seems that at the moment a SOTA activators life isn't easy. Poor propagation conditions in combination with unreliable weather forecast and risky snow conditions. It can only get better

Thanks to all chasers for all contacts and especially for spotting me on SOTAwatch. Special thanks to Marcial and Ignacio for the S2S contacts.
73 Stephan, DM1LE