Last year, in-between lockdowns, we visited Scotland with just QRP 2m kit. I think I managed to activate one or two summits, out of 20+ attempts and qualified one (Ben Macdui). This year, as Nic my wife is now also licenced, we decided to prioritise QRP HF to give us more chance of qualifying the summits we decided to activate.
New to me is the 20m & 40m linked dipole. Having now had a chance to use one on a number of activations, I realise I should have obtained one when I first started doing SOTA! It beats carrying an ATU and long wire antenna.
Kit taken on every hike:
Yaesu FT-818 with standard microphone and a Yaesu leather pouch

20/40m Linked dipole (made using SOTABeams dipole kit)

10w/20w amplifier (MX-P50M) – not always used; see text

2x LiFePO4 4200mAh batteries from Hobbyking

Decathlon 6m fishing pole as a mast, with guying kit
19th June 2021 – Ben Nevis GM/WS-001
Weather forecast: Good, with sunny spells and no wind
Weather reality: Cloudy, cold and very windy
This was our first proper opportunity to climb the UK's highest mountain. Despite numerous visits to Fort William in the past, we've never actually managed to climb this, usually thanks to poor weather. The forecast was good and with a drive up to Skye necessary in the afternoon, we (Nic) decided that an Alpine start was necessary. Up at 02:30 local, we were dressed and away from the Glen Nevis campsite by 03:00 local. This site is great by the way – we had a space for our VW van in the far corner, just beside the path onto the road beside the River Nevis, which was perfect. No-one nearby to get upset with us waking up early and the site had all the facilities needed (toilets, showers, washing up etc) near to the pitch.
We started the climb proper pretty much as soon as we crossed the river opposite the Glen Nevis YHA. After 125m of climbing we intersected the main path up:
This path continues to climb up to a plateau with a lake at approx. 600m. (picture taken on the descent)
After the lake, you start the long zig-zag climb pretty much to the top.
Towards the top we were met with quite a lot of snow:
Dot, our lucky Zebra, enjoying the snow. Just behind her is a sheer cliff…definitely one to be careful of in cloudy conditions.
On the summit just before 06:00 local:
As we were early, we actually had the summit to ourselves, so up went the 40m dipole beside the old weather station/hotel buildings. As the weather was duff, we opted to make this a very quick activation.
We used the amplifier here, which gives out almost 10w when the 818 is set to its lowest output on SSB. We were on-air for approx. 20 minutes or so, making 11 contacts between us. First in the log was @MM0XPZ Steve, followed by a number of EU stations and a couple of inter-G. Best DX was @OM1AX in Slovakia.
After 20 minutes we were both pretty cold, so called it a day and packed up. Careful not to drop any radio bits between the rocks, we were ready to descend by 07:00 local. Following our original route, we soon met other hikers heading up. We stopped for breakfast at the lake and were back to the can by 10:00 local.
As we were back at the van for lunch and given the available time, we took the opportunity to nip up to the Nevis Range and take the cable car up to Aonach Mòr.
Views from the top were quite good, despite the cloud, but we did find they've closed the small gift shop and removed the post box that used to be up there. No more postcards with the summit postmark sadly. Their café served a few basics; I went for sausage in bap and chips, which I shouldn't have bothered with ha ha


.
They have fitted quite a lot of mountain bike tracks across the hill; not to the scale of those seen in Canada's ski areas (Banff etc), but certainly a good selection of challenging trails. I imagine this is a great way to keep the business afloat outside of the ski season.
After this quick visit, we drove on to Skye, passing Eilean Donan castle on the way:
20th June 2021 – poor weather, so a valley walk was necessary
21st June 2021 – A'Chralaig GM/WS-014
Weather forecast: Will be dry with little wind. Some cloud possible, sunny spells.
Weather reality: Dry for most of the day, apart from activation time on the summit, where it rained and snowed! Sunny approx. 10 minutes after we'd packed up and left the peak.
Route taken: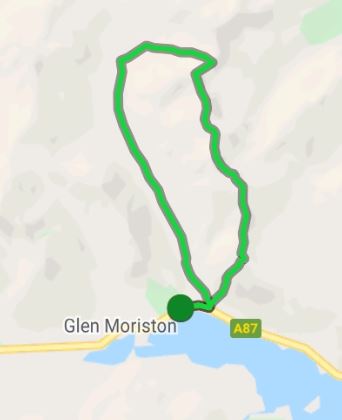 We parked in a big layby on the A87 (our van is visible at the top of the layby, alone):
Hiking up along the valley, following the path to Morvich/Glen Affric.
This is a reasonable track, which is well made for the first mile or so, before turning into a more normal footpath.
We split from this to head up the col between A'Chralaig and Mullach Fraoch-choire (also a SOTA).
From the col, it's quite a steep (and narrow) ascent up to the summit.
Weather starts to look 'interesting' as we climb:
Summit cairn:
Hoping the weather would pass, we set up our dipole just below the cairn and rocks surrounding the summit itself.
I unpacked the emergency shelter just in case – we only used this for bad weather once, on this summit.
After a few minutes setting up and debating whether or not to activate, we were on air for 10:30 UTC.
40m again for this one, which meant a good set of inter-G stations as well as a few EU as well.
Nic bagged a S2S with @DL3SBA on DM/RP-459 then worked a few others, before peeking outside the shelter and advising it was time to get going…I was going to have to be quick.
On Ben Nevis we'd tried calling CQ, working a station then handing the microphone between us so the other could contact the same station. It didn't really work, so on this summit we changed tack and worked separate batches of callers each. That seemed far more efficient, so we stuck with that method for the rest of the holiday.
Best DX was Aleksander S57S in Slovenia.
After working a few stations and with snow falling on my feet sticking out under the shelter, I went QRT, much to Nic's approval! Everything was thrown in the rucksack very quickly and we started the long descent.
An hour later, stopped for lunch, the weather had improved and it was actually hot sat in the sun waiting for the kettle to boil!
Back at the van by 14:30 local time, we'd been pretty lucky not to get soaked, I think. It was a shame the weather decided to go bad the moment we started setting up the radio kit, but that seems to be quite a regular occurrence. It was a nice descent – far better than the steep ascent. A little wet in places, but the path down was clear enough.
22nd June 2021 – Druim nan Cnamh/Beinn Loinne GM/WS-179
We were originally aiming to activate Aonach air Chrith GM/WS-045, but after climbing up to the Munro Creag a'Mhàim and along to the col before ascending, we decided the wind was just too strong to safely and comfortably ascend further. We also were not aware of the route down from the ridge, opting to do a there & back hike. We've since found there is a good path down to the A87 after Aonach air Chrith, so we'll look to try that next time we visit the area.
Anyway, our plan-B was the 790m high WS-179, which according to the SOTA database had only been activated once, back in 2005. Although only a 4 pointer, the opportunity to activate a rare summit was tempting, despite the need to drop 500m then climb back up another 400m.
The view from our first Munro at 947m was pretty good:
This is our next target, GM/WS-179:
Note that lack of any obvious footpath up from the main track…
After a few false starts, we backtracked along the main track and then worked our way up the ridge from the West towards the summit. It was pretty tough going, although could have been worse had it been wetter. It was reminiscent of Kinder Scout G/SP-001, with its big peat bogs and gullies. I'm not surprised it hasn't been activated often – it's a long slog up for 4 points!
Anyway, it was definitely worth the trek. The trig point is an odd round one:
It had a hole in the middle, which was perfect for the dipole mast:
Looking back at our morning summit:
40m was the band of choice again; a few inter-G, followed by some EU chasers, including @EA2CKX and Manuel @EA2DT . We used the amp to give us 10w, but probably could have done without it. More on that later.
After a run of chasers, our frequency went quiet and further CQs went unanswered, so we went QRT.
It was a long challenging trek back to the van, being very careful not to fall down the random holes and gullies. Probably not a summit we'd rush back to, but certainly one that would be enjoyable to try with crampons etc when snow is on the ground.
23rd – 25th June Weather too poor for mountain climbing!
26th June 2021 – Sgurr nan Conbhairean GM/WS-016
By the 26th, the weather had improved enough to allow more mountain climbing. Back along the A87, we parked not too far from the layby we used for the hike up to A'Chralaig.
The ascent initially used an old military road, before heading up the Western side of An Cruachan. There is a path from the South & East, passing a radio mast, but our choice was OK, although not particularly well used.
Once past An Cruachan, it's another tough climb up to the 957m peak Càrn Ghluasaid. From there it's along the ridge to the West and up to the target summit at 1109m. It's actually a nice hike and at no point were there any dangerous drops, although we were in clear weather until the final 100m. I imagine in cloudy conditions it would be a different story.
Although there is a handy shelter at the top, beside the cairn, we decided to set up the dipole slightly away from the main cairn, as we'd overtaken a few hikers on the way up who would no doubt want summit pictures, without some mad person's fishing pole in the background!
We used 40m again, with the majority of our contacts being inter-G. Best DX was Harald LA5WNA in Norway. Towards the end of the activation I disconnected the amp and ran the 818 at it's 6w maximum. We managed three contacts at 6w, including one with Allan @GW4VPX (sadly not S2S this time – I have chased Allan a few times from our home QTH).
After 25 minutes or so on air, the callers dried up, so we packed up. Whilst putting all the kit away, we had a nice chat to a guy who'd also summited Ben Nevis around the same time as us. He seemed genuinely interested in the radio set up and liked the idea of chatting to others on summits.
Heading down now:
Looking back and our summit was still in the cloud:
27th June 2021 No summit attempt today, as we were travelling south to the Loch Lomond area for our second holiday week. We ran around Loch Oich to break up the journey. The weather definitely improved as we worked our way South towards our rented apartment at Arrochar.
28th June 2021 Beinn Ime GM/SS-006 followed by Beinn Narnain GM/SS-016
A beautiful morning meant we were up early and away from the apartment at 07:00 local. It was nice to be able to walk directly, without having to drive somewhere first.
We skirted around Loch Long, joining the Cowal Way, before heading North up through the woods, following the Allt a'Bhalachain stream. At NN268059 the path splits towards The Cobbler or on to Beinn Ime. We continued on, aiming to get the biggest summit completed first.
At the top by 09:30 local. Ben Lomond stands out well in the distance:
The dipole was set up just beneath the cairn at the top.
Sticking with 40m again, we were on the air by 09:45 local, with Nic calling first. We struggled to get a spot out here, so it took a good ten minutes before we worked any chasers. Once we made contact though, we had a good run of almost 20 contacts between us. Using just 10w, I was pleased with the consistent good reports we were getting. Our best DX was Heinrich IW3AGO.
After 30 minutes on air, we closed down the station and set our sights on Beinn Narnain. The descent of approx. 400m and then the climb back up again felt like hard work, especially in the sun. I shouldn't moan – it was preferable to rain ha ha!
GM/SS-016 summit trig (looking back towards Beinn Ime):
Great views:
There's quite a lot of space up here, so we set up a few metres from the trig, to avoid summit selfie people.
I forgot to photograph the antenna, but we used the normal 40m dipole, with the mast wedged between some big rocks. Contacts seemed a little harder to make on this summit, with people reporting QSB. I guess the band had changed in the two hours it took us to get between Ben Ime and here. We managed a mix of inter-G contacts and EU though, with just under 20 in total within 20 minutes of operation.
We chose to take the scrambling route down beside/around the Spearhead and onto Cruach nam Miseag then down onto Creag an Fhithich and back into the woods. This was quite an interesting route and not one for the faint-hearted! Having complained about the sun earlier in the day, I was happy it was dry making our way down this rock formation.
Looking back at the scramble route:
Almost back now:
29th June 2021 – Ben More GM/SS-001 and Stob Binnein GM/SS-002
We parked our van at the A87 car park/layby beside Loch Lubhair, where an old military road goes into some woods. Plenty of space here for lots of cars/vans and just a short walk back up the A87 to the start of the path near Benmore Farm. From the farm there is a pleasant track up to approx. 300m, at which point you split off and start the ~900m ascent straight up to the summit. There's no gentle way of climbing this one, it's just up up up as far as you can see. An early start meant we were actually in the shade for most of the climb thankfully – it would have been harder in the strong sun that came later in the day.
Reaching the summit, we found a small flat area between a cairn and the trig point to set up our temporary site:
Approximately 5 milliseconds after putting the dipole up, a billion midges appeared out of nowhere to attack us. Spraying DEET, Smidge and sun cream over us (and them) only appeared to enrage them, so I deployed the emergency shelter. This helped a little, in that it meant we were able to breathe without eating midges, but it left our legs open to the ravenous gits.
As you can imagine, this meant a short activation was in order. My Dad had been on at me to try 20m so he had a chance of a QSO from the Isle of Wight, so today that's what we tried. It was rather manic – someone kept tuning on our selected frequency, someone else kept saying "whoosh" and a number of others kept calling over the people we were trying to work. Nic wasn't too impressed, so we made as many contacts as we could, but kept it short at 15 minutes. A S2S with MM0VPM on GM/SS-087 was a nice bonus. I never did contact Dad!
Packing up very quickly, we descended to the col at 862m, before climbing up Stob Binnein.
We found the midges on Ben More had already messaged ahead to the midges on Stob Binnein to let them know two victims were on their way up, hence my lack of summit pictures:
As the dipole was set for 20m, we threw it up as quickly as we could and proceeded to find a clear frequency. We didn't even bother connecting in the amplifier this time, so were operating with just 6w. Even so, we still managed 15 contacts, including a S2S with @IN3ADF on DL/EW-021. For inter-G, apart from Steve @MM0XPZ, we also logged GI4OSF, Don G0RQL and Allan GW4VPX again.
We were on air for 15 minutes, but that was all we could give the activation as the midges were awful. I don't recall them ever being as bad anywhere else in Scotland, but I imagine our GM friends can provide worse examples…
Anyway, a quick descent to the col for lunch, followed by a careful walk back into the valley and onto the road to collect the van. It remained sunny all day and was very warm.
30th June 2021 – Beinn Eich GM/SS-068 and then Doune Hill GM/SS-054
Another early start for us today, with fairly poor weather conditions forecast for the morning but sunny spells due later in the day.
We drove from Arrochar to Luss and parked in their brand new car park to the South of Luss, on Luss main road. This car park is controlled by ANPR and for the record, the parking timer starts from the moment you drive in. I won't be parking here ever again. I'd advise you park further down the road, by the bridge (where it's free, but on-road) or in one of the other car parks around Luss. We paid for 9 hours parking, but it turns out the 15 minutes or so we took to get our boots and kit sorted, before I walked over to the machine to pay, was not part of the 9 hours I bought. We therefore technically overstayed and Parking Eye charged me £60 for this faux-pas. I'm not bitter. At all.
Anyway, deep breath. Luss itself is a very nice little village and I can thoroughly recommend the ice creams from the village shop opposite the Gulf garage. Yummy!
From the evil rip-off car park, we hiked up Glen Luss to Edentaggart Farm. We did notice a footpath just before this farm, which doesn't feature on the OS map, but appears to head straight up to Beinn Eich. We walked through the farm, via a path in one of the fields to the rear of the farm, before making our way up North West. At the 260m contour, the new path that we saw before the farm intersects the path on the OS map. We probably would have saved 10 minutes maybe, if we'd used that?
Looking back towards the farm:
Making our way up in the cloud now. You can just see Nic ahead of me:
Nearly there:
Yours truly, chatting to Steve MM0XPZ on 40m at this time:
We were on-air by 09:30 local time, back to 40m as we both decided 20m wasn't much fun the day before. This time Nic suggested leaving the amp off, as we'd done on Stob Binnein, so all our contacts were at 6w. 16 in total, for approx. 20 minutes of operating. Nic's first contact was with Aleksander S57S, who was using 700w! A good mix of UK and EU stations followed; a S2S for me with John @G4TQE on GW/NW-042.
I noticed that the radio was reporting the antenna VSWR was a little higher than normal on this activation. When we put the kit away, everything was soaking wet, which probably explains it.
Moving on, we continued to climb up to Beinn Lochain at 698m and then North East up to Doune Hill at 734m. There was a trig up here, but nothing much else to see in the cloud:
We strapped the mast to the trig, as we didn't think there would be any other visitors during our stay. In fact, I don't think we saw anyone else all day whilst hiking.
I think you can just make out the dipole here:
Our 6w didn't seem to work too well on the initial contacts, so I popped the 10w amplifier in-line to help. We made 14 contacts in total, but a few were quite hard work, needing a few signal report repeats. It was good to get John M6BLV who lives not far from us (just across the Mersey in fact). My final contact was a S2S with Fraser @MM0EFI, who was activating Ben Macdui GM/ES-001, making that a complete for me. Awesome!
The cairn at Doune Hill East Top:
The walk off the hill was fairly tricky, needing some careful map reading and calculation of where we were.
Once we were out of the cloud though, it was lovely again:
1st July 2021 – An Caisteal GM/SS-007
Cloudy weather was forecast, but it wasn't due to rain and the wind was weak, so it was safe to climb some bigger mountains. We parked in a long layby beside the A82, to the South East of Crianlarich.
Walking along an excellent track straight from the car park, we went under the railway and then followed a stream up to approx. 250m, where we left the track and walked cross country towards the summit of Sròn Gharbh 709m. This was quite a steep climb, with a couple of false summits to crest, before you actually get to the peak itself.
Beyond this lies Twistin Hill and a little bit of scrambling:
The summit itself is actually quite flat and has ample room to set up a dipole, without getting in anyone else's way:
The midges weren't too bad up here and it would have been a nice summit to sit on for an hour playing radio, however that was not part of the plan today as we had other Munros to climb.
We were on-air for 15 minutes, making contact with our now usual chasers MM0XPZ, F4WBN, 2E0AGB and others. No S2S today, but we just used 6w again, which probably limited our abilities a little.
The climb down wasn't too bad, but there was quite a scramble required to get onto Beinn a'Chroin.
Looking back at An Caisteal in the sun now:
Beinn a'Chroin has lots of summit points along its ridgeline. The main peak doesn't quite make it to SOTA status unfortunately, but it is a Munro.
Looking back up from our lunch spot:
I'd recommend this route if you fancy a challenge – the scramble up to the second Munro is very rewarding, although it's probably not one to do in the wet.
2nd July 2021 – The Brack GM/SS-040
Our final summit of this Scottish adventure was The Brack, which we walked to from our rental apartment in Arrochar. We'd thought about doing Cnoc Coinnich GM/SS-046 as part of the same day hike, but we found a lot of the paths in the area were closed because of forestry work, so we ended up making a few detours to summit The Brack, which added quite a lot to our overall mileage.
Our target:
We followed a stream up through the woods, which joined a proper path once it crossed over the forest track at approx. 150m. It was a fairly steep ascent, with a few zig zags to relieve the legs a little. We reached a small tarn, where we had a quick drink, before continuing up to the summit. Suddenly we climbed a rocky gully and the trig was there in front of us. Quite a nice feeling that!
We set up just beneath the trig, out of the wind:
Using 6w (I'm not sure why I kept lugging the amp + battery with me), we spent 30 minutes on-air on 40m and contacted just over 20 people between us. Nic made a S2S with MM0VPM on GM/SS-030 and I made one with John G4TQE on GW/NW-043. Peter G0UXC also made our log on this one, another local Liverpool operator. I think our best DX was probably Manuel @EA2DT.
Heading back down towards the Cowal Way on the South side of The Brack, we were lucky enough to see a Sea Eagle circling above us. I think that's a first for us – other than seeing them in captivity at bird of prey shows.
Summary
12 summits activated, for 86 activator points
7 S2S
176 contacts made, using 40m and 20m, for an average of 15 contacts per activation
Despite the odd few days of rain, we really enjoyed this trip. When Scotland is sunny, it's amazing. Even with the pesky midges

As EU travel is still looking iffy, I think we'll be back in September, as Nic is now very keen for us to target Mountain Goat together.
My thanks to Andy @MM0FMF for sorting out SMS spot access, which we needed quite a few times.
Also, a special thanks to all the chasers



Best 73,
Simon & Nic