PA3FYG DM/NW-trip – begin Jan 2016
Hello all,
Me and my XYL started the year with a 3 days activation in the Sauerland DM/NW.
Transmitting was not easy, always bit wet, and nearly freezing, but no snow.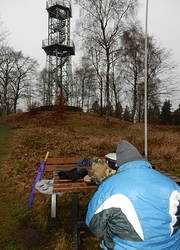 Ice on the table on DM/NW-207, but picnick place, better than sitting on the ground.
I made 319 QSO's on 11 summits, so that is a nice average. Pileup was nice and fast, I left NW-203 after only 10 minutes with 24 qso's in a wet log!!
Never happened me before: When I left the summit of DM/NW-246, I met Thomas DL8DBW who had just started transmitting very close to me. Only once I found out that an other ham had been active on a summit on the same day that I was there. ( I Activated 484 summits until now ). That was a nice supprice.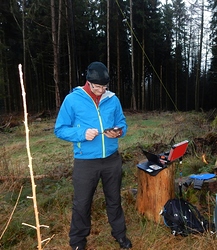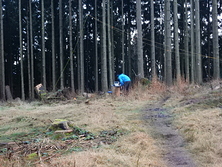 Thomas DL8DBW
On NW-179 I was called on 20 mtr by Lewi LA4CIA/AM flying between DL en OZ in a Boeing 737-800 at 40000 feet.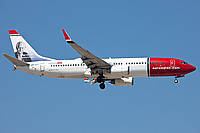 All by all a nice trip ( inclusive nice hotel )
I hope to hear you soon again.
73 de Hans PA3FYG