If I can't get out to activate I can at least get out of the street lights to see one of the best conjuctions of Saturn and Jupiter for years. On Dec 21st they will 0.01 degrees apart. The last time they were that close was 1623AD but they were also very close to the sun and difficult to observe. We have to go back to 1226AD for the last time they were < 0.1degress apart and visible in the night sky.
Well it's a chilly 2.5C and I live on the Northern side of a hill. The planets were above my horizon but blocked by a neighbour's house. I had to drive about 8miles to get up on to ground that was dropping to the Southern aspect to get a good view. I wasn't going to miss the chance to check on them as it is essentially 7/8ths clear sky at present.
Saturn (dim) and Jupiter (bright) seen from the layby at the start of a path to The Covenanter's Grave.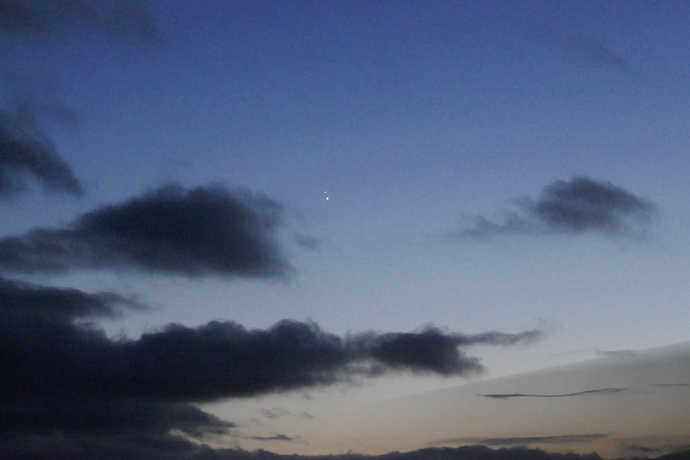 I have more photos but in my haste to set out whilst the sky was clear I forgot a torch so could not see how to make the camera go into manual focus or put it onto timer start. The result was even though it was on a tripod, at 500m effect zoom the focus is lacking and there is some shake. I'll check how to get the camera set up better if I go out tomorrow for the true grand conjunction.