At last it arrived, thanks again folks
AGAIN, biggest thanks of all to those activators that made this possible.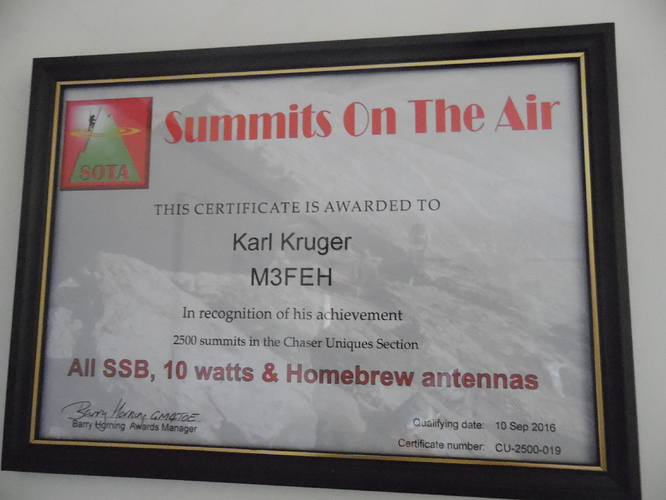 karl
Congratulations Karl
Regards
David G0EVV
Hello Karl,
congratulations also from my side.
And many thanks for all the QSOs.
During activasions I have the feeling that you are always on the air.
73 from Robert, DL4ROB
Nice one! SOTA always benefits from keen participants!
Well done Karl and thanks for the contacts along the way.
73
Graeme
Yours, along with a few others I printed at the same time, needed printing three times to get the final result! Twice on the SOTA printer then I resorted to printing on my own printer

Guess the SOTA one is on its last legs (mind you, it is only the second one I have wrecked since looking after the awards!)
Shall I warm things up for your 5000 Uniques and 25K points awards?
Well done
Barry GM4TOE
Hi barry, thanks again one and all.
Err 5k might be a while as yet. But were working towards it


karl
Congratulations - super achievement! Thanks for chasing us ;-))
73, Sylvia
OE5YYN
All SSB, 10 W and homebrew antennas ?!..

That's something!
Well done Karl. Congratulations
73 de Pedro, CT1DBS/CU3HF