These last couple of weeks I've not been out much.
The weather has been rubbish. Wind, wind, wind…
Mo had spinal surgery and my time has been spent helping her recovery, which mainly involves me stopping her from digging the garden, hoovering etc…
Tuesday 15th February 2022
It was windy. I was on an "Early" at work. I was allowed out to play for the afternoon. I needed to find a hill with some trees that wasn't too far from home.
Coiliochbhar Hill GM/ES-060 fitted the bill nicely. 45 minutes after leaving work, I was parked up. 45 minutes after that I was at the top.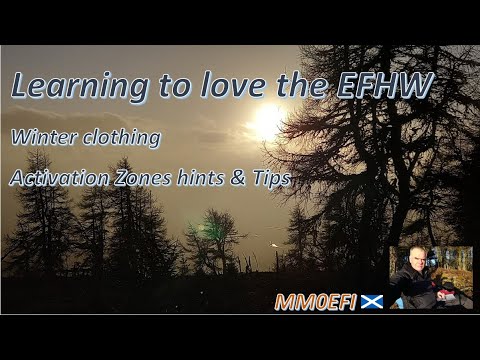 A 2022 goal of mine is to re-activate some of last years summits in a different way. Could be a different route, or different equipment, mode etc. I'd climbed this one last April and had a 10 minute activation on 40m using the FT-857+tuner+W3EDP. This time out, I'd be on a different part of the hill, different radio, different aerial and different bands.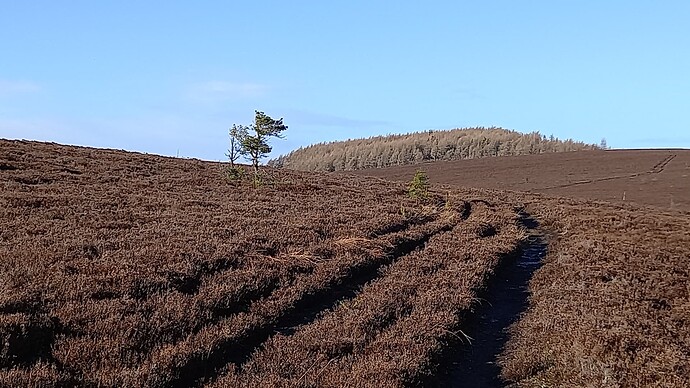 Distant tree cover - the summit over the back
I hoped that the copse of trees near the top would be inside the AZ. I used my mapping along with the AZ estimator on sotl.as to check at home, however I wouldn't really know until I got there. Turns out I was in by a couple of metres, which was great, as I was sheltered from the icy and strong NW wind, bathed in afternoon sunshine. (Ok, it's February and it was 1 degree C, however it felt nice!
Before setting up station, I dumped all of my kit and went for a walk through the trees to the actual summit.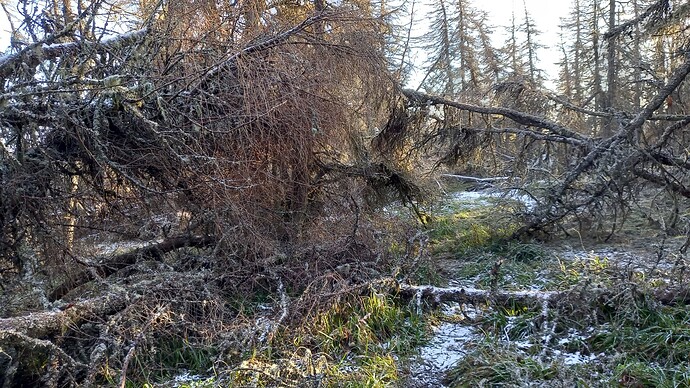 The route to the summit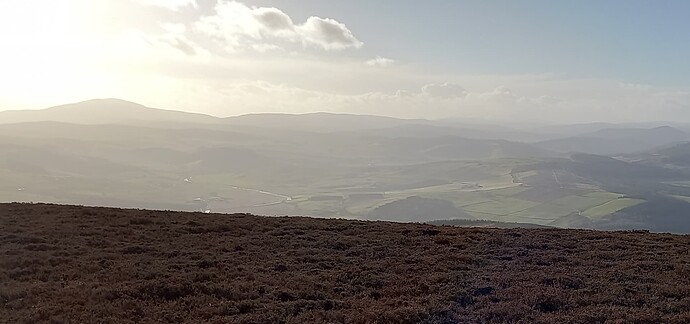 Views of Morven and the River Don - looking west from the top. I t was blowing a "hooley"
Returning to my operating point at around 1500z, I attached the 2m handie to my beam, just as Simon @GM4JXP was calling me for our pre-arranged QSO. I then put the 2m apparatus down, intending to use it later and went about setting up for HF. I never did go back to it.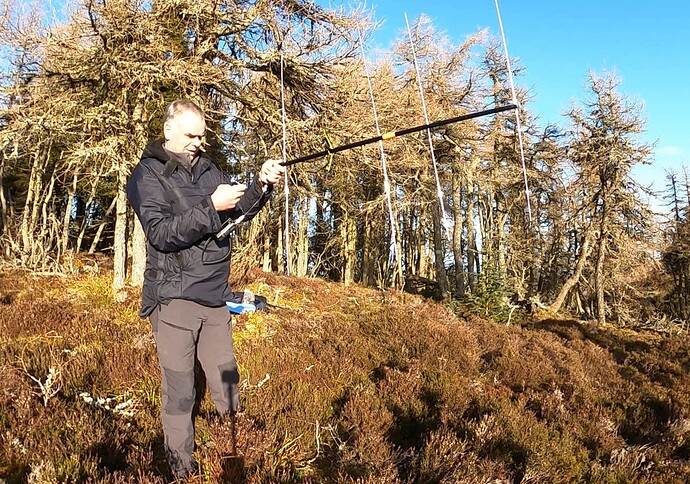 2m - one QSO
Today I was using my under-utilised EFHW which covers 40/20/15/10m with 67' of wire, a 49:1 transformer and 5m of RG-58 feeder. I like to complain about this, as it takes longer to set up than my alternatives, and it's well known that I do like a quick activation! (Especially in winter on the higher mountains.)
20m SSB and a rabble of a pile up initially. Once everyone started to behave, I made some nice QSO's. There was some fading though, but not too bad. Simon had mentioned that Stephan @HB9HCS was on Lanzarote, so I went on the hunt. I could hear Stephan but couldn't break through the pileup. It sounded like he was troubled by QSB, as there were long periods of silence from his end.
I popped the KX2 onto 15m and instantly heard an Italian talking to an American. Not always evidence of the band being open to all, however I put a spot on and swiftly worked IK8YDP and EA7GV. That was it.
It was a pleasant afternoon, so (unusually for me) I took a look at SOTAWatch3 to see who else was around, only to find this cheeky message: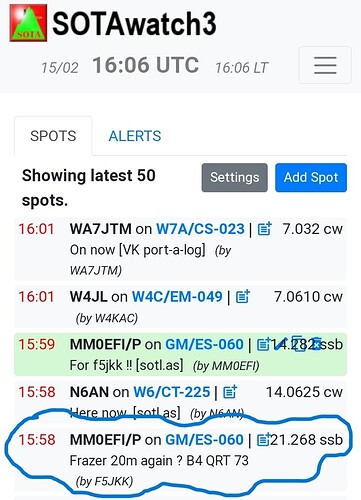 @F5JKK chancing it!
So, I stuck another spot on, worked Eric and then endured another mini-pile up, which turned out just to be a further three stations - Switzerland, Ukraine & Germany.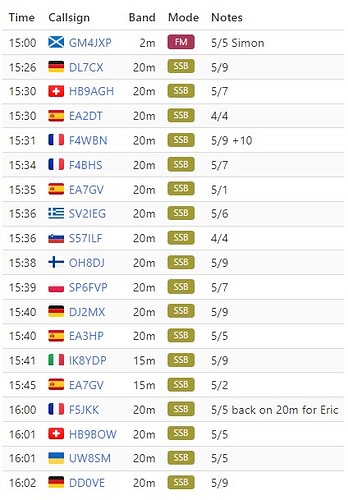 It was time to go. No sooner had I packed up, a brief snow flurry blew across, leaving some nice skies in its wake.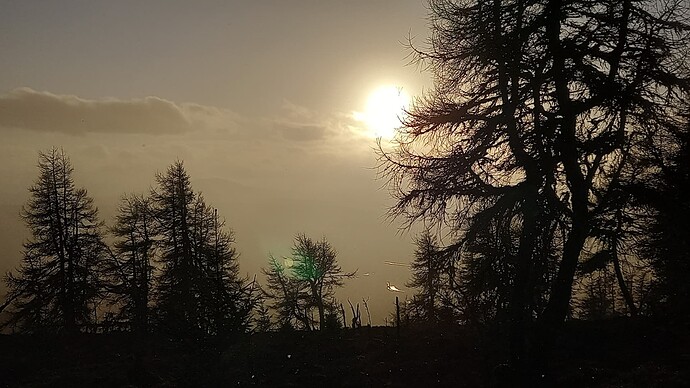 After the snow blew through
It was only when I stepped out onto the open slopes that I was reminded how bad the wind actually was, so I didn't waste much time taking pictures on the way back, although it was a sunny afternoon.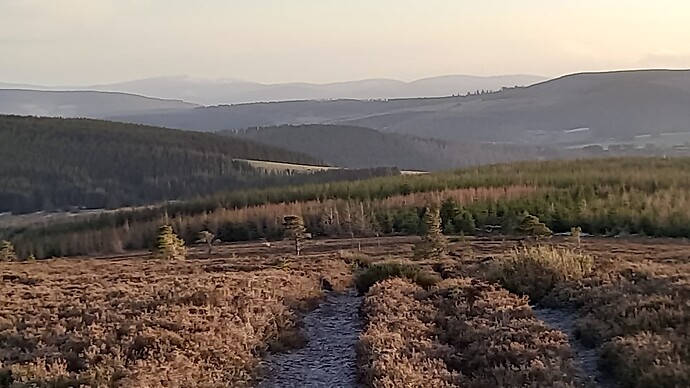 Looking north to Deeside on the return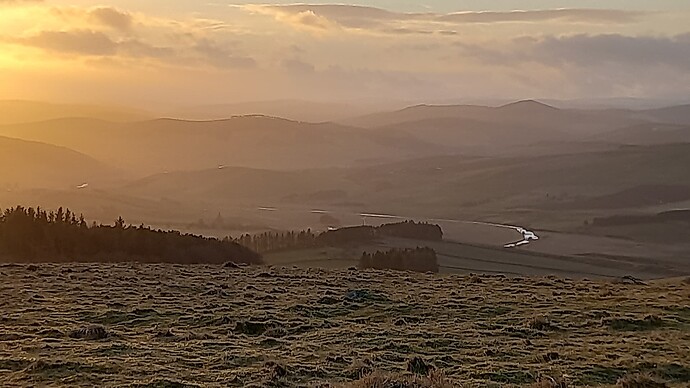 Final photo - the River Don valley (Strathdon)
I was back at the car in just over half an hour. A nice afternoon out!
Wednesday 16th February 2022
Mo announced that she was ready to climb a hill! I was uber cautious. I needed to find something that started from a high elevation to minimise ascent. No trees, due to windfall. Benaquhallie GM/ES-065 was the obvious choice, as it met these criteria and wasn't too far from home. It's where I first did ft-8 portable a year ago.
How to easily run Ft-8 on a SOTA Summit and bring in the DX! Benaquhallie, Aberdeendhire. - YouTube
SOTA wasn't a priority here, but I put on an alert for 2m only, stuck the handheld (body only) in my pocket and carried the collapsed 2m beam in my hand.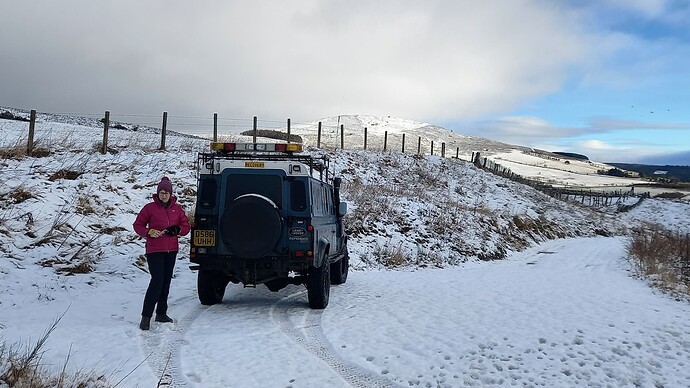 Setting off, with Benaquhallie in the background
There had been overnight snow and I have to say, Mo did an amazing job getting up the hill!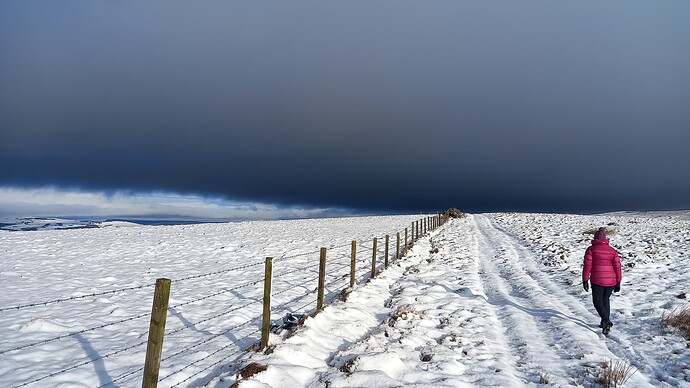 It was breezy at the top (isn't it always?) but there is a nice drystone wall at the top of Benaquhallie, which provided some shelter.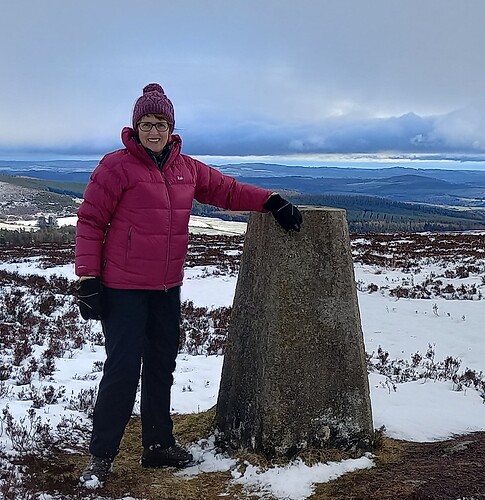 Just two weeks after surgery and back on it!
Today was more about a walk than SOTA, but I'd arranged to call Simon @GM4JXP for his Complete. Only thing was, he couldn't hear me at all. I couldn't ping my APRS repeater back home, so I knew something was up. I eventually managed a QSO with Simon and that was it. Of course, I hadn't brought a whip, so it was game over.
On retuning home and investigating the various links between the radio and the driven element of the beam, I discovered that the coax was shorting out just behind the SMA connector.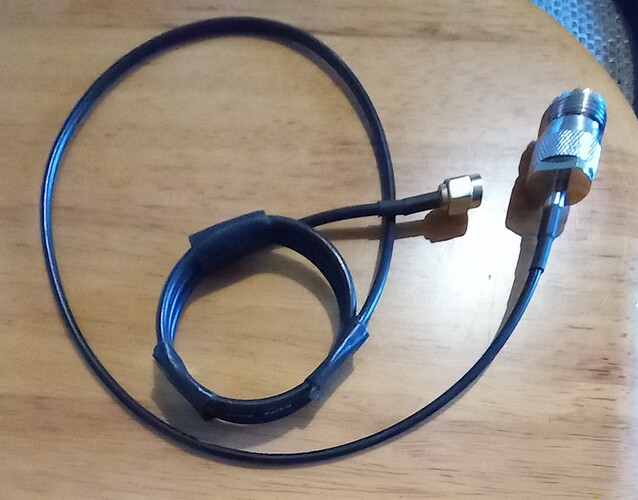 Dead radio feeder
This morning, I made a new one from RG-58. Heavier, but somewhat more robust and with SMA connectors at both ends, which was fun…
73,
Fraser