Judging from the ball see-through image I am finding it hard to see what value the ball itself is adding?
If you watch their video you can see the dish is inflatable too.
Their products include 1.2m back pack dish which can be set up in 15 minutes.
I've ordered a set of fibreglass tent poles, I'm going to see how flexible they are.
If I make a central hub and drill holes around the edge, they can slot in and be stressed into a parabola.
I'll post more after my tests.
Hi Chris,
Currently Thursday is looking good for the weather.
Nick G0HIK
Thanks for that Tom.
Myself and Andrew are planning to be out again this Thursday with the QO100 kit, I'm hoping to be on Whitfell G/LD-032, also with the company of Chris M0KPW with 2mtr/70cm's FM on your suggestion.
I will be on Hard Knott G/LD-034. Similar kit QO-100 plus 2m/70cm FM Handi.
73 de
Andrew G4VFL
Unfortunately, my equipment is not ready yet. I cannot promise at the moment.
I will report here if it works until Thursday.
73 Chris
Hi Nick,
but unfortunately it won't work for me in the next 2 weeks.
My QO-100 txr is not ready in time and from next weekend I will go on vacation for 2 weeks.
The picture shows the current state. The t-bias for the LNB, an indicator for operating voltage and current and the connections are still missing.
73 Chris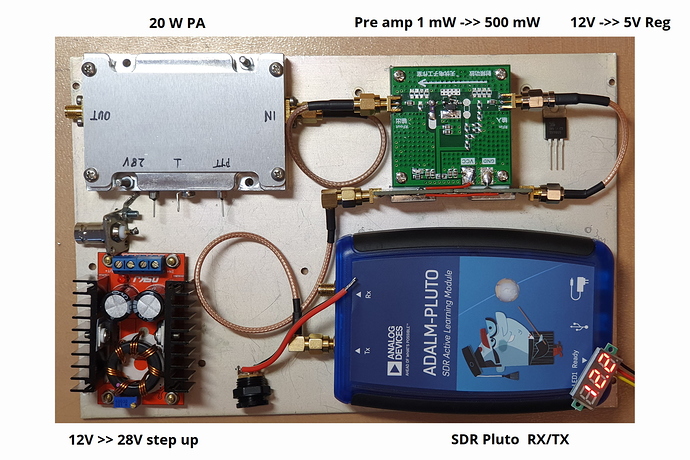 Nice
I would also like the SG-Labs PA, 1.5w is only just enough.
I also use the same DC-DC PSU, it's very noisy up to 144MHz, fortunately, it does not breakthrough on the the 2mtr I.F.
Nick
I've alerted for tomorrow to join you on QO-100.
Andrew, I think it was you that tried to make contact with me this afternoon while I was testing the set-up I'm planning to use tomorrow. If it was Sorry I cut short as I was struggling with some interference. Which I have now resolved. Hopefully I won't have the same issue tomorrow after carrying things up a hill, even if it is a very short walk.
Carolyn
Hi Carolyn,
That's great, I very much hope we make it, two s2s's would be great and make up for the forecast weather maybe.
Nick G0HIK
You could use the dish as a rain hat - forecast here is for rain of biblical proportions
Well I whimped out a bit today and fell back to Gummers How G/LD-050, it was a bit wet and windy initially, but the rain eased off and the wind also died back by the end of the activation.
It was great to work Carolyn G6WRW/P on G/CE-002 via QO-100 and also Andrew G4VFL/P both via QO-100 and direct on 13cms.
I'm hoping to be out again next week, maybe around Thursday.
Nick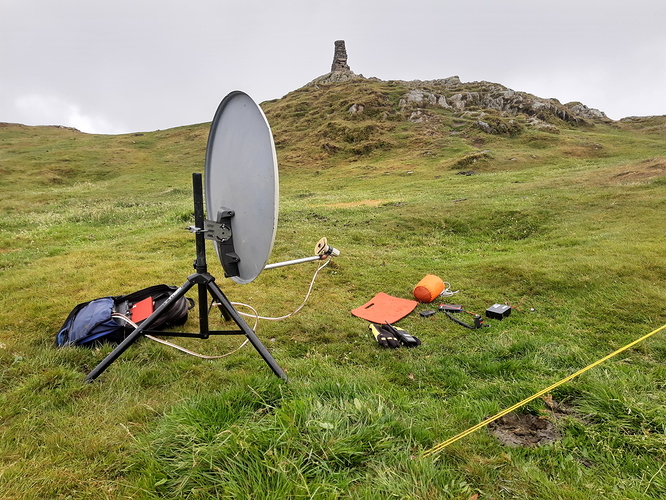 I'm going to have to work out how these activations fit in with the Microwave Awards. I guess if they exceed 50 terrestrial km then that will be the qualification.
I wonder how the UK Microwave group (joint sponsors) will react when I issue the first one for several thousand km when you work somebody in another country.
They're all going to be at least 71572km.
Here are a couple of photos from Lambrigg Fell G/LD-046.
Nick and I also had a Point to Point direct QSO on 2.399975 GHz just below the Sat band by tilting the dishes to a very odd angle.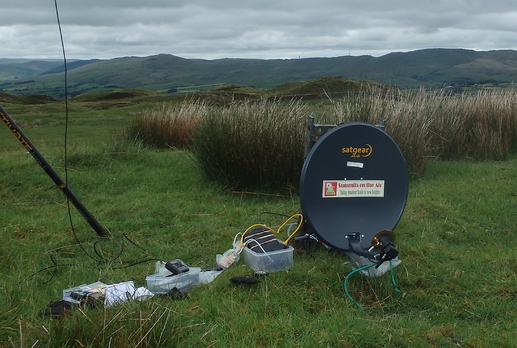 Looking toward Grayrigg Forest G/LD-038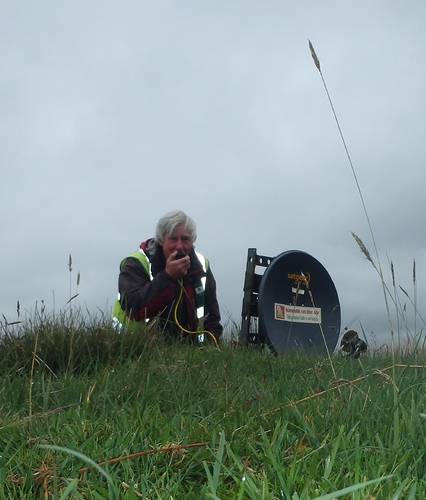 In this mode you can operate with the antenna on the ground !
73 de
Andrew G4VFL
Are they?
Other satellite qso's have measured the terrestrial distance not the return trip to satellite & back
Hence the question